Indian gem that passed down through European royalty goes on sale for first time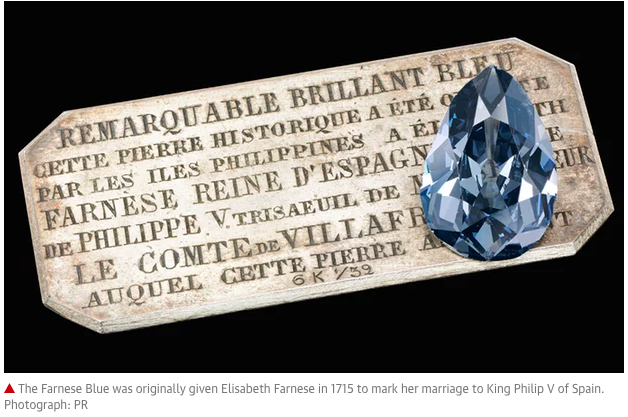 A blue Diamond that was secretly passed down through European royalty over three centuries is to go on sale for the first time.
The Farnese Blue, a 6.16-carat, pear-shaped, dark grey-blue gem said to be one of the most important historical diamonds left in private hands, is expected to fetch between £3.5m and £5m at auction in Switzerland.
It originated in the Golconda diamond mines of India and was given to Elisabeth Farnese in 1715 to mark her marriage to King Philip V of Spain.
The wedding took place after the war of the Spanish succession, which left Spain's finances gravely depleted. The government ordered Spain's colonies from Mexico to the East Indies to send wedding gifts.
A year later, in August 1715, a "Golden Fleet" set sail from Cuba to Spain, comprising 12 ships carrying a fortune in gold bullion and a casket of enormous emeralds. After 10 days' sailing, a hurricane destroyed most of the fleet off Florida, with only one ship escaping.
The story goes that the emeralds were lost in one of the sunken ships, but one diamond found its way to Spain. That gem was gifted to the new Spanish queen by the governor general of the Philippine Islands.
Over the next 300 years, as Elisabeth's and Philip's descendants married into Europe's most important dynasties, the Farnese Blue passed down through royal families in Spain, France, Italy and Austria, travelling across the continent in a royal casket.
Its existence is said to have been secret from all except close relatives and the family jewellers. At one time it was mounted on a diadem alongside diamonds thought to have belonged to Marie-Antoinette.
Now it is being sold by one of Elisabeth's descendants, and will be auctioned in Geneva on 15 May at Sotheby's.
David Bennett, the chairman of international jewellery at the auctioneers, said: "This stone has witnessed 300 year of European history, and in colour is reminiscent of historic Golconda blue gems such as the Hope diamond."
Philipp Herzog von Württemberg, the chairman of Sotheby's Europe, said: "With its incredible pedigree, the Farnese Blue ranks among the most important historic diamonds in the world."
Special thank you to author Caroline Davies for The Guardian
GIA and FIT trained, Keith has been a trusted high end diamond jewelry specialist for 30 years. He is the founder and president ​of Nyc Wholesale Diamonds Inc. located at 47 West 47th Street Suite 3A in the New York City Diamond District. His website iswww.NYCWD.com and he authors a blog www.NYCDiamondBlog.com. ​Keith has been named to The Diamond Council of America, is a member of the Jewelers Board of Trade, and Jewelers of America​. He offers GIA Certified Ideal Cut Diamonds,​ state of the art Engagement Rings, and fine jewelry designs at low wholesale prices. Keith has been named the N.Y. Diamond District's Favorite Jeweler by the N.Y. Post's Savvy Shopper column, had his diamond education articles published, been recommended in the New York Times, national gift reporter Robyn Spizman's 'Perfect Present Guide' and 'The GIFTionary', as well as having his Diamond Halo Engagement Ring design featured on 'The Knot'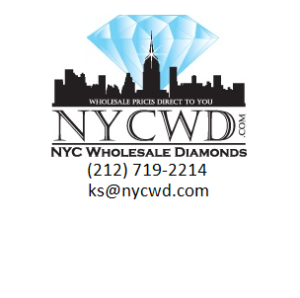 The post Farnese Blue Diamond Could Sell for up to £5m appeared first on NYC Wholesale Diamonds Blog.