Are you curious about what clip in Hair extensions can do for your look? Are you searching for Denver's best hair salon for clip in hair extensions? You've come to the right place.
If you're a newbie to clip ins, here's everything you need to know about these easy, versatile and affordable hair extensions.
Clip in Hair Extensions: Fun, Glamorous. Sexy!
Overall, clip-in extensions are a gorgeous option that can add length and fullness to your natural hair. They'll be your go-to move when you want amazing hair that turns heads. When applied correctly they can look absolutely fabulous! No one will even know you're wearing clip in hair extensions. And if you feel like sharing that fact, no one will believe it! The best part is that clip in extensions are comfortable, durable, and more affordable than you might think.
Clip in Hair Extensions: Temporary. Versatile.
When you consider all the options in hair extensions, clip in extensions are the most temporary and versatile kind you can choose. And because these hair extensions clip right in, the application process is the least time consuming. They are easy to remove and can be worn again. When you come to Glo Extensions Denver Salon for a custom consultation, we'll explore all aspects of your lifestyle to determine exactly which clip ins are best for you.
Let's explore everything about clip ins, so you know exactly what to expect in this world of enhanced hair styling.
Types Of Clip In Hair Extensions at Glo Salon in Denver
At Glo, we offer a variety of high-quality clip in hair extensions to suit every hair type and texture. There are a few different brands and styles we carry, but Great Lengths Clip Ins are the marquee brand we love to talk about.
These clip in hair extensions Denver are top-notch, premium extensions that are made with 100 % human hair. The hair itself is ethically sourced from India where the hair is known to be strong, lush, and the perfect texture.
Clip-in Ponytail or Bangs
Use clip in extensions to add a ponytail, create length for an updo, add fringe or side swept bangs! All without the commitment.
Clip In Ponytail: A fun look for a classic high or low ponytail.
Clip In Bang: 5 inch long bang with 9 inch face framing fringe.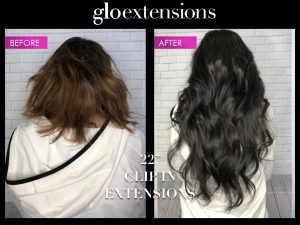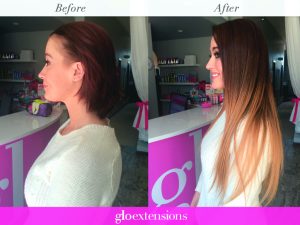 Clip In Volume and Length
Use clip in extensios to boost volume exactly where you need it or add instant length to your style. Clip in extensions are available in curly and straight textures, even wavy.
Ten Piece Clip In Extensions (14 or 18 inch): Crazy volume in two different lengths.
22 Inch Curly Extensions: One piece curly extension that will blend effortlessly with curling wand styles.
21 Inch Straight Extensions: Long sleek extensions for seamless blending of your own hair.
8 Piece Wavy Extensions Kit: 18 inch lengths with different widths to make your wavy hair dreams a reality.
10 Piece Straight Human Hair Extensions Kit: 20 inch lengths of various widths to a fullness you'll love to show off.
With so many options to choose from, finding the exact right type of clip in extensions is a snap when you come to Glo Salon in Denver. You'll be pleased to know that you don't even have to choose one type. You can have a whole wardrobe of amazing extensions to play with every day of the week if you want.
How to Avoid Looking Like You're Wearing Cheap Extensions
When it all boils down, it's not how much you paid, rather how fabulous you look! When considering the options in clip ins, there are things to watch out for.
Quality Hair Extensions
Make sure you start with a quality product. The last thing you want is cheap looking clip in extensions that don't blend in well with your natural hair. People will be able to notice right away if you have synthetic hair mixed in with your own. It will stick out like a sore thumb!
With all of our clip in extensions Denver at Glo, you don't have to worry about getting a subpar hair experience. We make sure of that by the lines of clip ins we carry. This is truly your one-stop salon experience that makes shopping for the best in extensions a total pleasure. You'll be in great hands at Glo.
Installation Education
We're going to show you exactly how your clip in extensions should be installed and removed for your own head of hair. The clip ins are mostly a small clip sewn onto a hair extension weft. The bonds for this need to be strong and secure, so that your clips stay attached to the hair extension itself. Quality is hugely important here. Buying the best you can afford is the way to go for this type of hair extensions.
Take Good Care of Your Extensions
The last part of educating you about clip in hair extensions is how to care for them. At the salon, we'll send you home with instructions so that you aren't confused on what your hair extensions can and cannot be put through. We'll make sure you're comfortable handling them from start to finish. If you treat them right, they'll be a part of your hair extensions wardrobe for a long time!
Why Come to Glo Salon in Denver for Your Hair Extensions?
It's not a wise idea to subject your hair and scalp to hair extensions which can compromise your hair if not properly installed. Hair Extensions are our main service at Glo Denver and we're proud to have gone through the countless hours of extra training and knowledge to make getting extensions of any type a beautiful experience with results you can count on. We are educated by Great Lengths and have the elite status of being a Great Lengths Platinum Certified Salon.
"Don't trust a salon that doesn't specialize in Hair Extensions"

Start with a free consultation at Glo Denver and find exactly what you're looking for!
The consultation is where we can explore all the factors surrounding what kind of clip ins you'll want for your own head of hair. Our expert staff will want to study your hair, scalp, and talk about your work, activities, and lifestyle to decide what maintenance regime suits you best. All in all we know that you are going to love your new clip in extensions.
If you have any questions at all about getting ready for clip ins, talk to one of our staff to make your consultation appointment right away. In no time, you'll be on your way to the hair you've always been dreaming about that will put a huge smile on your face. Glo Denver Salon can't wait to be a part of your hair extension journey!