Meet the Sphynx: The Razor That Will Change How You Feel About Shaving
With just a click, you have all the essentials you need to de-fuzz on the go… the easiest and most Instagram-worthy razor ever.
Of all your grooming habits, shaving has to be the least fun. It's hard to find much joy in the mundane act of de-fuzzing your body. But leave it to a visionary California beauty start-up to turn that boring ritual into something you'd actually want to 'gram about. Enter Sphynx, the L.A.-based makers behind a portable, palm-sized disc that contains a streamlined set of essentials so you can shave on the go — and actually enjoy the process.
Called the Sphynx Razor, the candy-colored disc rotates to reveal all your necessities: a refillable spray bottle for wetting your skin, a shave balm enriched with moisturizing shea butter and coconut oil, and a single-blade razor (which is easier to clean and accumulates less "gunk" than razors with more than one blade). Just click to move through the options — the water helps the shave balm lather up to minimize any irritation and after you can massage any residue from the balm into your skin to leave it smooth and hydrated (genius). Also handy: the disc comes pre-loaded with a back-up razor, and you can purchase refills for the blades and balm.
In the mad rush of the holidays, when there's little time for basic beauty upkeep let alone an overly complicated routine, this multi-tasking wonder really pushes the limits of where you can perform a touch-up (at the gym, in a plane). And unlike pretty much any other razor before it, the Sphynx is so chic you actually might look forward to shaving — and be done in just a few clicks.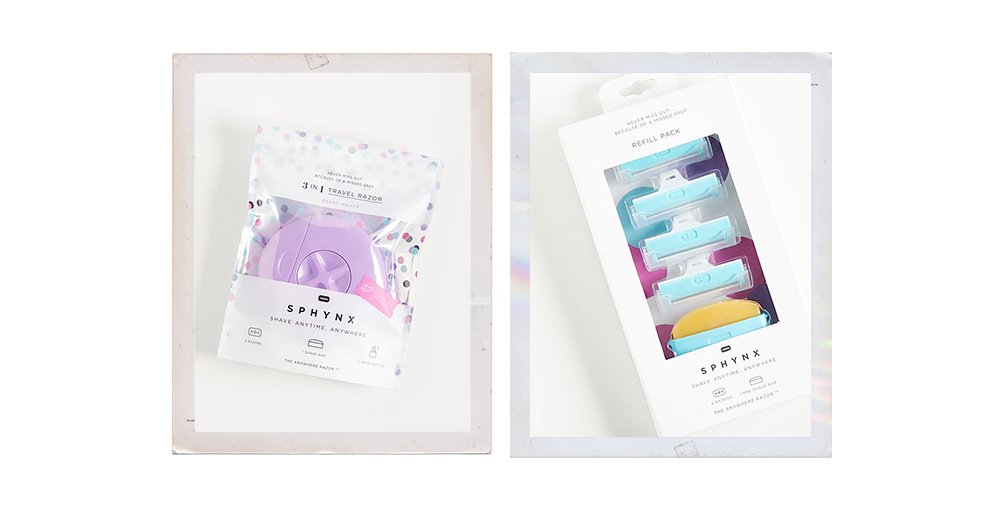 + Shop and discover all Sphynx products here!
Free People Blog