If you have just slipped in to that new backless dress and realized that you can't wear it with a bra, then you need good Nipple Covers to keep your headlights in check and comfortable.
But what happens when you don't have time to order them?
This post will show you how to create your own Nipple covers in a DIY. They won't be as comfortable or good looking as the best nipple covers in the market but they will serve the intended purpose for as long as you need them.
How to make boob covers (DIY)
The general rule of nipple covers is that they must conceal your nipples and stay on for as long as you need them. Anything less than that and you may be in line for a fashion disaster.
To achieve these goals, you need the following:
A comfortable material: Find a soft and comfortable material that won't irritate the skin. Nipples, being very sensitive, will itch and cause discomfort when covered with rough materials. Some of the best DIY nipple cover materials include a soft paper, satin, cotton, or the kind of material used in panty liners.
A good adhesive: An adhesive is the most important part of the nipple cover. Without it, the cover won't hold on to your nipples. You can use skin friendly glue or a duct tape as adhesives. In both cases, make sure to use coconut oil to remove them easily after use. Other options include the flash tape, wig tape, or spirit gum.
When using duct tape, ensure to place a soft piece of clothing or paper between the tape and the nipple. This prevents the sticky tape from getting in direct contact with your nipple which could cause problems to remove.

You can also use duct tape to lift your breasts.
The decoration: Although decoration isn't necessary, it comes in handy when the material you have used in your DIY doesn't make the finished product beautiful. The best material for décor in this case is rhinestone which you will attach using glue. Ensure to get bigger rhinestones that will take a shorter time to attach.
Other ways of decorating nipple covers include cutting them into your favorite shapes rather than just circles. You can also use colored paper that matches the color of your dress.

After you have got the materials in place, follow the steps outlines in this video to create your nipple covers.

Video:

If you don't have the time to create nipple covers in a DIY, you might want to consider the following nipple covers which are the best you can buy at present. They are available in local stores and online marketplaces such as Amazon.
1. Nippies skin nipple covers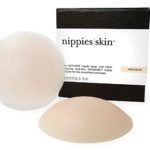 Nippies Skin pasties are perfect for any lady who needs soft, thin, and comfortable nipple covers that can be easily worn under a dress and be unnoticeable.

Made in the USA, Nippies Skin silicone pasties not only cover your modesty when wearing a backless dress, they are comfortable and won't cause irritation even on sensitive skin. And the most important part is that they come in different colors to suit different skin tones.

>>View more images, customer reviews, & Price
2. Braza petal tops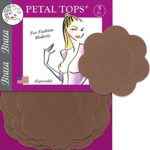 Braza Petal Tops are made from 100% polyester that slightly stretches and gently conforms to the contours of your nipple.

This knitted material is carefully designed with added padding in the middle that makes them comfortable to wear for extended periods. With a non-sensitizing adhesive and a soft center, few nipple covers can beat the comfort provided by Braza nipple concealers. These nipple covers and waterproof meaning that they can be worn with a bathing suit, for swimming, or for a topless tanning. There is also a cocoa version for users with tanned skin.

>>View more images, customer reviews, & Price
3. DaisyFormals nipple covers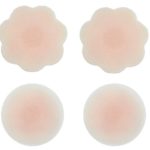 DaisyFormals are stylish nipple covers that measure 6cm in diameter and come in a nude color. These nipple covers are designed to easily blend with your skin and have soft edges that give an all-round look which is beautiful and comfortable.

They are self-adhesive, reusable, and are made from quality silicone. Most of all, DaisyFormals are some of the cheapest silicone nipple covers you can find in the market at present.

>>View more images, customer reviews, & Price
4. Komene nipple covers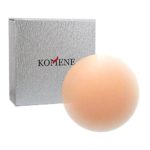 Komene pasties exude elegance and comfort in one package. These stylish nipple covers will leave you confident and comfortable when in that backless gown or t-shirt. They are lightweight hence won't feel like a burden on your nipples.

In addition, Komene pasties conceal your nipples completely avoiding instances where they can show under bright light which is a common problem among other boob covers.

>>View more images, customer reviews, & Price
5. Tetris nipple covers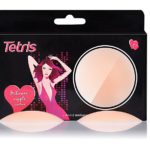 Tetris nipple covers are ideal for the lady who wants comfortable nipple covers with quality medical grade silicone. These reusable nipple covers are beautifully designed and come in a nude color. The only negative about tetris nipple covers is that they don't come in many different colors for different skin tones like Nippies skin pasties.

However, they are much cheaper and hold on pretty well even on sweaty skin.

>>View more images, customer reviews, & Price
Conclusion
Covering your nipples isn't that hard. However, finding the right material to cover them isn't easy and that is why this guide has gone into detail to help you create your own nipple covers at home. I hope you have managed to make a pair for yourself and if not, you can choose from the pasties mentioned above for the best quality and price.

The post DIY: How to Make Your Own Nipple Covers appeared first on Best Pasties.