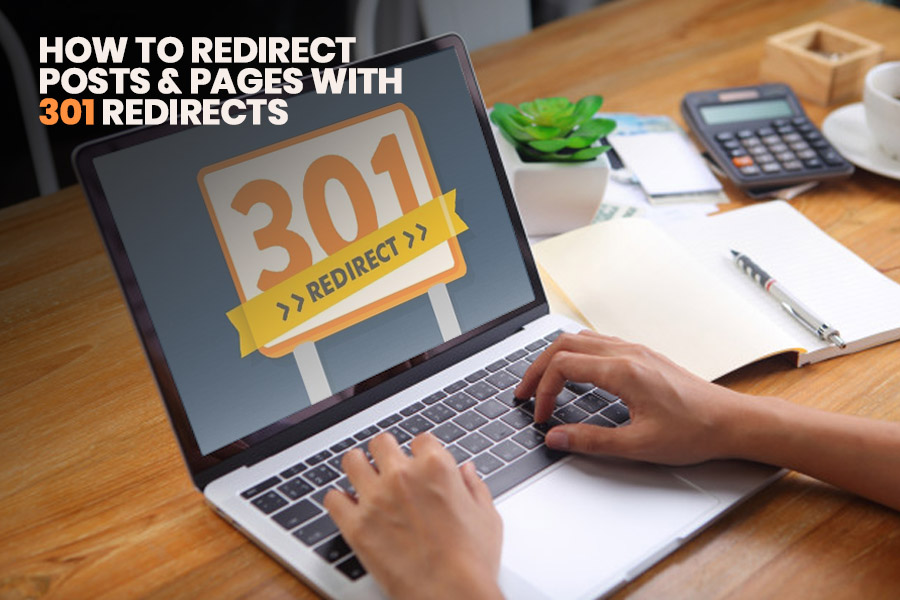 Now, have you ever visited a site or just clicked on one of your old bookmarks of a site and were greeted with that famous "Oops 404"? If you have, then you might have had the feeling that the site is rubbish and in no good condition in the way of being updated and user friendly.


You want to avoid this feeling of inconvenience being felt by your visitors because it may greatly hurt your site that you're working on. If you don't deal with such problems early on, then your visitors count will drop dramatically in the long run because they will get the impression that you're unwilling to or you don't care about fixing the problem.


And, don't worry; you will not have to go through a painstaking process of redirecting your URL-s manually in order to solve the problem. All you have to do is add a Plugin that fixes the problem in a matter of minutes, and most importantly, completely free of charge!
What exactly is 301 redirect?
Well, to put it in simple terms, it's basically making the user click one link which redirects them to a completely different URL!


This is very useful if you already have an old site and you want to implement it into WordPress without having the deep technical know how to do it.


301 redirect is a WordPress plugin that works with all themes and is compatible with other plugins that you may or may not have installed on your site. It's an awesome tool that helps to manage and create redirecting URLs for your site.


So, instead of going through the fuss of your visitors having to look at a 404 blank page, they will rather be redirected to the intended page. It's by no means a difficult thing to set up meaning you don't have to be a wizard or geek in order to set this up in no time. All you need is patience and the plugin will do the rest. Awesome, right?
Why should you use 301 redirects plugin?
The reasons why one would want to redirect their site might be the following:
you have changed your site domain but you want to keep Google's ranking and opinion of your site to stay the same so that you don't lose the sites strength in the eyes of Google,
you have totally redesigned the site and certain links are in different places,
you have bought a new site from someone else and you want to redirect the content back to your site or vice versa,
you want to change the URL of an old existing post and you want to redirect people who still use the old URL.

In case you've changed your site domain, you need to know that Google holds your article page at high regard but if you change the URL all of that high regard disappears and Google resets its perception of the URL thinking that it's not the same page.


Now, by redirecting your site you simply tell Google that the site that it holds in high regard now lives in a different link (so if someone has a certain page bookmarked Google immediately redirects it to the new URL).


Additionally, 301 redirect removes the risk of your followers getting the 404 site and thus making them reluctant to coming back to the site. If you don't redirect things on your site, you will surely be at a disadvantage because you risk losing traffic to your site, which in the long run, is neither wise nor economic.
How to redirect posts & pages with 301 redirects?
301 redirects is really simple to set up and use. First things first, you have to install the plugin that will help you redirect your sites URL-s. Now, there is a bunch of them out there to choose from and you certainly don't want to install an outdated plugin that will make matters even worse for you and your site visitors.


So, the main thing you have to be on the lookout is when the plugin was last updated and how many users are happy with it (just check the user reviews and you will have a solid idea of how practical and up to date the plugin really is).
Now that we cleared that out, we come to the part on how to use it. Well, it's pretty simple, too!
Once you've installed the plugin of your choice, you then go to your WordPress site and under tools you should be able to find the "Redirection" button. Under the source URL you paste the original URL that you want to redirect, and then under Target URL you paste the destination of the new URL.


After you've done with that, you just hit "Add Redirection". And voila! You're done with setting up the redirection!


Now the server knows that anyone who clicks the old link will be pointed to the new one that you have set up. Additionally, some plugins have a monitor system that notify you if some users have struck a 404 page, and then in turn helps you out in resolving the problem by redirecting the page to the intended URL.


Some of you who have a bunch of URLs that need to be redirected might find this tedious and time consuming but there's no need to worry because a lot of plugins have this covered by making things simple and allowing you to manage in bulk all of your links thus saving you time and nerves (especially if your site is filled with articles and blogs)! Pretty neat, right?
Wrapping It Up
If you're in fact a WordPress user and website creator who wants to make sure that your site is up to date with regards to its URLs redirections, the 301 redirect is a must have in your plugin department!


Especially if you're transitioning from an old site to a new one (to WordPress) and you don't want that your users and visitors get hit with a blank page saying "Oops 404", then redirect 301 is your Messiah and a real life savior that will prevent your site from losing the current users (or potential ones).


If you liked the plugin, we also suggest other plugins by the same developer: WP Reset