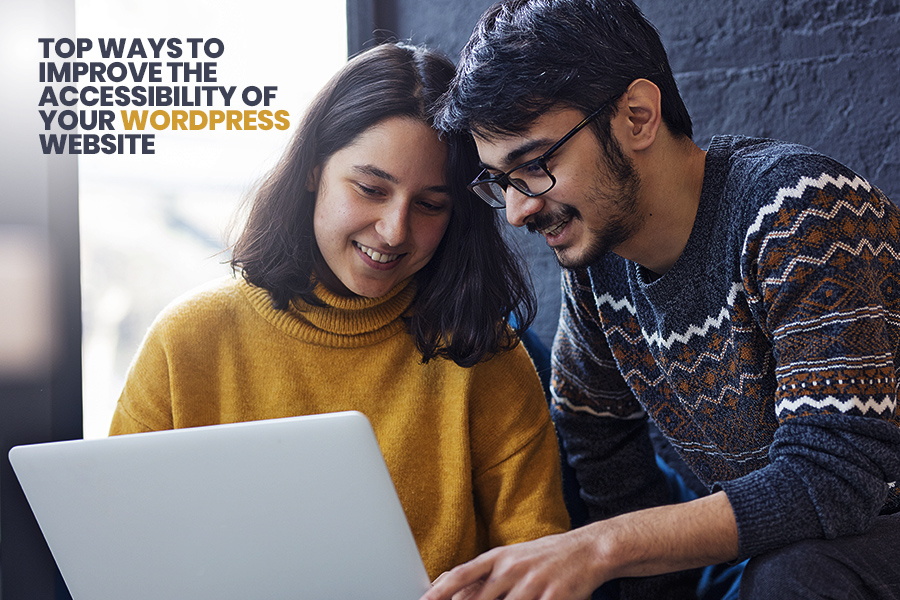 Is your WordPress Website INACCESSIBLE for users? If your website has a disability, you are likely to lose 20% of potential users worldwide!
W3C Director and Inventor of World Wide Web, "Tim Berners- Lee" says – The power of the web is in its universality. Access by everyone regardless of disability is an essential aspect.


When it comes to developing a Wordpress website, you are likely to think about hundreds of things to put together. From writing quality content, installing the best plugins to implementing a beautiful theme, developers work hard to make it functional and appealing. However, one of the things that often overlooked is an essential element of your site is its "Accessibility".


Now let me ask you the question, what is the accessibility aspect in WordPress Website?


Most don't even know about the accessibility of the WP site! Well, if you are seriously taking your users and design of the website, then you need to think about its accessibility.
To quell your stress here, this blog has included a broad discussion on :
What is Accessibility In WordPress Sites?
Why is it Important to Improve Your WordPress' Website Accessibility?
What Features Make Your WP Site Accessible Ready?
Before discussing the importance of improving the accessibility of your WordPress Website, you should understand that the website is purposefully designed to meet the needs of the range of people. Hence, when the web meets this goal, it is Accessible to people with a diverse range of website's features. The flawlessly designed website removes the barriers to communication and interaction that many people face in sites.


Now, at this moment, you must be curious to know what makes your site accessible? Does it improve rankings? Is it really mandatory? Let's jump directly to the foremost important question:
What Is Website Accessibility?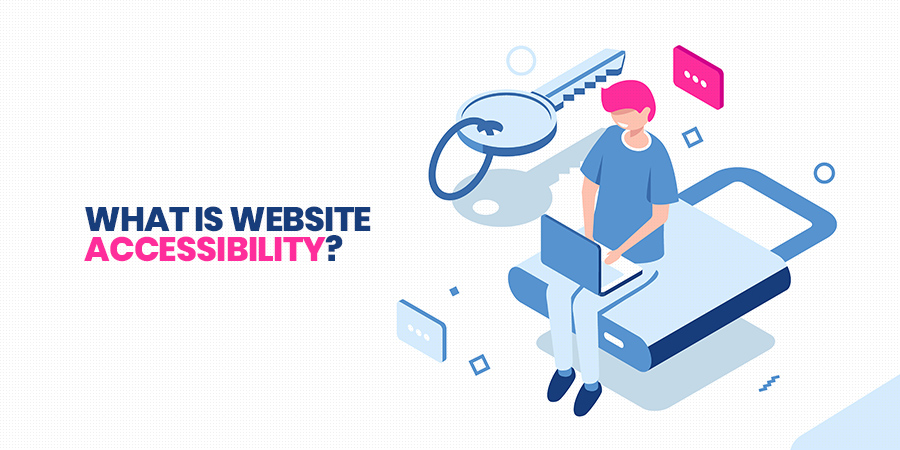 Any WordPress expert can easily understand the meaning of this term. Still, for WPbeginners, we put in a simple "it means that the website's tools and technologies are designed and installed in such a way that people with disabilities can easily access them". In short, make a website that is flexible enough to adapt to various users needs, preferences and situations.


According to the survey, 15% of the population worldwide have disabilities. So if you are overlooking this section of the society, you are missing the potential users. All you need to do is to address some common issues in your WP site to enhance accessibility.


While creating an accessible website, make sure that you include making your text-screen reader-friendly, integrate appropriate alt text for images, ensuring optional colour contrast, adding captions to videos, making your website a keyboard navigable.
Why Is It Important To Make Your Website Accessible?
No surprise, the website has become a large part of everyone's life. Using it right from finding the information, doing the shopping, interacting with friends, to generating business, a website is handling everything.


While a website is handling various roles, it is essential to make it accessible for everyone regardless of their status or ability. Did you know, "web accessibility is considered to be one of the basic human rights" according to the UN Convention on the rights of persons with a disability, under ARTICLE 9…


From a business perspective, having an accessible website means, you can reach to the most significant section of the customers and provide them with perfect user experience. On the other hand, the website that serves a general public such as government, education, organizations and corporations, can seek the special attention of the general public.
15 Tips to Improve the Accessibility of your WordPress Website
If you are ready to improve your WordPress Website's accessibility, implement these 15 easy tactics:

1. Use Right Color Contrast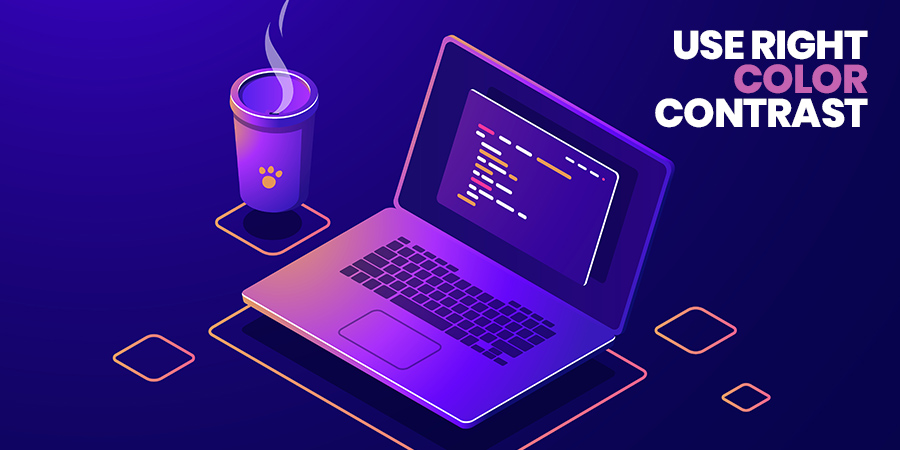 According to the report, approximately 300 million people with colour blindness, that is 4.5% of the entire population.


It is true that the choice of colour contrast makes your site appealing and attractive, but are they accessible to users?


When choosing the colours for your website, be demanding for the right colour ratio and contrast. Make sure to select the high colour contrast options that ensure the comfort of seeing and reading the website content.


For instance, to enhance the accessibility of the text, you can use white and black colour contrast. Ideally, WordPress Development Companies implement black text over the white background as this ensures high readability. But never depend solely on colours to make a differentiate between links, text, content or buttons as it ruins the look of your site.


2. Responsive Web Design
Today mobile accounts for approximately half of the web traffic worldwide. According to Statista, the second quarter of 2019, mobile devices have generated 48.91% of global website traffic.


Therefore, most website is developing today with mobile in mind. Hire WordPress Developer that allows your website to be responsive, so the information is accessible on multiple devices, including mobile and tablets. If your site is not responsive yet, make it responsive now for many reasons.


Comparatively static sites, responsive websites are more accessible on different devices and screen sizes. Moreover, Google also loves responsive websites and will rank on SERPs to the mobile-friendly website.


3. Highlight The Links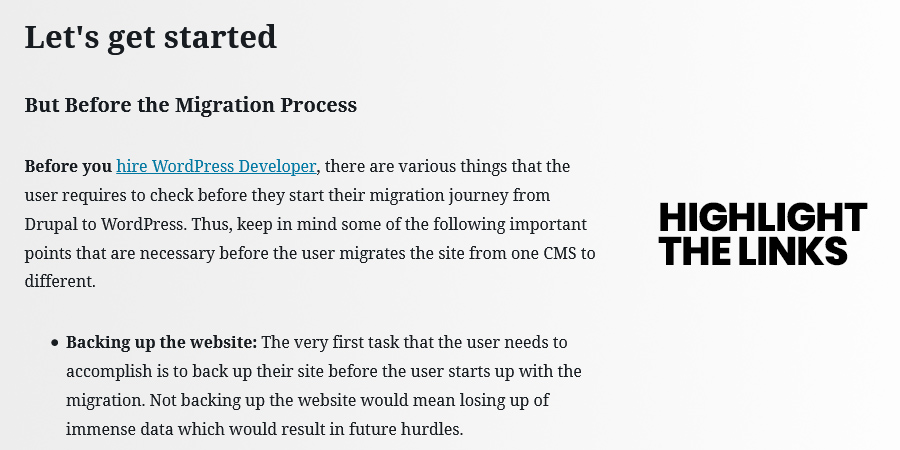 With the recently changing trends, underline from the links have been removed from the content. The argument for this is to make your content aesthetically pleasing and flawless to read. However, by eliminating the underline will leave your user in the dilemma that which content is hyperlinked. Sometimes this will restrict your users to go beyond your content.


If you are conscientiously opposed to using the underlines for the links, you can distinguish the link in another way. You can make it bold or use a different colour for the text.


4. Implement Main Content Links
Screen readers start voicing your content right from the opening lines of your page. If users get connected with your page, they must listen to the menu, navigation, and other extraneous content before directly jumping on the main content of the webpage.


To improve the accessibility and user's experience on the website, you can add a "Skip To Main Content Link" in the first column of the HTML. This will help you to navigate directly to the main content of the page. Moreover, linking the main content of your page is profoundly simple with WordPress customization.


5. Add Image Alt Text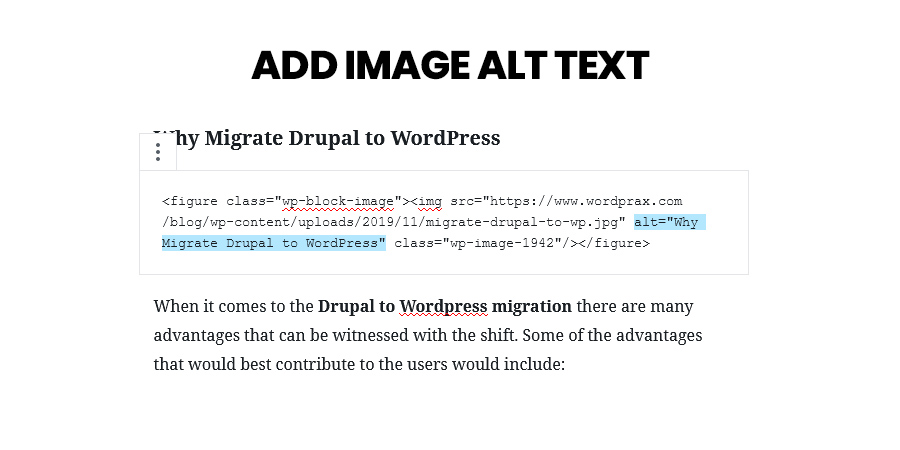 To make your images visible on the website, it is crucial to use alt text and captions to describe the image. In case if they can't see the picture, this is the way, they can at least understand what you are trying to show on your website.


Initially, Image Alt Text was introduced to enhance the accessibility of the website and its images. However, later, it became an essential attribute for the SEO strategies and marketers to start using the image description to stuff essential keywords.


Initially, Image Alt Text was introduced to enhance the accessibility of the website and its images. However, later, it became an essential attribute for the SEO strategies and marketers to start using the image description to stuff essential keywords.


For even better user experience, fill this space with the keywords that flawlessly fits with the context of the page content.


6. Use Appropriate Content Structure
Did you know, it takes only about 50 milliseconds (0.5 seconds) for the visitor to form a thought about your website, whether they are likely to stay on your site or not.


According to Nielsen Norman Group studies, 79% of the website content has been scanned by the users while a mere 16% of users read word-to-word content.


To deliver excellent user experience, break your content in a well-formed structure. Use clear title headings on every page. Make your content engaging with attractive subheadings.


While using headings, use different header labels such as H1, H2, H3 to make your content readable and easy to gulp.


7. Add Call to Action Buttons or Links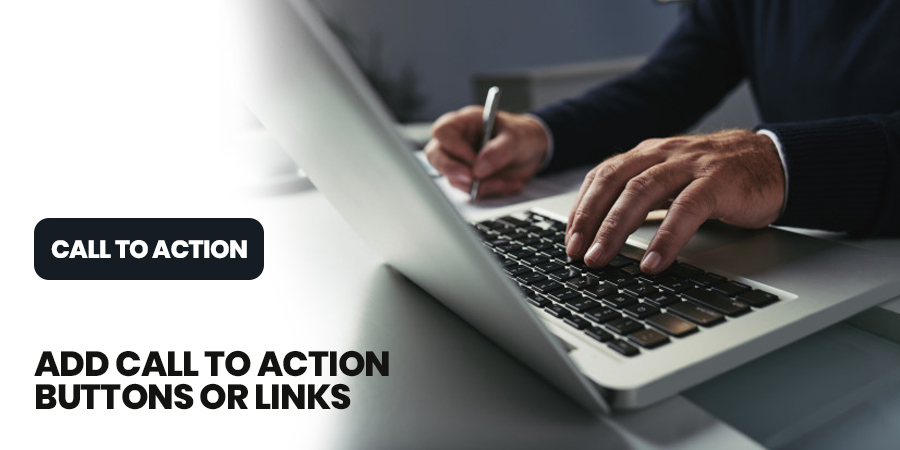 Mention clear call to action buttons on the website. Make sure that buttons look like a button to be clicked to make a final action.


For Example, if you are managing an eCommerce Site and showcasing the product list, add "See More" or "Buy Now" button at the bottom of the page. If you want your user to go somewhere to look at the final directions, then you need to guide them around your site.


8. Clear Navigation Is Important
To enhance WP accessibility, it is important to ask your WordPress Development company to keep things simple to navigate.


There is no use of adopting a tempting ADA WordPress theme if it is complicated to navigate. If your site is complicated to follow, users will quickly shift to the next site. Make sure the navigation should be easy to understand, clear and simple to follow. Make it easy for visitors that help them get to where they want to go.


Pro Tip: Keep your navigation title short and simple for better user accessibility.


9. Enhance Security With CAPTCHA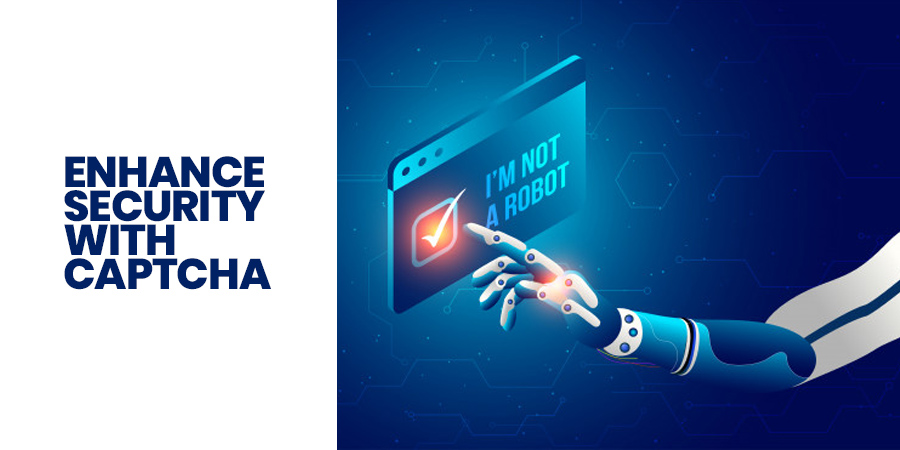 CAPTCHA is the way to protect your website from the scam and information against the spam. You've commonly seen them used as:
I Am Not a Robot" Buttons
Random Strings of Characters
Gamification of the Content
People who have visual limitations can use audio CAPTCHAS and generally people have no trouble using visual CAPTCHAS. However, what about those who are deaf and blind? While you use CAPTCHA, individuals with both hearing and vision limitations cannot complete this action.


However, CAPTCHA is a useful tool, considered finding a different spam alternative for your website.


10. Design a User-Friendly Forms For Easy Accessibility
Forms are a useful element to most sites, but that needs to be designed carefully. The most important thing that needs to focus is to "Clearly Labeled" each field of the form. Also, aim to place the labels adjacent to the respective fields.


In specific fields, if required, mention clear instructions and information so that users can easily understand. To create accessible forms in WordPress, you can use hire WordPress plugin development company to implement specific plugins focused on accessibility. Collaboration with the reputed WordPress Website development company, you can make your task easier and simpler.


11. Avoid Using Tables On The Web Pages
This is true, tables are easy to showcase the data on the website, but unless you need to mention tabular data, don't use tables for anything.


On one side of the coin, they make it much easier for all users to understand the information clearly, on the other side of the coin, it can convey the confusing layouts to the readers. For example, you cannot use the table for displaying the list of the products, plans or anything else. This can be confusing to screen readers.


To enhance WordPress accessibility, you should understand what kind of information you need to mention in the tables to deliver precise information to the readers.


12. Watch Font Size
Even after using WordPress plugin services and hiring WordPress expert, you may feel to reach the potential users with visual limitation if you choose the wrong font size.


While developing a WordPress website, make sure that it is flawlessly accessible even for the users having minor sightedness.


"I have a minor sight problem; still I break specs many times while reading websites using tiny fonts." However, if you are partnering with the expert developer, you have an advantage!


Almost all the WordPress themes allow you to change the font size through the WordPress Customizer. While most of the themes are using 14px, but the ideal font size that you can use is 15px-16px for the desktop view.


13. Correct Font Style of The Website
This is true that hundreds of font types are available in the market, but "Don't Mess With That".


There is no need to get too fancy or creative with the font type. Keep it simple and make sure the visitor will find it easy to read without any difficulty. Some of the best font types that usually recommended by the expert developers are Times New Roman, Georgia, Serif, Arial and Sans-serif.


14. Remove Any Auto-Playing Media from the Website
While improving the accessibility of the WordPress Website, stop bombarding your visitor with the auto-playing media on your site.


The visitor must have control over pause and play functionalities of any multi-media, like video and audio. Even Google has also started disliking the websites that have auto media play features in them.


If you are the one who is using pre-designed WordPress themes, you may be allowed to upload a bunch of imaged and display them as a carousel. You don't need to use it as it is. People with disabilities like cognitive and neurological impairments can be stressed up with the auto-playing media.


15. Test The Accessibility of Your Site
Not sure if your website is accessible for all even after implementing these tactics? The simple answer to this question is to Test it!


The easy way to verify the accessibility of your site is to use the "Accessibility Tools" available online. The first step to make your site more accessible is to improve the current state of your site only. Evaluate and test various things of your website to make it user-friendly and enhance the accessibility of the site.


Let's Wrap It
Today, in the age of digitization, a website is like your salesman on the internet. If a visitor comes to your shop but doesn't understand even a word, then its a huge loss to your business. On the same notch, if you might develop an excellent website, but what if it is not accessible for the users? You lose a big share of the market.


Hopefully, you understand this post and can consider these tactics to enhance the accessibility of WordPress Website. However, likewise, it is not possible to cover all the factors in a single post. Hence you can hire a WordPress Developer to dive deeper into the concept.