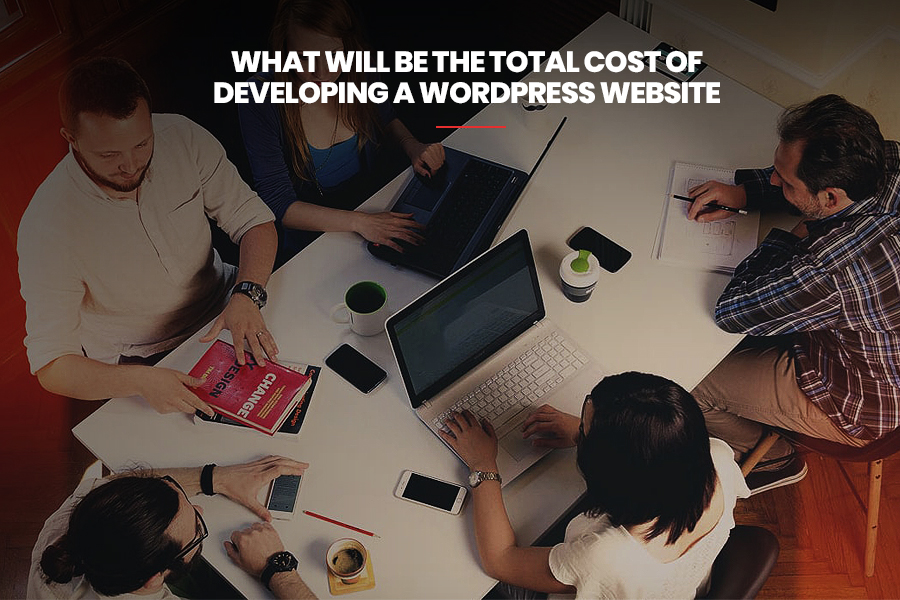 WordPress is right now the most popular CMS which powers almost 34% of all the websites on internet as per the W3Techs website. Its popularity is also due to the fact that it is free to use and open source. You can visit Wordpress.org and download the latest version of WordPress for free and use it to build your website. Now you may be wondering if WordPress is free to use then why do building WordPress website cost money?


We will find out the answer to this question in this article and moreover, we will tell you how much extra cost you need to build certain kinds of WordPress websites so that you can choose the one which comes under your budget.


Actually, although WordPress is free but it can't work on its own. To get a fully functional website, you will need many other essential things like WordPress hosting, a domain name, a WordPress theme, WordPress plugins and more. Many businesses just hire a WordPress Development Company which takes care of all of these tasks.


There is no single way to build your WordPress website. Depending on your choices, the cost of building a WordPress website can range from about $100 per year up to several thousands of dollars per year. As per your budget, you can choose the things to be included in your WordPress website.


Let's start this article so that you can know which things you need to build your WordPress website up and running and how much they will cost you.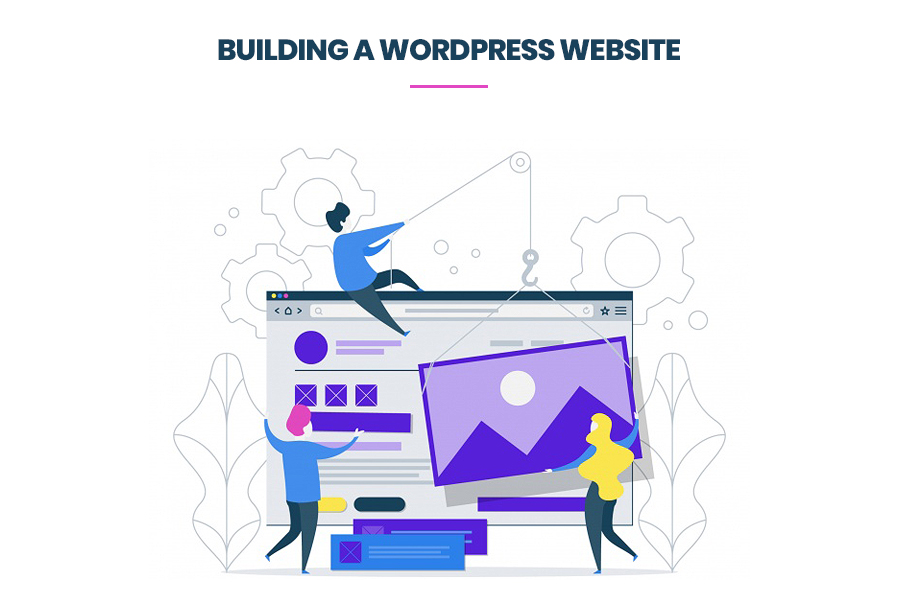 Building a WordPress Website
WordPress is free to download and use and it is an open-source software which gives you the freedom to install it on any of your website. You may require WordPress Development Services in case you need some changes into the WordPress code. The cost of a WordPress website comes from the below things or components:


The first thing you need is a domain name which is your website's address on the internet. Your website users will type this domain name in their browser to open your website. For example: – www.google.com, www.wordpress.org etc.


You also need a website hosting for your WordPress site to store your WordPress files. This hosting also includes all pages of your website, images, all HTML, CSS, JavaScript, PHP and other pages that are used in your website. Every website on the internet needs hosting. This is your website's home on the internet. There are different kinds of hosting plans available for different kinds of websites. You have to select anyone that is the best fit for your requirements and budget.


Website Design or WordPress Theme
To build a WordPress website when you go for WordPress Website Development you need to select its design. This design is known as Theme or Template in the case of WordPress sites. With WordPress, there are thousands of such website templates or themes available for free. You can choose any of such free theme to build your WordPress site but if your website is more advanced then you can buy a premium theme or have a custom made so that all of your requirements are fulfilled. But this will raise the cost of your website building.


WordPress Plugins and Extensions
Right now there are more than 50,000 free plugins available for WordPress. These are like apps, extensions or modules for your website which you can install to increase the number of features and functionalities of your site. These features can be like a contact form, gallery, online chat support and more.


Although you can go for WordPress Web Development to build your website with just domain and hosting cost but if you have some other requirements then you may have to shell out some more money for those additional services. If you really want to estimate the cost of your WordPress website, then continue reading as we are going to explain that in detail now.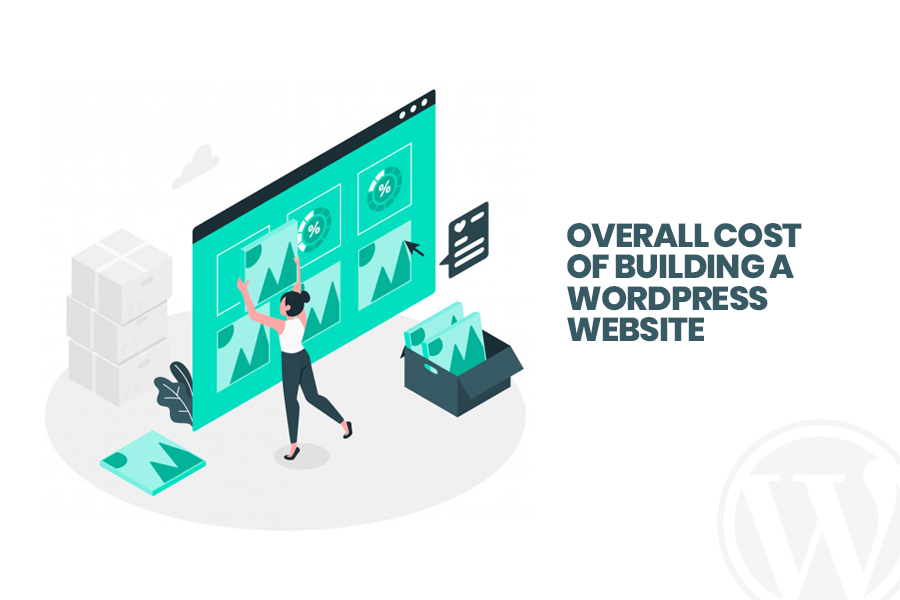 The Overall Cost of Building a WordPress Website
If you don't want additional services than the cost of developing your WordPress website will be just the cost of the domain name and hosting which is not much but in most cases, there are some additional requirements. In these cases, building your WordPress website can cost you somewhere from $1000-$10,000 or even more.


Hence, first, you have to decide what type of website you want to build and what are your needs as these things will affect the cost of your website building. The information we are giving in this article will help you to make the best decisions.


Here are the categories of building different kinds of websites:
Developing a Simple WordPress Website – very less cost
Developing a WordPress website with some basic features
Developing a WordPress website for small business
Developing a WordPress Ecommerce Website
Developing a Custom WordPress Website

Now let's discuss how much will be the cost of developing a WordPress website under these categories.


Cost of Developing a Simple WordPress Website – Very Less Cost
A fully functional simple WordPress website can be built at a very low cost say about $100. For this, you only need to spend some money on a domain name and website hosting.

A typical domain name can cost you About $10-$20 per year and a web hosting can cost you about $5-$10 per month. There are many good hosting providers in the market but WordPress.org recommends Bluehost which is the best hosting service provider in terms of speed and reliability. For more details about the different choice of hosting service providers to select the best one, you can read this article.

After buying a domain name and hosting service, first you have to install WordPress and then you can choose a theme or template from the freely available WordPress themes. This theme will decide about the appearance of your website. There are thousands of free themes available for WordPress.

After this, you may want to add some features into your WordPress site like a contact form, a search option, a photo gallery and more. For these, you have to scan from the freely available WordPress plugins and install the ones which are required. Plugins are like extensions and extra modules for your WordPress site.

For example, some of the most popular WordPress plugins are – WPForms (for contact form), Yoast SEO, WP_Super_Cache (for website optimization), Sucuri (For website security) and more.

After this step, your total cost of website creation will be around $50-$100 per year.


Cost of Developing a WordPress Website with Some Additional & Basic Features
The best way to build and launch a successful website is to first launch a simple version of the website and after that add more features in the next versions as you will grow. This will save the cost of development. When you will add more features later on into your website then your website cost will increase.


You can continue to use the domain name and hosting services of Bluehost as it is the best and cost-effective. Although you can upgrade your plan as in the new Avatar of your website you should be ready for thousands or millions of visitors per month. Now you can even go for premium WordPress themes for your website as they come with extra features and more support. To add some more features you can start using a combination of some free and some paid plugins.


"Some premium WordPress plugins which are required are "


WPForms Pro, WP_Rocket (for features), OptinMonster, Lead Generation (For marketing), Sucuri Firewall (for website security) and more.


Adding these WordPress plugins will increase the cost of developing your WordPress website which can now reach in the range of $300-$800 per year.


Cost of Developing Small Business Website with WordPress
There are many people who are running a small business and want to develop a WordPress website for their business. Hence, we must find now the cost of developing such a WordPress website.


Basically, this site will be somewhere between a simple WordPress website having basic features and a big WordPress website having ecommerce features. In this website, we require to install some of the premium tools and plugins so that your online business can flourish. Here you need a simple website which shows your products and services.


You still can use Bluehost hosting services. But you have to select a good theme for your WordPress website which is fit for a business website. Select a responsive WordPress theme as per your requirements. Although you can use a free WordPress theme also but as it is a business website hence it is better to buy a premium theme that provides timely support and updates also.


Here you will need many important plugins into your site like WPForms Pro, Beaver Builder (for features), Constant Contact, OptinMonster (for marketing) and Sucuri Firewall, UpdraftPlus Pro (for security and backups).


You may have to install many more plugins as you would like to include more features into your WordPress website. As this is a business website hence you have to be ready to spend more money to grow your business.


Although you have some specific business requirements but still there is no need to go for WordPress Customization as you can install required plugins for this.


Hence, in this case, the total cost of the website will be between $500-$1000 per year but it could reach $1200 per year if you spend more on purchasing premium plugins and tools.


Cost of Developing a WordPress Ecommerce Website
WordPress has been used to build millions of Ecommerce websites. The cost of developing a WordPress Ecommerce website will be on the higher side. Other than the cost of hosting and domain, your Ecommerce website will also need an SSL certificate the cost of which is around $70/year. SSL is needed for secure communication of sensitive customers' data which may include username, password, banking and credit card information, etc.


You can go for the Bluehost Ecommerce plan for hosting which includes a free domain name and SSL certificate. After that, you need to install a WordPress Ecommerce plugin. WooCommerce is the most popular and most widely used WordPress Ecommerce plugin which allows you to build amazing and most reliable Ecommerce stores to sell your products and services online.


Hence, you can install WooCommerce on your WordPress site. Although WooCommerce is free but you may need to spend on some extra addons for more features. Also, you have to select a WooCommerce ready WordPress theme for your site. There are many paid as well as free WordPress themes with full WooCommerce support in the market. You should choose a premium theme as it will provide you support and more features.


Some premium plugins which your ecommerce website will need are – WPForms, Beaver Builder, Soliloquy (for features), OptinMonster, Constant Contact, MonterInsights (for marketing & analytics), BackupBuddy, Sucuri (for backup and security).


Hence, here, in this case, the total cost of developing a WordPress Ecommerce Website will be $800-$2,000 per year. It can even reach up to $3,000 per year if you choose to use and install more paid add-ons, plugins, and other services to your WordPress website.


Cost of Developing a Custom WordPress Website
If you need a WordPress website with unique design and your business-specific features, then you have to go for custom WordPress Theme Development or custom WordPress website development. Generally, only the large-sized enterprise-level businesses go for it as its cost of development can be very high.


In this category, you have to go for a managed WordPress hosting provider which will provide you with managed updates, premium support, foolproof website, data security, and other required tools.


Other than your hosting and domain name you will also need to pay for the web developer who will be developing your custom website. This developer will also do WordPress Theme Customization to do changes as per your business requirements.


A basic custom WordPress theme alone can cost you about $3000. More advanced WordPress websites with specific custom features can cost you easily about $10,000 or more.


Conclusion
Choosing WordPress CMS to build your website is the best way to build an amazing website with lots of business-friendly features. As we have just discussed, the cost of developing a WordPress website varies with the number of features and functionalities you want to incorporate into your WordPress website. It can be as low as $100 per year to as high as $10,000.


If you want to build a custom WordPress site or want to do some changes into your free WordPress theme or plugins, then you need to hire WordPress developer who has got rich experience in this field.


Some businesses prefer to hire freelance WordPress Developers to build their custom WordPress website while some prefer to hire a professional WordPress development company to do the job. You can choose the one option that fits you the most as per your requirements. But one thing is sure that once your WordPress website is completed and launched, your business will jump a lot.