Purchase $30.00
This PHP script is just an add-on
Available features in this gomymobiBSB add-on
Instructions to create and build a store theme for every one
Required settings for a store theme
Quick examples in developing a store theme
Instructions to create website themes for gomymobiBSB
Best basic examples to guide your users in creating website themes.
Details about all required settings of a website theme
Documenations about global variables & functions to use in making Frontpages for gomymobiBSB
Documentation about database and instruction to work with database tables
Option to implement Facebook comment plugin for disscussions
Knowledge base is translated to 16 other languages by Google Translate
gomymobiBSB: eCommerce
Business Webite & Online Store Builder
gomymobiBSB: eCommerce is a web-based site builder PHP script that runs on your own host, both shared host or VPS/server to build an online business site hosting platform to help your clients create business website & online store.
gomymobiBSB: eCommerce is an advanced automated platform that allows your clients to create unlimited sites & online stores then present their business/company sites easily and rapidly without any skills of web design, coding or programming. Each site has an online store to sell both digital and physical products, even subscriptions.
gomymobiBSB: eCommerce
Caution !!!
– Please consider Extended License or higher licenses if you would like to charge users
– Please read server requirements before buy the script, or we can not issue refund
– You'll need to contact us after uploading the source files to live host
Try gomymobiBSB: eCommerce for full features & functions
Basic Features
Create UNLIMITED business websites & stores + pages for each site
Standalone theme-based mobile site creator
Business site builder based on Bootstrap 3
Downloadable for Every site
Responsive Mobile Friendly Themes
Website builder & platform are compatiable with All browsers
Easy-to-use Built-in Media
Drag-n-drop, User Friendly Builder & WYSIWYG HTML Editor
Support Multiple Languages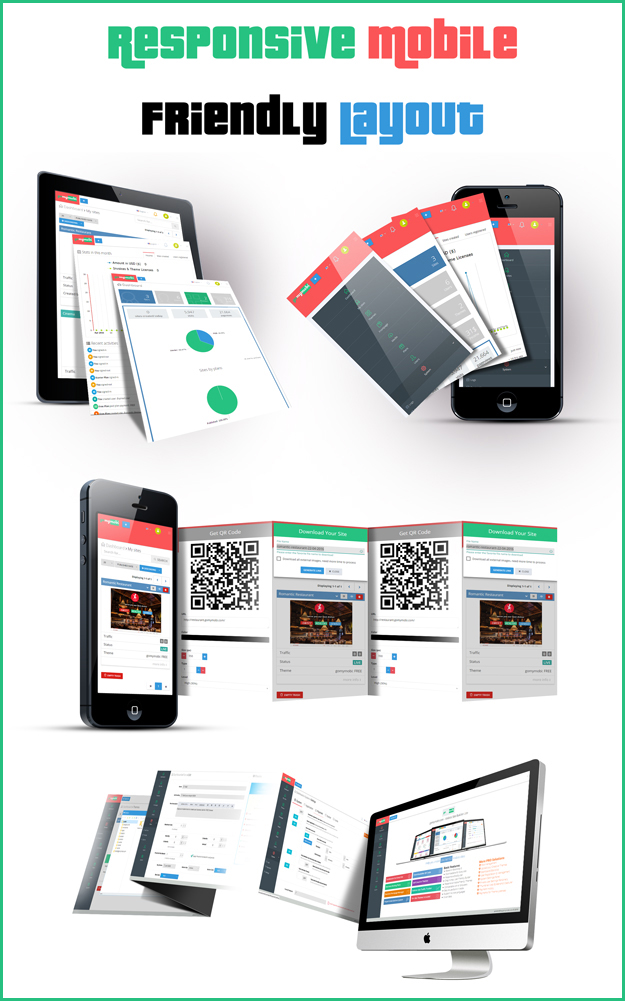 All Features & Functions
Downloadable for all created websites & website themes
Responsive layout for Builder & Platform
Drag-n-drop, user friendly HTML web site Builder
Responsive mobile friendly themes
Builder & Platform are compatiable with all browsers
Easy-to-use Built-in Media Browser
Support multiple languages
Site Management for all clients
3 Icon Sets for easy customizations
Business website builder hosts all websites as subdomains
Online store builder allows clients to create unlimited online shops
Downloadable QR Code for every published website & store
Site Hosting Plans for Business Clients
Creative Website Themes Marketplace for All users
Business Frontpage Manager for Admins
Built-in Site Traffic Tracker
Online site maker powered with Paypal Subscriptions System
Clients are able to upload creative themes for selling / sharing
Dashboard Overview of Statistics
User Registration & Management
System Settings Panel
Private User Settings Personally
Thumbnail Web Screenshot Capturer
Payment History for All Users
Payments for Theme Licenses
Changelog
All updates & changelog listed here
Purchase $30.00
The post gomymobiBSB: Knowledge Base Add-on for eCommerce (Add-ons) appeared first on Free Webmaster Download Center.