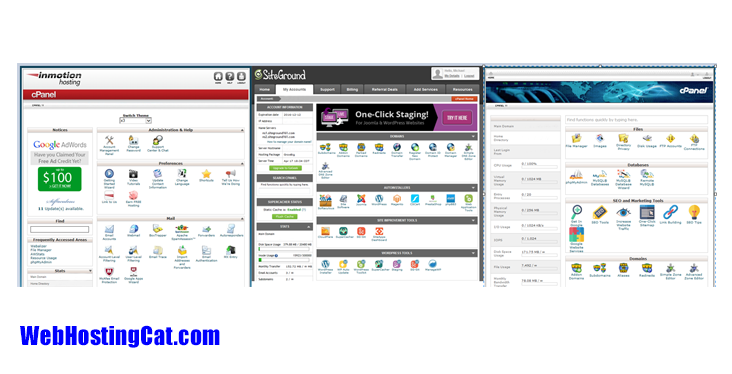 cPanel is our favorite web Hosting control panel interface. And because of its popularity, more and more web hosts are including cPanel with their hosting plans. We previously looked at some cPanel hosting recommendations over a year ago, so I thought it was time to take an updated look at the best cPanel hosting.
| | Web Host | Price | BBB Rating |
| --- | --- | --- | --- |
| | A2 Hosting | $3.92 mo. | A+ |
| | InMotion Hosting | $3.49 mo. | A+ |
| | SiteGround | $3.95 mo. | A |
| | GreenGeeks | $3.96 mo. | A+ |
What is cPanel?
cPanel is your control panel interface where you can access features for your web files, email, databases, software applications, and more. Your cPanel screen will also provide you with important details about your Web Hosting account (IP address, domain and subdomain usage, email accounts, etc.)
Why We Like cPanel
With cPanel, you get a graphical based interface that lets you easily access your website functions. The graphics and grouping of functions is very intuitive and makes working with your website easier. And, cPanel gives you access to some great website applications and functionality.
For example:
File Manager



With the File Manager, you can easily access and work with your website's files. Whether you need to upload, download, edit, or delete files, File Manager lets you perform all of these tasks. You can also create compressed archives of your files for backup.
Webalizer



cPanel usually provides you with multiple ways of accessing and viewing your web stats. I like using Webalizer the best. With Webalizer, you get nice graphical and statistical representations of your website's data.
phpMyAdmin



If you use a content management system for your website, such as WordPress or Joomla, you'll often need to access your databases. phpMyAdmin allows you to access your MySQL databases. You can use phpMyAdmin to export and import databases in addition to performing database queries.
Email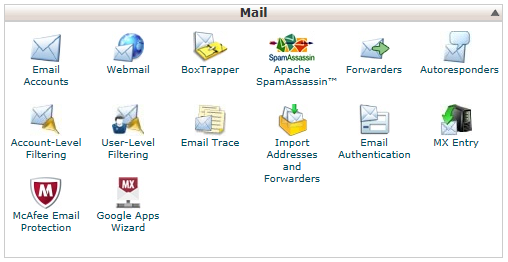 When you need to create email accounts or perform other email functions, you can get quick access via the icons in the Email grouping in cPanel. Here, you can also launch SpamAssassin to reduce the amount of unwanted emails cluttering up your inbox.
Softaculous




One of the best features of cPanel is the inclusion of Softaculous. Softaculous gives you one-click installation capability for up to hundreds of software applications for your website. With Softaculous, you can install WordPress, Joomla, Drupal, eCommerce applications, and a bunch more web applications.
cPanel Hosting Recommendations
Our cPanel hosting recommendations are based on a combination of the web hosting company's implementation of cPanel and their overall web hosting performance. Most hosting companies will customize cPanel somewhat, and we like all of the following web host's implementations of it.
InMotion Hosting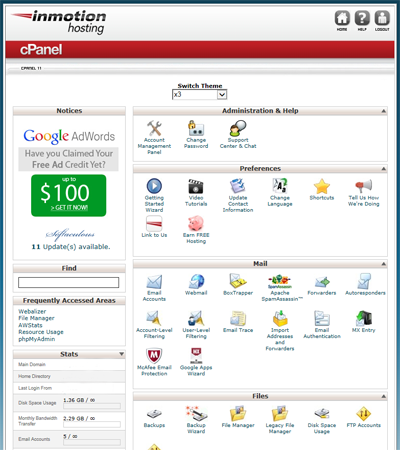 InMotion Hosting is again on our list of best cPanel web hosting providers. With InMotion, you can access cPanel through their Account Management Panel (AMP). InMotion's cPanel displays your website data on the left column and your function icons on the right. I really like that they include a direct link to their support center and live chat at the very top of their cPanel. It makes it very convenient should you need assistance.


Along with their handy cPanel implementation, InMotion Hosting provides outstanding web hosting. I've enjoyed excellent website performance together with their top notch customer support. Your web hosting plan at InMotion includes their top quality business hardware including solid state drives, Max Speed Zone Technology for faster website performance, free data backups and restore, and many more business hosting features.
Click Here to Read our Detailed Review of InMotion Hosting
SiteGround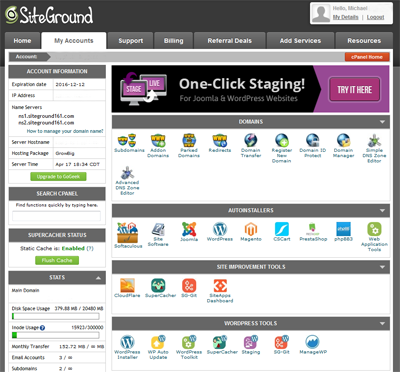 SiteGround is another web host making a return appearance on our cPanel hosting list. You access your SiteGround cPanel via the My Accounts tab in your SiteGround admin panel. SiteGround's cPanel appears within the context of your SiteGround admin, so you can still click the top menu tabs to navigate to your web hosting account functions. SiteGround also displays your web data on the left side. You also have options to upgrade your hosting account and to flush your cache.
SiteGround specializes in providing affordable managed hosting for WordPress and Joomla. You can easily access your WordPress tools from your SiteGround cPanel.


SiteGround is another web host that I personally use and am completely satisfied with. One of the great features you get with SiteGround is their SuperCacher technology which greatly speeds up your website performance. And, SiteGround's customer support is also excellent.
Click Here to Read our Detailed Review of SiteGround
GreenGeeks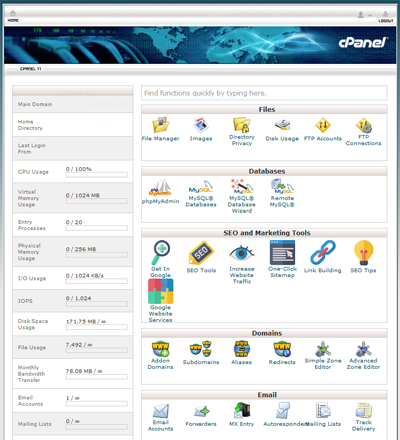 New for this year, we're adding GreenGeeks to our cPanel hosting recommendation list. With GreenGeeks, you can access cPanel through your account manager dashboard. I like how GreenGeeks includes the search bar at the top of their cPanel which allows you to type in the function you're searching for—which is great for newbies to cPanel.
While I'm a newer customer to GreenGeeks than some of the other web hosting companies, I am very impressed with their hosting performance and support staff. I recently added SSL to one of my sites there and the support techs were extremely helpful.
Unlike other web hosting companies, GreenGeeks features one all-inclusive plan that lets you host as many sites as you need to, along with unlimited web space and data transfer. You also get free SEO and Marketing Tools for your website, which you can access from your GreenGeeks cPanel.


Click Here to Read our Detailed Review of GreenGeeks
A2 Hosting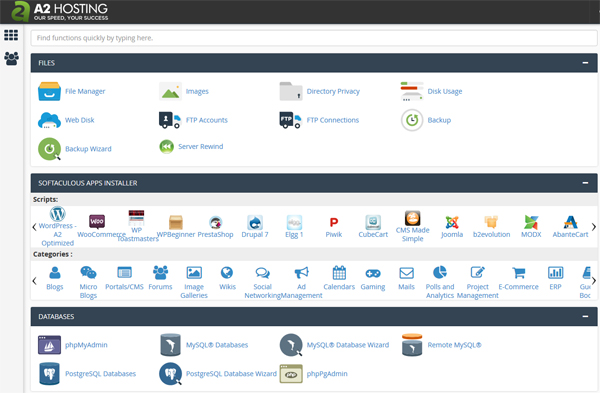 A2 Hosting is definitely one of the best choices for cPanel Hosting. With their cPanel interface, you can easily access the outstanding features that are included with your A2 Hosting plan. From A2 Hosting's cPanel, you get one-click access to Server Rewind Backups, A2 Optimization Configuration, Cloudflare CDN, as well as the standard functions that come with cPanel. You can access your A2 Hosting cPanel separately, or from your A2 Hosting Client Area. We like how the Softaculous application icons are expanded out for easier access.
Speeding up your website is also made easier with quick access to Cloudflare and the A2 Optimization page.

Click Here to Read our Detailed Review of A2 Hosting
cPanel Hosting Comparison

$3.49 mo.
BBB Rating: A+
cPanel Features: Quick and easy access to live chat support directly within cPanel.
Hosting Features: Max Speed Zones, SSDs, Business Class Hardware
See More

$3.95 mo.
BBB Rating: A
cPanel Features: Access to WordPress Tools
Hosting Features: Managed Hosting Features, SuperCacher
See More

$3.96 mo.
BBB Rating: A+
cPanel Features: Type in Search Capability
Hosting Features: All Inclusive Hosting Plan, Free SEO and Marketing Tools
See More
cPanel continues to be my preferred web hosting interface and I would definitely recommend you consider a cPanel hosting plan.
See our A2 Hosting Review Ratings below: