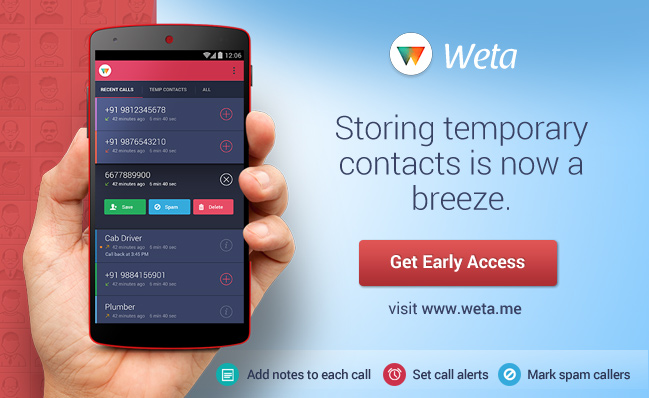 Update: Weta is now available for download at the Google Play Store!
With millions of apps available on app stores dealing with every possible functions, aren't you surprised we still depend on notebooks or bits of papers to jot down Temporary Contact numbers? At Niyati, we were naturally amused. Sensing a need for this daily requirement, we started developing a Android app just for this purpose.
Today we are happy to announce the release of the first look of Weta – the Contact Management App you'll actually use. Built on Android platform, Weta will be a free app with freemium features planned for the future.
In the initial release, Weta will primarily help you to do the following functions:
Easily save your temporary contact numbers
Mark annoying calls as spam
Add notes to every call
Set call back alerts
Backup all your contact numbers on the cloud
To get an early beta invite, visit the Weta website and sign-up with your email!