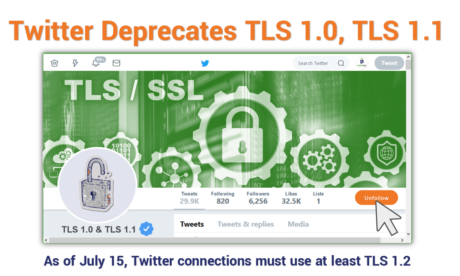 All Twitter connections will require TLS 1.2 starting Monday
On Monday, July 15, Twitter will drive another nail into the coffin of TLS 1.0 and TLS 1.1. The social media giant that serves as the world's comments section will officially require all connections to use TLS 1.2 or higher starting next week.
This move is part of a larger movement to Deprecate the outdate versions of the TLS protocol. There are legitimate security concerns associated with TLS 1.0 and TLS 1.1, which is why just about every major player in the tech industry already has – or have announced plans to – Deprecate Support for them.
So, today we're going to keep it light and talk about Twitter removing support for TLS 1.0 and TLS 1.1 next week, why TLS 1.0 and TLS 1.1 are on their way out and how many websites are still supporting them.
Let's hash it out.
The post Twitter will deprecate support for TLS 1.0, TLS 1.1 on July 15 appeared first on Hashed Out by The SSL Store™.