At Internet Solutions For Less, we are always asked by clients what the most cost effective ways are to get a website built. There are many ways to get a website at an Affordable price, below we will summarize our suggestions.
These are steps you can actually take on your own or you can have a company like ours assist in any of the steps that either are too technical or you just do not have the time to do.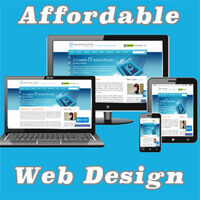 1. Go with a content management system like WordPress. This will not only allow you to build the website without any coding knowledge, but you will also save on ongoing maintenance costs because you will be able to update the site on its own. WordPress also has a large library of free plugins that can add needed functionality to your site like a blog, a shopping cart, a member login feature, ect.
There are many other content management systems beside WordPress, but WordPress is by far the more popular choice. Beware of those build-it-yourself CMS systems that have a lot of limitations on customization, are overly complicated and do not offer a library of free plug-ins.
If you do not want to maintain it yourself, we offer WordPress Maintenance Services
2. Pick a quality Theme that offers support by the theme creator. If you visit a site like Thememforest, you will find thousands of WordPress themes for sale. Most will be professional looking, mobile and search engine friendly, but most importantly include support by the theme creator for 6 months. This is very important because if you choose a theme that offers no support and the theme breaks causing your website go down, you will have nobody to turn to get the the theme fixed. Most themes on Themeforest cost $40 – $60 as a one time licensing fee.
3. Once you have chosen a theme, the next step is to buy an affordable domain. There are literally 1000's of companies that sell domain names at a wide range of prices. A domain name should not cost you more than about $12 per year. We simply recommend Godaddy to buy your domain from as they not only have excellent customer service, but unlike most domain companies they actually have a phone number to call for support if you need it.
4. The last step to getting a website at an affordable price is to sign up for an affordable hosting package. Hosting is required to keep a website up online month to month, but most hosting companies will offer little support on your website, instead they will only support email accounts and other things related to hosting. At Internet Solutions For Less, not only do we host websites, but we maintain them as well offering our clients 100% support not only on their hosting features but on their website as well.
If you are interested in getting a quote for a website at an affordable price, contact us today if we can assist in any way.
The post How To Get A Website At An Affordable Price appeared first on Internet Solutions For Less.