Coworking spaces are popping up around the globe: from Sydney to New York, more and more companies and individuals are using these spaces as places for productivity.
The rise of coworking spaces is a result of more people wanting to work alongside others who share similar values. They're often occupied by freelancers and frequent travelers, who are used to working alone.
A more social and well-designed environment offers a solution to the isolation that many of these professionals experience when working from home while reducing the distractions that come with doing so.
Let's take a closer look at Logo designs from 8 of the most popular coworking spaces in the world.
1. The Farm (New York City)
It all started with an age-weathered barn in southern Missouri that needed a new lease on life. Lucas Seyhun, who designed the space, came across this barn during his travels and wanted to take a piece of it back home to New York City with him. With some elbow grease and a desire to create a home for dedicated innovators and entrepreneurs, The Farm came to fruition.
The company's logo stays true to the brand's roots with a barn roof sitting on top of a modified wordmark. "The" sits on a vertical baseline and "Farm" on a horizontal; the text spans the exact width of the barn symbol as a result.
Source: officesnapshots.com
---
2. Campus London (London)
Operated by Google for Entrepreneurs, Campus is a global network of spaces for big ideas. With campuses in six cities — London, Madrid, São Paulo, Seoul, Tel Aviv, and Warsaw — the network is creating flourishing startup communities across the globe, including the flagship London location.
The "frame" icon in the logo represents the different spaces, acting as a reminder of the numerous events, programs, and community resources that Campus provides.
Source: bmmagazine.co.uk
---
3. Bespoke (San Francisco)
Bespoke was a first-of-its-kind ecosystem in San Francisco's tech and retail community when it launched in 2015. It has since grown to be a tech hub, bringing entrepreneurs and creators together on the famed Market Street, where retail and high-tech intersect and create an exciting atmosphere.
The logo is a clean, narrow wordmark, with all-caps letters accented with a line underneath the letter "B." The simplicity of this logo is not to be underestimated, as the Bespoke space started out as a disruptor in one of the largest tech centers in the world.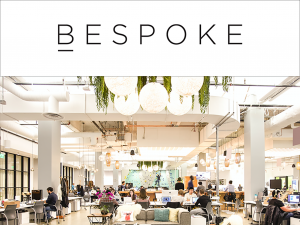 Source: bespokesf.co
---
4. Project Spaces (Toronto)
Project Spaces has been giving hustles a home since 2011. With two locations in the downtown core – King West and Camden – the Toronto-based company offers its vibrant, open-concept spaces to digital nomads of all kinds. (Fun fact: it served as Logojoy's first office!)
The logo is a black square that encloses white text in a minimalist all-caps, sans-serif font, accompanied by two white dashes to break up three sections: the top being the date established, the company name in the middle, and the location at the bottom. The logo also comes in two other color variations similar to the main logo, but unique to each of the two locations.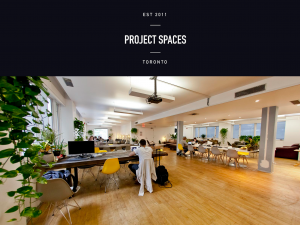 Source: projectspac.es
---
5. Innov8 (New Delhi)
Backed by American seed accelerator, Y-Combinator, Innov8 has several locations throughout major cities in India. The company transforms real estate into beautiful coworking spaces for founders, investors, freelancers, and creators.
Created by self-taught graphic designer, Rahul Pande, Innov8's logo is colorful and upbeat, appealing to the company's youthful audience. Inspired by the words create, innovate, and accelerate, the combination of vibrant colors and italicized typeface (similar to Comic Sans) evokes a playful mood.
Source: inc42.com
---
6. Playground.Work (Hong Kong)
Hong Kong-based Playground.Work stands by the concept of combining work with fun. The activity-based workspace welcomes like-minded professionals who want to get work done while enjoying themselves. And with a rock climbing wall on site, how can hard-working innovators not have fun?
Playground.Work's logo is a white wordmark enclosed by a friendly light-blue rectangle, an extension of the letter l's top-end. The "y" is backward, an ode to the free-spirited nature of the company. The slogan sits at the bottom: "Work · The Fun,"highlighting the company's value of work-life balance.
Source: playground.work
---
7. Fishburners (Sydney)
Fishburners is a not-for-profit that's well known for supporting the growth of Australian startups. As a frequent host of events and workshops, it encourages members (called "Burners") to help one another; they gather in the Fishburners space to participate in highly collaborative work and bonding.
The logo combines a wordmark, symbol, container, and slogan. The light blue sans-serif font is predominantly rounded and gives a strong-yet-friendly vibe. An aquatic symbol sits in a blue circle, identifying the nature of the organization's name. "Where startups start" is the perfect slogan to sum up Fishburners' core values and function.
Source: startupdaily.net
---
8. Sosa (Tel Aviv)
SOSA (South of Salame) aims to create an exclusive global network that bridges the gap between supply and demand of corporate innovation. From HP to Yahoo! Japan, SOSA has an extensive list of leading global partners that provide support in disrupting the tech industry.
SOSA took a minimalist approach to their logo's design. A white, rounded typeface creates a sophisticated look and feel. The "o" is reminiscent of a boardroom table, and the enclosed space of the "a" tapers off into a point. These characteristics remind people of the collaborative and modern elements of SOSA.
Source: theculturetrip.com
Curious about what logos look like in other industries? Explore our logo inspiration guide and get tips on how to design a logo for your next venture.
The post 8 Coworking Space Logo Designs from Around the World appeared first on Logojoy.