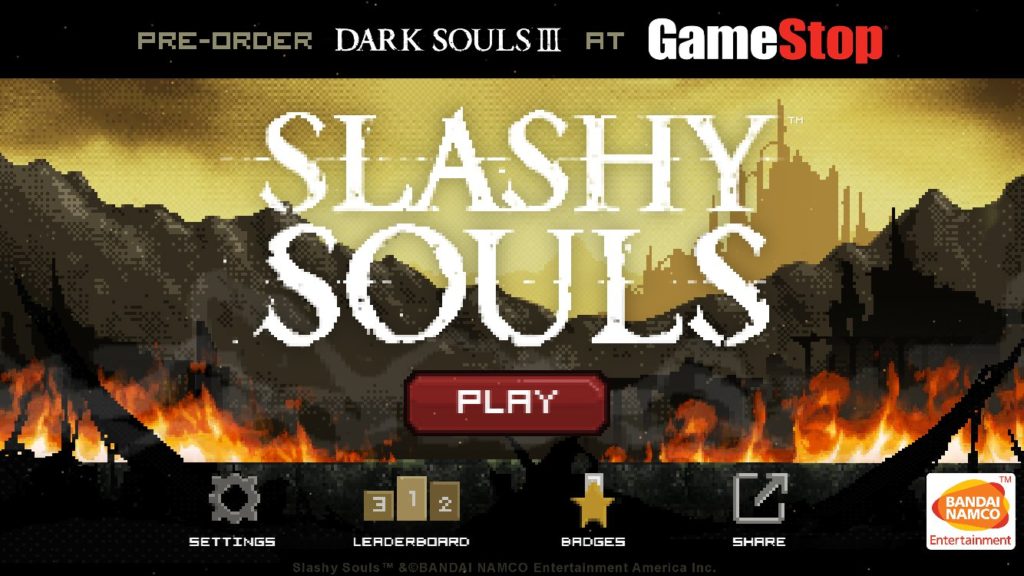 Slashy Souls
The idea of a Dark Souls mobile game isn't entirely unappealing. One might think Dark Souls' stark, gothic landscapes and horrific character design would translate well to any genre. Could you imagine a turn-based strategy game in the style of Lara Croft or Hitman GO? An Infinity Blade-like slash-em-up perhaps? Dark Souls' incredibly deep lore would be well suited for a decision-based narrative adventure like The Wolf Among Us. In fact, one of the only genres I would think least suited to this series is an endless runner.
Endless runners can be beautiful, slick, built-from-the-ground-up masterpieces like Punch Quest or Temple Run. Other times they can be hurried cash-grabs to tie in with the release of the latest movie or game. Oh, while we're on the subject, did you know that Dark Souls 3, the next highly anticipated title in Bandai Namco's brutally difficult beloved series is coming soon?
Enter Slashy Souls. Make no mistake, this is an adver-game, nothing more. In fact, there seems to be very little, other than some basic sprite-based art and audio assets from the first Dark Souls and its unwavering difficulty, tying this game to the series.
Your hero runs from left to right, killing enemies and avoiding traps, all while racing the impending fog following behind. Pretty standard endless runner fare. Tapping the screen will attack, keeping a tap held will block with your weapon, swiping left and right will roll your character backwards and forwards respectively and swiping up will jump. Input can be entered anywhere on the screen, so you can choose to use one hand if you prefer.
It would have been really nice to see a tutorial of sorts during my first run, but alas, you'll have to figure out the controls for yourselves. Seriously, they would've needed like 10 seconds of screen time to explain it. My complaint with the controls doesn't end there. Your character is highly unresponsive to input. In a game where split-second reflexes are everything, The control mechanism needs to be precise. Many times I attempted to jump over a pit or trap only to have my hero swing his weapon without purpose.
Occasionally, you'll pick up a one-use magical spell, but these do nothing to enhance the gameplay experience. There's an over shield which lasts approximately 5 seconds and a fireball projectile which damages enemies directly in front of you. You'll pick up different weapons like a great axe or flaming sword, but again, these feel weak and uninspired.
The low-resolution graphics are average at best. It feels like the game was made for a 5 generation old smartphone and upscaled. Some of the skeleton enemies have a horrible black border around them and the animation on some of the game's more iconic enemies like the armored boar, Smough or Gravelord Nito is laughable, reminding the user that yes, Flash games do exist, and they're probably better than this. There's even this repetitive artifacts appearing in the left-center portion of the screen, most likely to do with the impending fog animation.
As far as sound goes, there's a few familiar audio cues pulled from the series, but it's mostly forgettable. The two or three music tracks that play are bland and repetitive.
It's all just sloppily put together. Speaking of sloppy, did the programmers realize that when sharing to Twitter, you're limited to 140 characters? Including the link for the image that you're sharing, and the body text they've provided, you're 10 characters over, meaning that if you want to share your progress to one of the world's largest social networks, you'll have to modify the text first.
It seems to me that instead of building a uniquely satisfying tie-in, they've rushed the game out as quickly as possible knowing full well what it is; an ad for Dark Souls III and GameStop. Slashy Souls is just awful.