Hello tappers. Christmas Day has gone, many worldwide events have started and 2016 is nearing an end – meaning 2017 is JUST around the corner. 2016 has been an interesting year for content – probably the most controversial year yet. With new year approaching, I am VERY EXCITED for 2017! I have a feeling it is going to be a good year for TSTO – got high hopes EA – don't let me down 😠😊.If you don't know much about me, then know that I Love to come up with event ideas for Tapped Out (and you will see more of me showing that in the new year) and I still think EA has loads of good-quality events which could last us years – need any help EA? I would love too! I spend my free time with a notepad, coming up with ideas, rewatching episodes to get content for that idea, taking screenshots as I go through the episodes and getting myself very excited because my ideas are ones that I would LOVE for the game. So … Here are my Top 5 event ideas I would like to see in 2017 …
All these Top 5 are events that I would be extremely excited to be getting!! There are loads of other ideas that I would still love to see – I'm very easily pleased.
But first, I asked Robobot the Top 5 events he most wants in 2017 and this is his response:
5. April Fools Mini Event Based on Bart's Pranks
4. Valentines Day 2017 With Julio, Sarah Wiggum, and Others
3. A Mini Event Based on Comics and the remaining things that Superheroes 2 Missed (Like Everyman)
2. A Mini Event Based On Angelica Button Episodes and Other Magic Stuff
1. Simpsons Game Event
That would be a Fun event with tons of potential items like the Chocolate Rabbits, and it has loads of potential for costumes
I definitely want all of these ideas but I can up with some new ideas that I will briefly explain – chances are I will elaborate on these ideas in desperate and detailed posts. So, let's start the rundown:
---
#5 – Krustyland Part 2
Episodes it could be based around: Itchy & Scratchy Land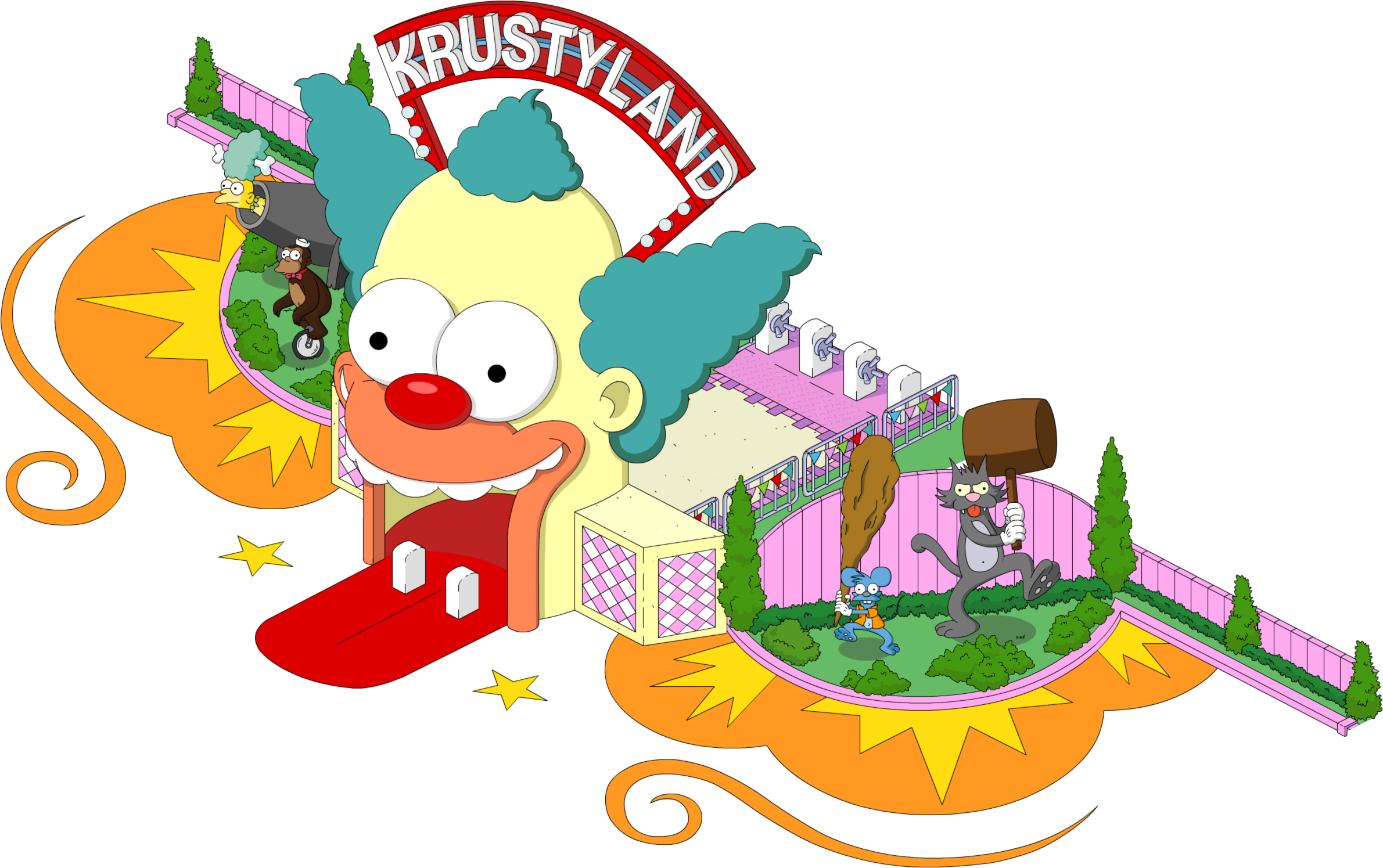 I explained how much I REALLY want a lot more content in Krustyland in this video HERE because I feel like there is such a huge possibility and it was disappointing that they gave us so much land and hope but so little content. They have a lot they could do with it.
---
#4 – A (Murder) Mystery Event
Episodes it could be based around: Who Shot Mr Burns Pt. 1 & 2, Black Widower, Krusty gets Busted
I love mysteries like Agatha Christie, Death in Paradise and Jonathon Creek so any event where we would have to solve a murder or mystery would be super fun and I would love it. Maybe there could be some suspects and you would have to put your bet on who you think it is judging by some subtle evidence given – obviously I don't think it would be fair for the answer and conclusion to be in the files. A lot of possibility for this one!
---
#3 – A Magic (Angelica Button?) event
Episodes it could be based around: The Great Simpsina, The Haw-Hawed Couple (the B Plot)
Being a big Harry Potter fan this is an event I would die for (not literally!). They would have to narrow it down to either a Harry Potter spoof event (Angelica Button – like Robobot mentioned) or magic in general where we could see fictional magic mixing with magicians like The Great Raymondo and Simpsina – either way a magic event would be epic IMO.
---
#2 – A Simpsons Movie/EPA event
Episodes it could be based around: THE SIMPSONS MOVIE
This is an event I have been wanting for ages due to my love for The Simpsons Movie and IMO it HAS to happen before the end of the game – there is so much possibility! I have a very good perspective on how I would like this event to look and am halfway through an event layout post for this idea so keep a look out 😉.
---
And finally the #1 event that I want (likely to change, I kept swapping around) is …
#1 – A Broadway/Stage Show
Episodes it could be based around: Lisa with an 'S', "The City of New York vs. Homer Simpson", A Star is Torn
I am such a big musicals fan! This event would make me such a happy tapper. I can see so much possibility after the success of the Casino event bringing lights, fame and all that JAZZ! I want guess stars, stages, dances, references and Troy McClure!!
Went to far with that last request?? Okay. Scrap that, pretty unlikely 😢
I guess I wouldn't mind getting a New York update which incorporated Broadway because New York in the Simpsons has a lot of potential.
I have a lot to ramble on about this idea so it is likely you will get a post about it in the new year.
---
I hope you enjoyed the post. The explanatoins were brief because I will, most likely, do more detailed, individual posts on event ideas in the New Year so keep a look out. What events would you like to see in 2017? Leave a comment, subscribe (with the sidebar) and Happy Tapping …
The post Top 5 events I most want for 2017 appeared first on TOuk Blog.