Well, I'm always online and I come upon unique and great sites that I want to share with you for today's thursday thirteen. This sites are for those who love to Travel, who's into graphic designs and for those who are looking for a great layout/template and tutorials. I hope you'll like it too. Check 'em out.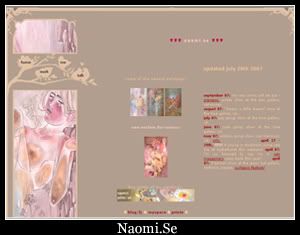 1. naomi.se - One of my favorite website. She's really a great artist, very creative and has a unique idea.
2. halfproject - A portal for Pinoy graphic artist. They showcase the arts of it's members and they also have great tutorials.
3. DeviantArt - Where ART meets application! This is the largest art community in the world wide web. Members in DA can submit art, collect favorites, track their friends or favorite artist and interact with fellow DA members. And what best with this site is they have tutorials for begginers.
4. Eternalize Bliss - "a place where simplicity and mere sophistication are blended into every design" as what the owners said. They offer a wide variety of beautiful and sophisticated graphics.

5. Relentless Designs - Well, this site also makes cool pre-made layouts for those who have few other resources.
6. Krystalis Design - The site provides an eye-pleasing, quality layouts and avatars for free and the graphics ranges from anime to abstract art.
7. Aethereality - A design portal that offers pre-made layouts, PNG, avatars, brushes, testures and everything else needed for website enhancement and also tutorials to hone your design skills.
8. Summer Skies - A graphic resource site who provides free pre-made designs, wallpapers, photoshop brushes and tutorials.
9. Virtual Tourist - One of the best travel sites ever. They offer the best travel guides, hotel reviews, travel deals and everything and any thing about travelling. You can also interact with VT members by chatting with them or by attending VT meetings worldwide.
10. Paradise Philippines - One of the best travel blog about the Philippines. Their goal is to provide a community for travel bloggers. They also offer comprehensive travel guide for travellers.

11. Travel Philippines - Want to know more weekend gateaway? Just check this out. This site is one of the best site about the Philippines. It also have information on how to get a visa (for foreigners). It's always updated and it has great pictures.
12. Byahilo - A blog of a traveller who spends his time exploring the Philippines. And captures every moment of it in films.
13. Ivan About Town - A travel blog by a travel freak, frustrated historian and heritage activist.