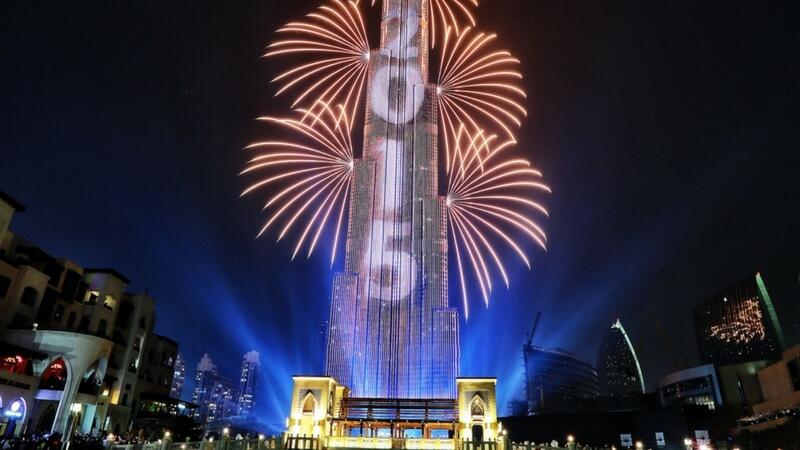 Image Source: HISHAM BINSUWAIF/flickr.com
One of the world's most popular destinations to bid adieu to the current year, Dubai is all about a fantabulous string of glitzy parties, dazzling fireworks, entertaining events and over-the-top festivities! New Year celebrations in Dubai are indeed one of the best ways to ring in 2018. With an astounding display of fireworks on the backdrop of the world's tallest building - Burj Khalifa and a spectacular show of lights, the radiant revelries of New Year in Dubai are sure to ignite the festive spirit of every merrymaker visiting the city.
Not just firework and light shows, but Dubai is a hub of everything that takes the vibrancy factor of New Year's Eve celebrations up by another notch! Planning a trip to Dubai at December-end? Take a look at these marvelous celebration options in Dubai to party in style!
Dance the Night Away at the New Year's Eve Parties in Dubai!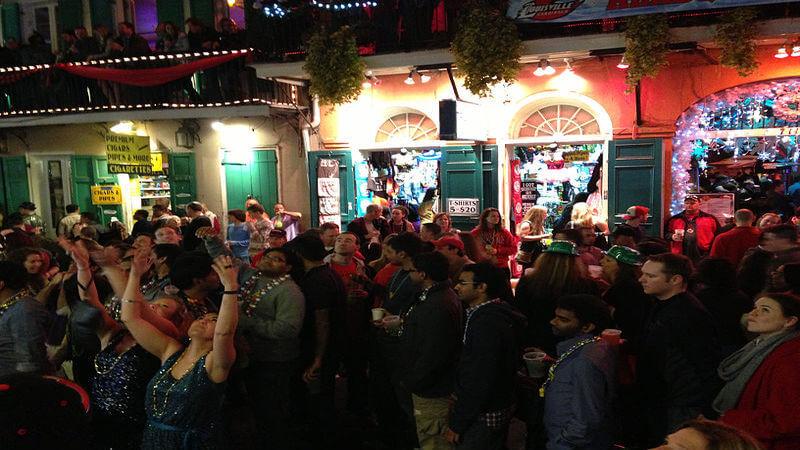 Image Source: Wikimedia Commons
With a horde of pulsating nightclubs, lounges and luxury hotels boasting of world-class dancefloors, Dubai is already famous for its energetic nightlife scene. These entertaining nightspots especially come to life during the last week of December when they gear-up to celebrate the new year. Featuring live music, fantastic food, eclectic drinks and top-notch fireworks, Dubai New Year's Eve parties are among the best in the world. From private yacht parties and desert camp parties to quintessential extravagant parties at luxurious hotels, Dubai has endless revelry options!
Atlantis, The Palm is probably one of the most sought-after new year party venues in Dubai. With fireworks displays, unbelievably lavish feasts and live entertainment, The Atlantis Royal Gala bequeaths you with unforgettable sights, delightful music, and exquisite dishes.
Known to organize the best firework shows and incredible parties, the beautiful Jumeirah Beach Hotel is another popular party destination in Dubai. Also, The Burj Al Arab is undoubtedly one of the hottest new year party spots, thanks to the live performances from musicians, acrobats and artists as well as the Gala Dinner. Replete with unbeatable traditional music, Arabic food, a horse-riding and a camel show, Bab Al Shams' Al Hadheerah resort too has to be featured as one of the best choices for a luxurious New Year's Eve setting.
Grand Midwest Tower, Hilton Dubai Jumeirah, The Park Hyatt Hotel, Meydan Hotels, The Steigenberger and Al Naforrah are few other well-known new year party options in Dubai which are known for their indulgence, glamour and appeal! Most of these hotels and resorts provide Dubai New Year Holiday Packages to the tourists which ensure that you have a resplendent end-of-the-year party experience without burning a hole in your pockets.
Book tours and activities in Dubai with TripHobo.
Admire the Mesmerizing Fireworks!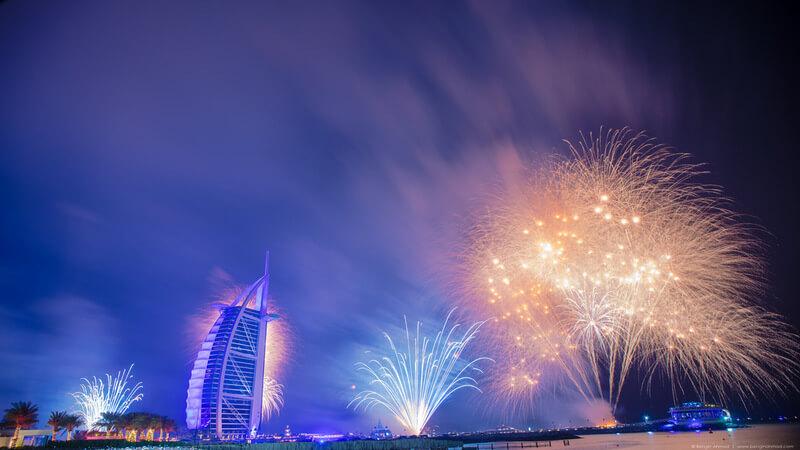 Image Source: Bengin Ahmad/flickr.com
Firecrackers and sparklers of all colors, shapes and sizes beautify the Dubai skyline on the last day of the year. Dubai New Year's Eve fireworks is a display so brilliant and bright that people from all around the globe dream of watching this alluring show which illuminates the sky.
The most spectacular midnight fireworks extravaganza in Dubai takes place in Downtown Dubai, especially in the area around Burj Khalifa. The best location to watch New Year's Eve fireworks in Dubai is the at the Top outdoor observation deck which treats you to stunning views of the beautiful sky which is aglow with the fireworks. The event gets underway at 8pm and is free of charge. However, it is advised to turn up as early as possible if you want to grab the best spots for an uninterrupted view.
Apart from Downtown Dubai, there are several other fireworks displays in this city which are captivating and can be admired without mingling with the overflowing crowd. The Sunset Beach and Kite Beach are two options for catching these stunning displays at free of cost. Hotels like Atlantis, The Palm, Burj al Arab and Jumeirah Beach Residences also organize their own firecrackers shows which are sure to enthrall everyone. Admiring the mesmerizing fireworks indisputably has to be on your list of things to do in Dubai on New Year's Eve!
Enjoy the New Year Special Events and Activities!
Image Source: Jasmine/flickr.com
Apart from parties and fireworks, Dubai bequeaths tourists with a galore of entertainment options to kickstart the new year. So, from brunches and dinners to concerts and performances, every corner of this city is brimming with events!
Almost all luxury hotels in Dubai hold special new year brunches which boast of an extensive and an indulgent spread! The British grub at The Croft at Dubai Marriott Harbour Hotel, modern Mediterranean dishes at El Chiringuito at Rixos Palm Jumeirah, the instagrammable brunches at Waka at Oberoi Hotel Business Bay and the healthy brunch dishes at the Boca at DIFC are few of the must-visit places for new year brunch in Dubai.
Dubai New Year's Eve events and concerts consist of numerous carnival-like activities the whole evening! Live music shows, dance performances, masquerade balls and many more interesting prospects entice you to be a part of the New Year revelries in Dubai! So, jump aboard the world's biggest wooden dhow, a majestic three-tiered vessel, at Dubai Creek and enjoy the striking views of the fireworks adorning the Dubai skyline while feasting on a five-course meal, have a splendid time at the Black & White Masquerade Ball at Atelier M, in Dubai Marina or hog at the delightful backyard-style barbecue street festival at Rove Downtown Dubai!
From simple wine-and-dine and cozy get-togethers to indulgent five-course-buffets, larger-than-life parties and not to forget, the astonishing fireworks, New Year celebrations in Dubai keep getting bigger and better every year. So, off you go to this magical land to bid adieu to this year and ring in the next with ample merriment and cheer!
You May Like to Read:
Best New Years Eve Fireworks in the World
Best US Cities For New Year Celebration
Japan New Year Celebrations
Best Places to Celebrate New Year in Europe