Like they say, Never Stop Exploring! San Diego, a popular bay city in the state of California is a perfect family holiday destination, and why not?! With its Pacific coastlines, breezy green spaces, warm climate, famous zoos and parks, numerous art galleries and a rocking food scene, this city can surely keep you hooked! But are you yearning to explore a little more? Having a long and leisurely weekend coming ahead? Whether you plan to relax on a beach, or go out exploring the jungles, here's a list of some kickass weekend trips from San Diego that would make you wanna hit the road right away!
1. La Jolla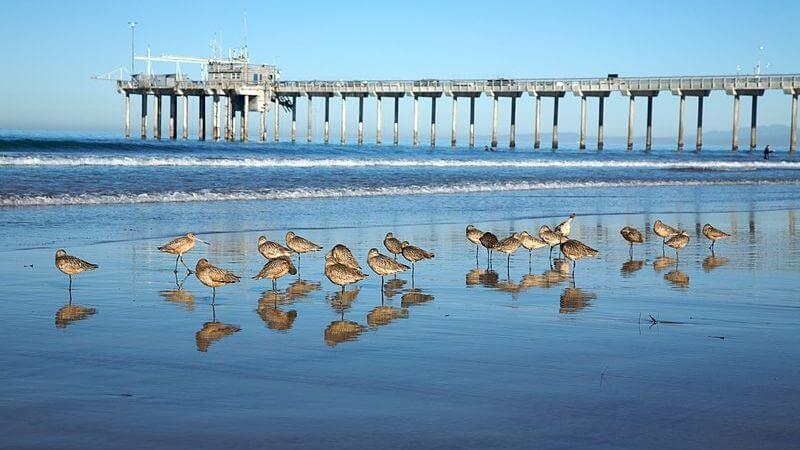 Image Source: Wikimedia Commons
Planning to spend an intimate weekend getaway that is not too far from the city? Head out to La Jolla for all things fun and tropical. And to add to your experiences, you can dig in some scrumptious seafood along with spirituous liquor.
Distance from San Diego: 13 miles
What to see:
Birch Aquarium
Children's Pool Beach
Windansea Beach
Black's Beach
Mount Soledad
What to do:
Take your dog for a walk at the Scripps Pier
Dive and explore the San Diego-La Jolla Underwater Park
Lie down and watch the time pass by at the Ellen Browning Scripps Park
Work your way through The Map and Atlas Museum of La Jolla
Must Read: Things to do in San Diego
2. Catalina Island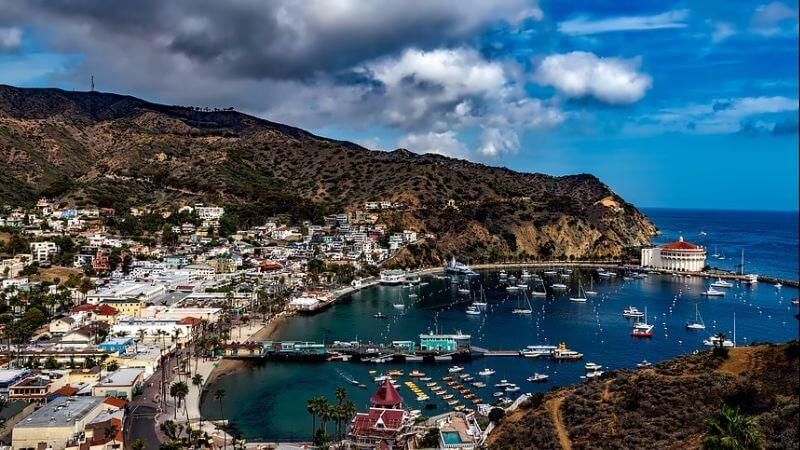 Image Source: Pixabay.com
Santa Catalina Island is one of the California's Channel Islands and is known for all things luxurious! Relax on the beach, go snorkelling, sip on some cocktails, or try your luck at its casinos. With plenty of activities to do, Catalina Island is one of the most favourite weekend gateways near San Diego. Take a ferry from Long Beach to reach this island, and if it's your birthday, your ride is free!
Distance from San Diego: 1-hour ferry ride from Long Beach, California
What to see:
Wrigley Botanical Gardens
Lovers Cove
Catalina Island Museum
What to do:
Make some monies at the Catalina Casino
Get artist-y at the Casino Ballroom
Relax at the Moonstone Beach
Climb up the Catalina Chimes Tower
Recommended Trips: 2 Days in San Diego
3. Palomar Mountain State Park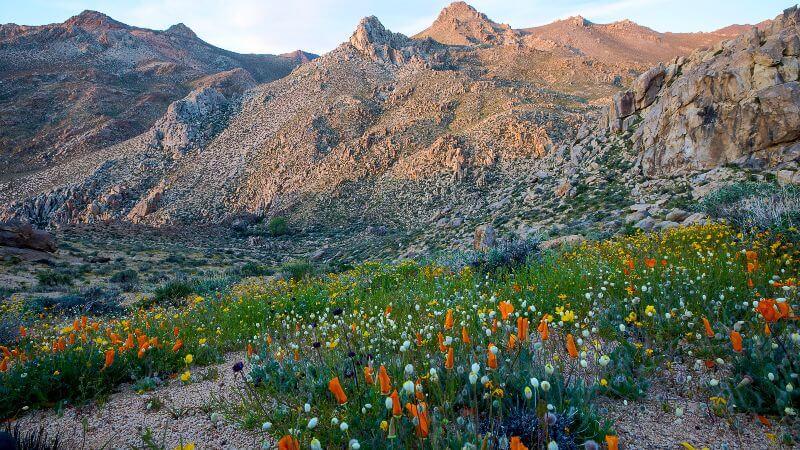 Image Source: Wikipedia
Pack a picnic basket, take your dog along and head out to the forests! Palomar Mountain State Park is one of SoCal's most visited parks that features a world-class observatory, and some of the finest walking and hiking trails. Relax at one its coastal vistas or set up a camp amidst the forest, your pick!
Distance from San Diego: 63 miles
What to see:
Cleveland National Forest
La Jolla Zip Zoom Ziplines
Palomar County Park
What to do:
Listen to stories about the astronaut who killed Pluto at the Palomar Observatory
Watch the fireworks at the Boucher Hill Summit
Down a beer and gorge on some homemade burgers at the Mother's Kitchen
4. Laguna Beach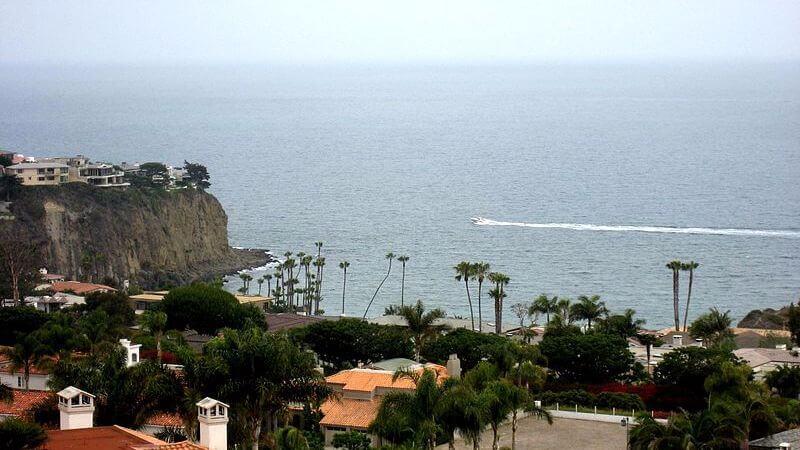 Image Source: Wikimedia Commons
A small coastal city in southern Orange County, Laguna Beach has been attracting tourists to its beautiful windy beaches, art galleries, and trendy restaurants for quite some time now. Planning a family weekend getaway? Get the kids along to see the tide pools along the coast of the Pacific, or take them to kids' art galleries. There is something for everyone here!
Distance from San Diego: 80 miles
What to see:
Heisler Park
Crescent Bay Point Park
Pearl Street Beach
What to do:
Take a self-guided art tour and check out more than 80 unique works of public art
Go wine tasting at the Laguna Canyon Winery
Go whale-watching off the coast of Laguna Beach
Check Out: Top Beaches in San Diego
5. Balboa Island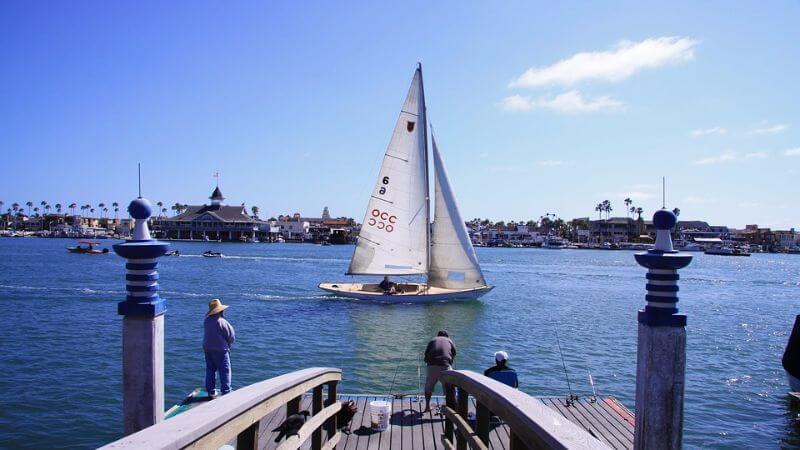 Image Source: Pixabay.com
Drive through a futuristic sea bridge to reach the Balboa Island. The island has a very chilled vibe to it and you will almost feel like you are vacationing on some far-off island. Visitors can spend time indulging in water sport activities, or enjoy a sumptuous portion of sea food at one of its chic restaurants, but it's the Marine Avenue is where you will find the most action.
Distance from San Diego: 86 miles
What to see:
Balboa Fun Zone
Aliso and Wood Canyons Wilderness Park
Discovery Cube Orange County
1000 Steps Beach
What to do:
Ride the Balboa Ferris Wheel
Build a sand castle at the Bay Front
Surf the waves
6. Anza-Borrego Desert State Park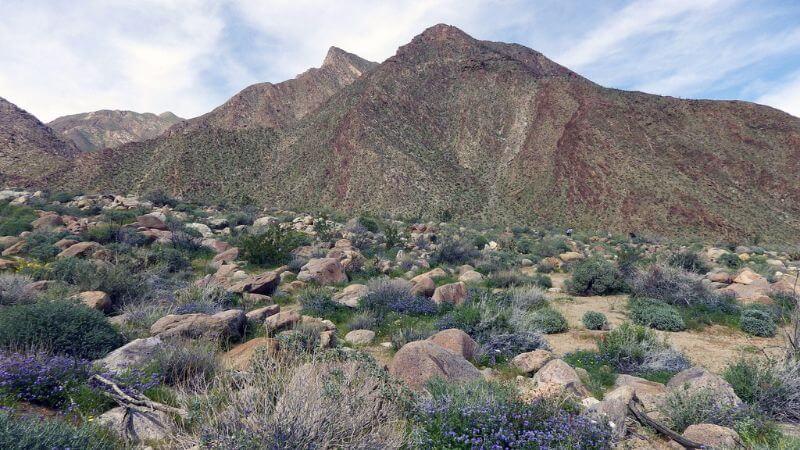 Image Source: Pacific Southwest Region USFWS's Photostream / Flickr
The largest state park in California, visit the Anza-Borrego Desert State Park for a weekend full of adventure. This park offers its visitors 500 miles of dirt road, 200 miles of hiking trails and 12 designated wilderness enclosures. ABDSP is spread across the Colorado desert and is surrounded by mountains all around giving it a very rugged feel.
Distance from San Diego: 90 miles
What to see:
Galleta Meadows
Volcan Mountain Wilderness Preserve
Eagle & High Point Gold Mine
What to do:
Stargaze into the Milky Way
Set up an overnight camp
Plan your trip to your dream destination and let life take over! Experience the best with TripHobo.
7. Big Bear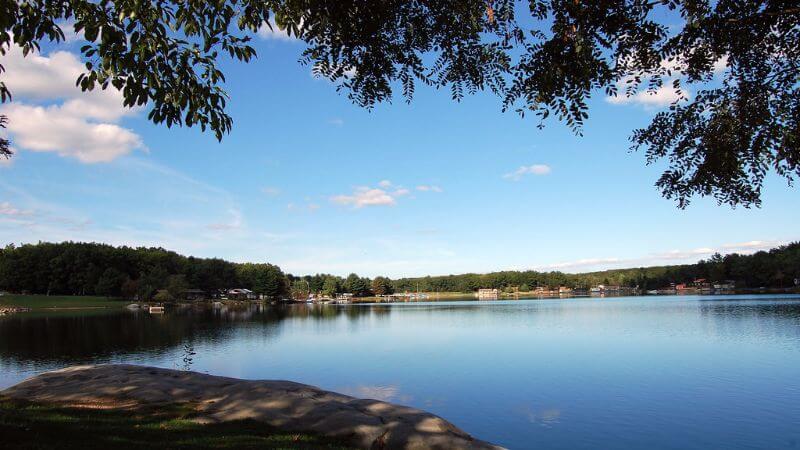 Image Source: Richard Freeman / Flickr
California's all-season destination, Big Bear is raw, rugged and scenic! This place offers something for everyone, at all ages and stages. At Big Bear, you can kayak or parasail through one of the largest lakes in the US, or walk through the Hollywood movie sets, go fishing, or hike on its snowy trails, and go sledding or tubing at designated snowy areas.
Distance from San Diego: 145 miles
What to see:
Moonridge Animal Park
Bear Mountain
Big Bear Lake
Big Bear Discovery Centre
What to do:
Ride a boat in its cool alpine lake
Soak up the fall colours by taking a walk amidst the forests
Climb up the Snow Summit
8. Solvang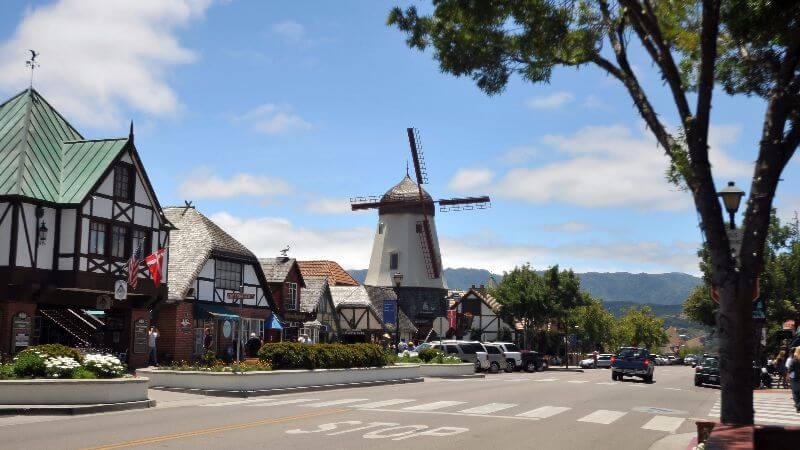 Image Source: Wikipedia
Visit the Danish Village of Solvang in California and be transported back in the era with its beautiful classic American, Japanese and European architecture. The town speaks of the Danish heritage through its many buildings, wineries and old photographs. Relax and sip on some country wine, or shop at one of its boutique shops.
Distance from San Diego: 252 miles
What to see:
Old Mission Santa Inés
Hans Christian Andersen Museum
Solvang Vintage Motorcycle Museum
What to do:
Catch a show at the Solvang Festival Theatre
Touch upon some Danish culture at the Elverhøj Museum of History and Art
Learn the process of wine-making at the oak-dotted Rusack Vineyards
Check Out: Vacation Rentals in San Diego
9. Ojai
Image Source: Wikimedia Commons
With its old-charm streets, cosy bookstores, citrus and olive groves and nearby vineyards, Ojai is a perfect destination to spend a quality weekend, whether solo or with your dear ones. This small city that located in the Ventura County of California is set amidst the Topatopa Mountains and is home to the annual classical Ojai Music Festival. Check Out things to do in Ojai.
Distance from San Diego: 206 miles
What to see:
Lake Casita
Dennison Park
Ojai Valley Museum
What to do:
Go wine tasting at the Ojai Vineyards Tasting Room and the Casa Barranca Tasting Room
Check out the extensive collection of books at Bart's Books
Go hiking at the Los Padres National Forest
Learn the process of Olive Oil making at the Ojai Olive Oil Company
10. San Luis Obispo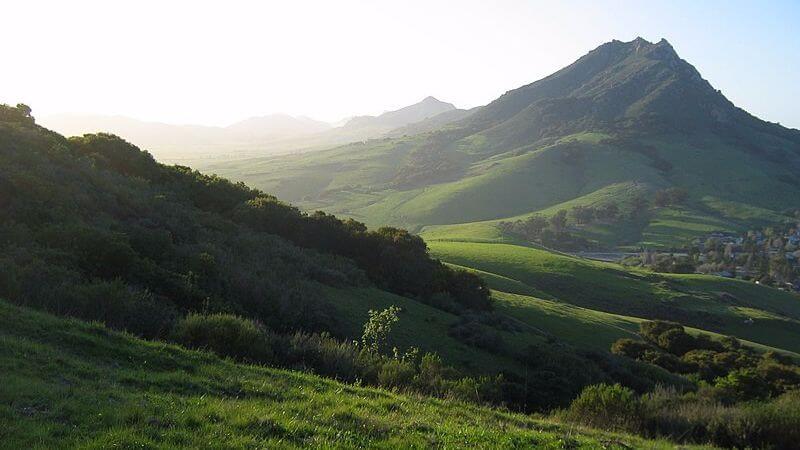 Image Source: Wikimedia Commons
The most unique, and probably a really gross thing about this Californian city of San Luis Obispo is the Bubblegum Alley where pieces of chewed gum are stuck on the walls. Often called the happiest place in America, San Luis Obispo (also SLO) sits right in the middle of the Central Coast Wine Country. Walk through the city's palm lined streets, and remember, wine keeps flowing here.
Distance from San Diego: 312 miles
What to see:
Mission San Luis Obispo de Tolosa
Bubblegum Alley
History Centre of San Luis Obispo County
What to do:
Try out seasonal menus at the Thomas Hill Organics
Shop for the local produce at the San Luis Obispo Farmers Market
Learn the art of crafting beer at the Libertine Brewing Company
11. Death Valley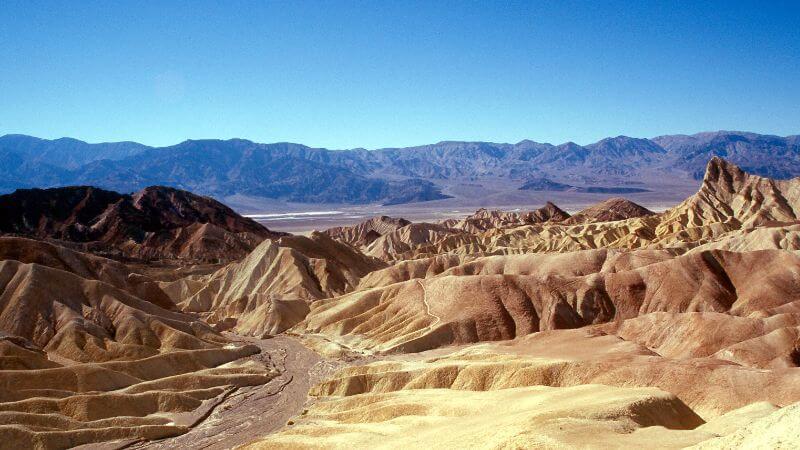 Image Source: Wikimedia Commons
A land of everything extreme. Be it the weather, the terrain or the beauty. What makes Death Valley National Park so unique is that this deserted landscape is surrounded by soaring snow-capped mountain peaks. Don't let the harsh weather fool you! This park is home to some of the most beautiful flora and fauna in the United States. Before planning your trip check out these things to do in Death Valley.
Distance from San Diego: 327 miles
What to see:
Badwater Basin
The Race Track
Zabriskie Point
What to do:
Ride the sand dunes near Stovepipe Wells
Go dirt-biking on the Twenty Mule Team Canyon road
Click a selfie with one of the ghosts at the Rhyolite Ghost Town
12. Yosemite National Park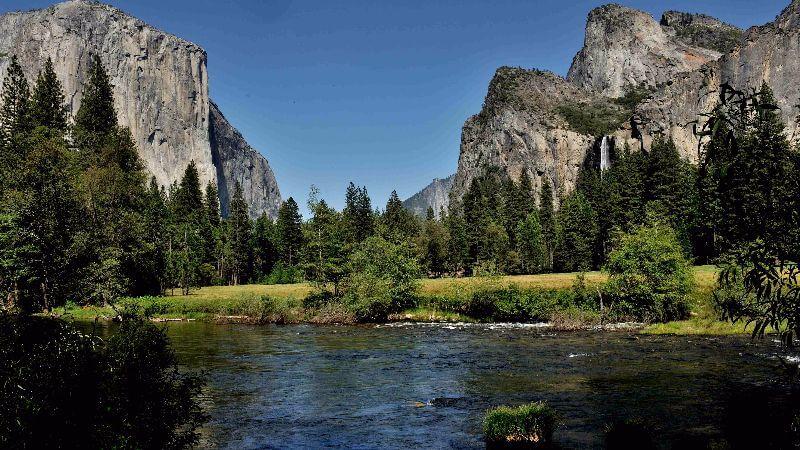 Image Source: Wikimedia Commons
Located along the famous Sierra Nevada mountains of California, Yosemite National Park is undoubtedly one of the most visited national parks in the United States. The iconic granite cliffs of El Capitan, gigantic sequoia trees, soaring mountains, gushing waterfalls and many hiking trails is sure to make this park one of the top California attractions. Read further to know about more exciting things to do in Yosemite National Park.
Distance from San Diego: 430 miles
What to see:
Vernal Fall
Glacier Point
Half Dome
What to do:
Hike up the John Muir Trail
View the iconic Yosemite Valley from atop the Glacier Point
Click a selfie at the Yosemite Falls
Planning a trip already? I am sure you are