Generally experiencing balmy climate all through the year that can get sweltering hot in the summers, it is the winters that provide the right comfort of a pleasant chill in India. It's not too hot, nor is it raining and through the day the temperatures are just perfect to explore places. So why not make the most of this glorious weather and head to one of these places to visit in India in December?
1. Konark, Odisha – where the sun tells you the exact time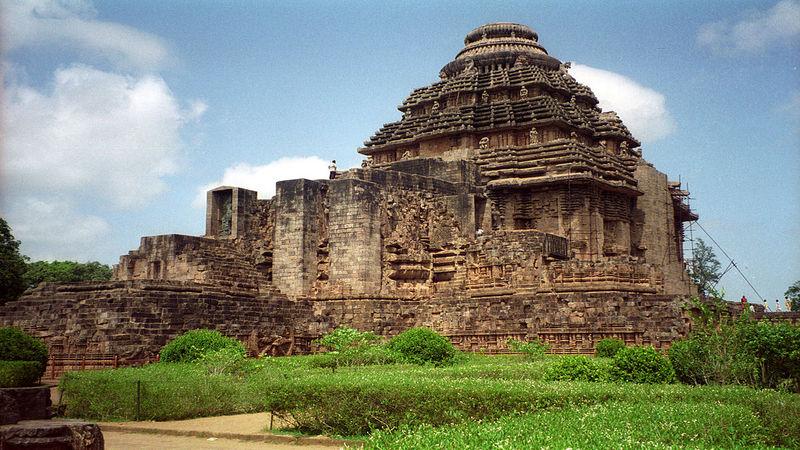 Image Source: Wikipedia

Popular for its UNESCO World Heritage Site of the awe-inspiring Konark Temple, the beach side town of Konark draws several visitors all year around. Lying within proximity of the state's capital Bhubaneshwar, Konark is usually covered as a one-day trip destination, rightly so because the temple is its sole attraction. But for an unusual holiday, staying at Konark, at one of its many resorts and hotels can be a great idea. Its coasts offer ample opportunity for beach strolls, interactions with local fishermen and mesmerizing drives that lead you to beautiful spots. All these reasons make Konark a must on the list of places to visit in India in December.

What to see: Konark Sun Temple, Balukhand-Konark Wildlife Sanctuary, Chandrabhaga beach, Archeological Museum

Activities: Shopping for handicrafts like embroidered umbrellas and paintings on a palm leaf called pattachitra
2. Dalhousie, Himachal Pradesh – offseason goodness at its best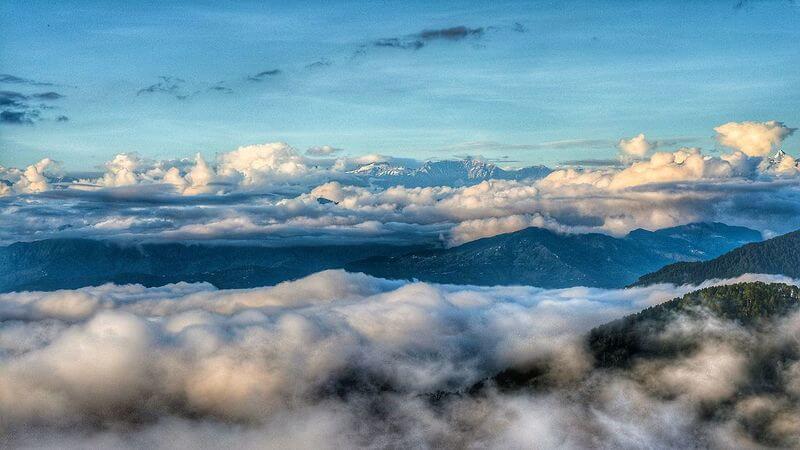 Image Source: Wikimedia Commons
Not short of a trademark holiday, Himachal Pradesh and its Shimla-Manali duo are like a custom for almost everyone living in the North. But if you don't want to take the beaten-to-death path and don't mind a little road travel from Delhi then the beautiful hill station of Dalhousie can be a great choice. To reduce road travel, you can even opt for a train up to Pathankot. This town is considered to be one of the places to visit in India in December because it is an offseason and the town casts a characteristically charming vibe.

What to see: Khajjiar Lake, Panchpula, Chamera Dam, Dainkund Peak, St. Francis' Church and Shree Raghunath Mandir

Activities: Skiing and other snow activities
Make your travel experiences count. Plan with itinerary planner of TripHobo.
3. Ranthambore, Rajasthan – be a part of wilderness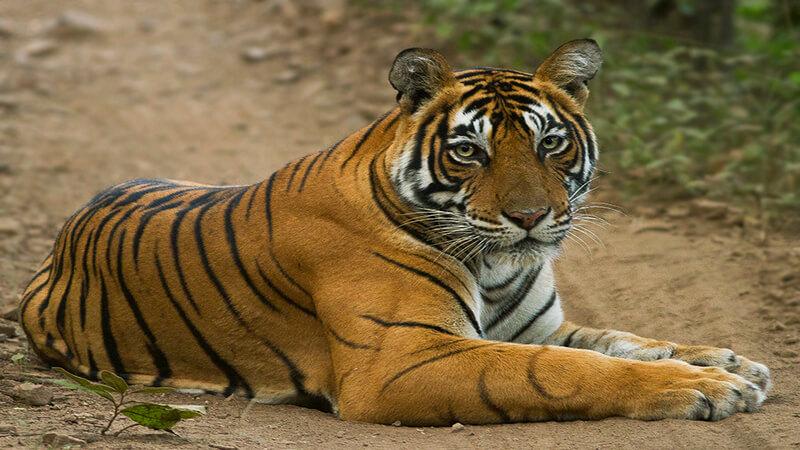 Image Source: Wikimedia Commons

It is inevitable to think of Ranthambore without thinking tigers and an incredible expanse of wilderness. Characterized by the Ranthambore National Park, this region is one of the busiest tourist attractions in December. One of the best places to visit with family, this place calls for open jeep safaris, night adventures, and an unmissable Rajasthani royal rendezvous. Other than the national park, you can explore several abandoned forts, temples, and lakes in the region.

What to see: Ranthambore Fort, Trinetra Ganesh Temple, Surwal Lake, Padam Lake, Kachida Valley, Jogi Mahal and Akaula Region

Activities: Safaris and handicraft shopping at the Village Women Craft
4. Goa – parties or serendipity, choose your pick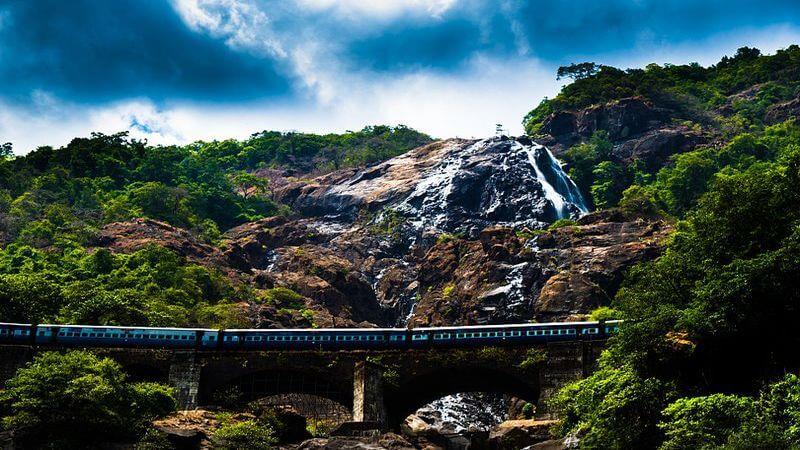 Image Source: Wikimedia Commons

India's hottest holiday destinations in December, Goa is one place that is headed to by party lovers and those looking for a serene getaway, much alike. If you like all the partying jazz, head to the North. But for some unadulterated serendipity, the South is where you must go. There is something for everyone to do here; beaches, temples, churches, incredible restaurants and a daze-y, relaxing vibe that refuses to dwindle even once you are back. Check out some bachelor party ideas in Goa.

What to see: Dudhsagar Falls, Basilica of Bom Jesus, Fort Aguada, Dr. Salim Ali Bird Sanctuary, Chapora Beach, and Shanta Durga Temple

Activities: beach hopping, music festivals, bar hopping, shopping at flea markets, walking tours
5. Chennai, Tamil Nadu – close getaways and festivals galore in December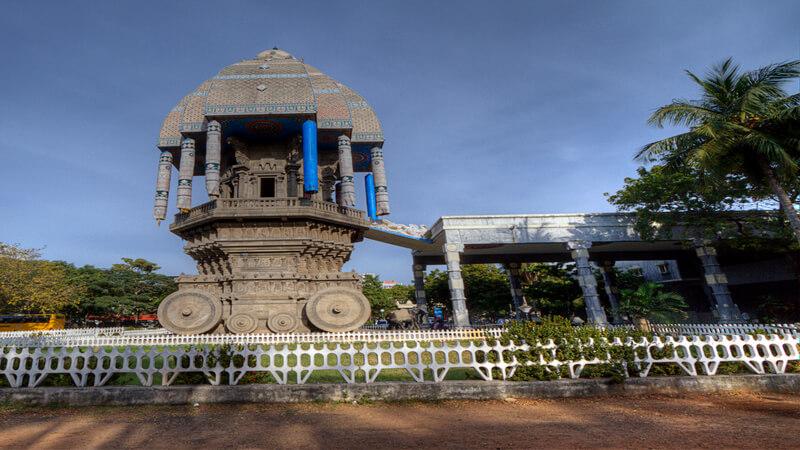 Image Source: Wikimedia Commons

Chennai has got to be on this list of places to visit in India in December for two more reasons- the Chennai Music Festival and the Karthigai Deepam. Holding significance with the Margazhi Indian Classical Music, the Chennai Music Festival is a fabulous event to attend, whether you are a music lover or not. The Karthigai Deepam or festival of lights is an ornate festival which must not be missed if you are in the city. Its proximity to the French town Pondicherry and the quaint beach town of Mahabalipuram (home to three UNESCO World Heritage Sites) are some more reasons to visit Chennai for a holiday.

What to see: Marina Beach, Arignar Anna Zoological Park, Guindy National Park, Kapaleeshwarar Temple and Valluvar Kottam

Activities: Temple walks, surfing, visiting bazaars, shopping for silk sarees and temple jewellery
Check Out: Beach Resorts Near Chennai
6. Lucknow, Uttar Pradesh – a royal rendezvous and food heaven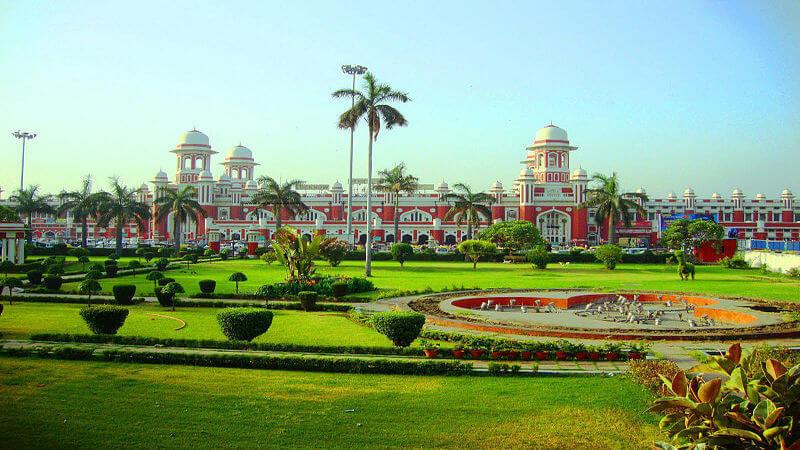 Image Source: Wikimedia Commons
A city soaked in Mughlai essence, Lucknow reminisces of elegant royalty that can be experienced only here. From the way people talk to the food, everything has an essence of royalty. If you are a foodie, you are in for the ultimate delight of Galauti Kebab, Tunday Kebab, Boti Kabab; in short, a kebab heaven! Chats and biryanis and everything in between to some kulfi and the paan finale, this place personifies food coma! For history buffs, there is a plethora of parks and memorials to explore.

What to see: Bara Imambara, Chota Imambara, Ambedkar Memorial Park, Dr. Ram Manohar Lohia Park, Gomti Nagar, and Dilkusha Kothi

Activities: Food and walking tours
7. Kaziranga National Park, Assam – why go to Africa?!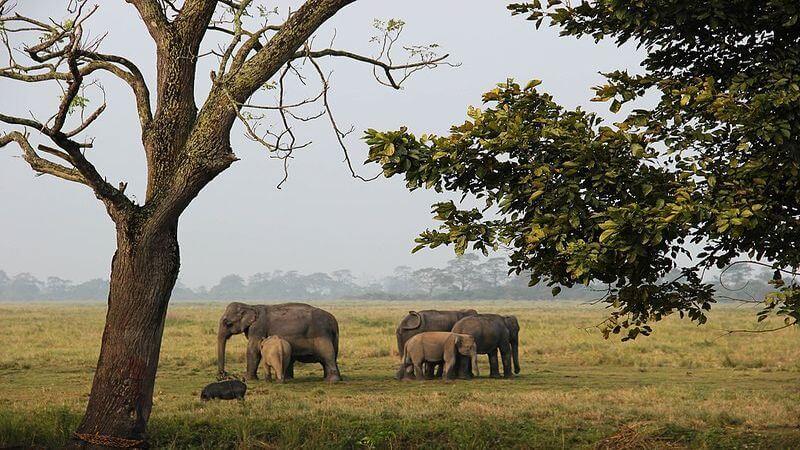 Image Source: Wikimedia Commons
The very less explored Assam can be an absolute euphoria with the multitude of things to do here. Of all, it is the Kaziranga National Park that steals the show. Giving tough competition to Africa's national parks, the Kaziranga National Park is home to an elaborate number and variety of species. A world heritage site itself, the national park is credited to be the home to the world's great one-horned rhinoceroses. Additionally, it accommodates the highest density of tigers among protected areas in the world.
What to see: A rich diversity of birds and animals
Activities: Safaris and adventurous lodging
8. Dawki, Meghalaya – the unexplored goodness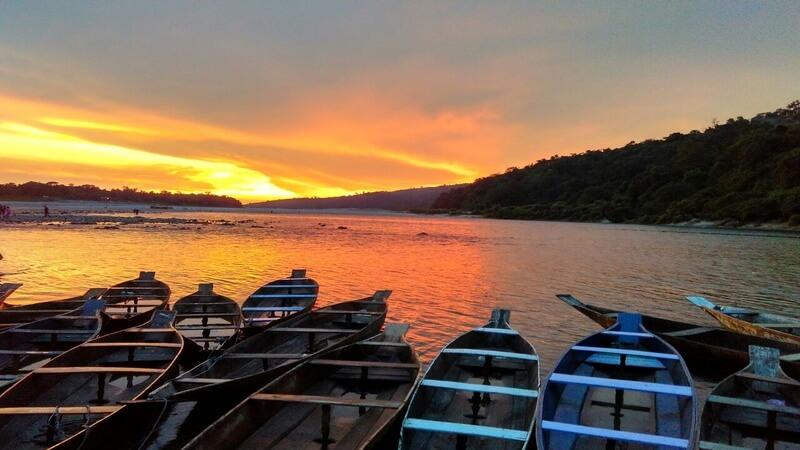 Image Source: Wikimedia Commons
Nestled on the banks of the River Umngot, Dawki can be characterized as one place where you can see infinite shades of green. Its location on the India - Bangladesh border that further amplifies this place's curiosity. The main draw of this village is a boat ride on the River Umngot. This activity is further glorified in the months of Spring when boat riding competitions take place. For comfortable accommodations, you can choose to stay at Shillong that lies at a drive of two hours thirty minutes.

What to see: Umngot River Dawki, Byrdaw Falls, Pomshutia, Jaflong, Mawlynnong Village

Activities: Hiking, exploring root bridges, boat rides and swimming under waterfalls
Must Read: Places to Visit in North East India
9. Alleppey, Kerala – for a sensory delight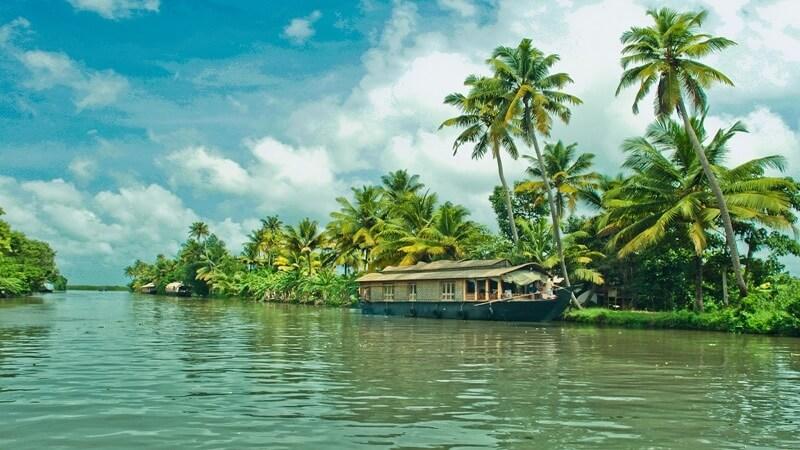 Image Source: Sarath Kuchi/Flickr
Nestled in the backwaters of God's own country, Kerala, Alleppey draws a gorgeous picture of house boats floating in canals, a dense environment of rich green foliage, and backwater aisles opening as a gateway to the ocean. The land region consists of some beautiful temples, heritage houses, and luscious paddy fields. Rightly, it constitutes all the factors that contribute to its being as one of the most peaceful places in India.

What to see: Vembanad, Alappuzha Beach, Pathiramanal, Ambalappuzha Sri Krishna Temple and Krishnapuram Palace

Activities: Swimming on beaches, exploring temples, indulging in delicious South Indian food
Check Out: Places to stay in Alleppey
10. Mathura, Uttar Pradesh – where Lord Krishna was born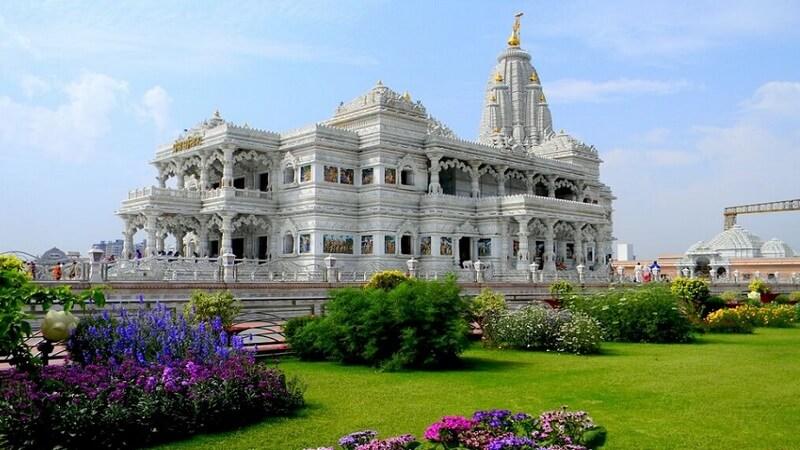 Image Source: Wikimedia Commons
The birth place of Lord Krishna, the glorified naughty hero of village damsels, infamous for being a 'maakhanchor' or someone who loved butter so much, he wouldn't think twice before stealing it! The city, thus, holds great religious significance for Hindus. There is a plethora of temples sprawling across the city and festivals such as Holi and Janmashtami are celebrated with absolute extravagance. A fun fact about this place is that it once accommodated three thousand monks, and the essence of Buddhism can still be felt here.
What to see: Krishna Balaram Mandir, Prem Mandir Vrindavan, Government Museum, Mathura, Vishram Ghat and Kans Quila

Activities: Exploring temples, experiencing elaborate aratis on the banks of River Yamuna
11. Ooty, Karnataka – the queen of hills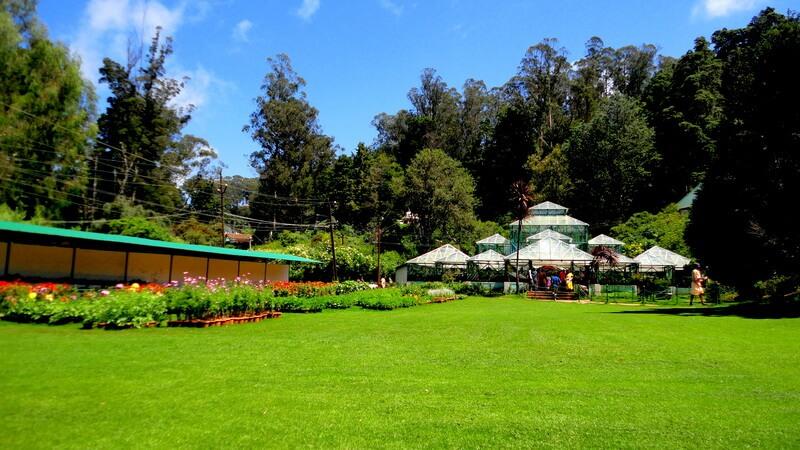 Image Source: Wikimedia Commons
The capital of Nilgiri district, Ooty does not cease to mesmerize you with its peculiar blue tinge, tea gardens and an inviting blend of Indian and the English. Given the fact that the hill station holds a lot of history from the British Raj, you can spot a lot of colonial structures that lend Ooty its characteristic allure. It is a favorite weekend getaway for many working professionals given the abundance of homestays near Bangalore. It is the colonial features of the town that make Ooty one of the best destinations to travel in December.

What to see: Government Botanical Gardens, Nilgiri Mountain Railway, Doddabetta, Ooty Lake and Government Rose Garden

Activities: Tea gardens, hiking and nature trails
12. Pushkar, Rajasthan – where pilgrims find sanctity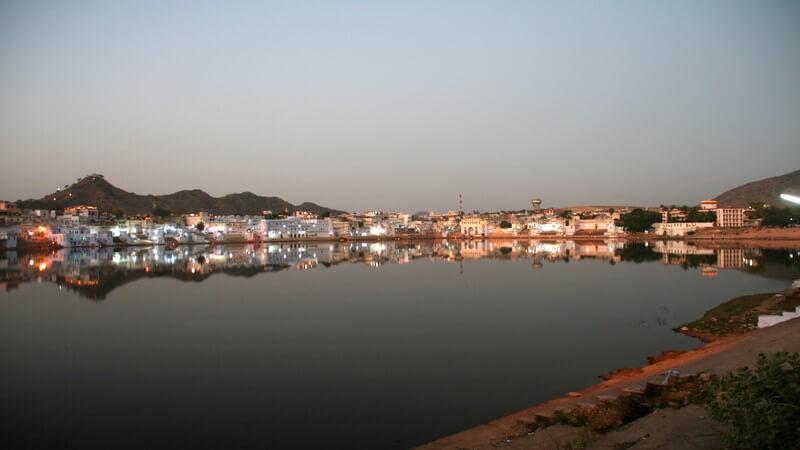 Image Source: Wikimedia Commons
Another pilgrim town on this list, Pushkar is one town that holds some great mythology facts attached with relevance to Lord Shiva. The holy pond at Pushkar is believed to be formed out of tear of Lord Shiva as a result of his moaning for the death of his wife Sati. Then there is a tale about the town's genesis around the Pushkar lake that goes- it was formed as a result of a flower dropped by Lord Bramha. Such mythological facts have garnered both national and international recognition. Thus, there are plenty of foreigners here that lend a bohemian vibe to Pushkar. Interested in reading about more lakes in Rajasthan?

What to see: Brahma Temple, Pushkar Lake, Savitri Mata Temple, Sri Raghunatha Swamy Temple and Gau Ghat

Activities: Exploring temples and cafes
Festivals in India in December
Another great way to experience the warmth of India in the chilly month of December is to witness the grandeur of some festivals. Mentioned below are some of the most renowned festivals of India in December and places where you can soak up their undiluted essence.
Nagaland's Hornbill Festival
Celebrated in the first ten days of the month, usually, the Hornbill Festival is one of the most looked forward to events in the state. Not surprisingly, it is also referred to as 'Festival of Festivals'. As the name suggests, the festival derives its name from the colorful bird, Hornbill to depict the regional folklore. This festival is a layout of the incredible, lesser-known Naga culture in extravagant forms like dances, various customs, songs and delectable food.
Where: Naga Heritage Village, Kisama
Karnataka's Hot Air Balloon Festival
Yes, there is a Hot Air Balloon Festival in India and it is held in the state of Karnataka! It is organized by the travel and tourism board of the state in the princely Mysore, archeologically rich Hampi and culturally abundant Bidar. Imagine what would it be like to see all the heritage monuments pass by under you as you sway through the sky in a huge, hot air balloon!
Where: Bidar, Hampi and Mysore
Kerala's Perumthitta Tharavad Festival
With so many destinations on the list already, the Perumthitta Tharavad Festival is yet another reason to choose Kerala for a vacation in December. The festival is credited to be as one that acknowledges the state's implausible art. So, look forward to vibrant, elaborative dance forms that tell stories of Kerala's mythological past. The dance form is usually Theyyam which is said to be the "a popular ritual form of worship".
Where: Kottamkuzhy
Also Read about: Festivals in India
Rajasthan's Winter Festival
This is one place that gives you a different perspective of the state that is usually perceived on the notions relating to deserts. Rajasthan's most popular hill station, Mount Abu hosts the annual Winter Festival. Why you must visit this? For an abundance of art and culture that has people from all over the country drawn to it. Lots of handicrafts and artworks to shop for and performances like the local dance forms of goomar, gair and daph.
Where: Mount Abu
With this, it's a wrap, folks! Let us know what was your pick in the comments section down below. Happy holidaying!
Check Out:
Places to Visit in India in November
Places to Visit in India in January