The season of summer is on the verge of arrival and so are the summer vacations! Of course, you would anticipate a long list of things that you have to tick off from your wishlist by the end season; and a nice
Beach
staycation on country's seaside would be definitely one of them! It all sounds nice and breezy, but only till you have to actually prepare for it. Choosing one amongst the pile of beaches can be a little tiring, not to mention very crucial task and must be given a great thought before deciding.
To help you there, we have created a list of beaches in USA for summer vacation based on various factors such as location, water, accommodation, surrounding attractions and facilities. While some beaches are very popular with people, others may not be that heard of, yet all of them are worth checking out (mark my words!). Hope it will help you get insight on which kind of place you wish to go!
1) Myrtle Beach, South Carolina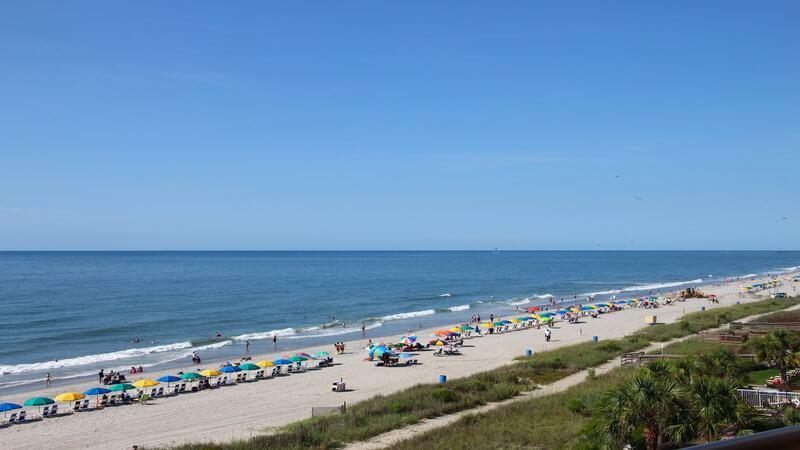 Image Source: Wikimedia Commons
For those living near the east coast of the South Carolina, Myrtle Beach is a place they all will be familiar to! The vast 60-mile long stretch of golden sands is the peak spot for beach lovers to crash into in summers, while its other alternatives such as amusement park (an old one named 'Family Kingdom'), restaurants and shops help them to stay glued in there for a long time. The beaches themselves are an epicentre of fun with myriad water activities like fishing, swimming, surfing and more. Did I mention, it also has celebrity-designed golf courses?! Accommodation wise, it very convenient as you will find a lot of oceanfront rentals and high-end hotels in the area. Come for a leisurely stroll across its beachfront boardwalk and shop for a cutesy souvenir while you are at it. A ride on its SkyWheel is a must too!
2) Siesta Beach, Sarasota, Florida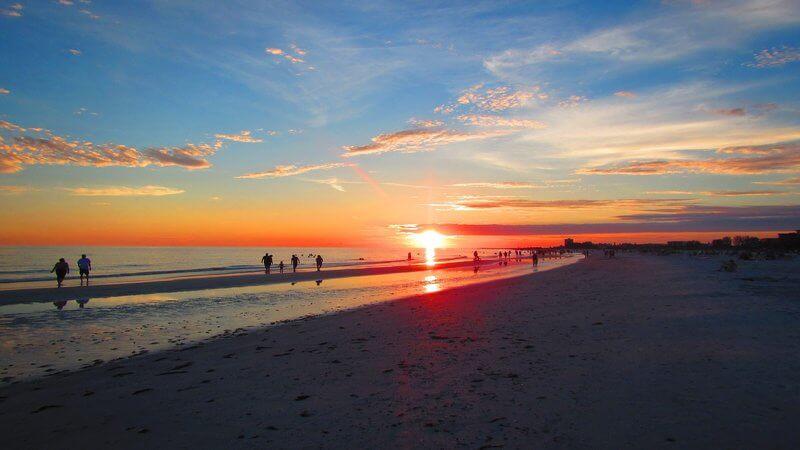 Image Source: Pixabay.com
One of the things which distinguish siesta from others is its soft powdery white sands (99% pure quartz) that are as smooth on feet as feathers. It has even been deemed as 'The Best Sand Beach in America' by travel channel due to this. Siesta Beach is a crescent-shaped beach edged by beautiful azures and scenarios. It is a great place to get acquainted with the marine world as well. If you take a look at the siesta key, you will find a lot of condo buildings that are available for rentals. And while the prices may depend on your accommodation choice, they are usually pretty affordable, nonetheless. Enjoy fun summer activities such as fishing, shopping and surfing during your trip. The place also serve delicious servings of seafood that are both drool worthy and hip!
3) Hanauma Bay Beach Park, Oahu, Hawaii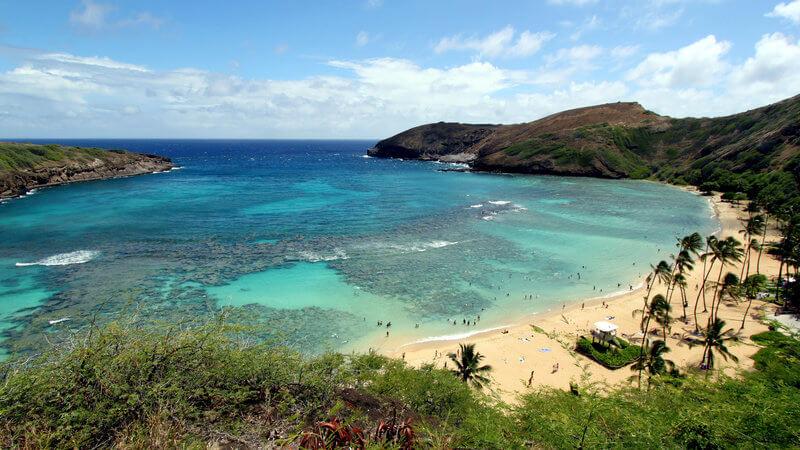 Image Source: Flickr/Prayitno
Wish to reap the best of Hawaii this summer? Head to the Hanauma Bay Beach Park now and indulge in everything it has to offer. You won't regret it a bit we tell you! Located on the southeastern side of Oahu, this beautiful natural preserve is replete with plenty of fun opportunities and is even deemed 'Top-Notch' by Dr Beach for its "stunning white sand coral beach enclosed in a breached volcano". If you are someone who is into water specific sports like snorkelling and surfing, there is no other place but this beach park. A snorkelling endeavour here includes thousands of tropical fish along with an experience worth remembering. It is also one of the first beaches to have 'no smoking' rule and remains closed on every Tuesdays to give the fishes their deserved time to rest (from all that human gazing we guess). There are many hotels around the area too that offer a comfortable stay, hence no need to worry about it either. Try out the best spots for snorkeling in Honolulu.
4) Coast Guard Beach, Massachusetts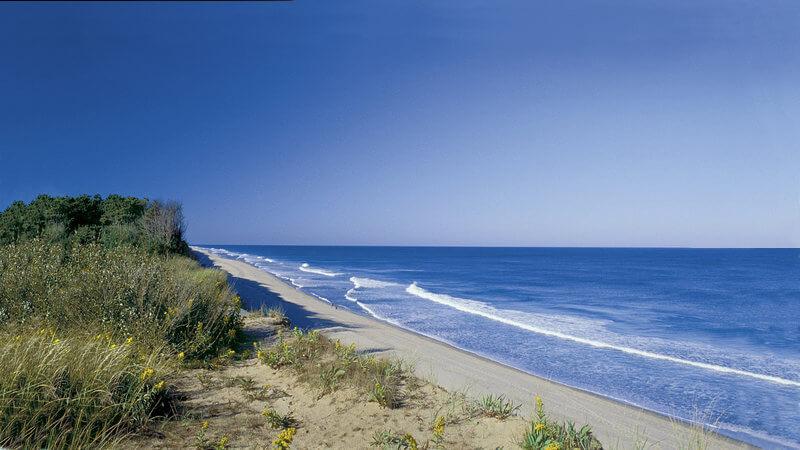 Image Source: Flickr/MassachusettsOfficeOfTravel&Tourism
It is one of the few beaches that has time and again proved its popularity by appearing in various polls and mentionables. Located on the seashore of Cape Cod, it is perfect for outdoor loving peeps who don't mind going all out in summers. The beach offers plentiful of activities like kayaking, surfing, snowboarding and literally anything you can think of. In fact, a simple sunset here is just as desirable, given how beautiful its entire setting is. Make sure to keep your camera with you during your visits. One can also enjoy its other outdoor options like hiking, biking and such. Swimming along its gentle waves is an enticing experience to have, but if you are planning for lengthy water dipping sessions, better avoid the place in summers as the temperature tend to rise around 60-70 degrees during this season.
5) Coronado Beach, San Diego, California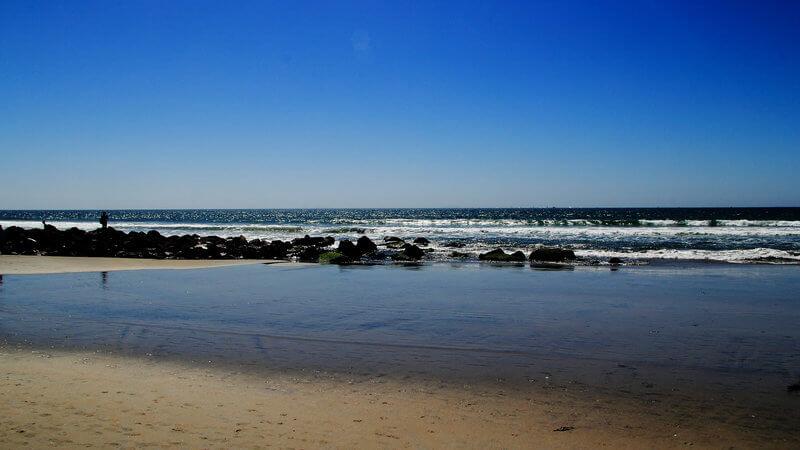 Image Source: Flickr/JohnMenard
Being charted number one on Dr Beach's list so many times, Coronado Beach is a heart-winning territory that spans an area of 1.5 miles. Nestled amidst the lush and scenic surrounding of Coronado Island, Coronado Beach is a heaven decked with fine sparkling sands, pristine waters and plethora of indulgence. Its most popular highlight though is the colourful Hotel del Coronado which lies brightly just in front of it, adding to the beauty of the place. The victorian style hotel has been here since 1888 and is a great backdrop for shutterbugs. Even Marilyn Monroe's classic 'Some Like It Hot' has covered it. Walk a little ahead and you will see plenty of shops with all Americana details. Its rich nightlife is best tasted by hopping into one of the many pubs around. Be it food or adventure, it has it all and that too at reasonable rates!
Check out: Best beaches in Northern California and Southern California

6) Ocean City Beach, Ocean City, Maryland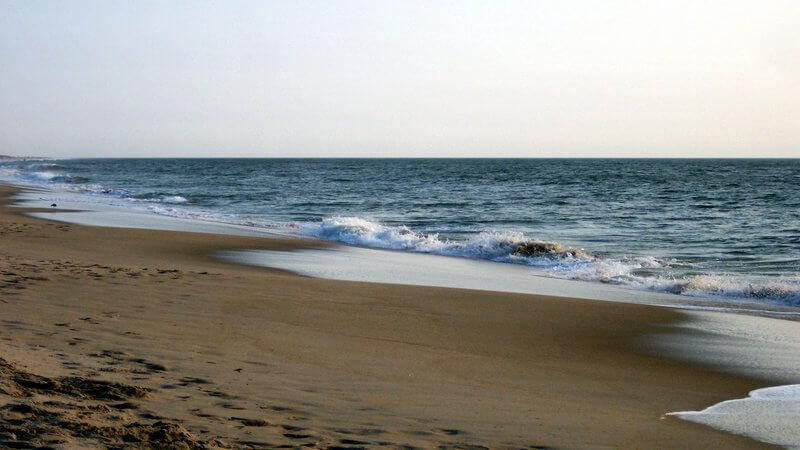 Image Source: Flickr/DavidSaddler
If you are all about the old school idea of 'beach fun', Ocean City Beach is a place to head to. Located in the quiet location of Maryland island, Ocean City Beach is for those who wish to make the best of summers in an adventurous and daring way. The beach stretch to around 10 miles long and replete with activities like kayaking, surfing, fishing, horseback riding and such. The warm temperature of water makes it an ideal location for swimming too. Spend the afternoons relaxing on the sand and save the evenings for leisurely strolls across the seafront boardwalk amidst shopping, bites and entertainment. Regardless of whatever you do, expect to have a lot of fun here! Don't forget to attend its numerous events (along with many free activities) that take place here every night. The place truly boasts the idea of 'Lively and Hip'
Check Out: Budget Friendly Beach Destinations in USA

7) Assateague National Seashore, Virginia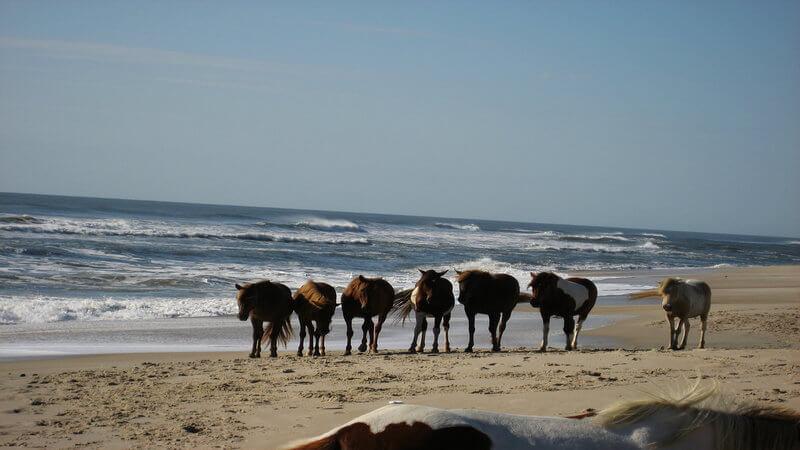 Image Source: Flickr/MrsGemstone
If you know anything about Virginia and its beaches, or its marine life for that matter, you must have definitely heard of this place. Assateague National Seashore is a place where people come to experience beach along with its soft golden sands, cheerful vibes and dorky galloping horses (you'll see a lot of them here!). They are basically fishermen's horses who come here to fish. The visuals of the beach are breathtaking and like many other beaches perched on Atlantic shores, it offers a plethora of activities to visitors including swimming. They are best done here! Surf along the waves, get a tan and simply indulge. A further sojourn will lead you to streets full of food and shop which are also a must to check out.
8) Old Orchard Beach, Maine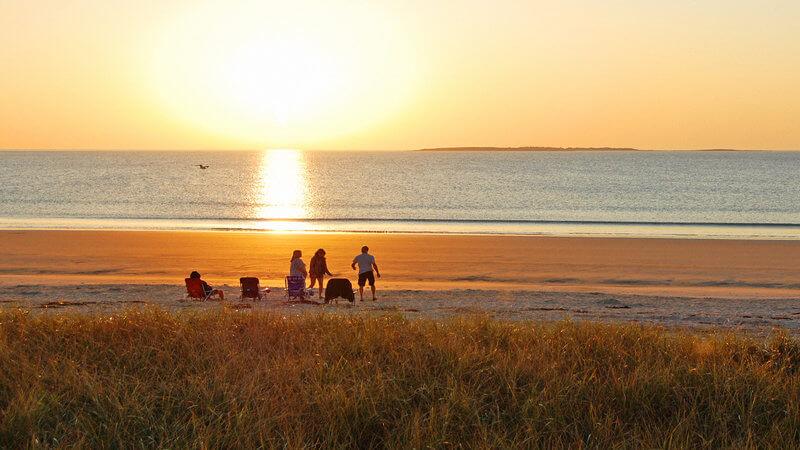 Image Source: Flickr/KimEriksson
It is true that beach season doesn't stay for long in Maine, but that doesn't mean you can't have fun while you are here. Let's talk about the popular Orchard Beach! Got the gist? The award winning beach is one of the most frequented and easily accessible one in the city (open year around!). A beach vacay in the lands of the orchard is more like a backyard chilling party with its peaceful laid back vibes, drinks, eats and chilling folks. Yup! It's more of community affair here which is perfect to get that 'home away from home' feel. Solo travellers can stroll through the old pier to enjoy the mesmerising while families can flock to Palace Playland - its only amusement park to have fun with kids. The entire thing only gets more fun when you set out to explore the place complete with all the eateries and souvenir shops around. The seafood is quite good here and a must for everyone to savour!
9) Coopers Beach, Southampton, New York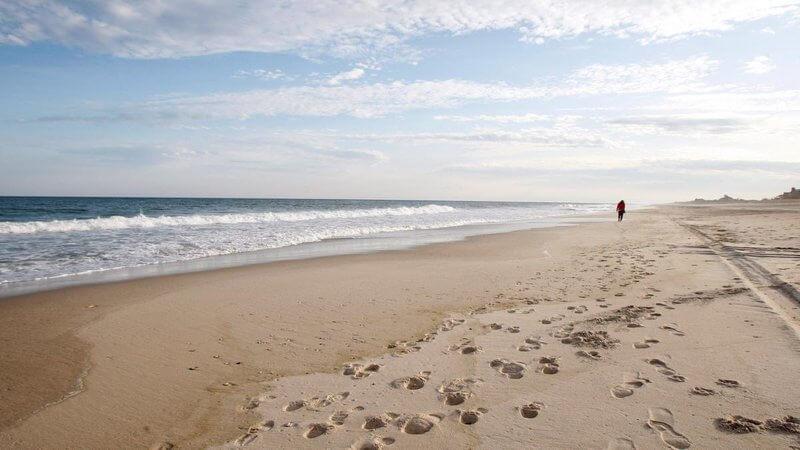 Image Source: NyDailyNews.com
Drive to the eastern end of Long Island and you will reach the Coopers Beach- one of the prominent beaches in the country. Its popularity can be analysed by the fact that the place sees hundred of visitors every day. For people living near South Hampton, it can be great choice to go to, though for non-residents going there every day can be a little expensive with the parking charge of 40 dollars per day. The best bet would be visiting after 5 pm when it is totally free to make the best of it. Another option will be visiting in weekdays than weekends (less crowdy and cheap). The sand are soft and well maintained, hence great for little walks. Lie down on its grassy grounds or click a selfie of yourself sitting on some sand dunes, a detour around the historic mansions is also a good idea here. The hundreds of yards wide 'Gold Coast' offers a variety of accommodation, from cheap self-catering motels to high-end suites and hotels. It is an unusual beach and that's why it is so awesome.
Explore: Best Day Trips From NYC

10) Cannon Beach, Oregon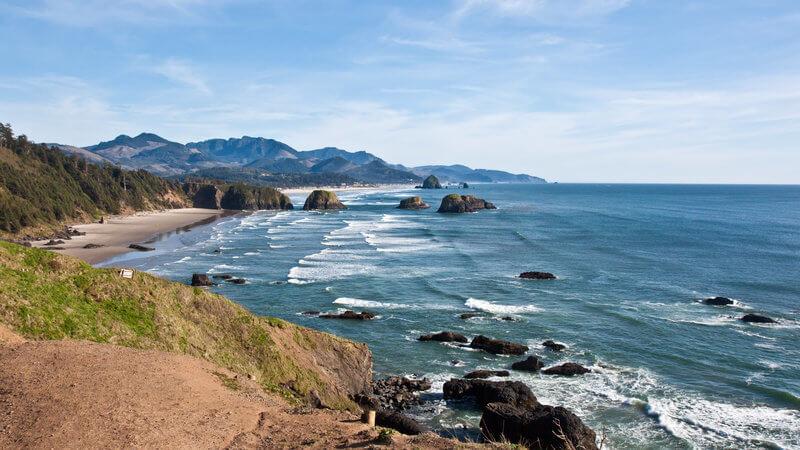 Image Source: Wikimedia Commons
Located in the North-Western part of U.S., in the State of Oregon, is Cannon Beach. The place that bespeaks of nature and arts through its vivid and surroundings. The beaches here are popular for being huge, spanning a staggering area of nine miles. Moreover, they are replete with plenty of attractions too. The prime one being the Haystack Rock which is the third largest monolith in the world. Sounds lovely, right? Come here for fun activities like surfing, sunbathing and swimming or take a leisurely stroll through the myriad shops around the place. Ensure to take a souvenir while you are here. You will find many homemade and handcrafted ones- perfect to safe keep you summer vacay memories!
Explore: Adventure activities in Oregon

11) Oval Beach, Michigan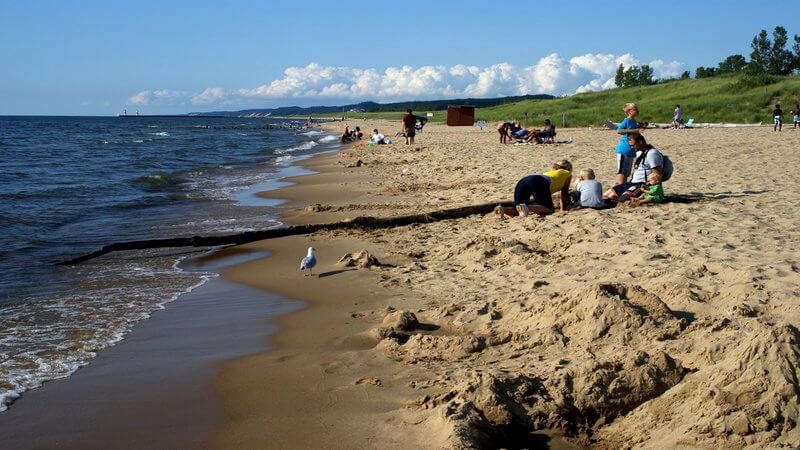 Image Source: Flickr/Clatiek
This summer, don't go for the usual Pacific and Atlantic Coast beaches that most people seem to prefer. Rather, choose a place which although, is not that mainstream yet offers all the things you need to enjoy your best beach vacation. Oval beach of Michigan is one of them. It lies in the Saugatuck area near lake Michigan which is also home to many other beaches. Talk about anything, sunny sandy shores, sparkling blues and loads and loads of entertainment choices (surfing, swimming, volleyball and what not!), you will get it here. Not to mention the surrounding views that will have you intrigued the whole time. Clean and dotted with lovely sand dunes, Oval Beach is one of the best places to witness sunset in the state. Since it is less frequented, accommodations are quite cheap and easily available. Another reason to come here!
12) Holly Beach, Louisiana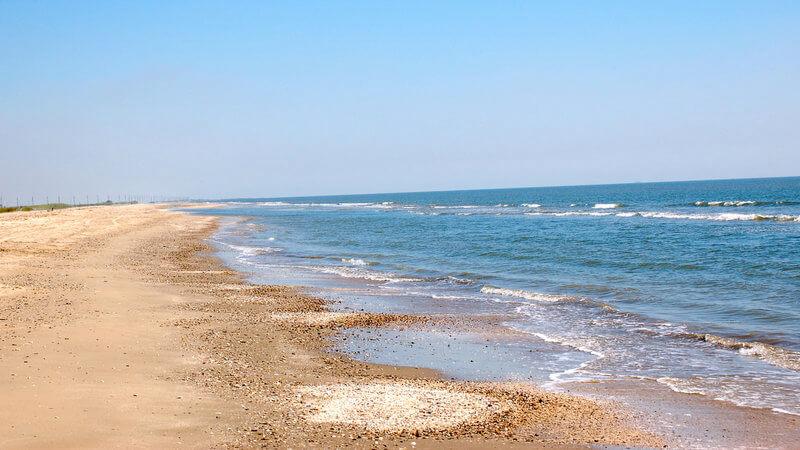 Image Source: Flickr/JcWinkler
The beautiful beach is settled in a coastal area called Cajun Riviera and is a great place to visit for people staying near the Southern Louisiana. It is somewhat of a recreational village for anyone who is looking for a good time. Adventure junkies can have a lot of fun with their choice of sports, be it swimming or boating or windsurfing. It is great for crabbing and fishing too! Holly beach, along with many other beaches, were jeopardised by the hurricane but now has rebuilt itself into a place where you can anticipate spending a fun and happening summer weekend.
13) Hammonasset Beach State Park, Connecticut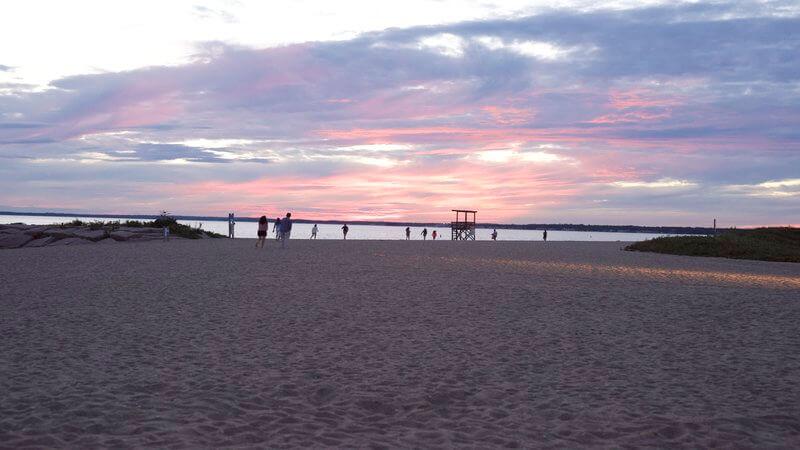 Image Source: Wikimedia Commons
Looking for the best place to spend your summer in Connecticut? Welcome to Hammonasset Beach State Park- Connecticut's longest shoreline park covering an area more than two miles. The beach sits along the Long Island Sound and boasts of some really amazing distractions such as a paved boardwalk amidst scenic coastal area, camping sites replete with natural abundance and exploration opportunities that never seem to end. More daring types can go for water sports like boating, fishing and kayaking which are plenty here. The place is also known for its chilled vibes and their cool folks only make it more fun to be here. There are rentals available around and little shops and food joints too, in case you wish to indulge in a shopping spree!
14) Beachwalker Park, Kiawah Island, South Carolina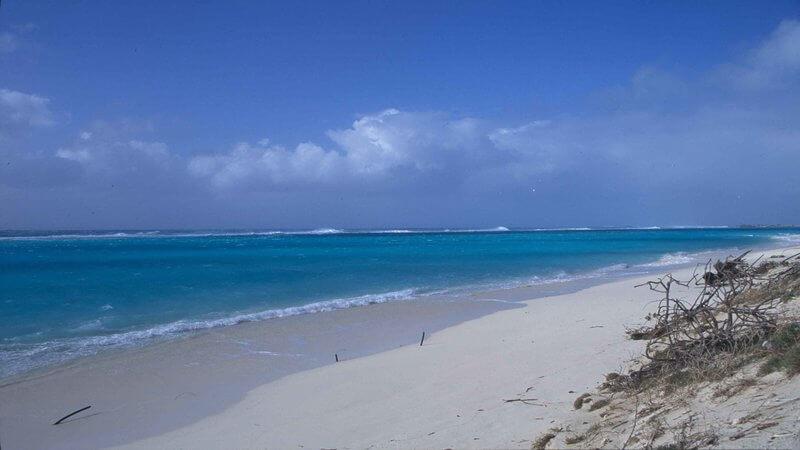 Image Source: Wikimedia Commons
If there is one beach that has been constantly on beach lover's muse, it is the Beachwalker Park. Quietly settled in the Kiawah Island, it has even been mentioned by sites like Dr Beach, Travelocity and TripAdvisor as nature lover's paradise. There is absolutely no dearth of things to do here. Come with your Canoes and Kayaks and paddle around the blues of the sea. Or choose a less tiring activity like sunning and leisurely walks. The lush area will provide you with amazing views and is even great for bird watching (there are thousands of bird here, really!). A nice golf course and tennis court complete the charm of the place.
15) Rehoboth Beach, Delaware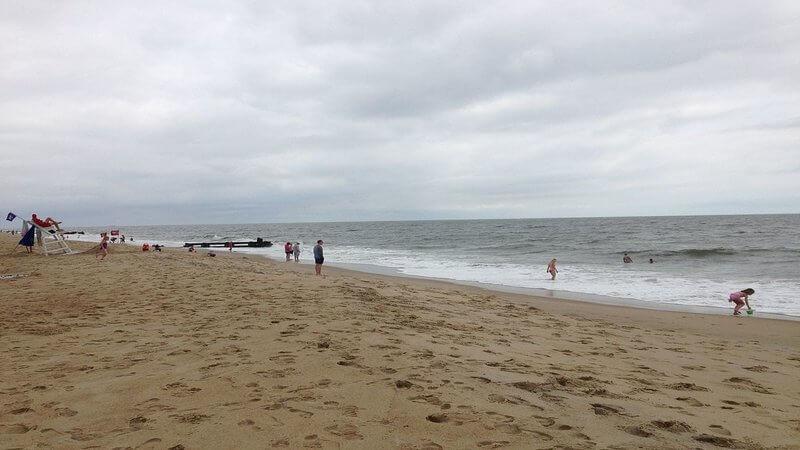 Image Source: Wikimedia Commons
Wish to get away from it all, but don't want to leave the boundaries of the city? You don't have to! Not when Rehoboth Beach is here. Located in Delaware, it has an iconic reputation among beach lovers. Come here to spend some quality time with family and relax amidst its peaceful atmosphere. There is a mile long boardwalk too for tourists. Dotted with shops and restaurants, a walk through this boardwalk is more than a happening detour. The picturesque contrast of clear blue Atlantic water on the yellow of sands gives it a beauty that is simply indescribable. Spare at least few days if you are planning to come here. You will find sea front rentals around that are cheap and comfortable.
Of course, there are many more beaches that could have made into this list but we tried to pick the ones that are best in their regions and is easily accessible to even those who do not live near prominent beach locations. Comment below and let us know which is your favourite one!