Hugging the impressive coastline of the freshwater, Lake Michigan is the flamboyant city of Chicago. The 'Windy City' as it is commonly referred to will blow your mind off in so many ways. From enthralling music to world-class architecture to delectable food to buzzing nightlife, Chicago has everything in place and is awesomeness personified.
Talking about the wonderful nature of Chicago, a trip to the 'Windy City' is incomplete without visiting the sandy beaches that adorn the Lake Michigan, adding character to Chicago. So get your swimsuits and beach mats ready, it is time to get tanned!
Presenting you a list of 10 best beaches in Chicago for a lovely summer.

1. North Avenue Beach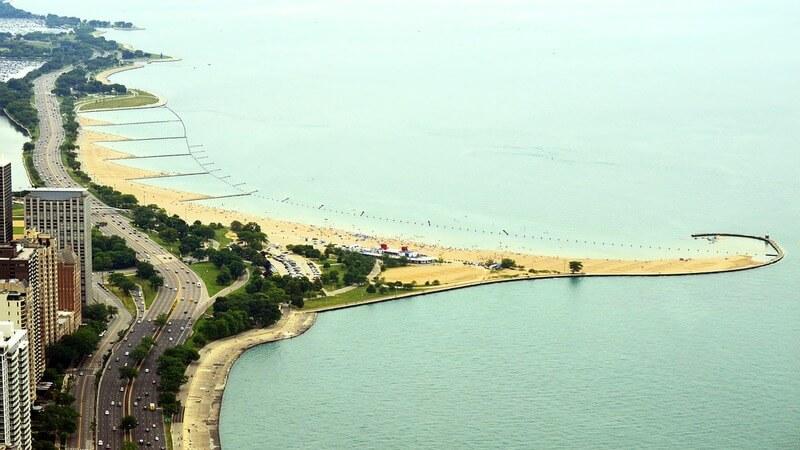 Image Source: maxpixel.freegreatpicture.com
North Avenue Beach is one of the most famous beaches in Chicago. Regardless of the day you visit, North Avenue Beach is always crowded with people of some kind, be it singles, couples, or families, everyone seems to be enjoying the lakeside beach. Go swimming in the waters, play a game of volleyball, indulge in people watching, or rent a bike and go riding along the lakefront trail. For unparalleled views of the bay, dine at the top of the uniquely designed beach house that is permanently docked along the beach.
Address: 1600 N Lake Shore Dr, Chicago, IL 60613, USA
Best Know For: Volleyball, Informal Dining, Biking, Beach House
2. 31st Street Beach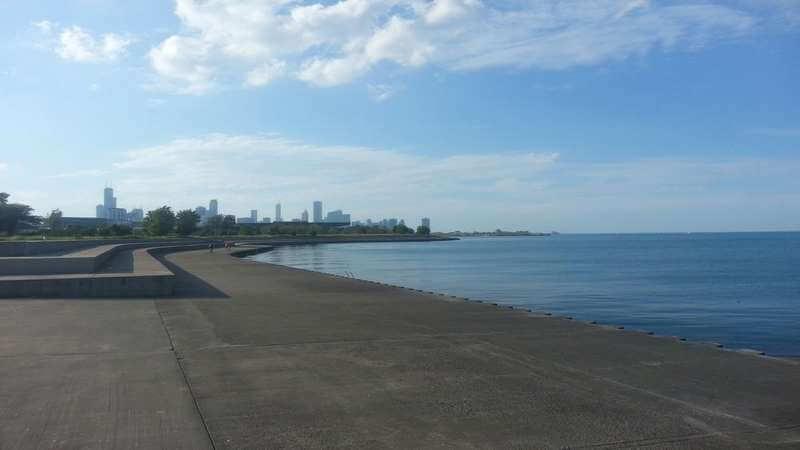 Image Source: Yelp.com
Open seasonally, 31st Street Beach is a South Side Beach in Chicago suitable for families. Soak in the fabulous skyline views, ride on a Jet Ski, cook a barbecue in the open, take a dip in the icy cold water which will come in as great refreshment during the time of summer, and explore the nearby harbor. There is also a playground for kids to play at, complete with monkey bars and slides. 31st Street Beach is famous for conducting Junior Lifeguard Chicago Area Tug-o-War every year.
Address: 3100 S Lake Shore Dr, Chicago, IL 60616, USA
Best Know For: Views, Picnic, Kids-friendly, Harbor
Quick Guide to Chicago
The Highlights
Must Have Experiences
Plan Your Trip
Things to do in Chicago
Chicago Tours
Chicago Trip Planner
3. Oak Street Beach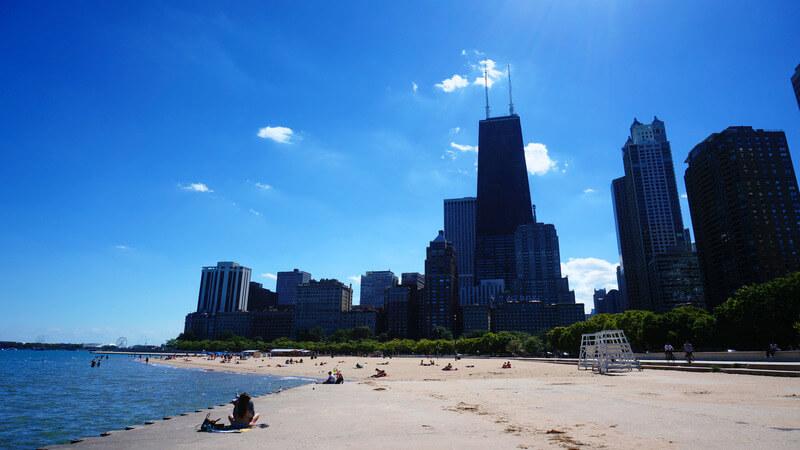 Image Source: Mr Hicks46/flickr.com
Stretching from the North Avenue Hook Pier to the Ohio Street Beach, the gold coast neighborhood hotspot of Oak Street Beach is one of the most popular beaches in Chicago. Take a plunge into the clean water, sunbathe, and just relax. Be it the spectacular skyline views of the city or its proximity to Downtown, Oak Street Beach draws a huge number of people and buzzes with activity all the time. Do not miss out to check the restaurant of Oak Street Beachstro that is set up during the summer.
Address: 1000 N Lake Shore Dr, Chicago, IL 60611, USA
Best Know For: Oak Street Beachstro, Views, Volleyball
4. Montrose Beach
Image Source: spablab/flickr.com
Situated in the neighborhood of Uptown, Montrose Beach is the largest beach in Chicago. Brimming with a lot of activities to choose from along with a dedicated dog park, Montrose Beach is an ideal family vacation spot in Chicago. Go jogging in the beautiful promenade, try your hand at fishing, rent out a kayak and drift into waters, explore the sandy terrain with your dog, and indulge in bird-watching. Montrose Beach is great for dog lovers and while you are here, there is also a beach house for you to explore.
Address: 4400 N Lake Shore Dr, Chicago, IL 60640, USA
Best Know For: Dog and Family friendly, Bird Watching
[ Check out: Best Road Trips From Chicago ]

5. Foster Avenue Beach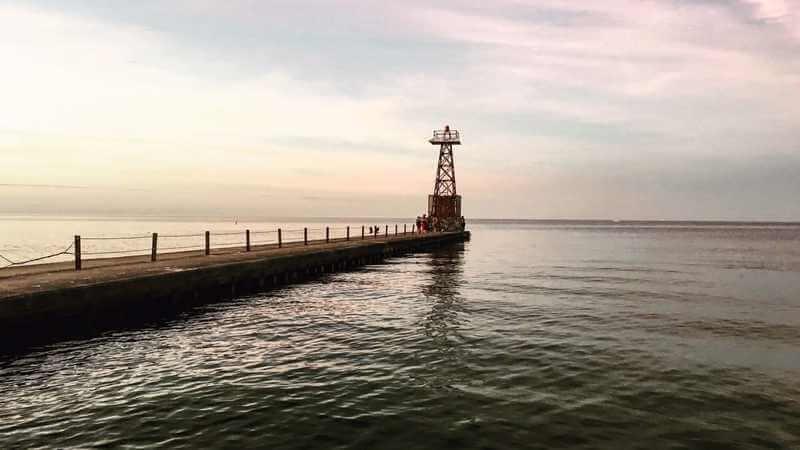 Image Source: Yelp.com
Foster Avenue Beach is a compact sized man-made beach in the Edgewater area of Chicago. Not visited by many, Foster Avenue Beach remained secluded most of the time and is a wonderful spot for people who are looking to spend a relaxing time along with their friends or alone. Throw around some ball along with your kids & friends, have a grill on the park side of the beach, fix up a match of volleyball, and just cool off in the subtle atmosphere of the beach which is soothing enough to relieve you from the stress.
Address: 5200 N Lake Shore Dr, Chicago, IL 60640, USA
Best Know For: Relaxing, Environment, Volleyball
6. Lane Beach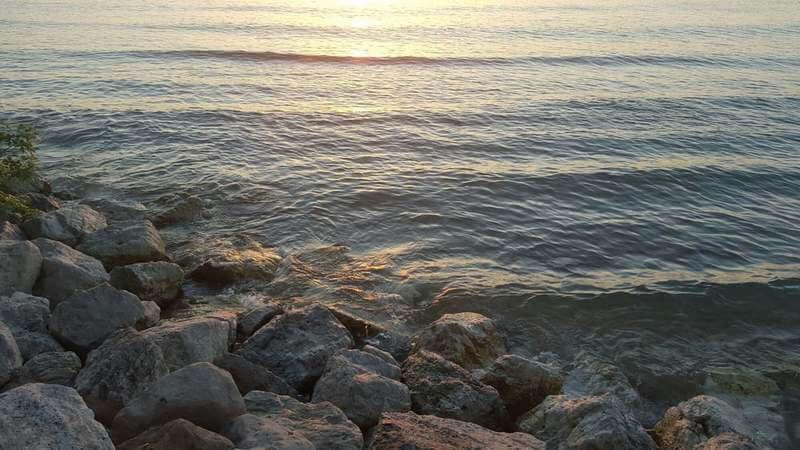 Image Source: yelp.com
Formerly known as the Thorndale Beach, Lane Beach set along the Lake Michigan offers a chance for the visitors to enjoy the splendid shoreline, not to forget the mesmerizing sight of sunrise. Take a trip to Lane Beach with your family, explore the area, indulge in long distance swimming, and do check out the nearby Osterman Beach if you have time. Well-equipped with a boardwalk ramp, Lane Beach provides access to the toddlers and persons with disabilities. There is also a soft-surface playground at the west end of the Lane Beach for the kids.
Address: 5915 N Sheridan Rd, Chicago, IL 60660, USA
Best Know For: Wheelchair accessible, Views, Kid's Playground
[ Check out: Best Camping Spots Near Chicago ]

7. Ohio Street Beach
Image Source: Yelp.com
Incredibly located in one of the prime spots in the city, Ohio Street Beach in Streeterville neighborhood is a romantic beach destination in Chicago. Blessed with a picturesque landscape of towering skyscrapers in the backdrop, Ohio Street Beach has a relaxed and a contagious vibe elevated by the music from the locality. If you are a couple looking for a beach to take a romantic stroll, then Ohio Street Beach would be the right destination for you. The unique orientation of the Ohio Street Beach makes it a training spot for open water swimming.
Address: 600 N Lake Shore Dr, Chicago, IL 60611, USA
Best Know For: Swimming classes, Location, Restaurant & Cafe, Music, Romance
8. Kathy Osterman Beach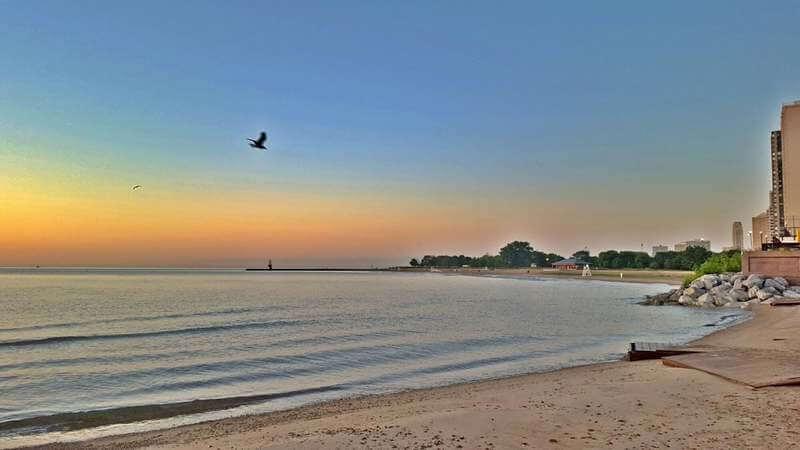 Image Source: yelp.com
Shaped like a crescent, Kathy Osterman Beach is one of the beautiful beaches in Chicago. Easily recognized as the Hollywood Beach, Kathy Osterman Beach has a laid-back atmosphere and at the same time is active with people of all kinds. The northern half of the beach is family friendly with shallow water for the kids to swim on and the southern half of the beach is for gays & lesbians. Check out the impressive concession stand on the beach that serves food & alcohol and spend time relaxing on the lovely beach shores.
Address: 5800 N Lake Shore Dr, Chicago, IL 60660, USA
Best Know For: Gay/Lesbian-Friendly, Beauty, Concession stand, Volleyball
9. Rainbow Beach and Park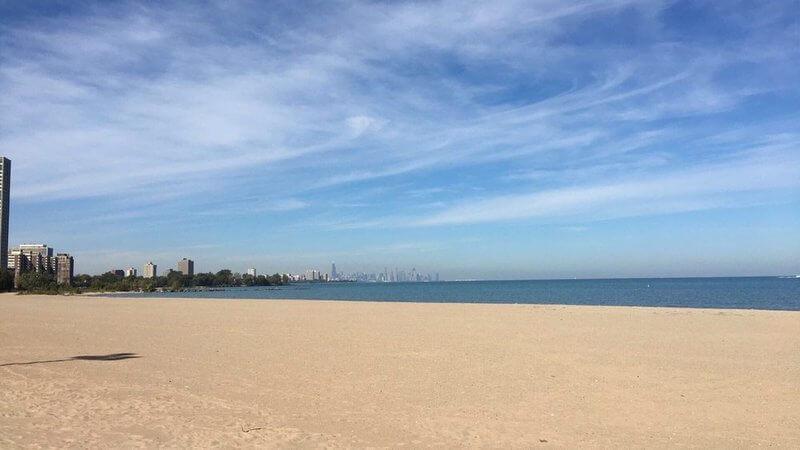 Image Source: Yelp.com
Covering an area of over 60 acres, Rainbow Beach and Park is a huge beach and one of the prominent public park areas in Chicago. Meander along the expansive lush green area of the park, choose from the varied sports options on offer which include basketball, tennis, baseball, handball, and take pleasure in the unparalleled views of the lakefront along with the skyline. Rainbow Beach and Park hosts holiday-themed events throughout the year and also organizes summer camps for adults and kids alike.
Address: 3111 E 77th St, Chicago, IL 60649, USA
Best Know For: Huge Size, Sports facilities, Events, Views
10. 12th Street Beach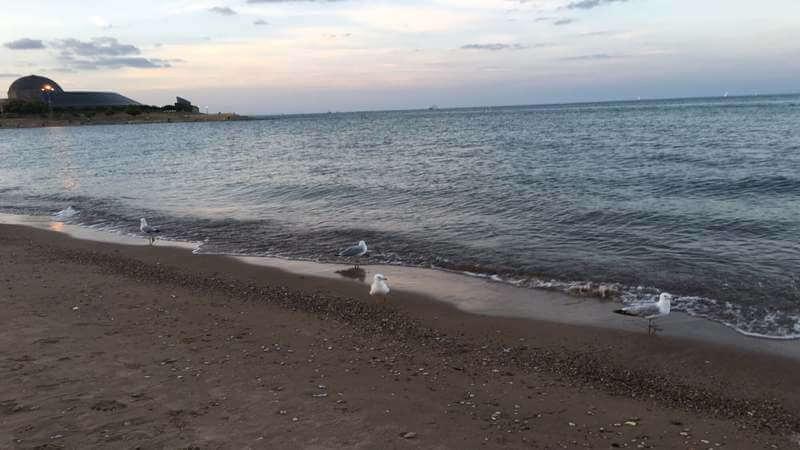 Image Source: yelp.com
A short walk from the Adler Planetarium in the Museum Campus, 12th Street Beach in the heart of the Chicago is one of the interesting beach destinations. Though in close proximity to most of the museums, 12th Street Beach is surprisingly less populated and the hidden gem of a place should be definitely checked-out during your visit to Chicago. Play a game of frisbees, rent a boat to get away from the shore, and bask in the pleasant nature of the beach. Also, you can sway to the music played at the Pavillion in the Northerly Island right from the beach grounds!
Address: 1200 S Linn White Dr, Chicago, IL 60605, USA
Best Know For: Location, Environment, Boating
Have you been to any of these lovely beaches in Chicago? If yes, share your experience in the comments section.
Also Read About:
Best Beaches in Miami
Best Beaches near Boston
Best Beaches in Los Angeles