The post New Year excitement has officially ended and if you've had a quiet January, it's time for a fun-filled February! Merriment is not limited to spring and summer, you can enjoy the winter joys too. We bring you a list of events happening all across London in February that you should definitely check out.

1. Orchids Festival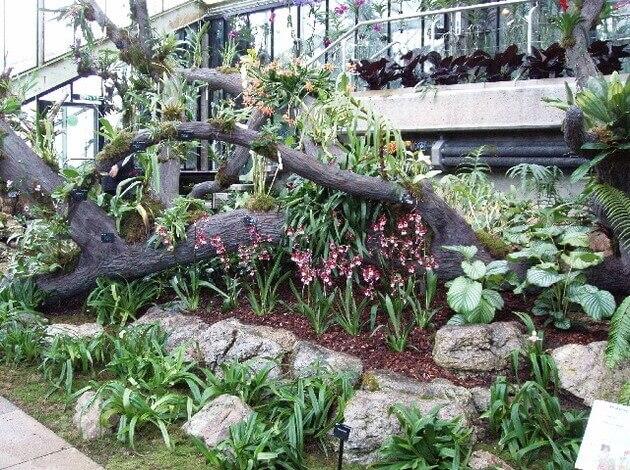 Image Source: Wikimedia Commons

The Orchids Festival at Kew Gardens is a stunning visual display of the colours, culture and plant life of India. Expect to see beautiful floral displays using thousands of orchids and tropical flowers around rickshaws, Indian soundscapes and films. There are special after dark events that include music, art and other fun activities.
Address: Kew Gardens (Royal Botanic Gardens), Kew, Richmond, London, TW9 3AB
Tube: Kew Gardens Station
Dates: 4th February to 5th March 2017

2. Fare Healthy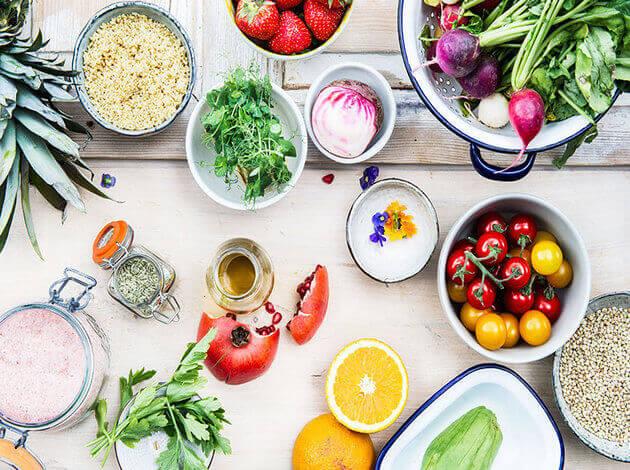 Image Source: farehealthy.com
This year Fare Healthy is moving to the Truman Brewery. A festival of food, fitness and wellbeing that will see some of the most famous names in the industry, it is the perfect event for those looking to keep their healthy New Year resolutions. The big names include blogger Deliciously Ella, Rude Health co-founder Nick Barnard, nutritionist Amelia Freer, blogger Izy Hossack, wellness guru Madeleine Sha, chef duo Tart London and fitness apparel brand Lululemon. Visitors can look forward to interesting cooking demonstrations, nutrition talks, exercise classes and pop-up eateries serving healthy fare.

Address: The Old Truman Brewery, 91 Brick Lane, London, E1 6QL
Tube: Aldgate East Station
Dates: Saturday 4th and Sunday 5th February 2017
Quick Guide to London
Activities

Must Have Experiences
Accommodation
Things to do in London
London Tours and Tickets
London Trip Planner

3. Green Day Concert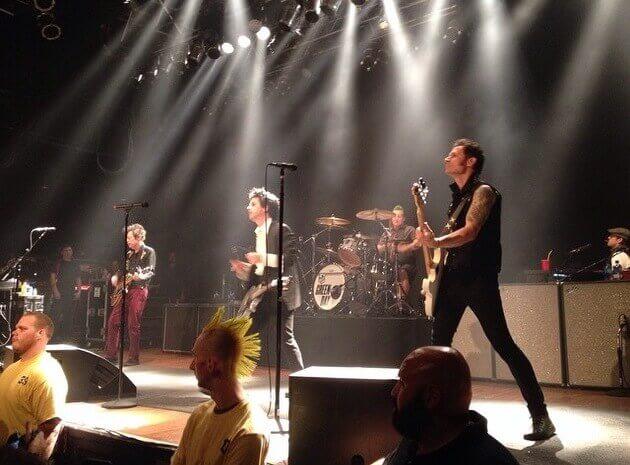 Image Source: Wikipedia.org

Catch the punk rock trio Green Day at a major live gig at London's O2 Arena. All set to promote their fifth album, the group also have another concert at Hyde Park in July 2017. Made even more famous with the hit rock opera American Idiot, the bad have gained popularity with the younger generation as well. Rock music buffs can look forward to two major events featuring the band this year.
Address: The O2 Arena, Peninsula Square, London, SE10 0BB
Tube: North Greenwich Station
Dates: Wednesday 8th February 2017

4. Imagine Children's Festival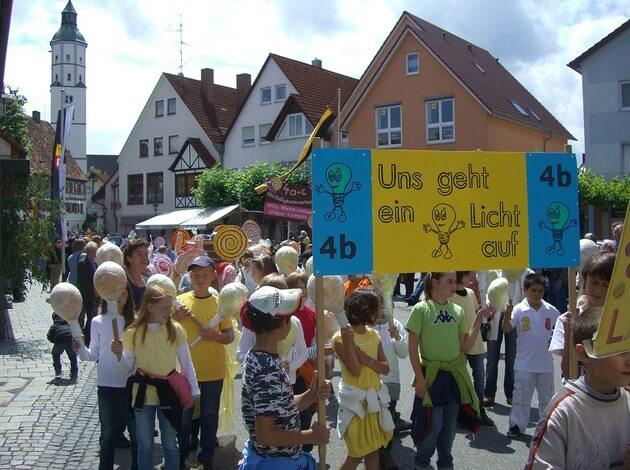 Image Source: Pixabay.com

The Imagine Children's Festival this here has a Nordic theme running throughout the event. Famous authors and childrens book illustrators will be seen at the event. A host of activities for kids and book launches await visitors who love reading.

Address:
Southbank Centre, Belvedere Road, London, SE1 8XX
Tube:
Waterloo Station, Embankment Underground Station
Dates:
9th to 19th February 2017
5. Ealing Music and Film Festival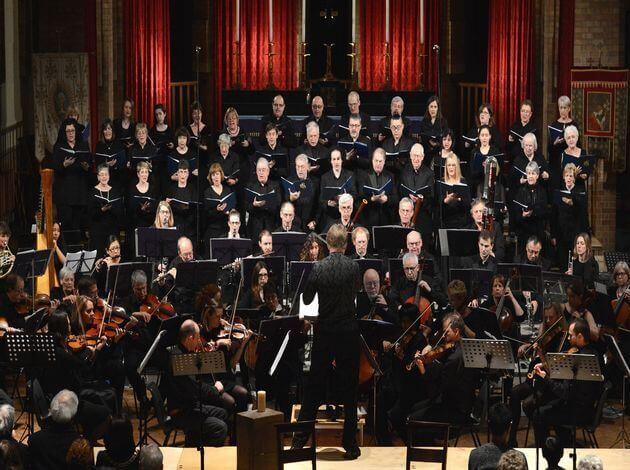 Image Source: ealingmusicandfilmfestival.org
In its fifth year, the Ealing Music and Film Festival includes a series of classical music concerts covering everything from Scarlatti, Haydn and Mozart to Dvorak, Tchaikovsky, Brahms and Mahler. For film enthusiasts there is a selection of music from films from the 20th century. Additionally, a variety of film screenings are also scheduled.

Address:
Various Venues, Ealing, , London, W5 5RF
Tube:
South Ealing Station
Dates:
9th, 10th and 11th February 2017
6. Bloc Party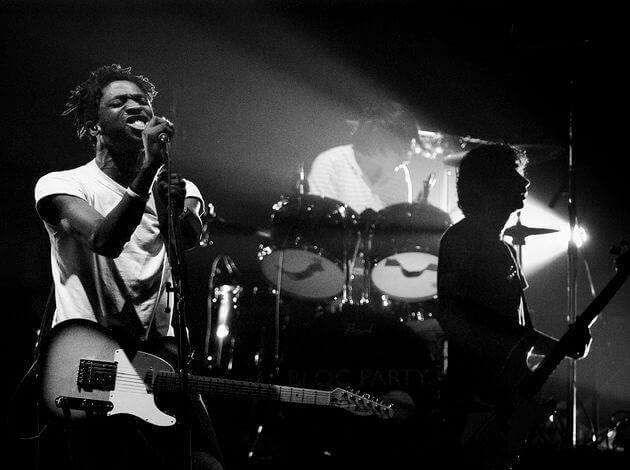 Image Source: Wikimedia Commons

After the release of their new single, Stunt Queenn, Kele Okereke and his London-based band, Bloc Party are having a show at the Roundhouse. Fans can expect an evening of art-punk infused indie rock, in support of their fifth studio album called Hymns.

Address:
Roundhouse, Chalk Farm Road, London, NW1 8EH
Tube:
Chalk Farm Station
Dates:
Friday 10th and Saturday 11th February 2017
7. Jack Whitehall: At Large
He has been crowned the 'King of Comedy' consecutively in 2012, 2013 and 2014 British Comedy Awards. 'At Large', his solo stand-up arena tour is guaranteed to be hilarious and outrageous. The live stand up comedy show will see him perform at Wembley Arena for three nights and at The O2 for one night in February 2017.

Address:
SSE Arena, Wembley, Arena Square, Engineers Way, London, HA9 0DH
Tube:
Wembley Park Station
Dates:
11th, 12th and 13th February 2017
8. Flamenco Festival London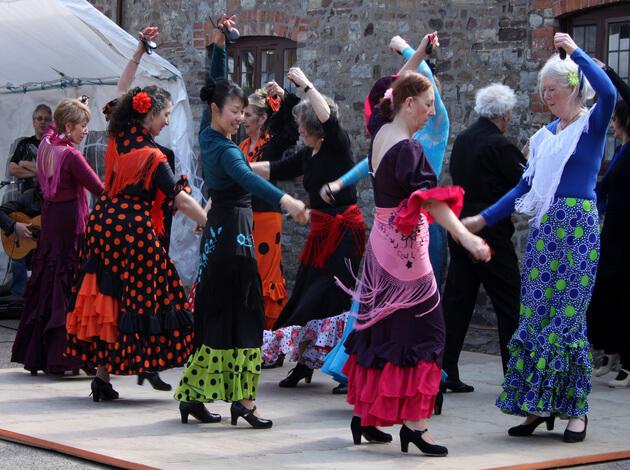 Image Source: muffinn/flickr.com

The Flamenco Festival London, an annual festival at Sadler's Wells has been around for the past fourteen years. It includes performances by Juana Amaya, Olga Pericet, Jesus Carmona, Patricia Guerrero, and Rocio Marquez, considered one of the best voices of flamenco today. The opening act of this year's festival is the UK premiere of FLA.CO.MEN by the famous Israel Galvan. One of Spain's leading dancers, Eva Yerbabuena also returns with Apariencias in a stellar performance also including African guest singer Alana Sinkey.

Address:
Sadler's Wells Theatre, Rosebery Avenue, Clerkenwell, London, EC1R 4TN
Tube:
Angel Station
Dates:
15th to 26th February 2017
9. The London Bike Show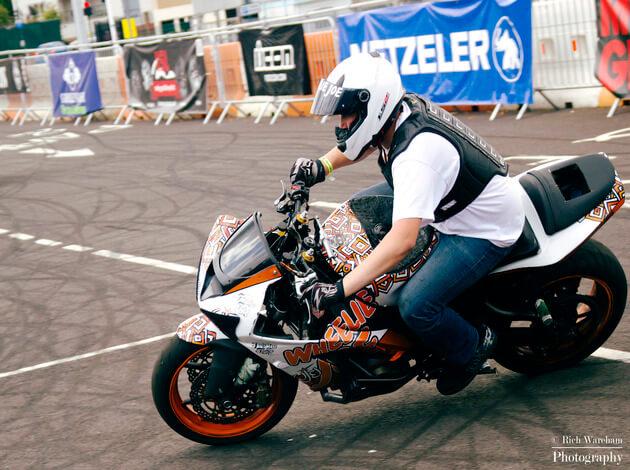 Image Source: Rich Wareham/flickr.com

Considered the largest cycling show in the UK, biking enthusiasts can look forward to a host of events and activities. There is also plenty of gear to browse and buy. There will be talks held by industry experts about all aspects of cycling, from BMX to cross country riding. Other attractions include a Bloc Cycling Bar, Street Velodrome and Test Track.

Address: ExCeL London, One Western Gateway, Royal Victoria Dock, London, E16 1XL
Tube: Canning Town Station
Dates: 16th, 17th, 18th and 19th Feb 2017

10. Hamlet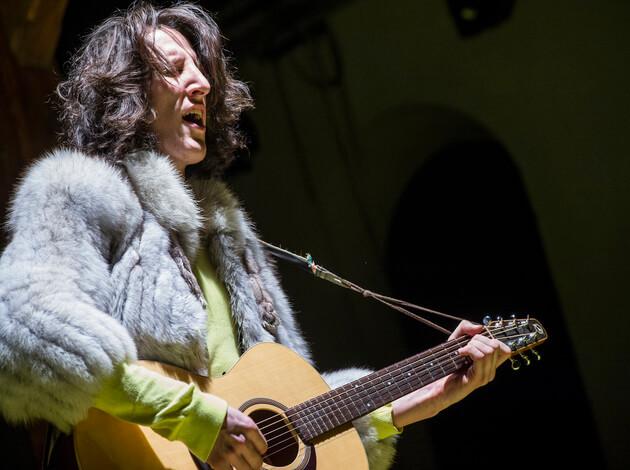 Image Source: Flickr.com

Andrew Scott and Juliet Stevenson wow audiences at the Almeida stage this year with Hamlet. In 2015 the show was one of the fastest selling in London theatre history when it starred Benedict Cumberbatch, who played what is said to be Shakespeare's toughest role.

Address:
Almeida Theatre, Almeida Street, London, N1 1TA
Tube:
Angel Station
Dates:
17th February to 8th April 2017
11. Gin Festival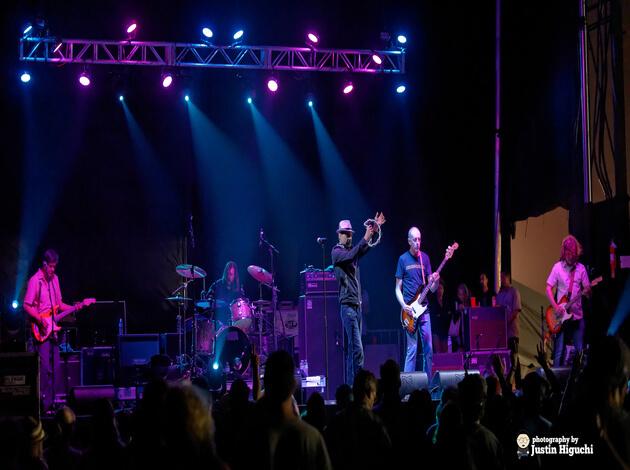 Image Source: Justin Higuchi/flickr.com

UK's largest gin festival is going to be held at Tobacco Dock this February. Now in its third year, the festival showcases over 100 gins and gives visitors the chance to taste exclusive and new gins from several producers. There will also be live entertainment, talks from gin industry experts and food.

Address:
Tobacco Dock, 50 Porters Walk, London, E1W 2SF
Tube:
Rotherhithe Overground Station
Dates:
17th, 18th and 19th February 2017
12. BRIT Awards 2017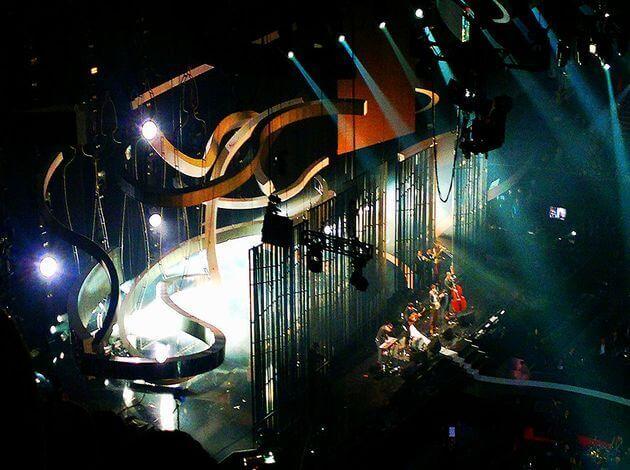 Image Source: Wikimedia Commons

And the Nominees are David Bowie, Rihanna, Little Mix and Drake! The Brit Awards, are one of the biggest music award events in Britain and this year the show will be hosted by Michael Buble. Featured performances include Little Mix, Emeli Sande and The 1975. Robbie Williams will receive the BRITs icon award, presented to artists who have made a "lasting impact". A host of other awards and performances promise to make this a start-studded event.

Address:
The O2 Arena, Peninsula Square, London, SE10 0BB
Tube:
North Greenwich Station
Dates:
22nd February 2017
13. Craft Beer Rising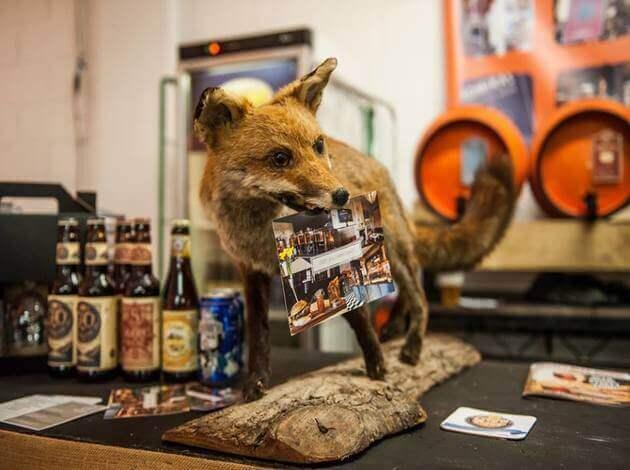 Image Source: craftbeerrising.co.uk
The love for beer sees this event bring together over 150 UK and international brewers. There will also be some of London's most delicious street food and music to dance to. Some of the breweries participating are London Beer Factory, Hiver Beers, Meantime Brewing Company, Hoxton Cidersmiths, Smith and Turner, Brewdog, Portobello Brewing Company and Sonnet 43 Brew House.

Address:
The Old Truman Brewery, 91 Brick Lane, Spitalfields, London, E1 6QL
Tube:
Aldgate East Station
Dates:
23rd, 24th and 25th February 2017
14. London Classic Car Show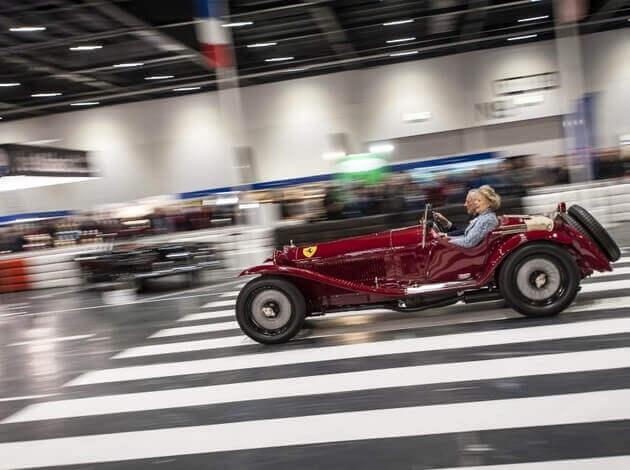 Image Source: thelondonclassiccarshow.co.uk

A celebration of automotive history, the London Classic Car Show is an extravaganza of classic and vintage cars. Highlights include a motoring catwalk showcasing 40 of the world's most desirable classic cars. There will also be a celebration of 70 years of Ferrari road cars. Aston Martin and Maserati will display their new models as well as their heritage cars. In the past several celebrities from the motoring world have made an appearance and this year promises to have a lot of big names in attendance too.
Address: ExCeL London, One Western Gateway, Royal Victoria Dock, London, E16 1XL
Tube: Canning Town Station
Dates: 23rd, 24th, 25th and 26th Feb 2017
15. Rehab Parliamentary Pancake Race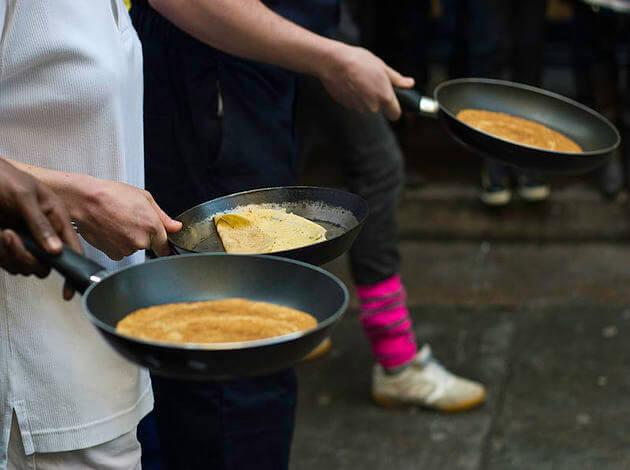 Image Source: Wikimedia Commons

Its Pancake Day so be prepared to watch MPs, Lords and political correspondents compete against one another to see who's the fastest pancake tosser. A major attraction for tourists, the event is held near the Houses of Parliament. The event has been going strong for 18 years and locals and tourists flock to see a different side of politics!

Address: Victoria Tower Gardens, Millbank, London, SW1P 3JA
Tube: Westminster Station
Dates: Tuesday 28th February 2017
Well then go and have some fun! You can thank us later.
Also Check out:
Celebrity Restaurants in London
Best Weekend Getaways from London