Once upon a time, Pompeii was a vibrant blue collar town until the eruption of Mount Vesuvius in A.D. 79 covered it under a thick carpet of volcanic ash and reduced it to ruins and debris. Today, what is left of the ancient city of Pompeii is a UNESCO World Heritage site and pulls millions of visitors yearly. This archeological site set on the coast of the Bay of Naples is 240 km from Rome and and just about 25 km from Naples, making for an easy and quick day trip. Moreover, coming so close to Pompeii and not visiting the Pompeii Ruins and Mount Vesuvius is an absolute crime! Exploring Pompeii requires a lot of planning and we are here to give you just that. The sights you must see, tour options, a little history lesson and some insider tips from our end. So, without further ado, let's head to the ruins of Pompeii and see how to make the best of your visit!
Quick Jumplinks to Navigate the Guide
A Walk Down Pompeii History
Things to See in Pompeii
Pompeii Tickets
Know Before You Visit Pompeii
Tours from Rome to Pompeii
Tours from Naples to Pompeii
Insider Tips for Visiting Pompeii
A Walk Down Pompeii History
---
Life in Pompeii
The regions of Mount Vesuvius and the Bay of Naples was a flourishing vacation spot ever since 8th century B.C. The rich and distinguished used to make their way here to soak in the sun and scenic beauty of the region , hence leading to elegant and exotic vacation villas. In not time, a city started sprawling around these confines of luxury - small factories, artisan huts, taverns, bath houses and even brothels sprung up.
Otherwise, life in Pompeii was extravagant to say the least. The lavish amphitheatre that could seat about 20,000 people, the opulent baths, the fast food restaurants and lively bars. Many historians say that their lifestyle was seemingly similar to how we live today. Their pots and pans strike a major similarity to the modern ones, portable room heaters, a great drinking water system in place and even an elaborate courthouse. The ladies in Pompeii were said to be quite the fashionistas who paid careful attention to their hair, make-up and dressing rituals.
Mount Vesuvius Eruption
It is said that Mount Vesuvius erupted early in the afternoon on August 24, 79 AD and is said to have lasted for over 24 hours. However, there is some confusion regarding this and historians are still trying to pin the exact date and time it happened. Copious amounts of molten rock and pumice were expelled at a rate of 1.5 million tons per second and about six inches of ash fell every hour.
However, contrary to popular belief, Pompeii is not a city "frozen in time". Mount Vesuvius was a volatile volcano and had erupted many times in the past and those living in Pompeii knew that an eruption was due. Vesuvius was rumbling for weeks before the devastating eruption, so the clever ones ( around 17,000 of out of a population of 20,000 or so) are said to have moved towns with their belongings. Historians say this might be a reason that Pompeii seem deserted.The eruption led to loss of 2000 lives and for the next seventeen centuries, Pompeii remained hidden from the world, forgotten and preserved, sealed in a time capsule.
Pompeii Excavation
In 1748, a group of explorers who arrived in Campania in search of ancient artifacts found remains of a city under the dust and debris. When they dug deeper, they realised that the debris had acted like a marvelous preservative which kept the City of Pompeii almost intact. The city had frozen exactly like how it was 2000 years ago, the buildings, artifacts and skeletons were all in pristine condition. A few years later, loaves of bread and uncovered jars of preserved fruit was discovered!
The excavation of Pompeii ruins has played a crucial role in understanding the Neoclassical phase of the 18th century. Historians have been able to make better sense of the art, architecture and traditions followed during those times. The excavation of Pompeii ruins have been ongoing for the past 3 centuries and every now and then new discoveries help patch the puzzle. "Pompeii as an archaeological site is the longest continually excavated site in the world," says Steven Ellis, co-director of the Pompeii Archaeological Research Project: Porta Stabia.
---
What to see in Pompeii
---
In no particular order, 10 things to see
Villa dei Misteri
Villa dei Misteri which translates to Villa of the Mysteries is a well preserved villa in the Pompeii ruins, fabled for its wall frescos which is believed to illustrate the initiation of a young woman into a Greco-Roman mystery cult. It was discovered in 1910 and is said to have belonged to the family of Istacidii, a wealthy family that resided in Pompeii during the Augustan era.
Find it in Regio II, Insula 5 ---
The House of the Tragic Poet
Also known as the The Homeric House or The Iliadic House , this is a 2nd century villa in Pompeii famous for its mosaic floors and fresco walls that depict detailed stories of Greek mythology. Archaeologist Antonio Bonucci excavated the house in 1824 and though the size of The House of Tragic Poet is not the least bit impressive, it is deemed to have the best interiors amongst all the houses in Pompeii. Due to the mismatch between the size of the house and the quality of its decoration, much has been wondered about the lives of the homeowners.
Find it in Regio VI, Insula 8 ---
The Temple of Isis
Located behind Teatro Grande, the Temple of Isis is a Roman temple dedicated to the Egyptian goddess Isis. This compact temple was one of the first things that surfaced during when the Pompeii excavations started. Principal devotees of the Temple of Isis are believed to be women, freedmen, and slaves. The cult of Isis is said to have spread in the Hellenistic age due o the religious contacts of the Greeks with the East and Egypt.
Find it in Regio VIII, Insula 7.28 ---
Temple of Apollo
One of Pompeii's most important religious buildings, the Temple of Apollo dedicated to the Greek and Roman god Apollo is a definite visit while in Pompeii. The temple has 48 Ionic columns and stands on a high podium. In this compound you will find a bronze statue of Apollo archer and in front you will find the bust of Diana in the original location that they were before it was buried under debris. Some other idols from here have been transported to National Archaeological Museum of Naples for safe keeping.
Find it in Regio VII, Insula 7.32 ---
Pompeii Spectacula
Pompeii Spectacula, the amphitheatre of Pompeii was built around 70 BC and is the oldest known surviving Roman amphitheatre built of stone. Earlier, they are said to have been built wood. The Colosseum in Rome postdates the Pompeii Spectacula by over a century! This amphitheatre has given historians a great deal of information about the gladiatorial culture of Rome.
Find it in Regio II, Insula 6 ---
Stabian Baths
The Stabian Baths stand close to the Forum and are the oldest baths of the city. It is evidently divided into 2 sections along the same axis - male and female with a courtyard gym. Much like other Roman Baths, there are different rooms with thermal pools of different temperatures and depths. The dressing rooms here are an interesting detail with figurative panels of mythological figures and athletes.
Find it in Regio VII, Insula 1.8 ---
Lupanare
Lupanar , roman for "wolf den" was the most famous and largest brothel in Pompeii. The prostitutes here were called lupa (roman for she wolf) and they were said to be frequented daily by patrons and traders from across Italy. Those days, brothels were typically small with a few rooms and over the years, 35 Lupanares have been found around Pompeii. These are identified by the erotic paintings on its walls. There are clear signage with phalluses engraved on paving or stones on facades of the houses around the Lupanar, allowing explicit access to the pleasure home.
Find it in Regio VII, Insula 12.18 ---
House of the Vettii
Spanning an entire block, the House of Vettii is one of the largest house in Pompeii, preserved in almost pristine condition. This luxurious domus through its fresco and pictorial depictions tells a great deal about the rich merchants of Pompeii. It is said that the brothers Aulo Vettio Restituto and Aulo Vettio Conviva who owned the house, had the walls decorated by one of the best painters in Pompeii in order to flaunt their status symbol. There are 2 safes in the masonry base which again denotes the opulence of the family.
Find it in Regio VI, Insula 15.1 ---
House of the Faun
The House of the Faun known as Casa del Fauno was built during the 2nd century BC and is found to be one of the largest and most impressive private residences in Pompeii. This Samnite luxurious aristocratic household many famed pieces of art and speaks a great deal about the life of the rich in Rome, more than any historical evidence ever found in Rome itself! The house has 2 atriums, one intended for residence and the other for work. During the initial phases of excavation, the skeleton of the owner was found opposite the entrance of the house who had jewels and coins with her .
Find it in Regio VI, Insula 12.2 ---
Granaries of the Forum
Though the Graniers of the Forum is currently used to store archaeological digs, it used to be a marketplace for cereals, herbs and pulses. Due to the lack of rendering and plasters on the walls of the grainery, it is assumed that the place was under construction when the calamity struck. Though it is not an architectural feat, seeing the finds and artefacts here and interesting.
Find it in Regio VII, Insula 7.29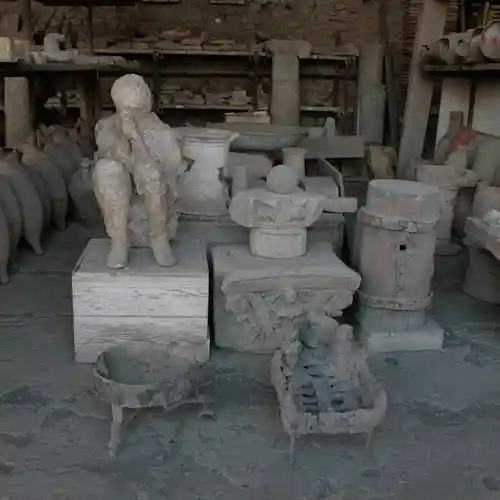 ---
Pompeii Tickets
---
Pompeii Skip The Line Entry Tickets
• Skip past the long lines and make your way into Pompeii with your priority access ticket
• Discover the UNESCO World Heritage Site of Pompeii, an ancient Roman town believed to be a myth till the 18th century
Pompeii Guided Tour
• Learn unheard lores and facts about Pompeii from our local expert guide
• Tickets are inclusive of transfers to and from Naples
Pompeii Excavations Tour
• Guided walking tour of Pompeii and Naples City with expert local guide
• Special tour of lesser known excavation sites in Pompeii
Pompeii and Mount Vesuvius Full Day Tour
• Discover the fascinating ancient ruins of Pompeii and climb up Mt Vesuvius with a professional guide
• Transfer to and from Naples included
---
Know Before You Visit Pompeii
---
---
Pompeii Entrances
---
There are 3 entrances to Pompeii.

- Porta Marina (Marine Gate) - This is the primary entrance to Pompeii where you'll find the ticket window along with a book shop, information desk and hawkers who are selling audio guides.

- Piazza Anfiteatro - This is 15 minutes walk to the east in the town of Pompeii and the entrance has an audio guide rental spot, but the information desk is missing, so if you come from here, you may miss out on your map. You also have a free luggage storage service here, where you can leave your bags, umbrellas etc. If you're taking the he public bus to Mount Vesuvius, know that it terminates here.

- Piazza Esedra- This is the least used entrance to Pompeii. However, it is fairly close to Piazza Anfiteatro and during peak season, some people seep in through here to avoid the crowds at the main 2 entrances.

---
Pompeii Tours
---
There are several ways to explore Pompeii and in this guide we have list down the best 3 ways to explore the ruins of Pompeii along with the pros and cons of each. This will help you decide which way suits you best to visit Pompeii.
Guided Tour ( Online Booked)

We believe this is the best way to get the most out of your Pompeii visit. There are no signboards and not too many descriptors in Pompeii, hence making sense of what you're seeing will be hard. Having a guide along with you in enriching as the local guides are so knowledgable that they have lores and facts that surface nowhere on the internet. If you're one to truly understand the depths of Pompeii, go for a guided tour. It is not too expensive on the pocket and buying from trusted sources like Headout will guarantee you a great deal.

Hire a Guide on the spot

If you're making a spontaneous trip and have'nt had time to book a guided tour, you can always hire a guide on the spot. However, be warned, they may charge a premium and getting a guide who speaks your native language maybe hard. Moreover, if you're not fluent in Italian, bargaining with them and understanding what their saying during the tour maybe hard.

Self Audio Guided tour

Near the Porta Marina entrance you will find hawkers selling a small white remote and a map of Pompeii called the Little Red Book. If you're one to like exploring the place at your own pace, these audio guides are a good option. They work cheaper than the guided tour too. However, due to certain reviews on the internet, we don't personally recommend them.

App Tour

This is the most cost effective way to visit Pompeii. All you have to do in download the free Pompeii App on your phone and use the map they give at the entrance to tour the ruins. If you're technologically adept and can read maps well, this is proven a great way.
---
Tours from Rome to Pompeii
---
Rome to Pompeii By Train
This is the fastest and most comfortable option to get from Rome to Pompeii. While there are several slow and high speed trains that ply from Rome to Pompeii, we would suggest opting for the High Speed Trains as they take 2 hours or less compared to the slow trains that take about 4 hours. Note, almost all trains from Rome to Pompeii involve a transfer at Naples. While there are many trains that shuttle this route, we recommend Frecciarossa and Freccibianca trains.
This is because of their punctuality, cleanliness, amenities available, comfort and economical prices. After your transfer in Naples, it is likely that you'll be on a regional Trenitalia train to Pompeii. Though the Trenitalia trains are a lot more crowded, less comfortable and slower than the Frecciarossa and Freccibianca trains, they are your best bet.
Total Duration of Travel - 2 hours ( inclusive of Naples transfer)
Duration from Naples to Pompeii - 45 minutes
First train departs at Rome - 07:00
Last train departs at Rome - 20:53
Origin Station - Roma Termini
Destination Station - Pompei

Rome to Pompeii by Bus
Road trip lovers can embark on a journey from Rome to Pompeii by bus and have a great time enjoying the vistas of Italian countryside. Although the bus journey takes longer than trains, it is a great option B. Moreover, most coaches come with guided tours which comes handy when in Pompeii. Always book round trip tickets to get a cheaper deal than single way tickets. The major point of convenience that buses have over trains is that you can avoid the hassle of transfer in Naples. All you have to do is sit in the bus and you will reach Pompeii in comfort.
Duration of Travel - 3 hours
Rome to Pompeii by Car
Driving from Rome to Pompeii is a great option as you have the flexibility of stopping in tiny towns on your way, experiencing a little more of the Italian countryside and strolling by Pompeii and Naples at your own pace. However, this is an expensive option when you calculate the costs of renting a car, fuel and parking fee. If you want to sit in the comfort or a car but be chauffeured down, there are plenty of tours that arrange the same. However, be warned this works out to be the most expensive option of traveling from Rome to Naples.
Duration of travel - 2 ½ hours - 3 hours
---
Best Rome to Pompeii Tour Tickets
---
Naples and Pompeii Archeological Full Day Trip from Rome
• Take a guided walking tour through the Campania region, concentrating on Naples and Pompeii
• Learn about the rich history and gastronomy in the region while admiring the picturesque panorama.
Pompeii and Mt. Vesuvius Volcano Full Day Trip from Rome
• Round trip transport from Rome in an AC bus
• Entrance ticket to Vesuvius ( summer only), Pompeii & Archeological Museum of Pompei (winter only)
Multi Day excursion to Naples, Pompeii and Sorrento from Rome
• Embark on a 2 or 3 day tour to the regions of Campania and Lazio.
• Stay, transfers, guide tickets and meals all inclusive in ticket!
If you want to learn more about doing a Day Trip from Rome to Pompeii, read our detailed blog that will take care of all your questions.
---
Tours from Naples to Pompeii
---
Naples to Pompeii by Train
The distance between Naples and Pompeii is a mere 28km which makes it easy to travel by whichever mode of transport you find comfortable. However, taking the train from Naples to Pompeii is the most economical and quickest ( by road is the fastest, but it works out to be more expensive). Naples and Pompeii come under the Circumvesuviana train network allowing many direct trains that and that shuttle back and forth every 60 minutes or so. To go from Naples to Pompeii by train, you have to hop on a train from the Napoli Garibaldi station and get down at the Pompei Scavi-Villa Misteri which is about 50 meters from Pompeii's entrance. Two things to note which traveling on the Circumvesuviana trains
Since there is no concept or provision for reservations, the trains can get crowded and you may have to stand during the journey.
Weekends and holiday seasons result in lesser frequency and longer traveling hours.
Duration of Travel - 30 - 45 minutes
Bus from Naples to Pompeii
From the Nuova Marina port in Naples you can take the SITA Local Buses and get dropped right outside Pompeii. These SITA local buses that ply from Naples to Pompeii operate every day of the week and are the second best option to traverse the route. Though they are marginally more expensive than the train fare, you can book tickets in advance which assures a confirmed seat. Hence, if you prefer comfort over speed, the SITA buses are a great option.
Duration of Travel - 35 - 40 minutes
Naples to Pompeii by Car
Driving from Naples to Pompeii is fairly easy. From Positano road you hit Sorrento first and then go to Pompeii. Else, you can drive to Ravello and go over the Chiunzi Pass to reach Pompeii. Note, Pompeii City has a lot of traffic and you will have to maneuver past many tourist buses and cars to get to the ruins. However, you will find a metered car park near the Piazza Anfiteatro entrance. Though it may cost you a few extra bucks, park your vehicle there rather than on the streets for safety purposes. There is a parking lot near the Porta Marina entrance too, but that tends to fill up pretty fast and exiting this parking lot can a task.
Duration of travel - 25- 30 minutes
---
Best Naples to Pompeii Tour Tickets
---
Pompeii Guided Tour with Transfers from Naples
• Learn unheard lores and facts about Pompeii from our local expert guide
• Hotel/Apartment pick-up and drop-off from Naples to Pompeii and back aboard an air-conditioned GT coach.
Pompeii Excavations and Naples Full Day Tour
• Guided walking tour of Pompeii and Naples City with expert local guide
• Transfers to and from Naples in GT coach
• Special tour of lesser known excavation sites in Pompeii
Pompeii and Mount Vesuvius Full Day Tour from Naples
• Discover the fascinating ancient ruins of Pompeii and climb up Mt Vesuvius with a professional guide
• Transfer to and from Naples included
Pompeii & Amalfi Coast Full Day Tour from Naples
• Discover two UNESCO World Heritage Sites in a single day tour from Naples: Pompeii and Amalfi Coast
• Hotel/Apartment pick-up, drop-off and transfers between Naples, Amalfi Coast, Pompeii and back aboard an air-conditioned GT coach.
---
Insider Tips for Visiting Pompeii
---
Purchase tickets online and save yourself time and energy. I cannot stress this enough, but queues outside can take upto an hour and a half during peak season and it kills your motivation to walk. Tickets online are priced at the same rates as the counter, so buy the Skip the Line access tickets and waltz in.


All of Pompeii has just 1 restaurant and it's quite mediocre. Pack yourself a picnic in order to indulge in a good meal after all that walking.


Carry a medium sized bag because the security levels vary and sometimes they do not allow rucksacks in for security purpose as well as to curb damage on the ruins.


Carry water bottles as you'll need lots of it. You can refill them at the water fountains as and when they get over.


Carry all that you need to shield yourself from the sun. There are no trees in Pompeii so you'll need to protect yourself from the harsh sun, especially during summers.


Since the walkways are all undulating and stony paths, sneakers or shoes are recommended to prevent your feet from wearing out. Flip flops and heels will be a huge inconvenience.


The first Sunday of every month allows free entry. Be warned, this also happens to be the busiest day of the month in Pompeii!


Like I said before, there aren't too many signages or information placards in the ruins, so hire a guide or buy the audio guide to make sense of what you're seeing. You won't enjoy your trip half as much if you're constantly lost and attempting to comprehend the ruins.


Keep aside at least 6 hours for a sedate visit. Some places get crowded and you may have to wait a while to see it entirely.


If you wish to visit Mount Vesuvius from Pompeii, take a bus from the Pompei Scavi Circumvesuviana station to Mount Vesuvius. The Vesuvio Express is the most popular one and fills up quickly. This bus will take you to the foot of the summit from where you can hike up. The hike is for around 1.6km from the bus drop, but it is a steep hike on dusty gravel. Make sure you're wearing shoes and carry ample bottles of water.
---
The post Visiting the Ruins of Pompeii appeared first on Headout Blog.