The Cyclades Islands in Greece are a mix of popular tourist destinations like Santorini and Mykonos, and low-key quiet islands such as Sikinos and Schinoussa. Dreaming of Cyclades island hopping some day? This Cyclades travel guide is a great place to start.
Travel Guide to the Cyclades Islands Greece
Hi, my name is Dave, and I've spent many months Island hopping in the Cyclades over the last five years. I've created this guide to the Cyclades Islands in Greece to make life easier when planning your own trip.
This is quite a comprehensive travel guide (a polite way of saying it's long!) so you might need to sharpen your attention span. Or bookmark this page – whatever's easiest!
You'll find everything you need to know about the Cyclades islands, such as what to see, how to get to the islands, what time of year is best to visit and more.
Whether this will be your first Cyclades island hopping adventure or your twentieth, you should find this Greek island travel guide to the Cyclades useful.
Let's dive in!
---
Where are the Cyclades islands in Greece?
The Cyclades are an island group located in the Aegean Sea in the south of mainland Greece. They begin to the south-east of Athens, and the chain forms a rough circle, which is where the Cyclades gets their name from.
Check out the Greek islands Cyclades map below: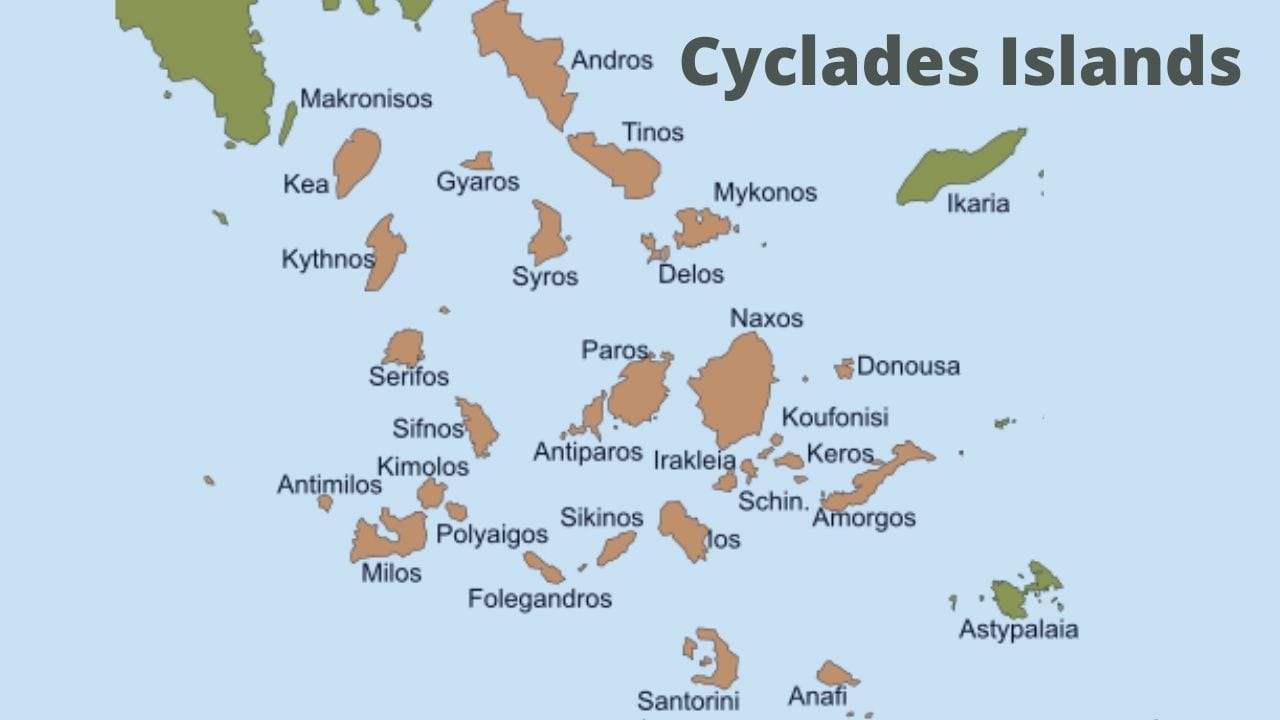 Because of their close proximity to one another, they are the best Greek islands to visit when island hopping.
---
Best Time To Visit Cyclades
In my opinion, the best months to visit the islands of the Cyclades in Greece are June / early July and September. The reason for this, is that the weather is nice and warm, but more importantly, you stand a better chance of missing the Meltemi Winds.
What are the Meltemi Winds? They are strong (and I mean strong) winds which blow mainly through August. More here: Meltemi Winds.
If you have a choice, avoid visiting the Greek Cyclades in August, as it is also peak tourist month. The prices for hotels shoot up, and the numbers of tourists are at their absolute highest.
---
How to get to the Cyclades islands in Greece
Only a few of the Cyclades islands have international airports such as Mykonos, Santorini, and Paros. Some of the other islands like Naxos, Milos and Syros have domestic airports with flight connections to Athens and Thessaloniki.
All of the inhabited Cyclades islands have a ferry port. Different ferry routes will connect the islands with each other, and also with the main ports of Piraeus and Rafina in Athens.
In order to get to the Cyclades, you could choose to fly directly to one of the islands with an airport, and then island hop via ferry from there.
Another alternative would be to fly into Athens international airport, spend a day or two in the city, and then head out to the islands on either a domestic flight or ferry.
Once you have arrived at your first Cycladic island, the easiest way to island hop between them is by using the extensive Greek ferry network.
I recommend Ferryhopper as a place where you can see ferry schedules for the Cyclades and book ferry tickets in Greece online.
---
How many inhabited Cyclades islands are there?
If I was to tell you how many sources of conflicting information there are out there about this, you probably wouldn't believe me. Even Wikipedia is too scared to give a definitive number!
By my calculation though, there are 24 inhabited islands in the Cyclades chain.
I've defined inhabited Cyclades islands by having two criteria – There must be a way for visitors to get to the island, and there must be somewhere to stay.
As such, the island of Delos does not get included on my list.
---
Cyclades Island List
Here's a list of the inhabited Cyclades islands in alphabetical order. Each one is hyper-linked, so by clicking on it, you will jump down this page to the relevant island section.

Amorgos
Anafi
Andros
Antiparos
Donoussa
Folegandros
Ios
Iraklia
Kea
Kimolos
Koufonisia
Kythnos
Milos
Mykonos
Naxos
Paros
Santorini
Schinoussa
Serifos
Sifnos
Sikinos
Syros
Thirasia
Tinos
---
Amorgos
As the eastern-most Cyclades island, Amorgos is close to another Greek island chain called the Dodecanese. Offering beautiful Beaches and astounding landscapes, it might not be a natural choice for first-time visitors to Greece, but a visit here will certainly be memorable.
With the picturesque Cycladic fishing village of Katapola, old monasteries, and hiking paths, you'll never be short of views and natural beauty!
The best things to do and places to see in Amorgos include:
Chora and the Venetian Kastro
Views from the typical Cyclades Windmills
The Monastery of Panagia Hozoviotissa
Discover hidden parts of Amorgos on ancient hiking trails
Take a boat trip around the island
Celebrate at the Festival of Agia Paraskevi in Kato Mera on the 25th July
Find out more here: Amorgos Island
---
Anafi
This is a little visited island in the Cyclades, partly because some ferry services arrive and depart from Anafi at odd times. It's also quite a long boat ride from Piraeus.
According to sources, Anafi has been promised better ferry connections in the future – watch this space!
A small island with excellent beaches and an interesting Chora, its pristine look gives Anafi an exotic feel. For now, Anafi is still something of a hidden secret. Perhaps it's worth visiting before that changes!
The best things to do and places to see in Anafi include:
Plenty of beach visits (a vehicle will make life easier)
Hiking the Monolith of Kalamos and enjoying the view from the Monastery.
Free camping on the beach (a grey area in terms of if it will still be allowed)
Admiring the stars on a clear night
---
Andros
Just a two hour ferry ride away from Athens, Andros is the most northern of the Cyclades islands. Despite Andros being a good starting point for a Greek island hopping trip in the Cyclades, it gets overlooked by many people who seem to be in a rush for the big name destinations of Santorini and Mykonos.
That's perhaps a good thing, as it means Andros is quieter even though it's got better sandy beaches than Santorini and much better villages than Mykonos. The island is little known to foreign visitors, but Greeks appreciate the culture, beaches, and hiking opportunities on offer.
The best things to do and places to see in Andros include:
Spend time in Chora (museums, sightseeing and more)
Visit villages and towns such as Korthi, Batsi, and Menites
Go down into the depths of the earth at Aladinou Cave
Laze on the beaches (you must visit the Old Lady's Jump!)
Find out more here: Andros island Travel Guide
---
Antiparos
Tom Hanks loves Antiparos so much he bought a villa there, but don't go to Antiparos expecting Mykonos style nightlife. Instead, Antiparos is laid back, has nice beaches, and a genuine local community.
There is nightlife of course, but it mainly centers on a cluster of bars in the village, and one famous nightclub, the legendary La Luna.
It's a quieter version of its bigger neighbour Paros, and for most visitors, the better of the two islands.
The best things to do and places to see in Antiparos include:
Visiting the Cave of Antiparos
Enjoy the beaches
Wander inside Antiparos Castle
Catch a sunset at Sifneiko Beach
Take a boat tour to Despotiko Island
---
Donoussa
Greek islands often get labelled as an under the radar destination, or hidden gem, but honestly, Donoussa is just that!
One of the smallest Cycladic islands, Donoussa is positioned between Naxos and Amorgos, and has beautiful unspoiled beaches where you can relax and unwind.
Chora, or Stavros, is the the main place of activity on the island, where most of the places to stay, eat, and have a drink can be found. There are other smaller settlements as well, but it's the beaches people visit Donoussa for.
The best things to do and places to see in Donoussa include:
Beaches, beaches, and more beaches!
Relax in the ambient atmosphere of Chora / Stavros
Free camping on Kedros beach (maybe)
Hike around the island
---
Folegandros
With dramatic landscapes, a busy Chora of tavernas and bars, and some very nice beaches, Folegandros is a favourite island in the Cyclades with many return visitors.
Folegandros is also a good island to put together with Milos and even Sikinos as part of an island hopping itinerary in the Cyclades.
The best things to do and places to see in Folegandros include:
Sunset from the church above the town
Hiking along the well marked trails
Meals in the Chora
Beach days (sometimes after a hike there!)
---
Ios
It might have developed a reputation as a party island over the years, but there's a lot more to Ios than meets the eye. It has some fantastic beaches, and some truly memorable sunset spots.
During July and August, you can expect a young, mainly European crowd looking to party by night. Outside of those months though, visitors might be pleasantly surprised with what Ios has to offer.
The best things to do and places to see in Ios include:
Strolling around Chora
Check out the churches (there's 365+!)
Relax on amazing beaches
Explore the hiking trails
Pick a spot for an amazing sunset in Ios
Party like there's no tomorrow!
Find out more here: Things to do in Ios, Greece
---
Iraklia
Iraklia Island belongs to the "Small Cyclades" or "Lesser Cyclades" group of islands. Typically, it is visited from Naxos, and this tiny island has fewer than 100 residents.
If you're looking for quiet Greek island where it feels as though time has stood still, Iraklia might just fit the bill. Yes, it's one of my favourite islands in Greece!
The best things to do and places to see in Iraklia include:
Explore the nature and hiking trails
Hike, drive, or take a boat to the beaches
Visit The Cave of Agios Ioannis in Iraklia
Find out more here: Things to do in Iraklia
---
Kea / Tzia
The Cyclades island of Kea / Tzia is so close to Athens, you can actually visit on a day trip from the port of Lavrio if you were so inclined. The ferry ride over takes barely an hour, but you'll feel miles away from the city!
Unlike many of the other Cycladic islands, Kea doesn't have many of the distinctive whitewashed buildings and blue-domed churches, Instead, earthy tones adorn architecture that has a touch of elegance about it.
Kea is also greener than its somewhat drier counterparts in the Cyclades, and is home to a variety of wildlife such as birds, reptiles, and wild animals.
The best things to do and places to see in Kea island include:
Spend time in the beautiful village of Ioulida with castle and archaeological museum
Visit more quaint villages such as Vourkari, Korissia, and Otzias
Relax on the beaches of Gialiskari, Koundouros, and Korissia
You must visit the ancient site of Karthea
---
Kimolos
This is one of the least touristic Cyclades islands, which is strange given how close it is to Milos. Whilst some people do visit Kimolos on a day trip from Milos, it's definitely worth visiting as a destination in its own right.
There's an authentic air in Kimolos, perhaps due in part to the islanders general ambivalence (or so it would seem) to tourism. And that ambivalence is strange given just how friendly and chatty the locals are!
If you're looking for a quiet Greek island in the Cyclades where you can mix hiking and beach time during the day, and taste some of the best food in Greece at night, Kimolos might be just for you.
The best things to do and places to see in Kimolos include:
Enjoying the authentic atmosphere
Hiking to Skiadi Rock (the mushroom rock!)
Strolling around Chorio
Checking out the beaches
Watching a movie outside in the castle (if you're lucky!)
Find out more here: Things to do in Kimolos
---
Koufonisia
Koufonisia is actually made up of two islands – Ano Koufonissi and Kato Koufonissi. Only one of these, Ano Koufonissi, is inhabited. You can see where the math problems arise when it comes to counting how many inhabited islands there are in the Cyclades!
Regardless, Koufonisia is described as a true paradise. Located between Naxos and Amorgos, you can expect pristine beaches, seas that sparkle like jewels, and a coastline to fall in love with.
The best things to do and places to see in Koufonisia include:
Hire a boat to see the coastline of Koufonisia
Spend time on Ano Koufonissi beaches of Foinikas, Loutro, Italida, and Pori
Spend time on Kato Koufonissi beaches of Nero, Detis
Hike around Ano Koufonissi
Eat fresh fish at tavernas (try the urchin salad!)
Enjoy the charm of Chora
---
Kythnos
The mountainous island of Kythnos is located in the western part of the Cyclades chain. Visitors are attracted by the beautiful landscape, beaches, and charming villages.
As it's relatively close to Athens, Kythnos is a popular weekend getaway destination for some Athenians, particularly those that like swimming and hiking.
With charming villages boasting all the key aspects of an authentic Cycladic island such as whitewashed houses, narrow alleys, local tavernas, and windmills, Kythnos is a wonderful place to explore.
The best things to do and places to see in Kythnos island include:
Check out every one of the 99 beaches – if you can!
Spend time walking around the villages of Chora Kythnos, Driopida and Loutra Kythnos
Walk for miles along the hiking trails
Soak up the healing properties of the thermal springs
---
Milos
Milos is often cited as a couple's island. I think that is changing though, and on my last trip to the island it seemed to attract a mixed 30's crowd.
There's no clubs or loud bars on Milos island, instead the main attractions are the landscape and beaches. There's over 70 beaches in Milos, each one seemingly more unique or bizarre than the last. Sarakiniko Beach might be the most famous, but wait until you get to Thiorichia Beach with its old sulphur mines!
Milos has moved out of the up-and-coming category of Cyclades islands and firmly into the top tier of main players. It's still unspoiled though thanks to no crazily big resorts or clubs, and perhaps the mining industry. See it soon if you can in case it changes in the future!
The best things to do and places to see in Milos include:
Boat tour to Kleftiko Bay
Visiting Sarakiniko beach (it's like the moon!)
See the Roman Catacombs
Exploring Plaka
Soaking up the romantic atmosphere
Find out more here: Milos island travel guide
---
Mykonos
World-famous for its nightlife and somewhat hedonistic atmosphere, Mykonos attracts a crowd who want to see and be seen. Well-known DJs get the party going, celebrities jet in, Middle-East Princes arrive on their private yachts – you get the picture.
If you're going to visit Mykonos for any length of time, make sure you've got a huge wedge of money, and don't be afraid to spend it! Mykonos is an island where sun-loungers on some beaches can cost 150 Euros a day. This is crazy to me, but each to their own!
I won't lie though, the beaches in Mykonos are some of the best in Greece. The clear-blue waters and gorgeous sand act as a reminder of what made Mykonos so popular in the first place.
The best things to do and places to see in Mykonos include:
Walking around the photogenic Old Town
Sunset by the Windmills and Little Venice
Day trip to Delos island
Beach days in the sun
Did I mention the clubs and bars?
Find out more here: Best things to do in Mykonos
---
Naxos
Naxos is the largest of the Cyclades Islands, and is ringed by beach after beach. It's a popular destination for Greek families during the summer, and is connected to Athens by flights and ferry services.
Naxos has many highlights and attractions, but for me the beaches, villages, and food really stand out. There's also a network of hiking paths over the island, making it a nice destination for lovers of the outdoors.
The best things to do and places to see in Naxos include:
Sunset at the Portara / Apollo Temple
Getting lost wandering the streets of Chora and the Kastro
Spending time in the traditional villages of Naxos
The Temple of Demeter
Street art at an abandoned hotel near Aliko beach
Beaches – especially Plaka beach
Find out more here: Things to do in Naxos
---
Paros
The island of Paros often gets included on Greek island hopping itineraries in the Cyclades, as it is another connection point from where to reach other islands. You'll also need to visit here in order to get to Antiparos.
Don't think of Paros as just a way-station though – it's an incredible destination in its own right.
In fact, it's one of the more popular Greek islands, thanks to its landscape, endless beaches, and villages. Paros also caters to all types of tourists – You can spend time in areas with nightclubs that go on until sunrise the next day, or stay in quiet villages where the atmosphere is pleasantly relaxing.
The best things to do and places to see in Paros include:
Visit the Panagia Ekatontapiliani (Church of 100 Doors)
Walk the streets of Old Town And Port Of Naoussa
Visit the Town of Lefkes
Chill at Kolombithres Beach
Hike through Paros Park
---
Santorini
Does Santorini really need an introduction? After all, it's probably the most photographed destination in Greece, and people build up an impression of what a Cyclades island should look like from those photos!
However, I should point out that Santorini is the busiest, most touristic, and probably least authentic of the Cyclades. Sure, it's very pretty and has some unique aspects, but exactly how many fish tank pedicure-massage places do you need on one small Greek island?
I probably can't persuade people who may only visit Greece once in their lives that there's other islands in the Cyclades twice as nice at half the price though. Instead, I urge you not to visit Santorini in August – you're really not going to like it.
The best things to do and places to see in Santorini include:
Experiencing the famous Santorini sunset
Hiking from Fira to Oia
Going Instagram crazy in Oia
Visiting the volcano
Taking a boat cruise around Santorini
Go on a wine tour
See Ancient Arkrotiri
Find out more here: Santorini Travel Blogs
---
Schinoussa
Schinoussa is another quiet Greek island getaway, on a par with Iraklia and Sikinos. It has amazing food, cool beaches, clear blue waters, and plenty of peace and quiet.
The best things to do and places to see in Schinoussa include:
Spending time at the beaches of Piso Ammos, Tsigouri, Livadi, Almyros, Psili Ammos, and Fikio
Walking around Schinoussa – literally!
Local festivals including the fava fiesta in the beginning of July, the dance festival in August and the Dormition of the Virgin on the 15th August.
Find out more here: Things to do in Schinoussa
---
Serifos
With its wild landscapes and relaxing atmosphere, Serifos has avoided the over-tourism of other islands in Greece. Visitors to Serifos can instead expect an island with arguably the most beautiful Chora in the Cyclades, traditional windmills, and a large selection of beaches.
As with other smaller, low-key Cycladic islands, it's good to mix your days in Serifos between a little hiking, swimming at the beach, sunset watching, enjoying a slow evening meal and star gazing.
The best things to do and places to see in Serifos include:
Sunset watching from Chora
Visit the abandoned mines
Dive off Kalogeros Beach
Beach days at Karavi, Avlomonas, Lia, Agios Sostis and Psili Ammnos
---
Sifnos
Located close by to the Greek islands of Milos and Serifos, Sifnos exudes a typical Cyclades ambiance. It's also got a well-earned reputation as something of a culinary hotspot in the Cyclades – quite an acclaim given just how good the food is in Greece!
There's a calming edge to spending time in Sifnos, but it's not too quiet, so you can find somewhere for a late night drink if that's your thing.
Outdoor lovers will appreciate the network of hiking paths, with a great one leading from Apollonia to Mount Profitis Ilias.
The best things to do and places to see in Sifnos include:
Walk around the medieval village of Kastro
See as many churches as you can (there's almost enough churches for every day of the year on the island!)
Visit the village of Artemonas
Go scuba diving
Use the hiking trails
Try the local lamb and chickpea dishes
Beach time (Gialos, Proulati, and many more)!
---
Sikinos
I asked someone in Sikinos how they would describe the island in terms of tourism, and they said it's the island you visit to read a book. I have to say, I can't really argue with that!
Life as a tourist in Sikinos is simple. You have just three beaches you can reach by road. There's just a few places to eat. There's a handful of hiking trails, and three settlements.
If this sounds boring to you, you should for sure stay away. That leaves the atmosphere nice and relaxed for the rest of us that want a low-key destination where you can unplug, unwind, and chill out. Oh, and remember to take a few books with you!
The best things to do and places to see in Sikinos include:
Reading a book (there's a bookstore if you forgot yours)!
Exploring the hiking trails of Sikinos
Enjoying quiet beach time
Treat yourself to a sunset meal at the winery
Find out more here: Things to do in Sikinos
---
Syros
In some ways, Syros is the most un-Cycladic of the Cycladic islands! The buildings in the main town of Ermoupoli are neo-classical, giving them an almost regal look.
Syros is the capital of the Cyclades islands, and its administrative centre. In terms of island hopping, it can be a useful connection point to other islands if there are no direct ferries from one to another.
Syros does have beaches, but in my opinion they are far from being the best beaches in the Cyclades. I'll admit to not being blown away by Syros, but it doesn't mean you shouldn't spend a couple of days there if you can.
The best things to do and places to see in Syros include:
Sunset watching from one of the beaches in Syros (Delfini)
Walking around Ano Syros (Upper Syros)
Exploring the Vaporia neighbourhood
Checking out the neoclassical buildings in Ermoupoli
Visiting the Apollon Theatre
Find out more here: Things to do in Syros
---
Thirasia
This small island is so close to Santorini, that many people think it is a part of it. Actually, it was before an eruption separated it in around 1500 BC.
Thirasia is relatively untouched by tourism, which is a minor miracle given its proximity to Santorini. Still, there are places to stay for those people that want to spend a day or two on the island.
It's a tiny place with a size of just 9 square kilometres and 150 permanent residents. There are a handful of settlements including Manolas (capital of Thirassia), Korfos, Riva and Potamos.
The best things to do and places to see in Thirasia include:
Escape the crowds of Santorini!
Appreciate the scenery
Visit the churches and monasteries
Enjoy a spectacular view of the Santorini caldera
---
Tinos
An off-the-beaten-track Greek island with an authentic vibe and great beaches, Tinos is the third largest Cyclades island but still relatively unknown to foreign visitors.
For Greeks, if you mention Tinos, they will associate it with the famous Panagia Evangelistria and the annual pilgrimage. For other tourists though, you can expect a wild countryside, quaint villages, good food, nice beaches, and nice beaches.
The best things to do and places to see in Tinos include:
Visiting the Panagia Evangelistria
Spending time in the villages of Volax, Pyrgos, Isternia, Kardiani and others
Learning about the history of marble workmanship
Using the hiking trails
Enjoy the lovely beaches
Find out more here: Tinos island travel guide
---
Choosing the Best Cyclades island
If all the information about the islands seems a little overwhelming, and you are undecided where to go in the Cyclades, this might help:
Best Cyclades island for hiking: Andros, Tinos, Amorgos, Folegandros, Naxos, Kythnos
Best Cyclades island for couples: Milos, Santorini
Cheapest Cyclades island: Naxos
Best Cyclades island for sunsets: Ios, Santorini,
Best Cyclades island for beaches: Milos, Andros, Mykonos, Ios, Schinoussa
Ideal Cyclades island for families: Naxos, Paros, Andros, Sifnos
Travel Resources For Cyclades Island Hopping
Finally, here's some travel resources which I think you will find invaluable in helping to plan your tour around the Cyclades in Greece.
Ferryhopper – The easiest way to research and book Greek ferry tickets in the Cyclades online.
Booking – Research and book hotels in the Cyclades islands.
Get Your Guide – Enjoy a range of fun experiences, excursions and tours in the Cyclades.
Revolut – Ideal travel money card for UK and EU citizens.
Transferwise – US and Canadian travelers might want to look at this for travel money.
Island Hopping Guide – More free travel guides to the Greek islands.
Follow me on social media for videos and photos of the Cyclades Greece: Facebook, Twitter, Pinterest, Instagram, YouTube.
If you liked this Cyclades travel guide, please share on social media using the buttons in the bottom right hand of your screen.
The post The Cyclades Islands in Greece – Travel Guides and Tips appeared first on Dave's Travel Pages.