Cinque Terre in Liguria, Italy had been on my radar for a long time but was not so easy to get to back when I was living across the pond. The stars aligned when I finally travelled there in October 2018 with the girls. We took advantage of cheap flights from Manchester to Genoa and took a train/taxi combination from there. The 'five villages' is perfect for a long weekend with temperatures still high and perfect for swimming. The highlight of the weekend was ambling (and snacking) along the coastal path between the villages. Not all sections of the path were open during our visit but many of the villages are connected by a train track so getting around is still easy.
VERNAZZA
This was my personal favourite of the villages with its beautiful harbour. As a medium sized village, it was great for pottering around the little streets and alleyways.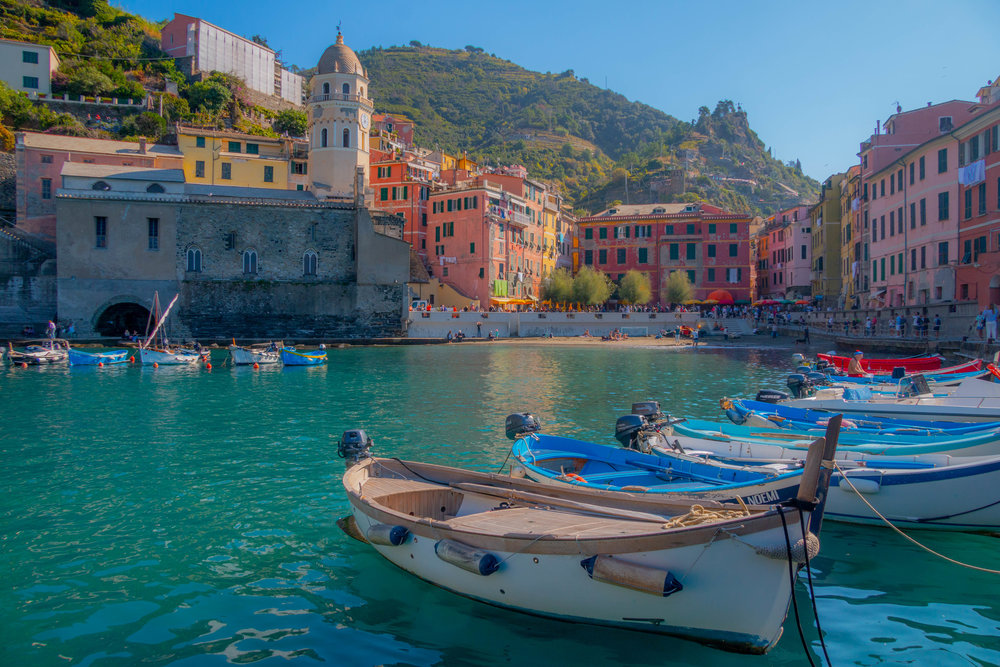 MANAROLA
On day 2 we tried something a little different (on the advice of a local no doubt). We hiked up into the hills, surrounded by vineyards and met the local pervy old man along the way.
From above It was difficult to discern where the sky ended and the sea begun. It wasn't too long before lunch beckoned and we made a hasty retreat to prevent the hunger pains of one member of the group (who shall remain nameless) from exploding into a full blown food mood tantrum.
Of course, we got a little bit lost along the way but finally we descended upon the village of Manarola ….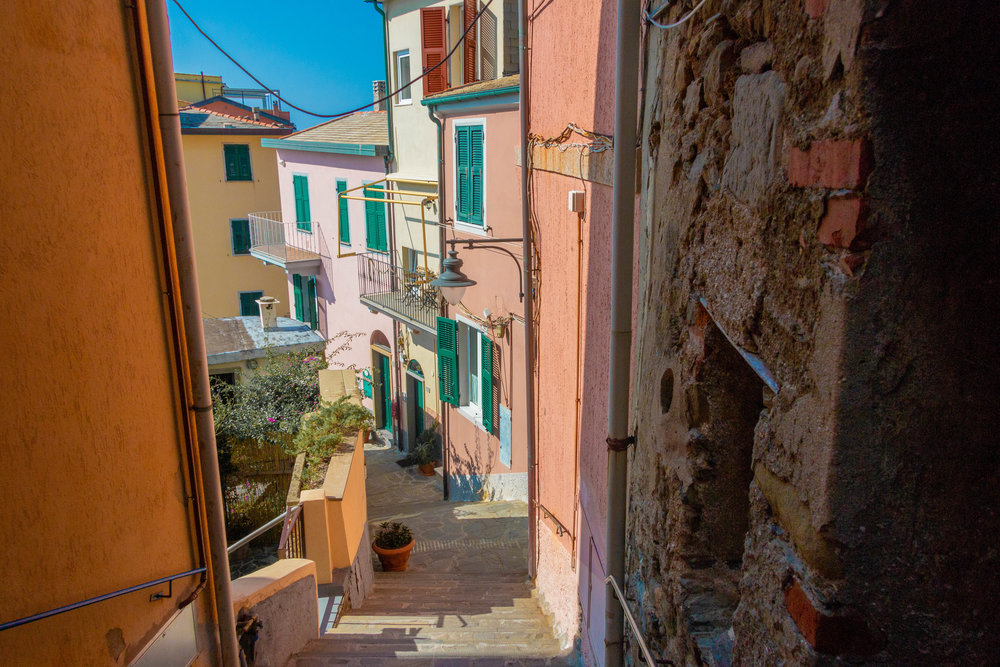 We ate hearty plates of pasta before the siesta.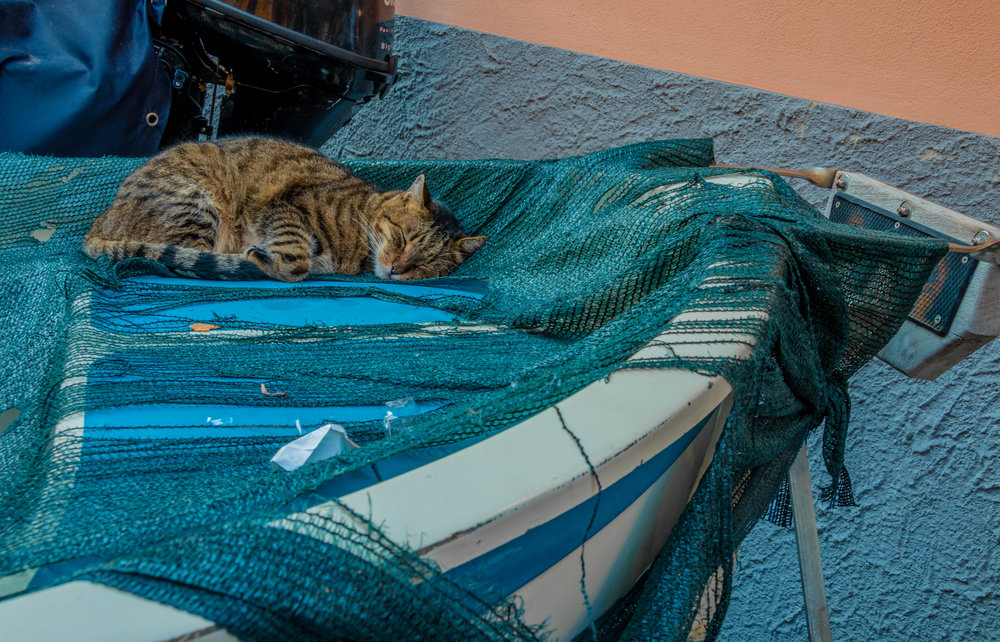 and went for a dip/watched the cliff diving for entertainment afterwards.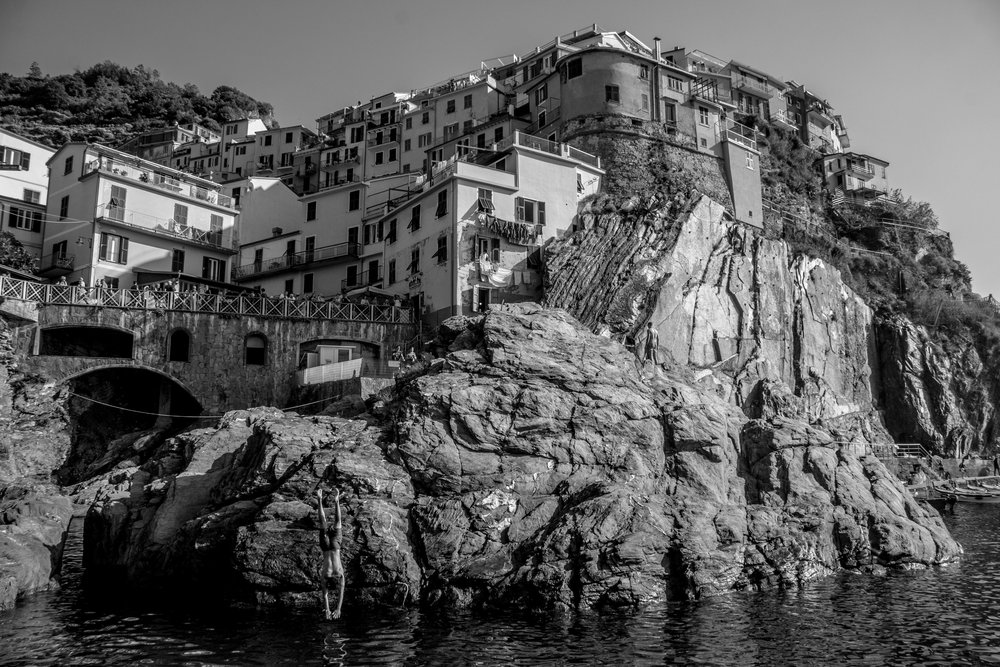 CORNIGLIA
We stayed in the smallest of the villages, Corniglia where this late in the season it can be a bit of a struggle to get dinner post 9pm! Many an evening was spent relaxing and supping red wine from the roof terrace whilst taking in beautiful views of this charming little village after the excitement of the day.
MONTEROSSA AL MARE
This is the largest of the villages. It is less charming in my eyes although it is the only village with a properly defined beach. There is also a larger selection of restaurants/bars with later opening hours than the smaller villages and a more extensive warren of alleyways to explore complete with pretty churches lurking behind corners and in courtyards, including the stripy Chiesa di Sant'Andrea below. It was here that I devoured the most excellently prepared, tasting (and reasonably priced) seafood platter of my life at a restaurant called Da Eraldo which says a lot as I'm not usually the biggest seafood fan and I'm still impressed one year later!