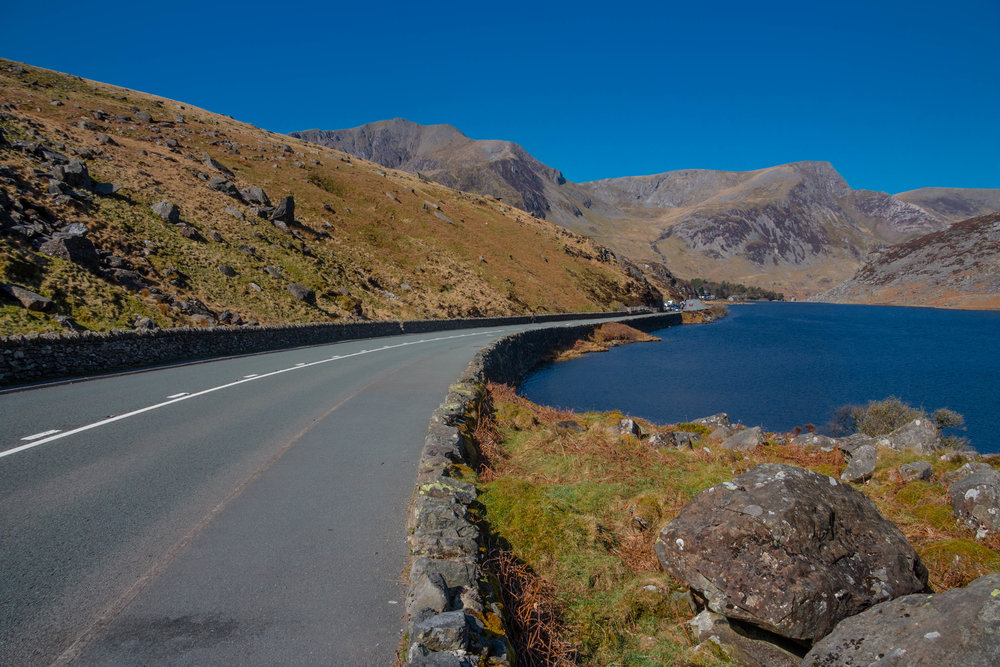 Once I returned home from Vancouver, I had to prepare myself for professional life in the UK. No longer would I have a choice of 4 ski resorts on my doorstep for weekend entertainment. As a compromise, I promised I would make the most of my weekends by exploring my own backyard. To this end, I acquired a Fiat Seicento, which has done the job even if it has attracted ridicule along the way! Manchester and more specifically, Stockport, has proved to be a good base for outdoor activities with the Peak District, the Lake District, Yorkshire and North Wales all within easy reach by car (1 - 2 hours).
North Wales was a pleasant surprise. In my ignorance, I hadn't appreciated that there was much more to Snowdonia National Park than Mount Snowdon. I now know that there are at least 15 peaks over 3000ft and that you can tackle 14 of them in a 24 hour period as part of the Welsh 3000 challenge!
TRYFAN
The first stop on the North Wales mountain trail was Tryfan. Tryfan quickly made an impression as the Fiat Seicento weaved along the country roads before parking beside Llyn Ogwen, a ribbon lake (see photograph above).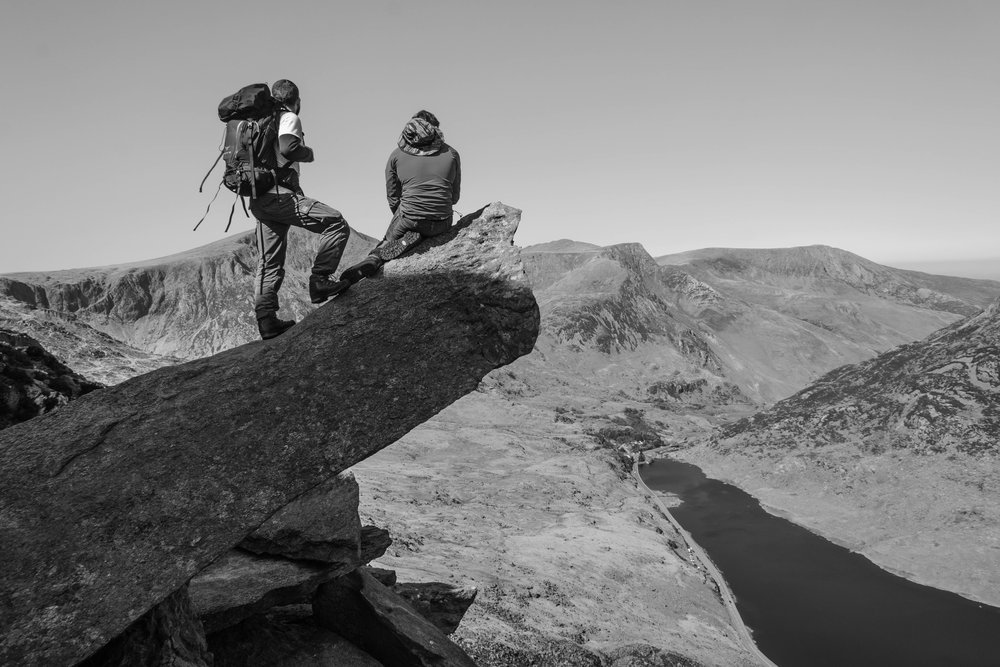 Tryfan was my first introduction to scrambling. The route we took wasn't overly difficult and with an early start we were able to get up and down within 3 hours with time for a refreshment afterwards at a local pub and make it back home for an FA cup match at 3pm. This included a Scotch Egg/Sausage Roll/Pork Pie morning pit stop en-route at Bangor Tesco, as is now tradition….
…and a sandwich break to enjoy the moon-like landscape.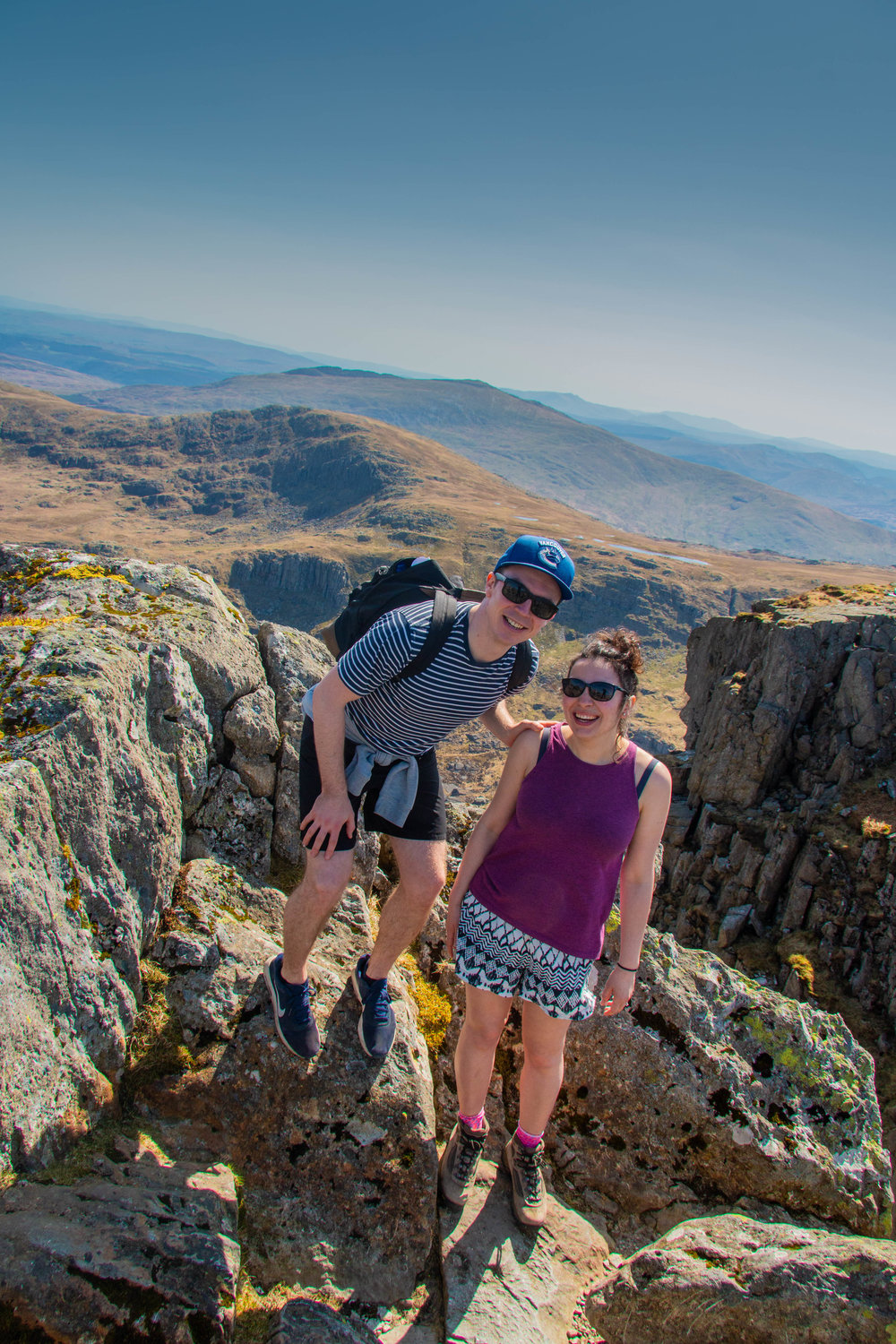 CRIB GOCH
By now I had graduated from my fair weather walking in Wales to the altogether more daunting prospect of Crib Goch, also in Snowdonia National Park! Crib Goch is a grade 1 scramble ridge walk destined to churn many a stomach! It isn't for the faint hearted so if you are scared of heights, the Miner's track might be a better option for you. Scrambling is a term used to described the middle ground between walking and rock climbing, which involves the use of both the hands and feet.
A grade 1 scramble is the easiest grade of scramble, usually following an exposed route but not requiring ropes. The grading system goes right up to grade 3. Even on a grade 1 scramble, it is essential to keep a watchful eye on the weather. The ridge is exposed on both sides to a 100ft drop so whilst it isn't the most technically difficult scramble, it is not unusual to hear of people tackling it falling to their death.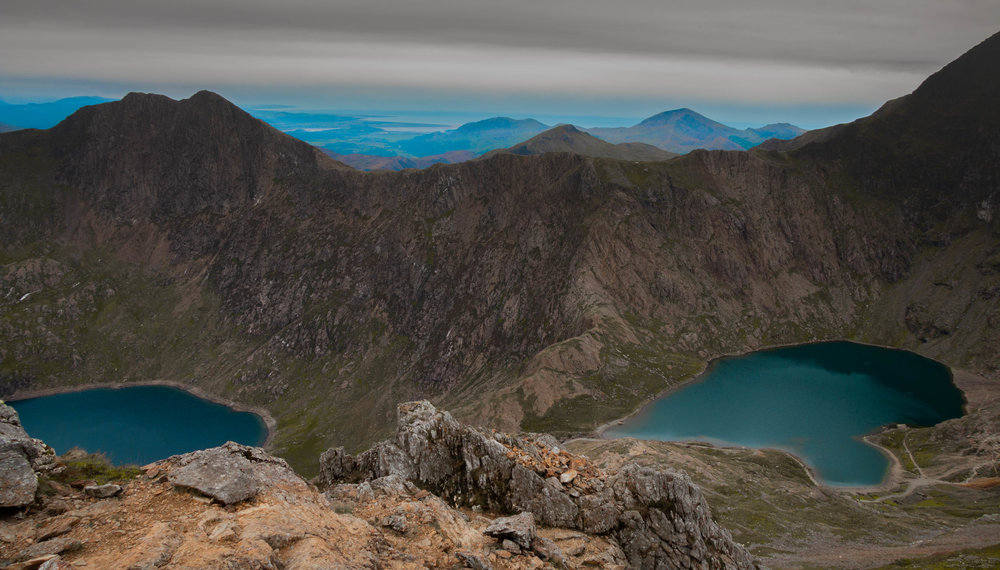 Once you are committed to the ridge, there really is no turning back. The camera definitely had to go away in my back pack at points whilst I became acutely aware of my own mortality and focussed on staying alive.
I would recommend a robust hiking boot rather than the flimsy trainers photographed above.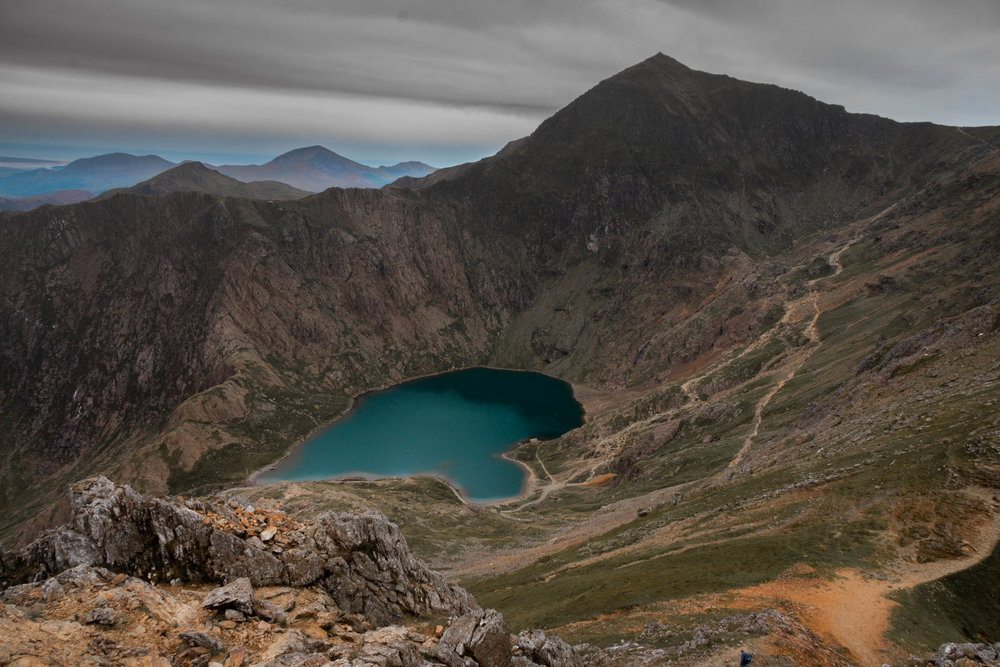 Once the most gut wrenching stretches of the ridge had been navigated, we were also exposed to the most sublime views of heart shaped lakes….
…and could look back at the red ridge (the translation of Crib Goch) and what we had accomplished before the clouds and poor visibility swooped in.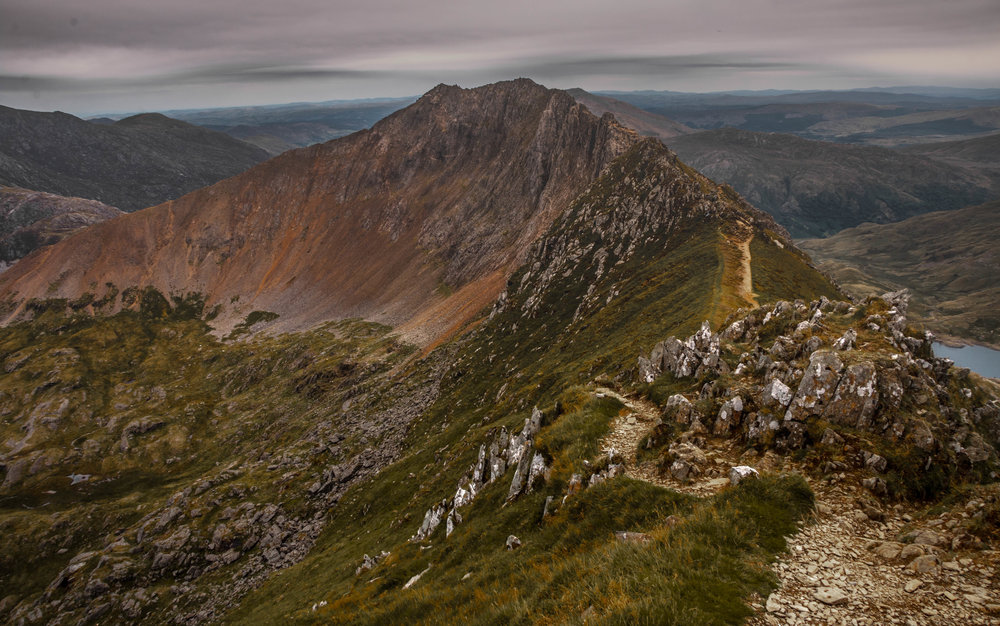 CADAIR IDRIS
I was fancying something a little different when I hiked Cadair Idris. Whilst it is still in Snowdonia National Park, Cadair Idris is located in the Southern part, away from Tryfan and Crib Goch, which was unchartered territory for me. The nearest town is Dolgellau. I took the Minfford path, a great circular route which takes you above and around the glacial lake of Llyn Cau…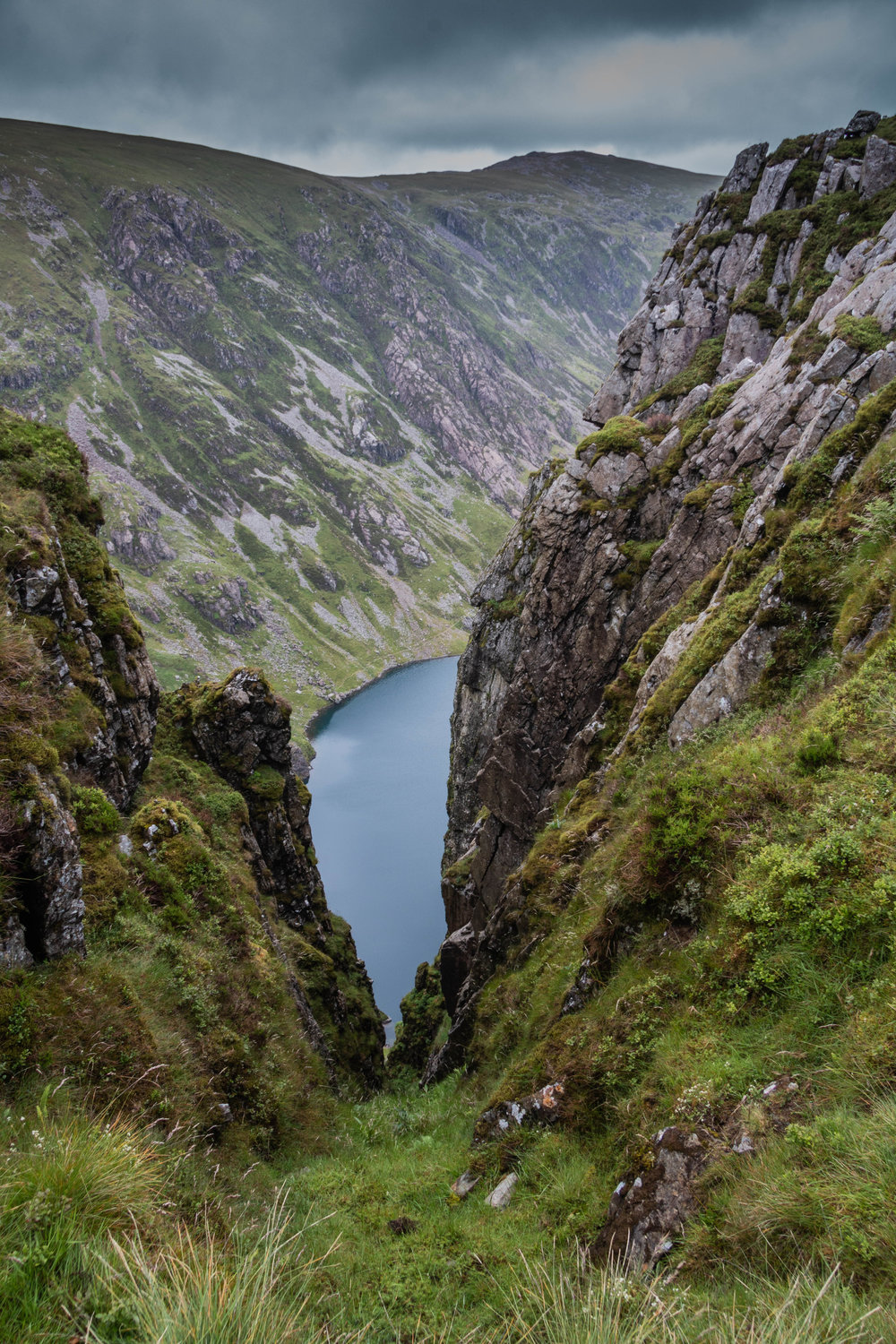 to the summit of Penygadair. No scrambling involved!