I am recapping now back to my summer Rockies' road trip with my mum. By this point, I had saved up enough money to treat myself to a new Apple Mac which meant that I was finally able to stitch together panoramic shots using Adobe Lightroom without my old laptop (from university days) crashing. When my old pal, Billy Beard had watched me struggling, he had exclaimed that the dear old laptop was 'just existing and not living'.
The Wilcox Pass Trail was selected especially for my first viable panoramic shot. I had been on the lookout for a nice hike that would blow me away in terms of scenery but would not involve over exerting myself on my summer holiday.
The Wilcox Pass Trail ticked all of the boxes. From recollection, it was perhaps a 1 hour drive from Jasper along the Icefield Parkway (acceptable!), had terrific views of the Columbia Icefields opposite and only took up half a day. It gets pretty hot in July around those parts and in between all of the meandering and photo stops the hike probably took about 4 hours. A black bear was again spotted on the return drive, still munching on berries, as it had been in the morning.
The valley meadows on the trail were scattered with wild flowers - quite the contrast from the visit at Easter.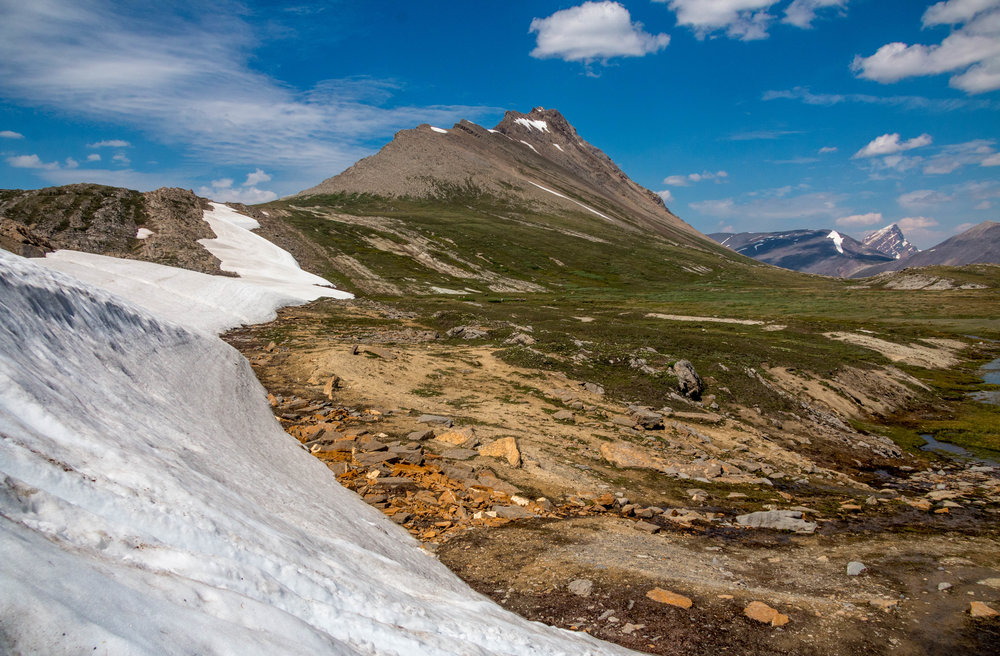 Despite the heat, the remnants of winter were visible at greater heights though the thawing process of (what had been) deep snow was well under way. Around every corner, a different view awaited with ever changing perspectives.
A lone Big Horn ram is captured above against a backdrop of towering mountains and glaciers. The males of the Big Horn Sheep species often retreat together to the mountain tops whilst the ewes raise their young in nursery herds of 4 or 5.
As we progressed along the route, the big horn rams' spiral shaped horns would come into focus.
These immensely powerful horns are made up of a boney core surrounded by keratin. Keratin is also found in our hair and fingernails, which is crazy when you consider that rams charge at each other, crashing their horns together, at speeds of 40mph. These fights establish dominancy within a group and can last for hours. Research has been undertaken on their horns by scientists trying to understand how the rams' brains can withstand such force against the context of brain injuries in American footballers and in exploring how helmets could be improved to offer better protection. (Another nugget of information from the Jasper Wildlife Tour, which was covered in the previous blog post that I wish I could take credit for).