I must confess that life got in the way of the blogging when I returned home to the UK. Begrudgingly we slipped back into the rat race and started a run of firsts…. first engagement and wedding saved for, first marathon race and finally we invited our first rescue cats into our first home. Although this trip was now 2 years ago, I have not forgotten what an awesome Wildlife Tour this was! The tour with Joe Urie at Jasper Tour Company was so good that I went on it twice within the space of 2 - 3 months. I continue to plug the tour purely because it was so good and Joe was so knowledgable and passionate about the wildlife and so full of personality (even if he didn't remember me from the tour at the very start of spring when party of 5 were the only ones on the 16 seater minibus).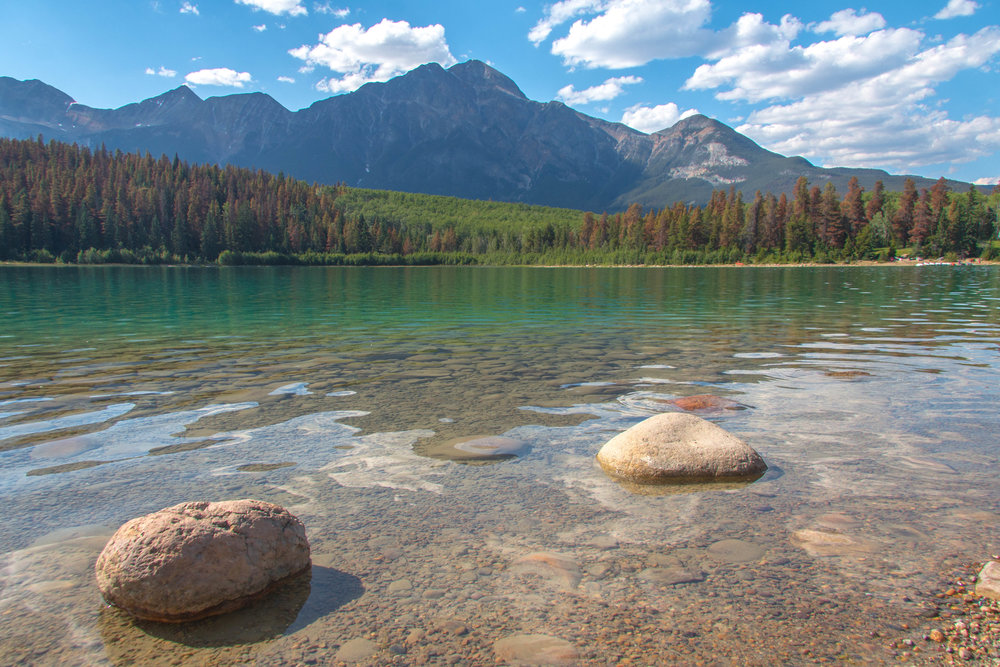 The photograph below is from the summer tour, which started late evening as the wildlife started to emerge in the cooler night time temperatures. Patricia and Medicine Lake (pictured above) were very beautiful but we got off to slow start and I was starting to worry that my mum (Bev) wouldn't get to see all of the bears, elks, deers, coyotes, big horn sheep and mountain goats we had seen on the spring tour.
But then Joe spotted the deer who were completely rattled and making a complete racket. Of course, Joe knew what was up! He suspected the deer were getting the whiff of a large predator and were rallying to protect little Bambi. Sure enough, not more than 5 minutes later a brown bear casually strolled across the road in clear view. More surprising was that Bev, caught up in the excitement, had completely missed the bear, which may as well have stopped and waved, and was completely gutted! Next thing it all kicked off! The deer rushed en mass towards where we were stood on the grassy bank and started freaking out, looking for the bear (Bev also crapped herself!). Thankfully, the bear turned up walking along the railway track much to Bev's delight and we all had a good ogle for about 10 minutes plus no Bambi was harmed in front of us.
Then the floodgates opened and we started to see lots and lots of wildlife. Large bulls (male elk) were grazing and chilling right by the road and we were able to get close enough to see scars from previous fights.
We loved the tour so much that we headed out the following evening minus Joe on a DIY wildlife spotting adventure. We paid Moose Lake a visit… all very pleasant.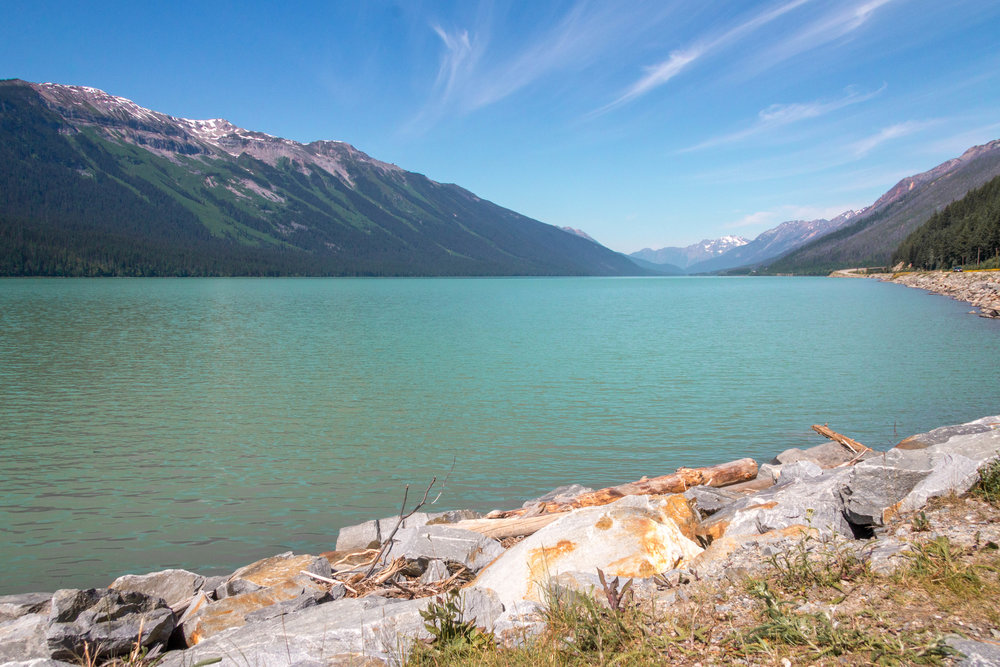 We didn't spot all that much wildlife-wise without Joe's keen eye and know how. We saw fields of colourful wildflowers in bloom…
Along the Yellowhead Highway the sun started to go down over canyon like terrain and tourists paddling in the lakes.