Singapore Changi Airport has been awarded 'World's Best Airport' by Skytrax from 2013 to 2019, meaning it has held the honour for at least seven consecutive years.
As someone who has transited through Singapore for every single international trip in 2019 (and subsequently reviewed many of its lounges for Point Hacks), I have to agree with that accolade as well.
There are four main passenger terminals of varying ages and designs, three of which are interconnected. Passengers and locals alike are also flocking to Jewel, a relatively new retail rainforest enclosed in a striking glass dome.
Read on as I take you through the various facilities that Singapore Changi Airport has to offer, over multiple trips through Jewel and all four terminals.
Jewel Changi Airport
The biggest drawcard to Changi Airport is the new Jewel – a massive glass dome filled with retail therapy, food outlets, a lush rainforest and of course, the centrepiece HSBC Rain Vortex waterfall. You can easily spend a good part of the day wandering around and taking it all in – and I wholeheartedly recommend that you do so if you can.
There are seven levels to explore. Here is a summary of each, from lowest to highest:
B2: Supermarket, movie theatre and retail shops
B1: Major retailers (Uniqlo, Zara), Terminal 1 arrivals pick-up
L1: Early check-in, Changi Lounge, baggage storage, Terminal 1 Arrivals Hall
L2: Retail shops and viewing deck
L3: Link bridges to T2 and T3, retail shops and gardens
L4: YotelAir (hotel), Changi Experience Studio (fees apply) and retail shops
L5: Canopy Park, an attraction for families (entry fees apply)
Review of Jewel Changi Airport attractions
Jewel is first and foremost a shopping mall connected to an airport, with some airport-related amenities such as check-in areas, lounges and a transit hotel.
Starting from the bottom, the basement levels offer a unique view of the Rain Vortex from down below.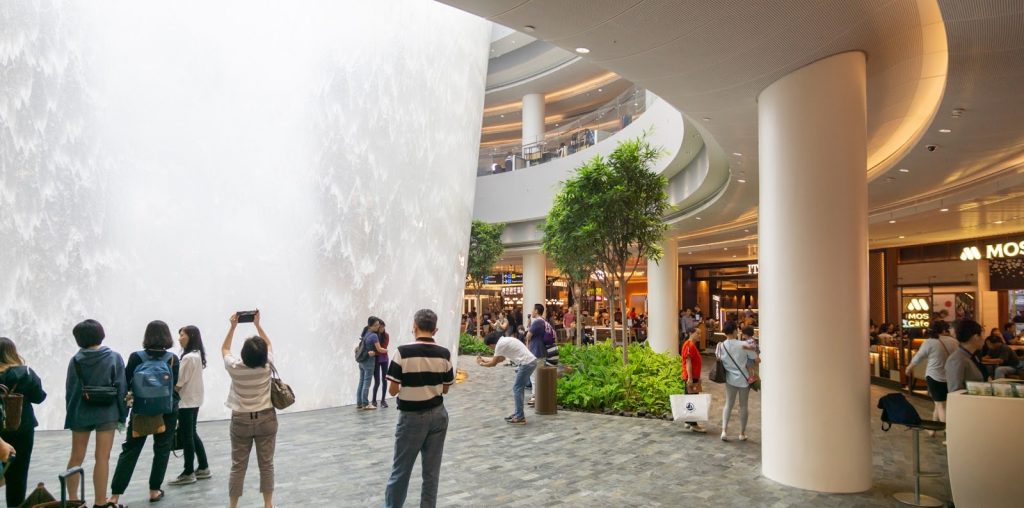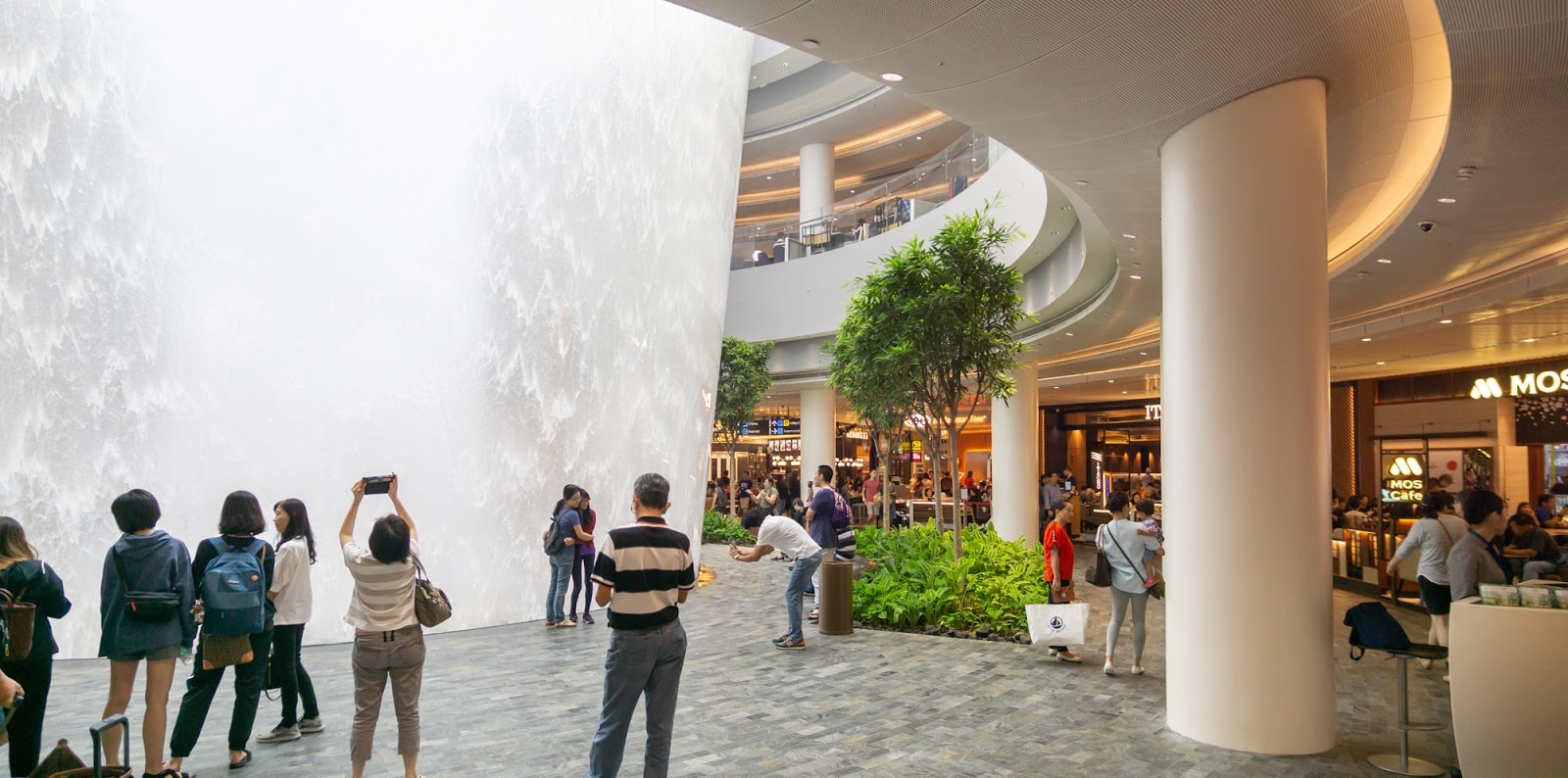 (The waterfall is enclosed by glass here – you can't fall in or get wet).
The Jewel Food Hall is a popular place to get light bites from a range of well-known brands across Asia.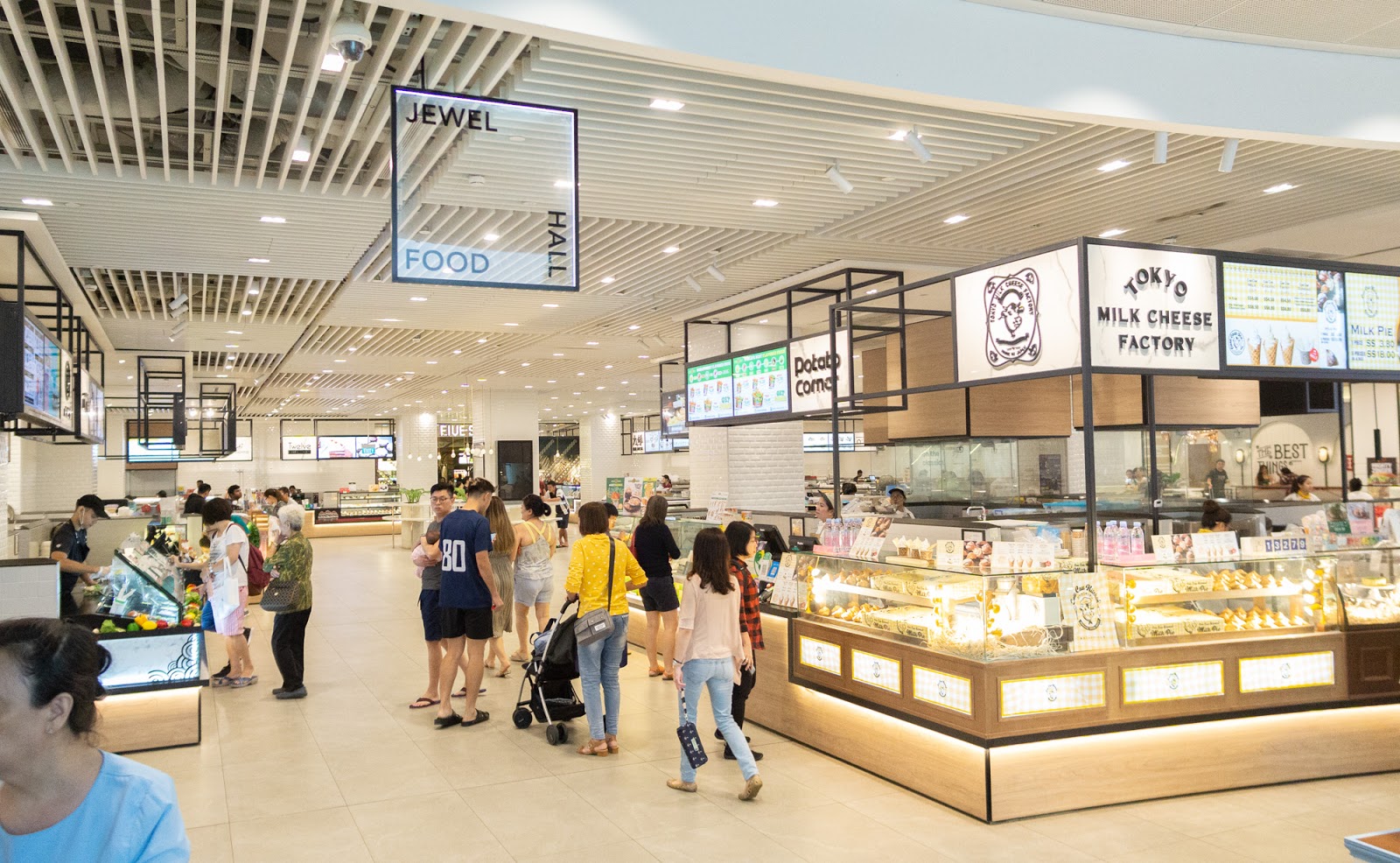 Also downstairs is a supermarket and IMAX theatre, suited for longer layovers.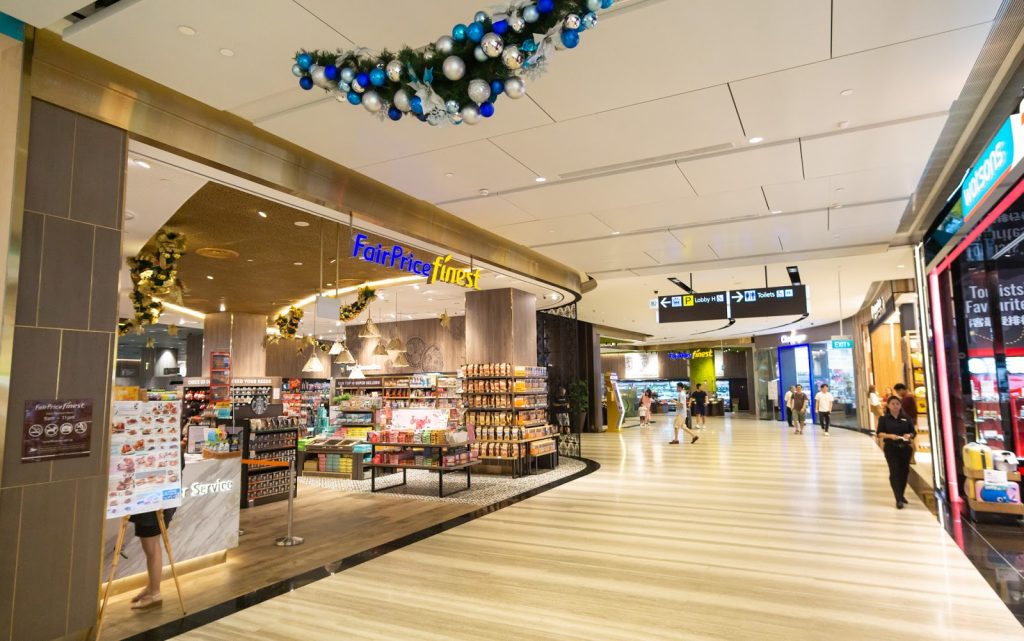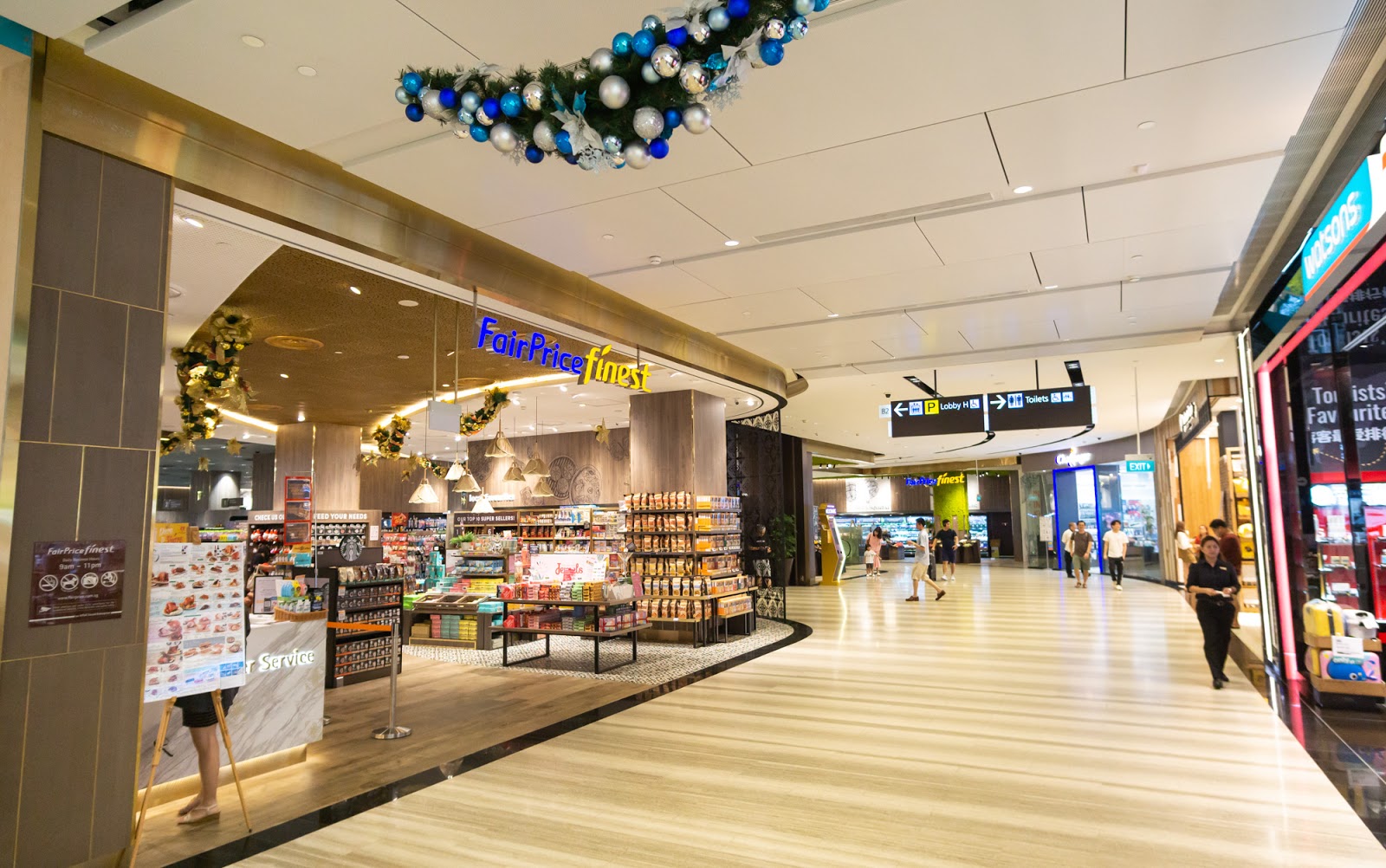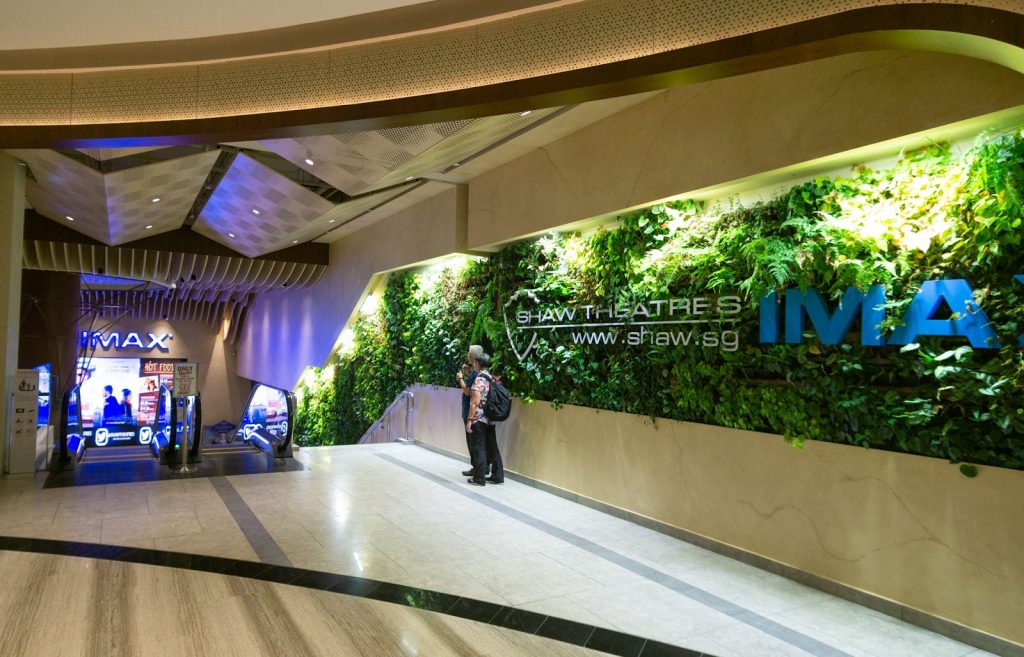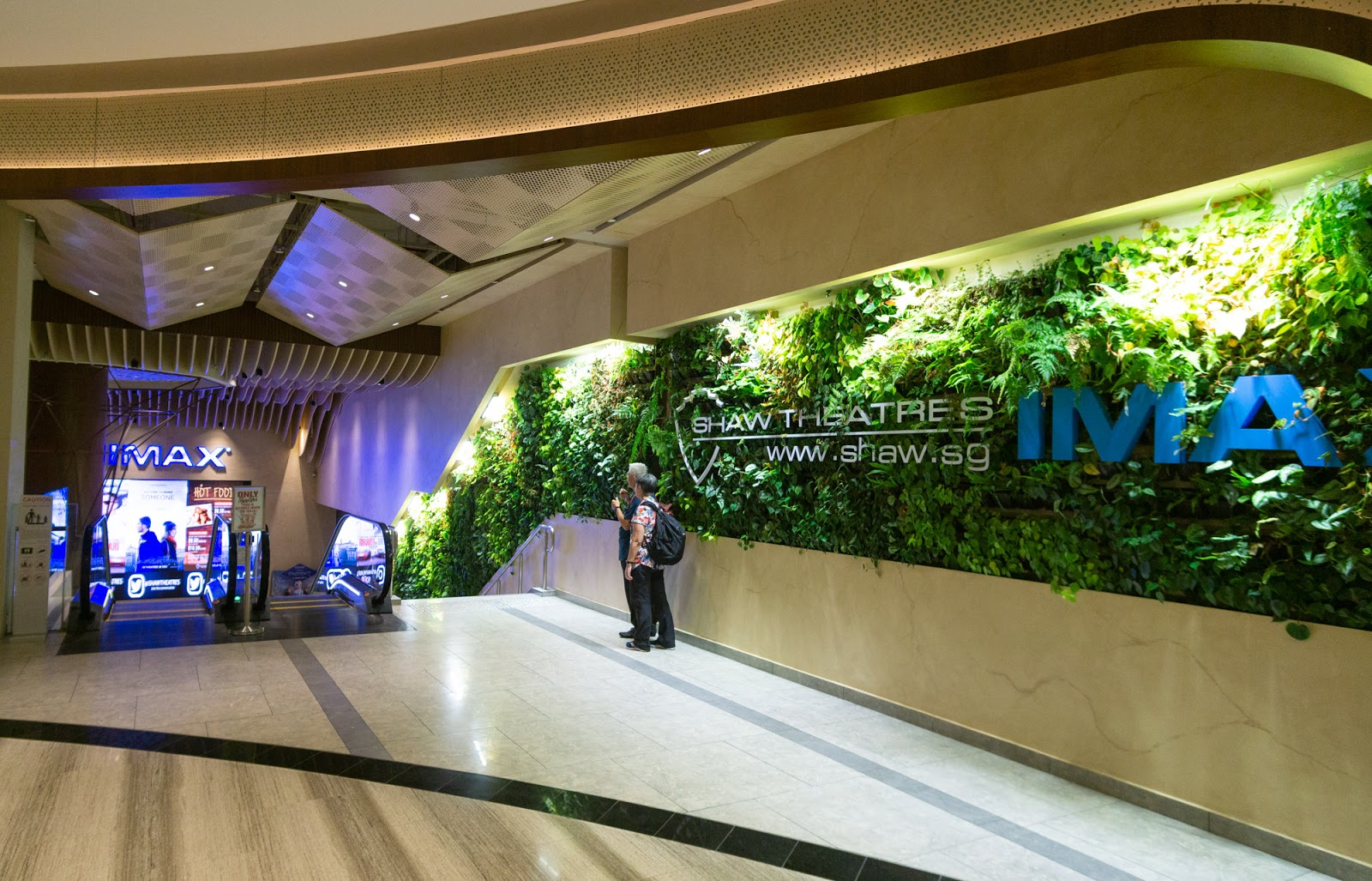 Highlights of the basement levels at Jewel, including a full IMAX theatre.
If you're landing in Terminal 1 (such as from Qantas, Jetstar and Scoot flights), the arrivals hall connects directly to Jewel at Level 1. It doesn't get more convenient than that!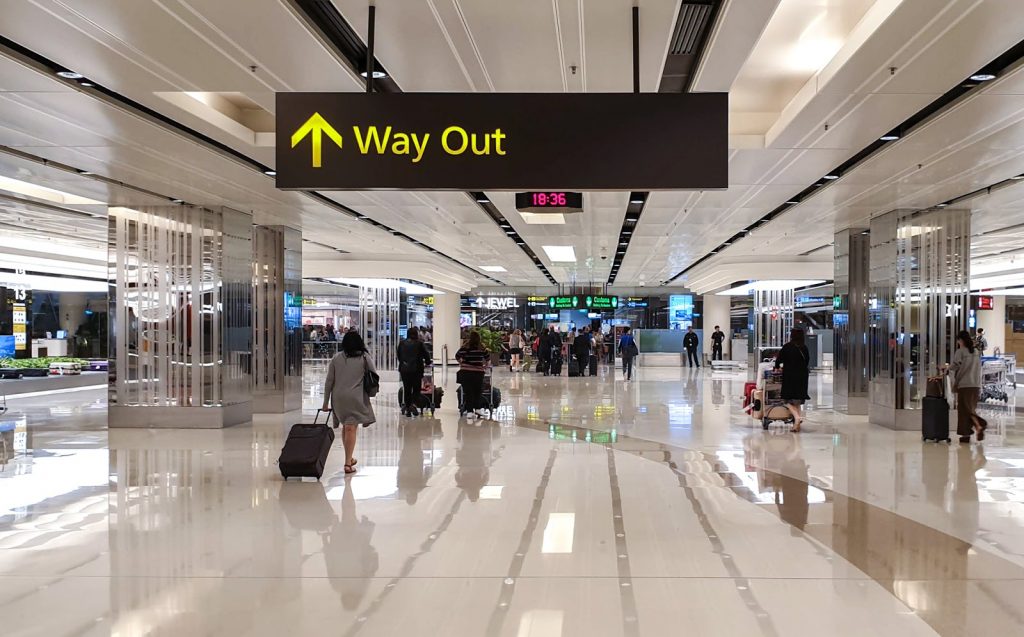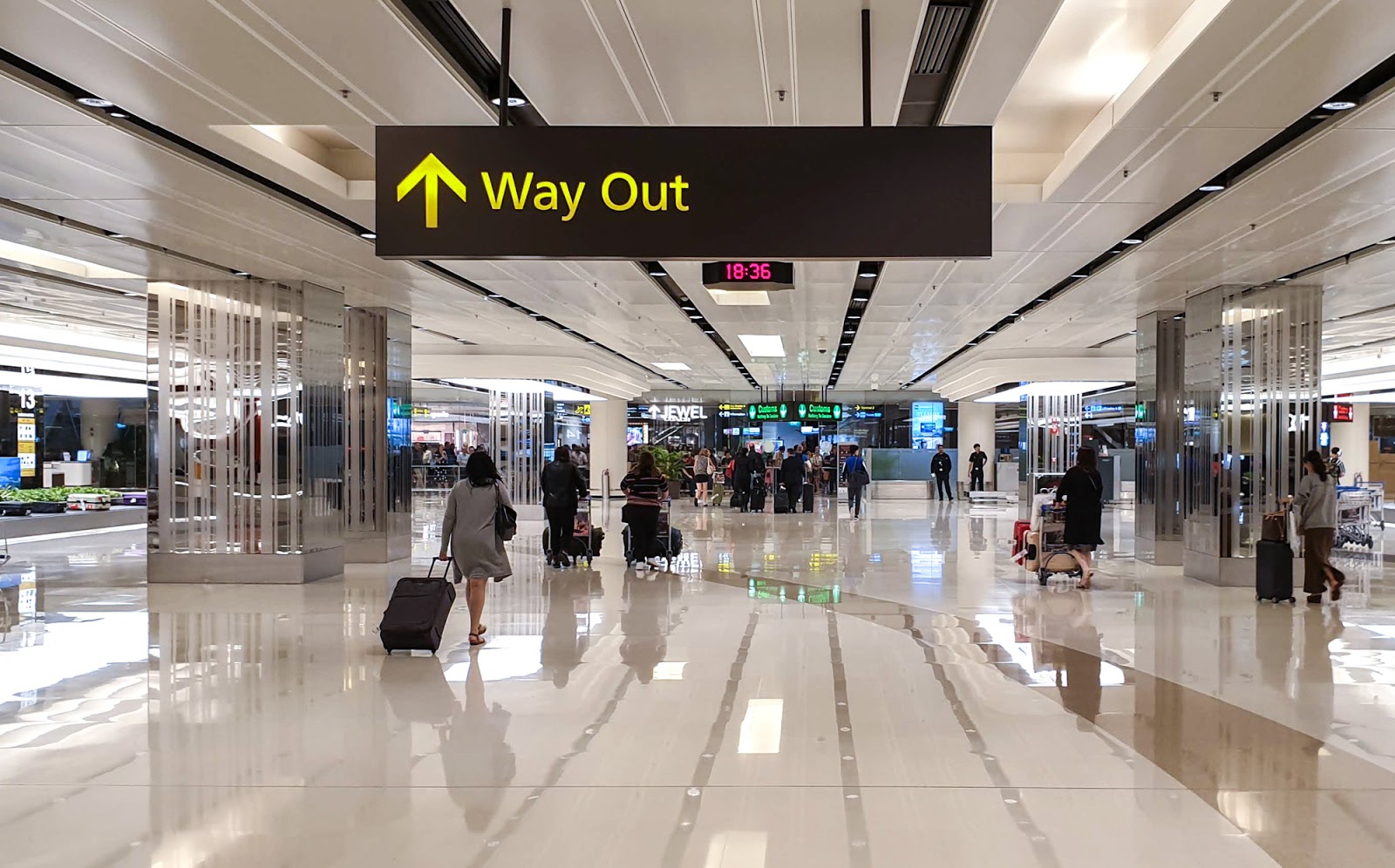 The new Terminal 1 arrivals hall will funnel you straight out to Jewel.
Also on Level 1, there are early check-in counters where you can drop off your bags, plus the Changi Lounge which I have previously reviewed. It's both an arrivals and departures lounge, and can be accessed with Priority Pass and other lounge memberships.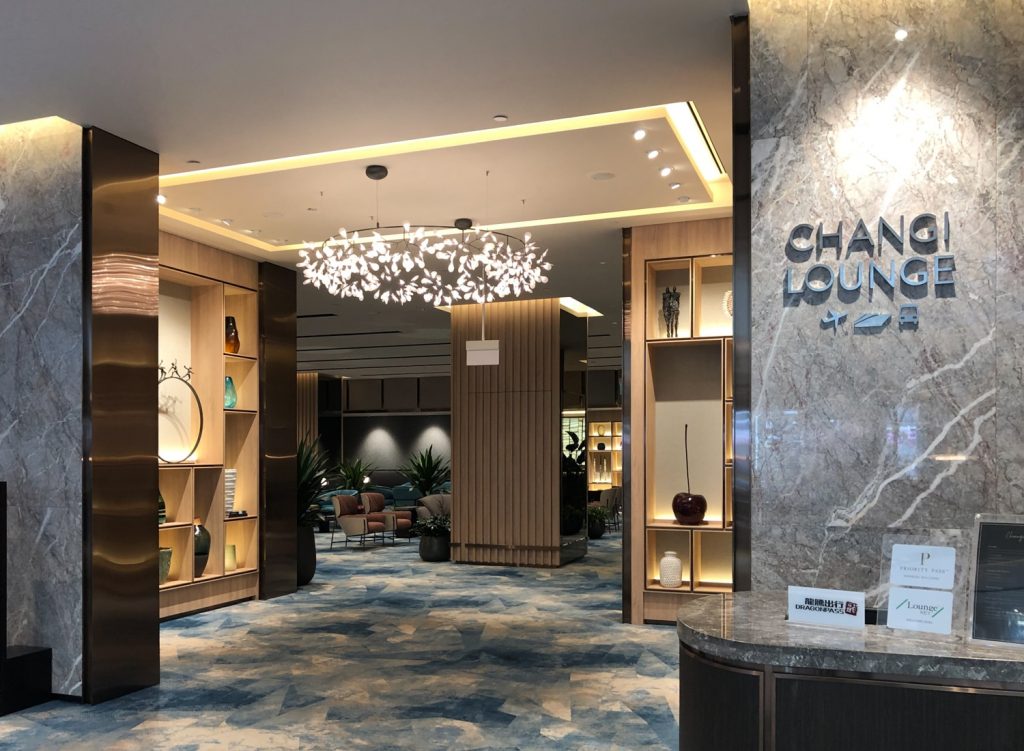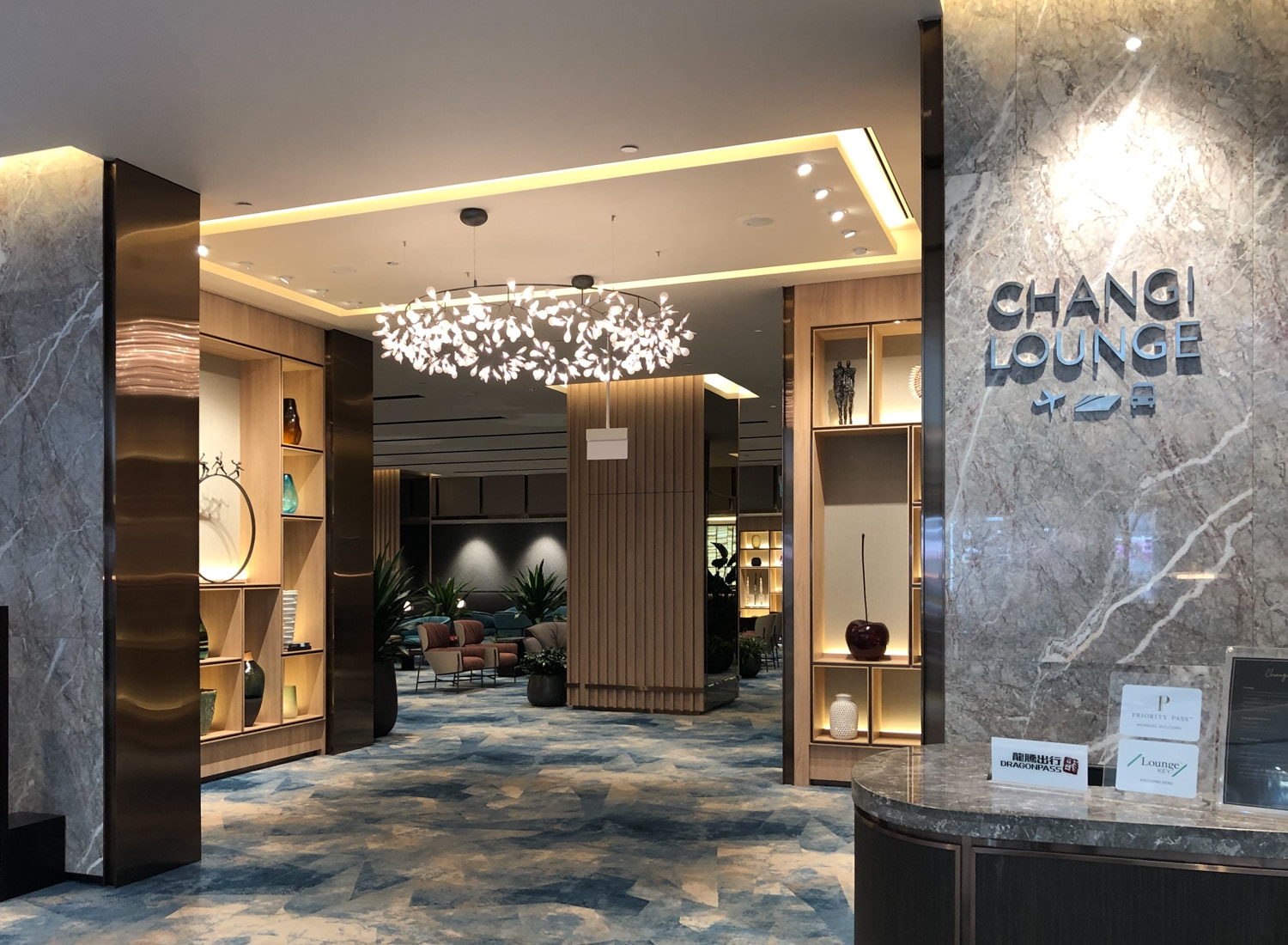 The main anchor retail stores are found from Levels 1 to 4, including the big brands you'll be familiar with in other cities, such as clothing stores Zara and Uniqlo. If you've got an urge to buy a new iPhone while in transit, that's covered too!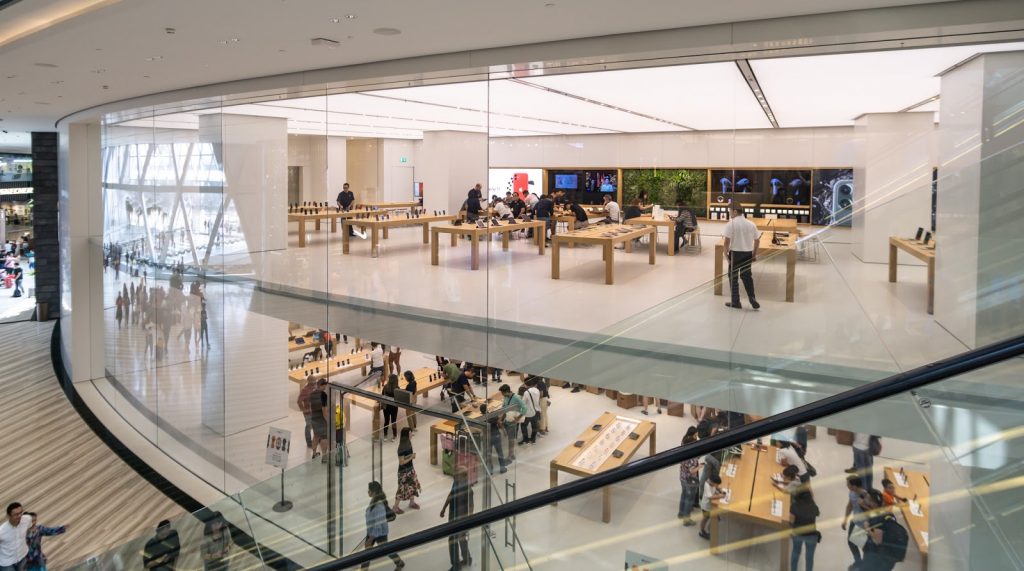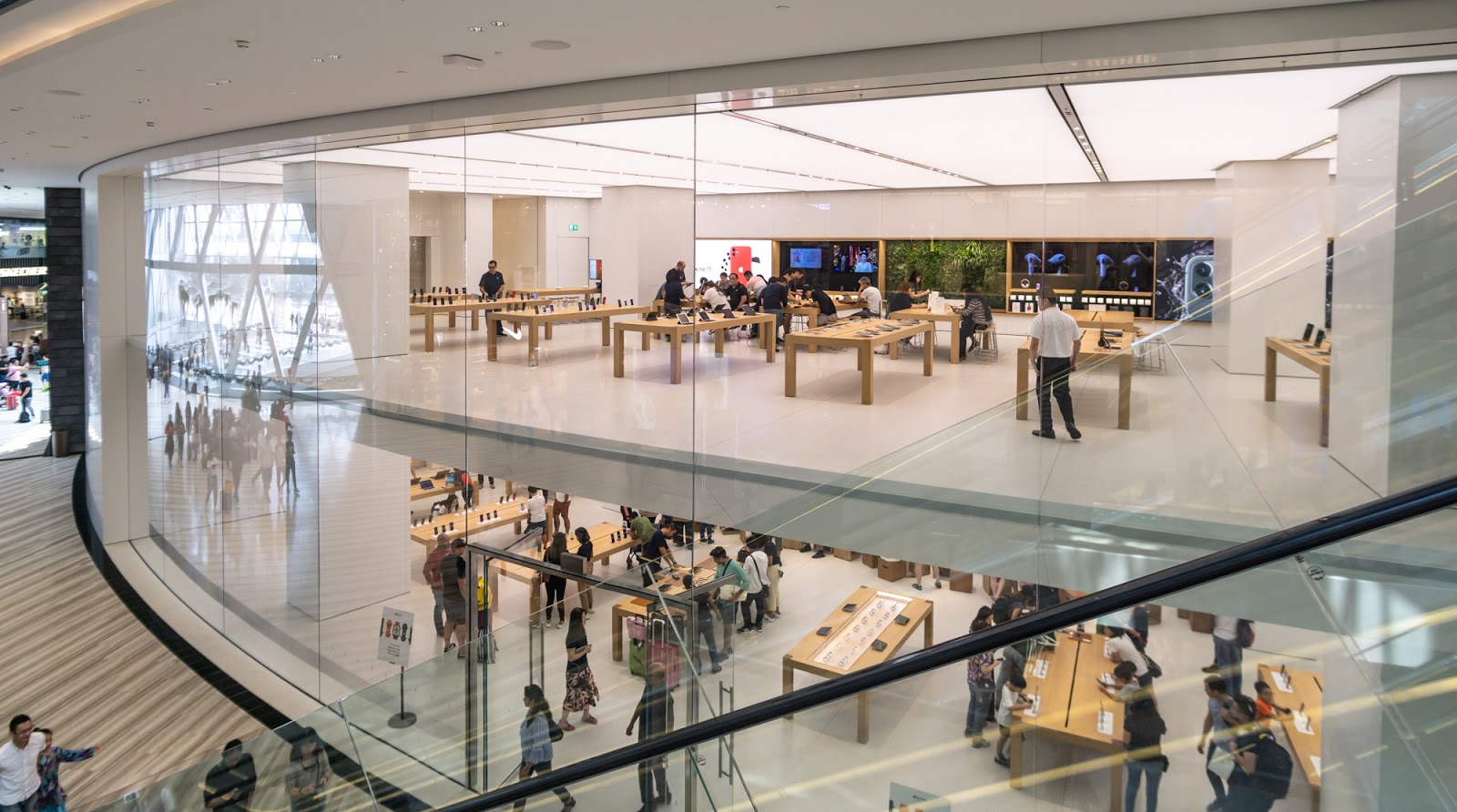 A two-storey Apple Store at Jewel.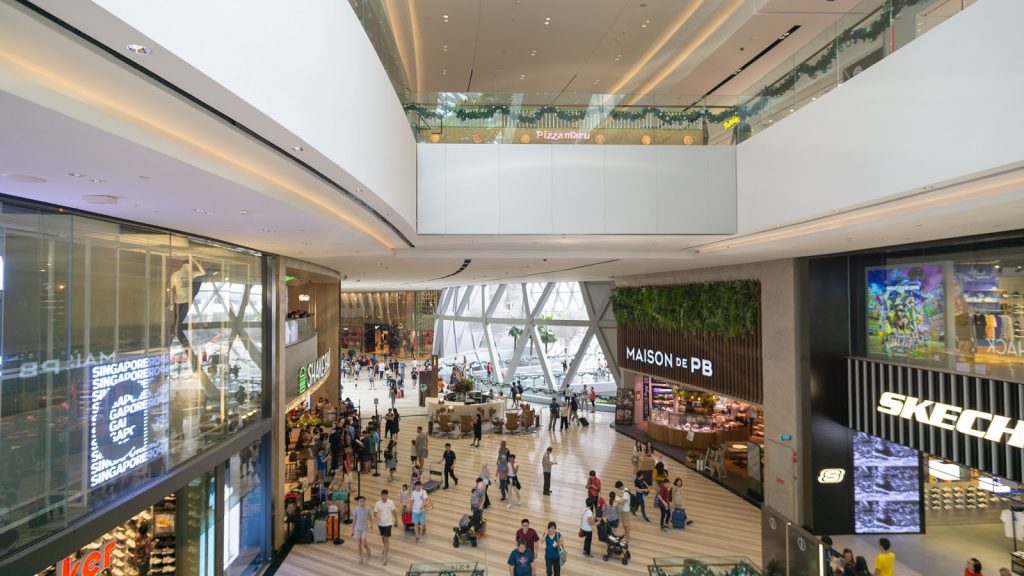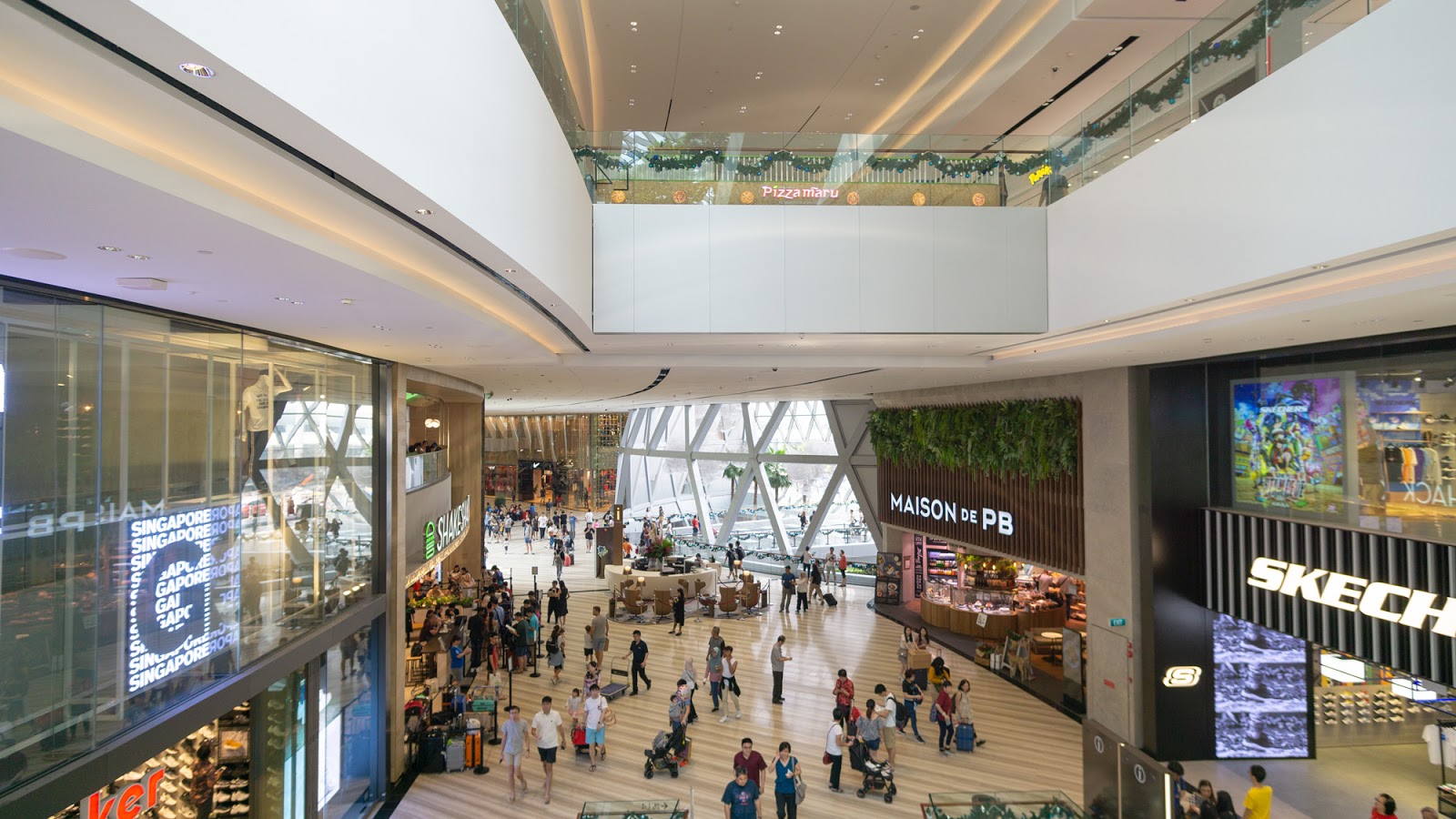 Lines are also long for US-imports such as Shake Shack, which remain as popular as ever after opening. Other upscale dining options include Burger & Lobster, Din Tai Fung and Tim Ho Wan.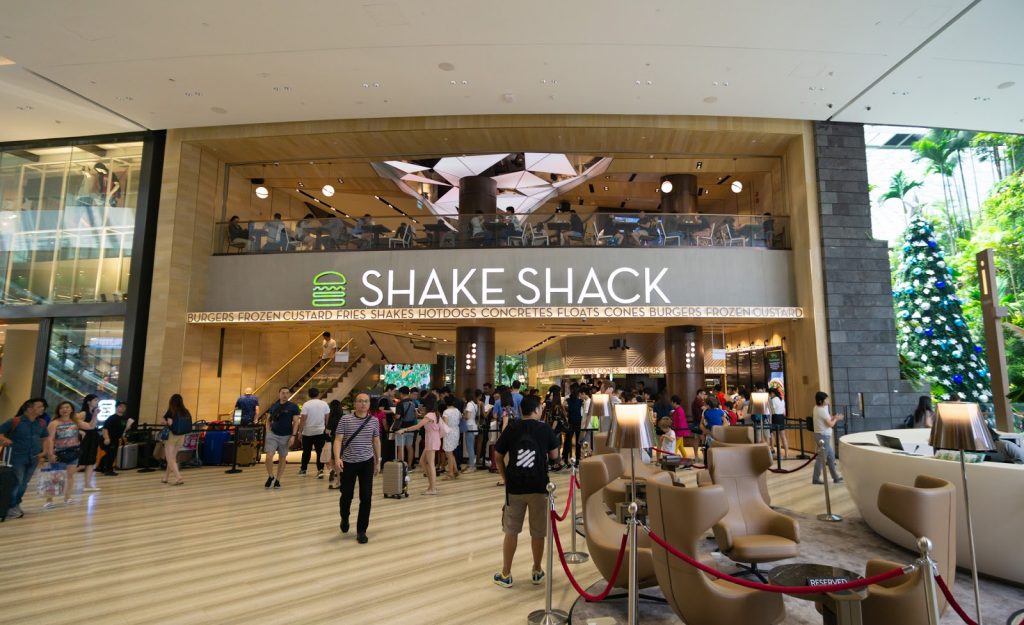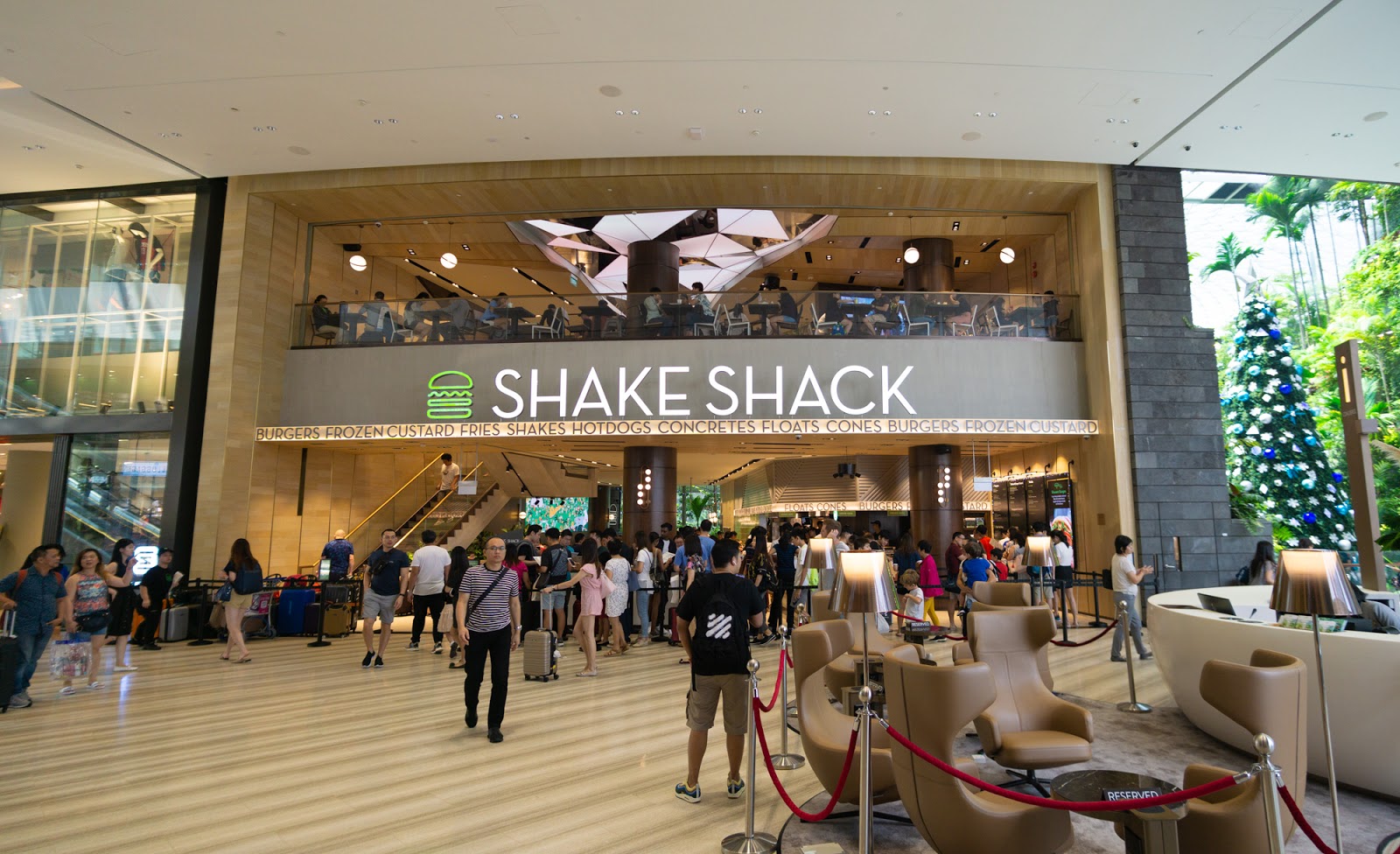 As you go higher, the floors get a bit quieter which is perfect for a more relaxed shopping experience.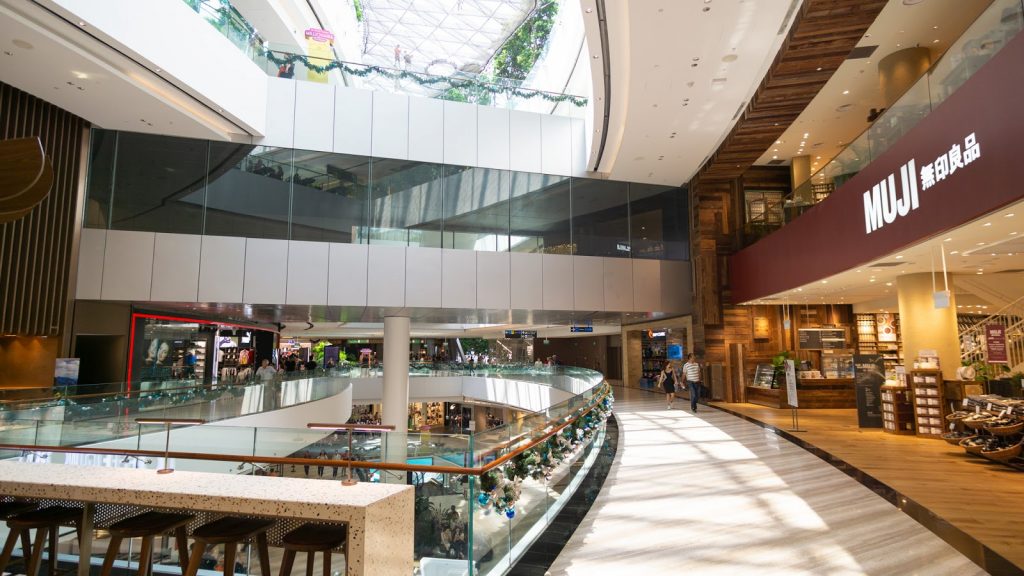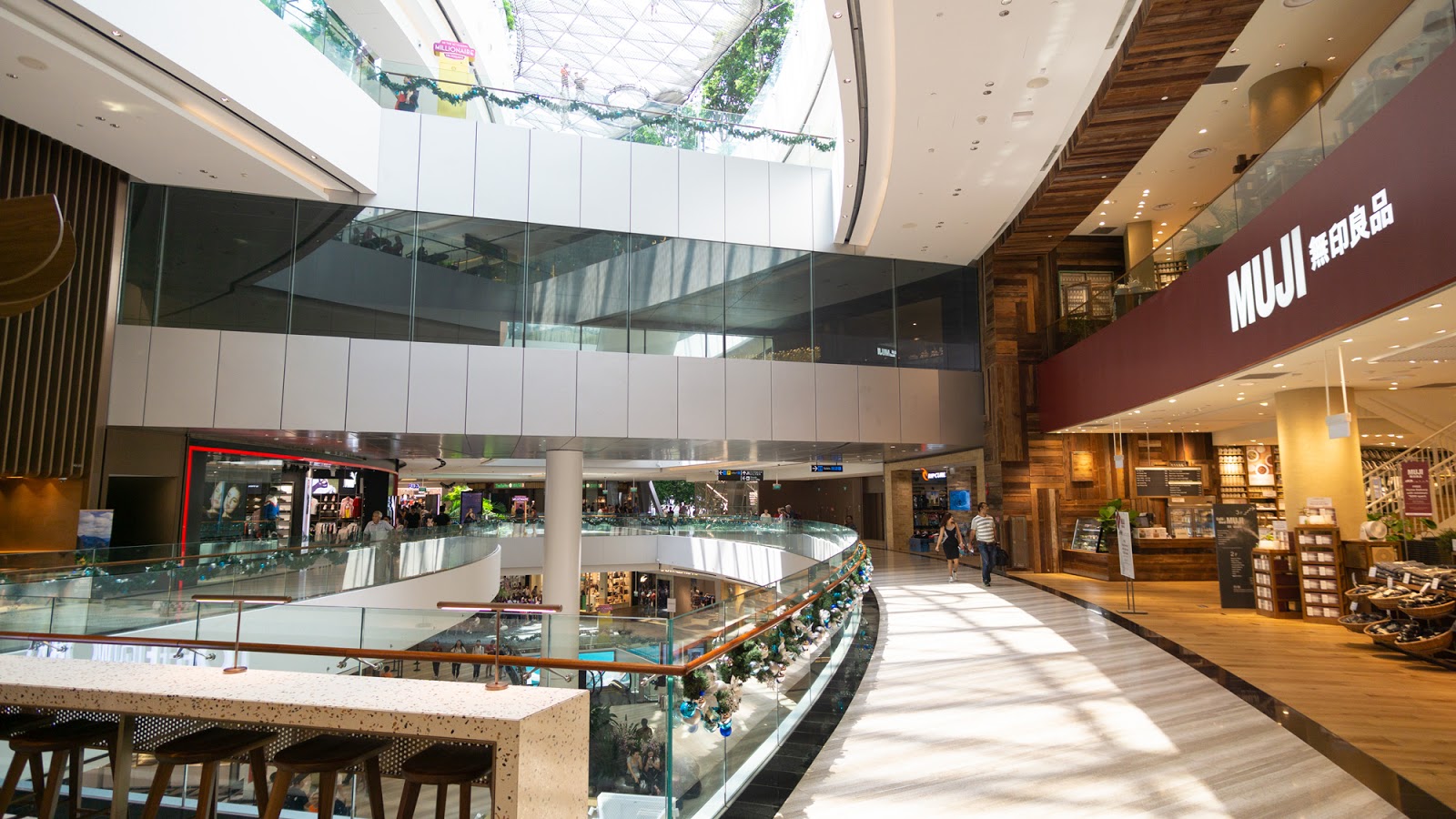 The YOTELAIR Changi, which is a transit landside hotel for passengers, is on Level 4. This chain has small, but modern and functional rooms which can be booked overnight or for day-use. Standard rates start from 220 SGD per night ($235 AUD), but look out for specials if you can book ahead.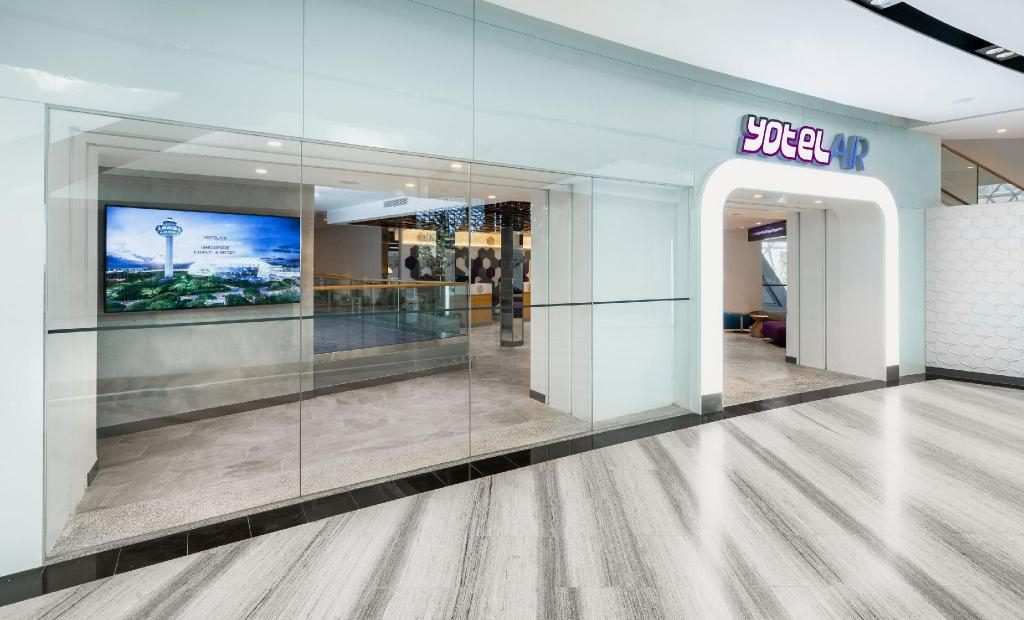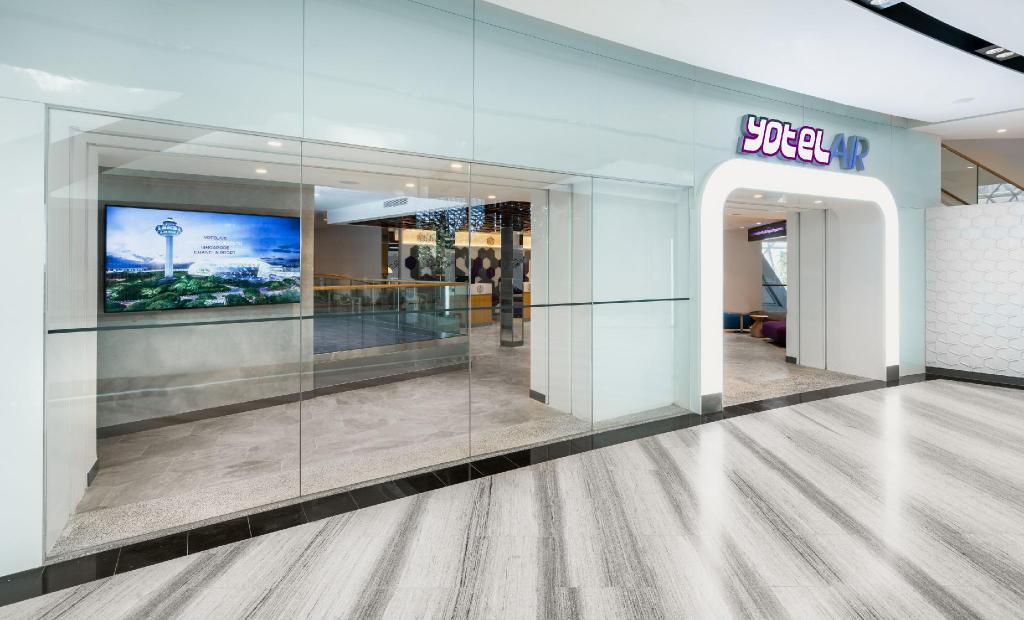 YOTELAIR Jewel room rates including Cyber Monday specials.
On the other side of Level 4, you will notice some nets above, where for a fee, you can walk or bounce your way around the upper levels of Jewel – perfect for burning off the kid's energy! The Manulife walking nets or bouncing nets start from 15 SGD ($16 AUD) per adult, and 10 SGD ($11 AUD) for children.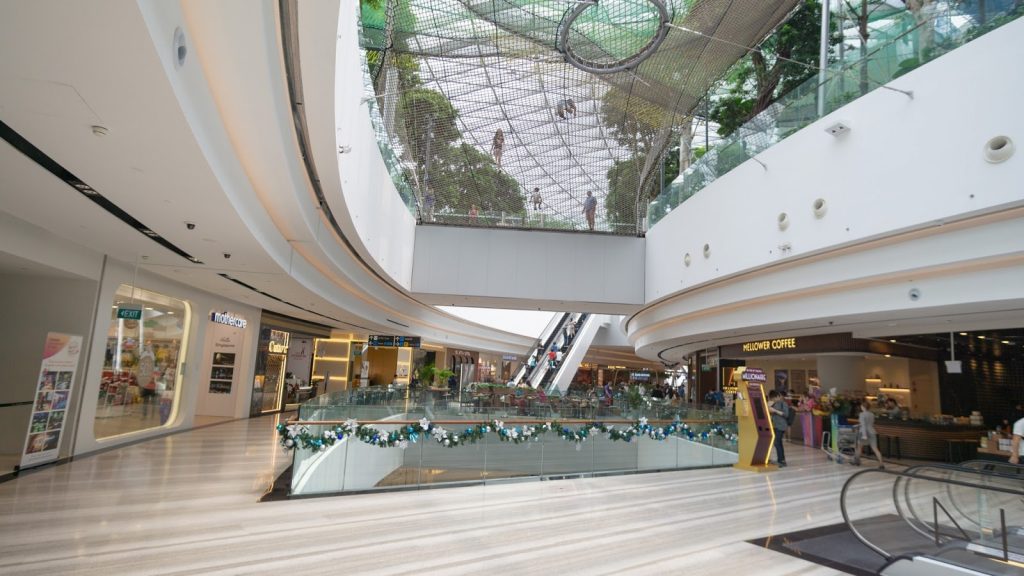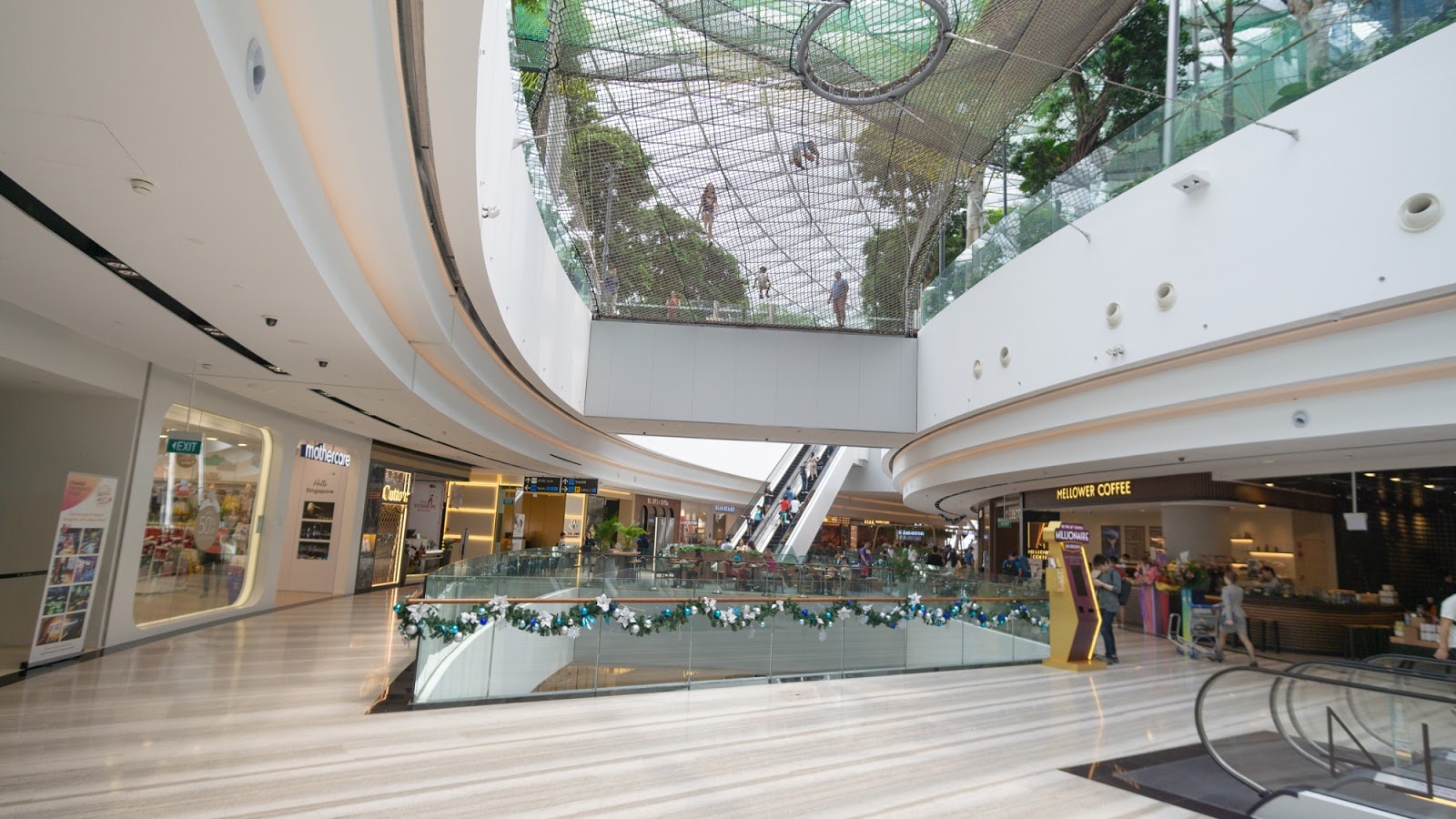 A view of the walking nets, Jewel.
Level 5 houses the Canopy Park which is a multi-attraction venue perfect for families, including Discovery Slides, Foggy Bowls, Petal Garden and Topiary Walk, all for 5 SGD per person.
Other attractions include a 23m-high Canopy Walk glass bridge, a Hedge Maze and Mirror Maze. The entry fees for these attractions, plus the Manulife nets, automatically include entry to Canopy Park too.
The Changi Experience Studio is a high-tech attraction where you can engage in the wonder of projection experiences, enjoy interactive games and immersive shows while learning about aviation and what makes the airport tick. Entry starts from 25 SGD ($26 AUD) per adult and 17 SGD ($18 AUD) per child.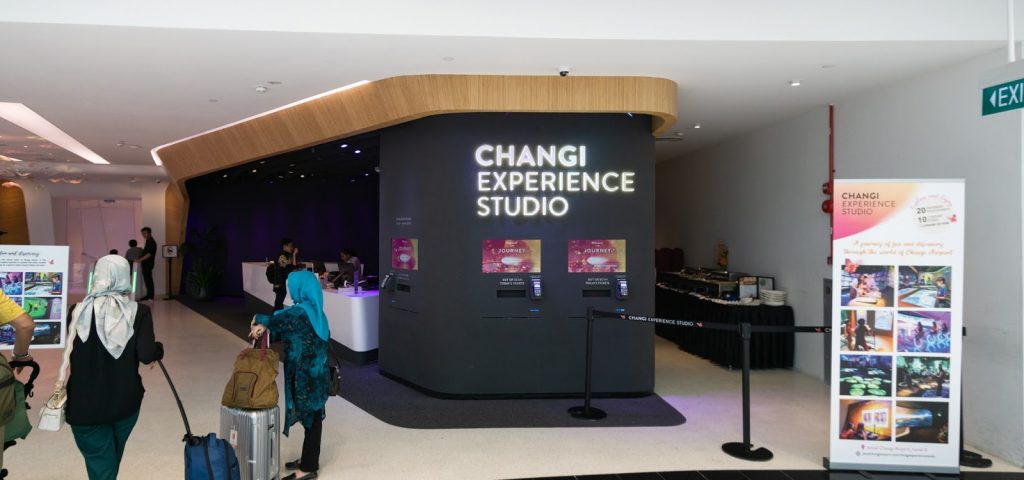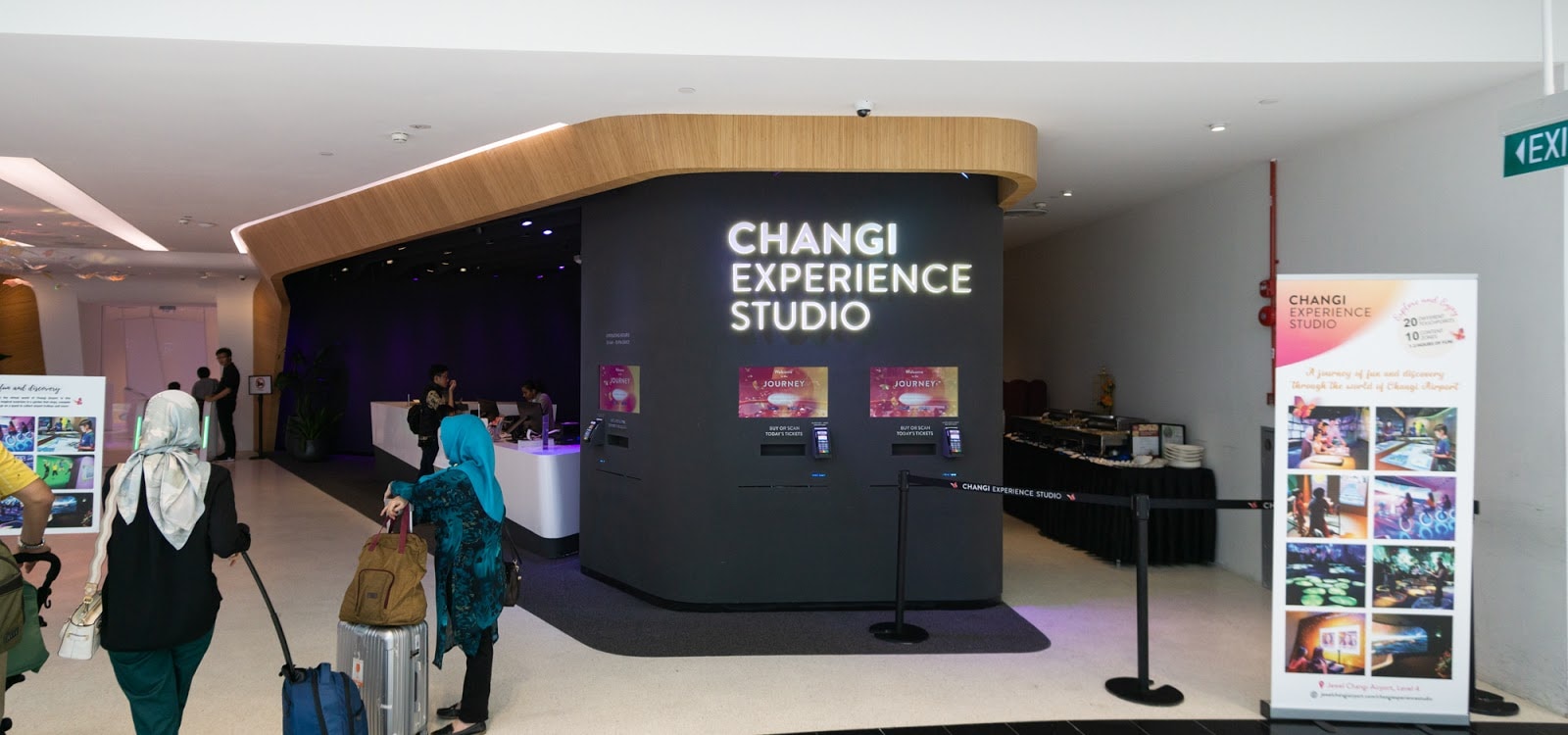 Views of the Rain Vortex are possible from many vantage points on each floor – just follow the signs or the crowds. It's easy to get around with escalators or lifts, and luggage storage is available.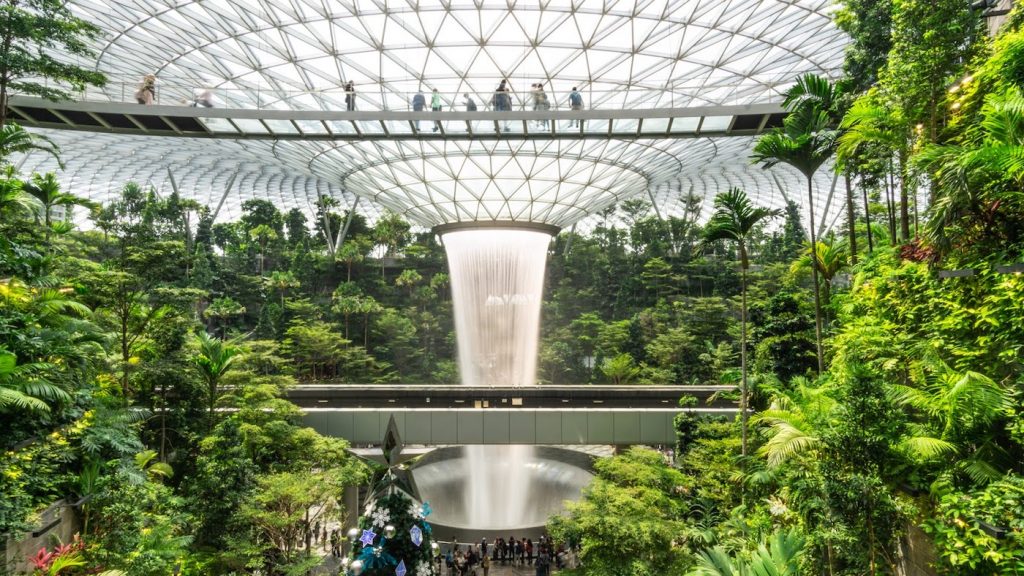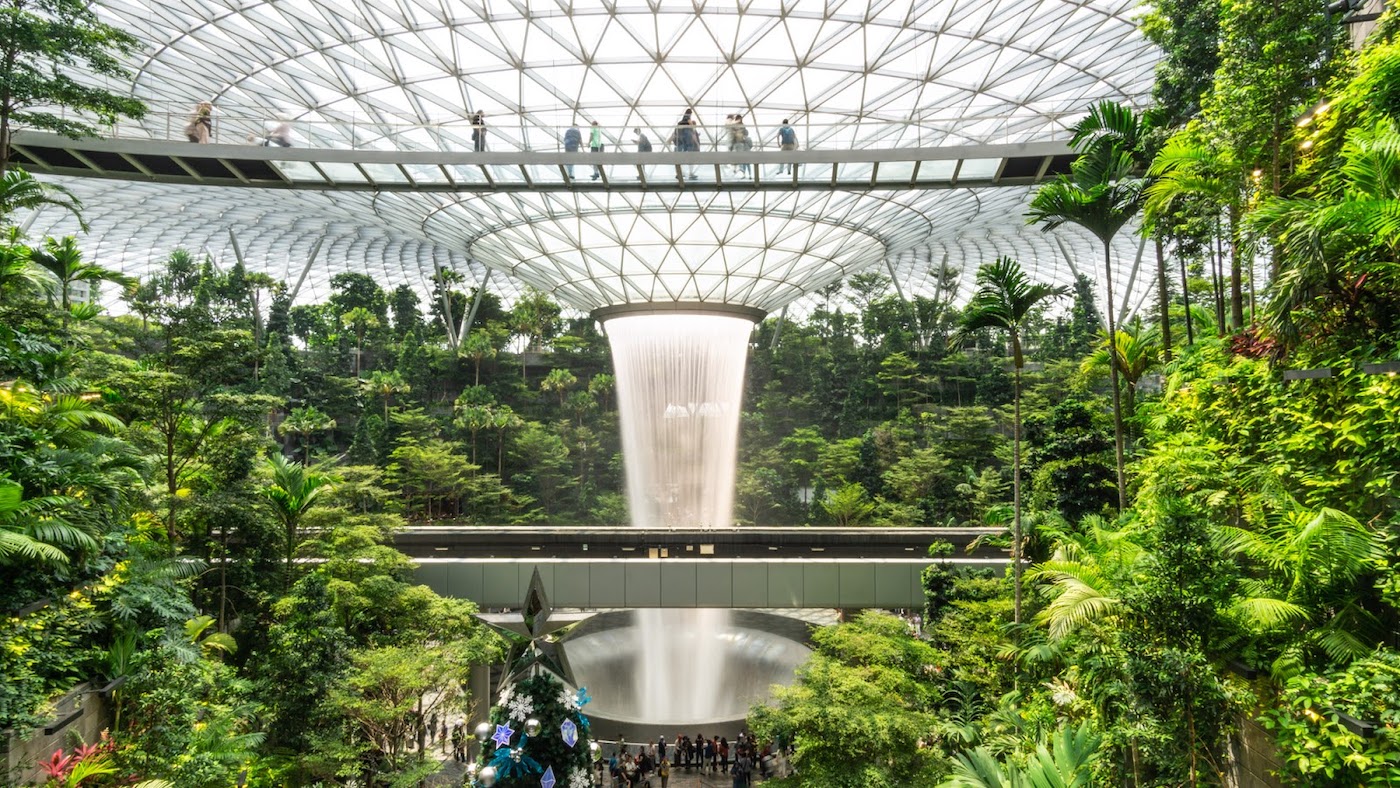 Jewel's Rain Vortex and surrounding forest in the leadup to Christmas.
I would recommend skipping Level 1, as that is where lots of people seem to congregate for photos, and the view of the Rain Vortex isn't that great from there anyway.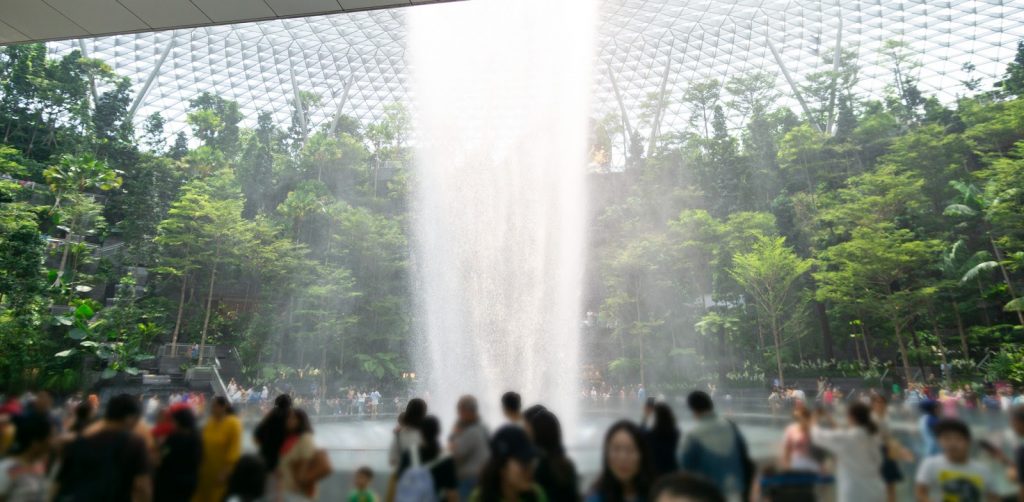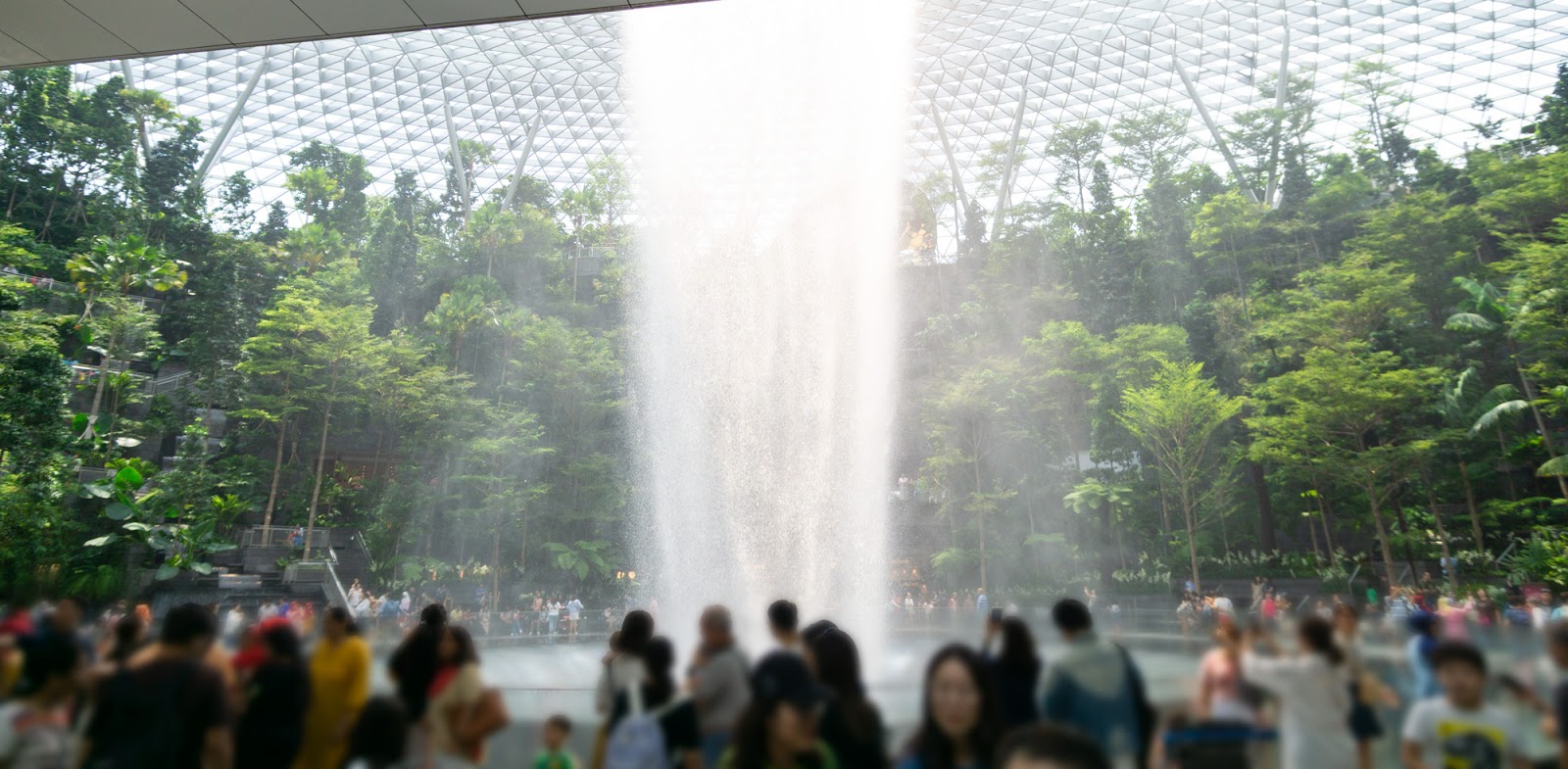 Photos aren't great from Level 1 unless you go right to the centre and shoot upwards.
Instead, head up to Level 3 or Level 4 of the shopping floors and walk around until you find a balcony with nice, sweeping views and no crowds in sight.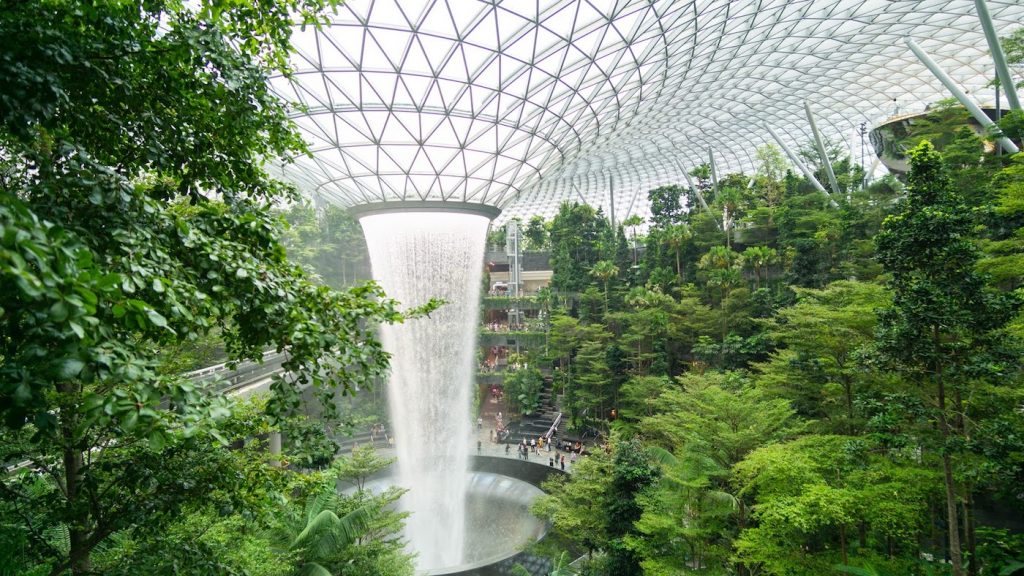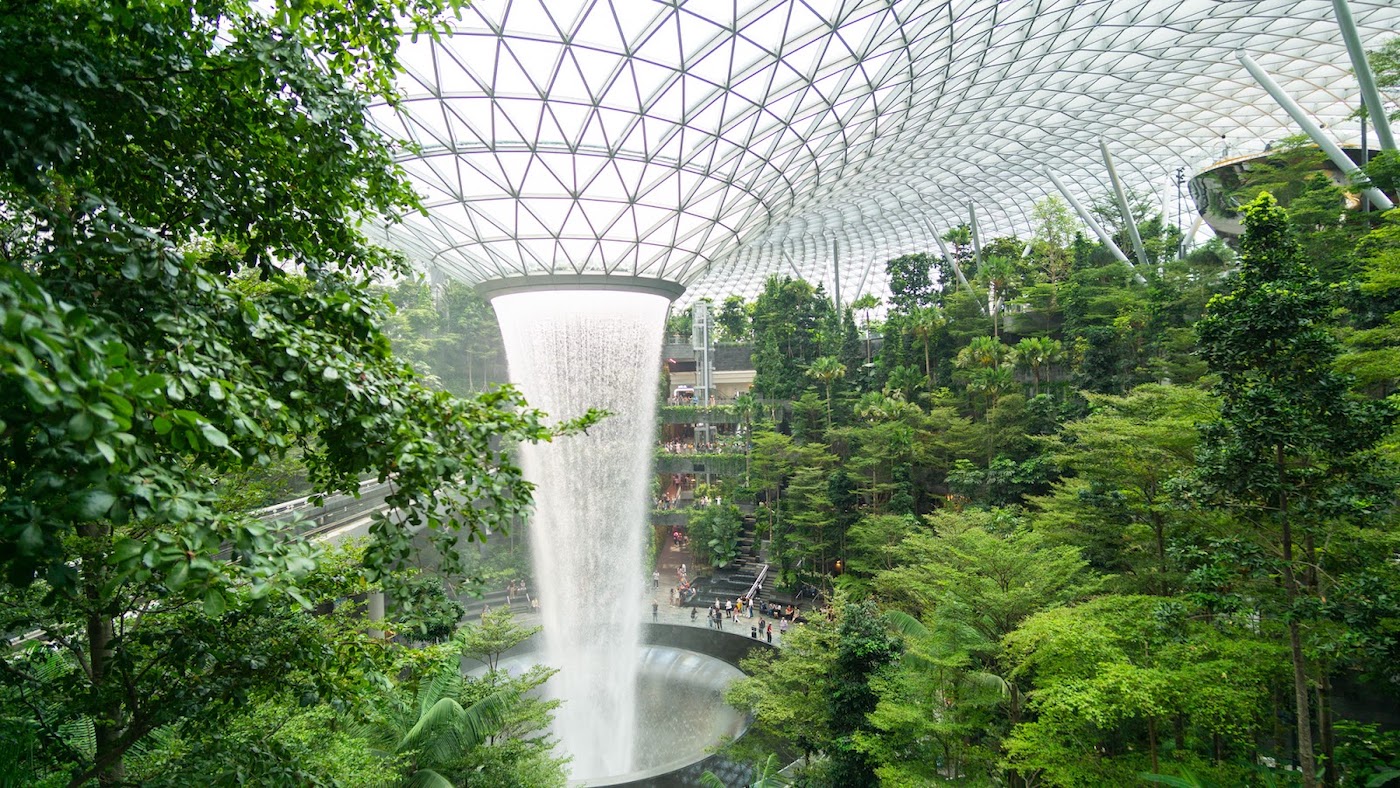 Taken from Level 4 balcony. For reference, the YOTELAIR is directly opposite.
The Rain Vortex has nightly light shows, which I hear are quite amazing. However, I've always transited during the day, so I don't have any personal photos of it.
For something to get the blood pumping, the Shiseido Forest Valley is the official name for the lush forests surrounding Jewel and the Rain Vortex. There are free walking trails that can take you through four levels, and you might even forget you are next to an airport!
Entry to this is usually free but during special events such as the Christmas period (mid-November to early January), limited ticketed entry is implemented for the evening activities and shows.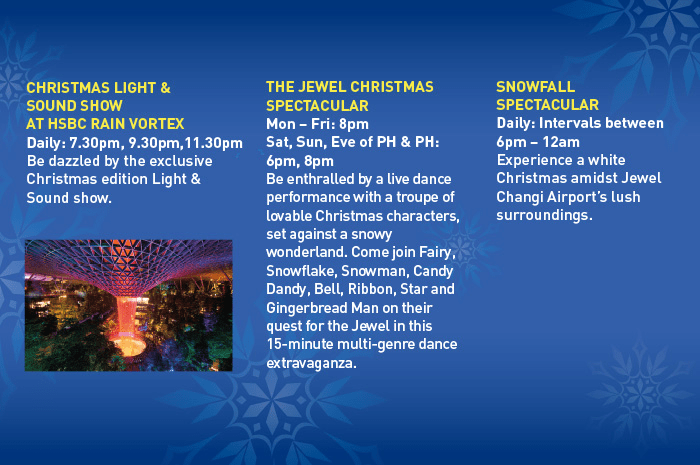 Summary of the Christmas special activities at Jewel (supplied).
How to access Jewel Changi Airport
Jewel is publically accessible by anyone landside. Apart from taxis and rideshares (Grab), the MRT (subway) and buses also connect to Changi Airport.
If you're already in Singapore, then you can easily explore Jewel and drop off your bags through the Early Check-in Counters on Level 1, before heading to the terminals for your flight. Check if your airline participates in Early Check-in here.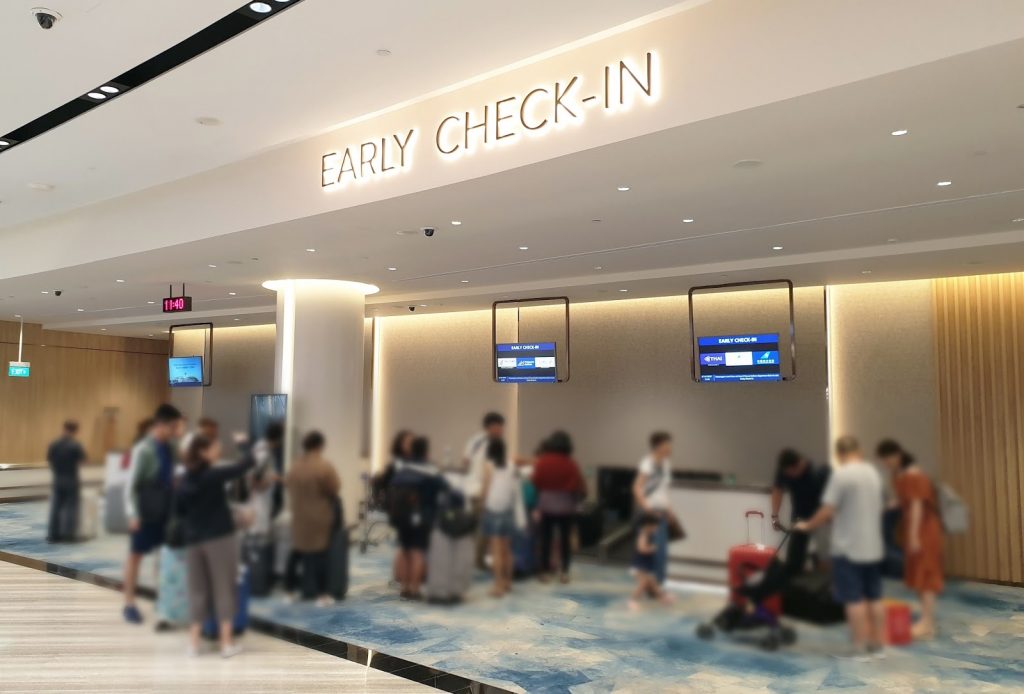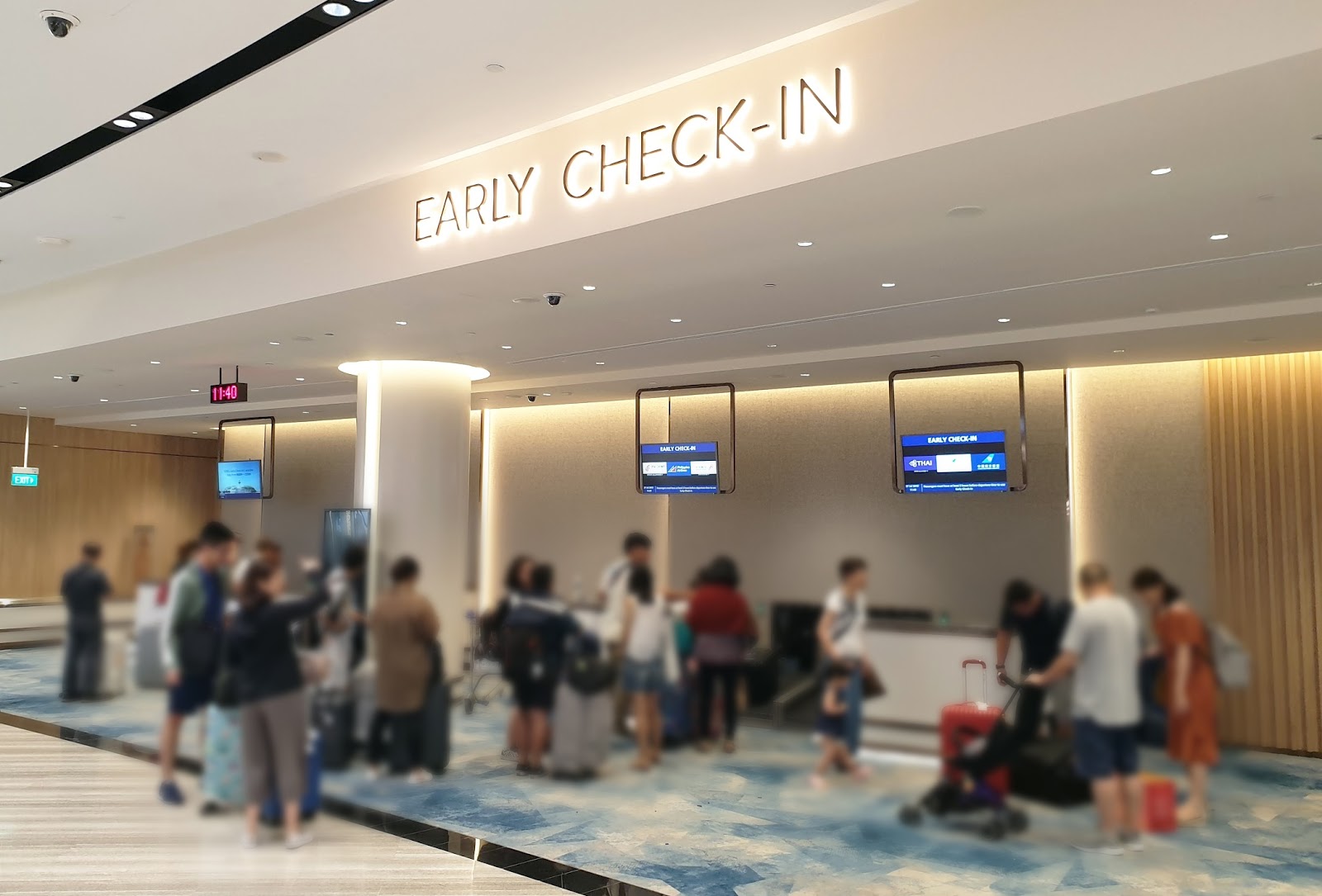 If you're transiting or arriving in Singapore, you have to go through immigration to enter Singapore first. The Terminal 1 Arrivals Hall leads straight into Jewel. Terminals 2 and 3 are connected to Jewel via link bridges, so it's easy to walk across. Transiting passengers are advised to have at least five hours between flights before attempting to visit Jewel.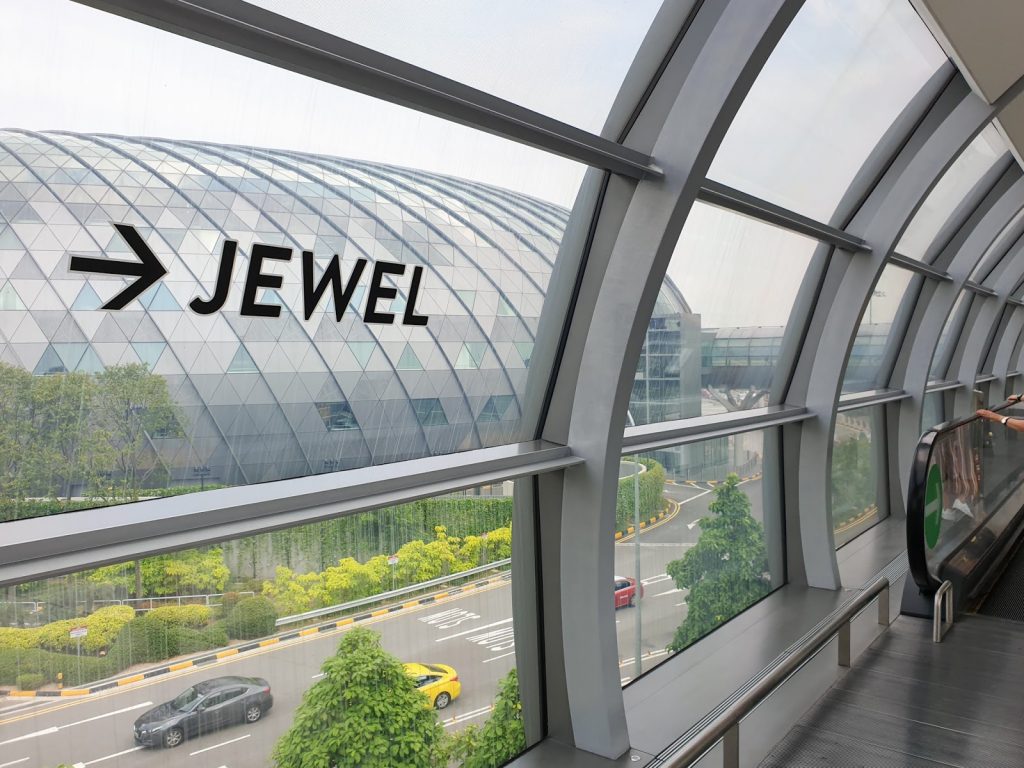 On the link bridge from the Terminals 2 and 3 to Jewel.
Once it's time to catch your flight, head back to Level 1 if you're going to Terminal 1 or need to catch the Skytrains, or to Level 3 if you want to find the direct link bridges to T2 and T3.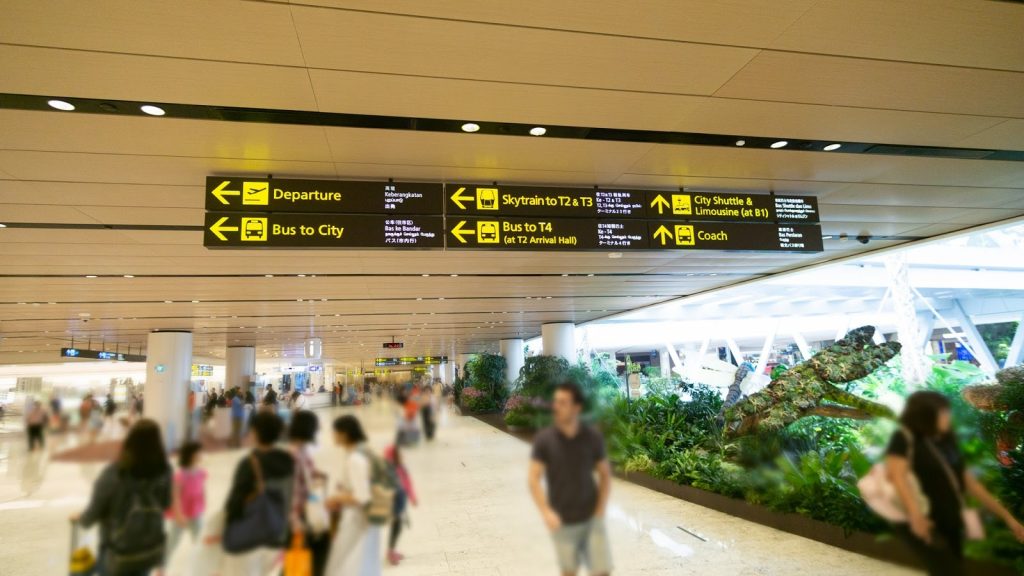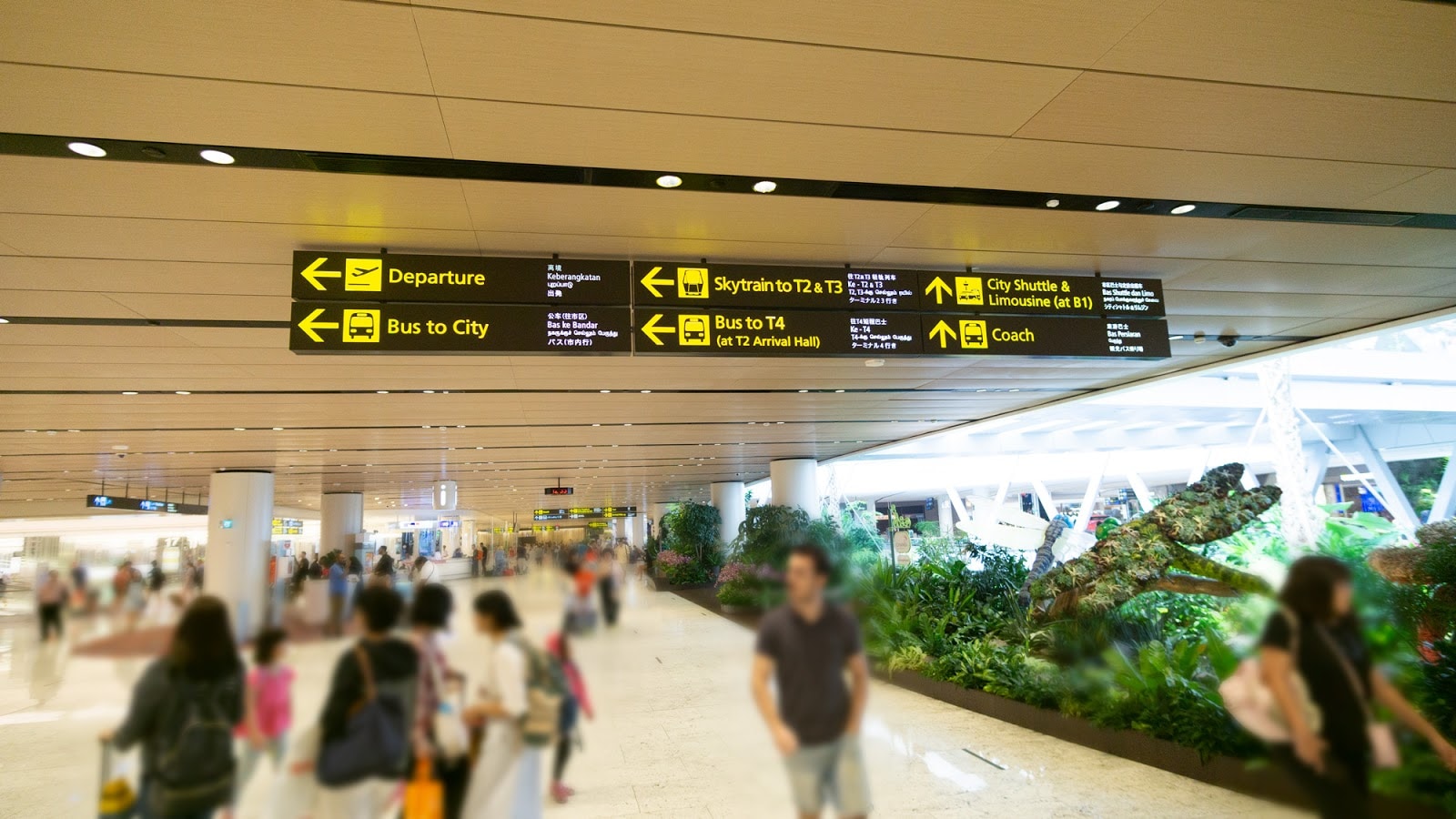 This is Jewel from Level 1, where it connects back to Terminal 1 and the rest of the airport.
The YOTELAIR picture is courtesy of Yotelair.