If you are looking to Upgrade a paid Premium Economy or Business Class ticket to the next cabin, then you need a couple of thousand fewer points than before.
Qantas reduces cost of some upgrades to Business and First by 10%
With thanks to AusBT, effective 24 October 2017 an:
Upgrade from Business Saver to First Class on Sydney – London drops from 75,000 to 65,000 Qantas Points
Upgrade from Flexible Premium Economy to Business Class on the same route drops from 60,000 to 54,000 Qantas Points

Upgrade from Business Saver to First Class on Australia – Los Angeles drops from 56,500 to 50,750 Qantas Points

Upgrade from Flexible Premium Economy to Business Class on the same route drops from 45,000 to 40,500 Qantas Points

Upgrade from Business Saver to First Class on Sydney/Melbourne – Singapore drops from 31,500 to 28,250 Qantas Points

Upgrade from Flexible Premium Economy to Business Class on the same route drops from 25,000 to 22,500 Qantas Points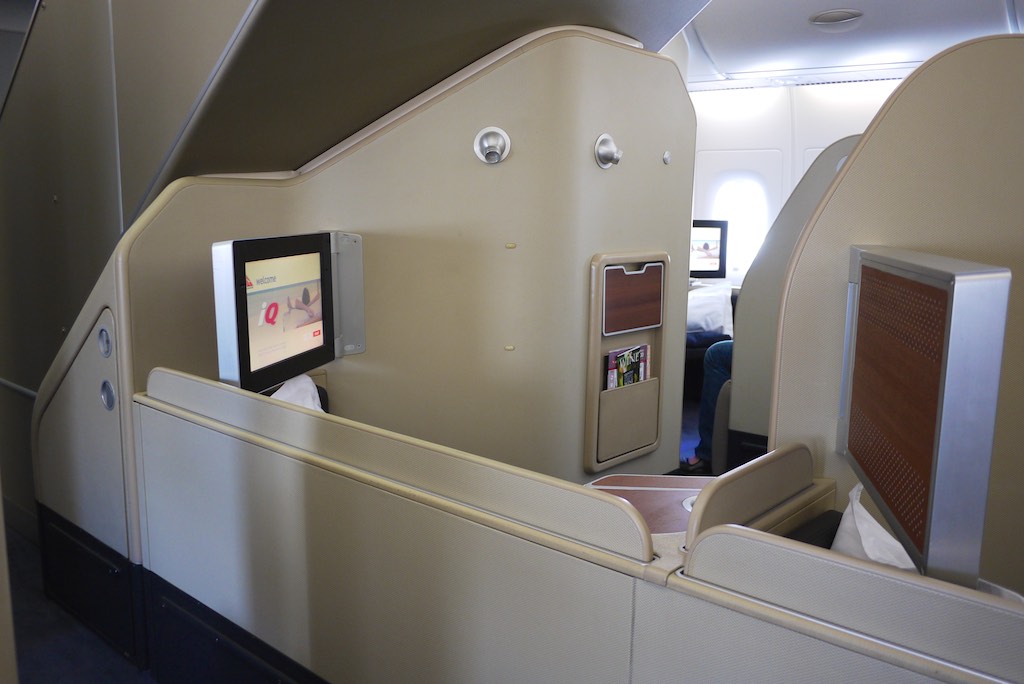 Qantas A380 First Class returns to Singapore instead of Dubai from 25 March 2018
Note that this comes after Qantas increased its overall upgrade pricing structure in November 2016.
In this guide
The most common way to upgrade your Qantas ticket using points is through 'Classic Upgrade Rewards'. This involves putting in a request for an upgrade and agreeing to pay the amount of points relevant to your upgrade.
However, not all requests will get approved, and whether or not your request will make the cut depends on a variety of factors.
The way Qantas determines who gets an upgrade is not simple and is the source of much confusion and frustration for those who want to use points to upgrade. In this article, we'll explain how Qantas decides who gets upgraded and who misses out.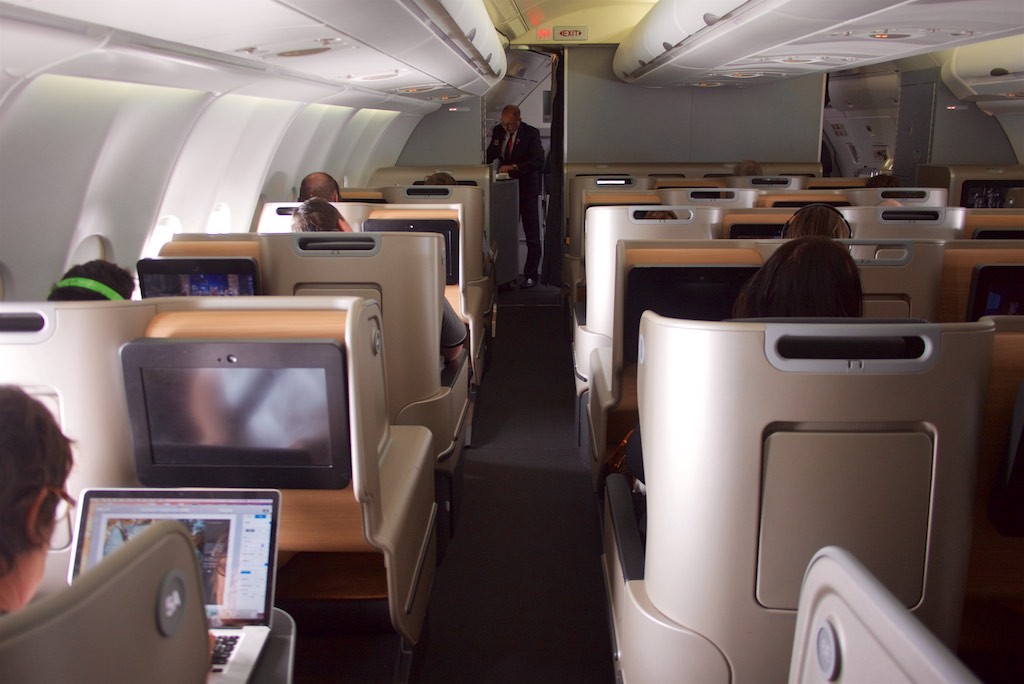 Qantas' A330 Business Class
Upgrades are worth seeking out and a decent value use of Qantas Points if you are travelling on a paid fare, rather than a redemption.
Important notes
These rules and insights apply only for Qantas-operated flights, where your ticket shows a QF code on the flight (so not booked through a partner airline) and for upgrades using Qantas Points (not other frequent flyer program currencies)
If you buy the cheapest Economy sale fare (called 'Discount Economy') then you can only upgrade that ticket using points on domestic flights, not international flights
Classic Upgrade Rewards are not the only way to upgrade your flight with points. Qantas also has 'On-Departure Upgrades' and 'Bid Now Upgrades'. Classic Upgrade Rewards are the most common, though, and they take precedence over the other methods
Domestic vs International
Domestic and international upgrade requests are treated differently.
If you put in an upgrade request for an international Flight, you will automatically be put on the Wait List. Once you are on the Wait List, particular rules will determine who is given priority for upgrades. These rules are covered below.
If you put in an upgrade request for a domestic flight, your request might be approved immediately, but only if there are upgradeable seats available at that time. If there are no upgradeable seats at that time, you will be added to the Wait List, from which upgrades will be dished out later according to the same Wait List rules that apply to international flights.
So how do Qantas determine whether there are upgradeable seats available?
Domestic availability
Whether or not upgradeable seats are available on your domestic flights depends on whether there are any Classic Flight Rewards left on that flight.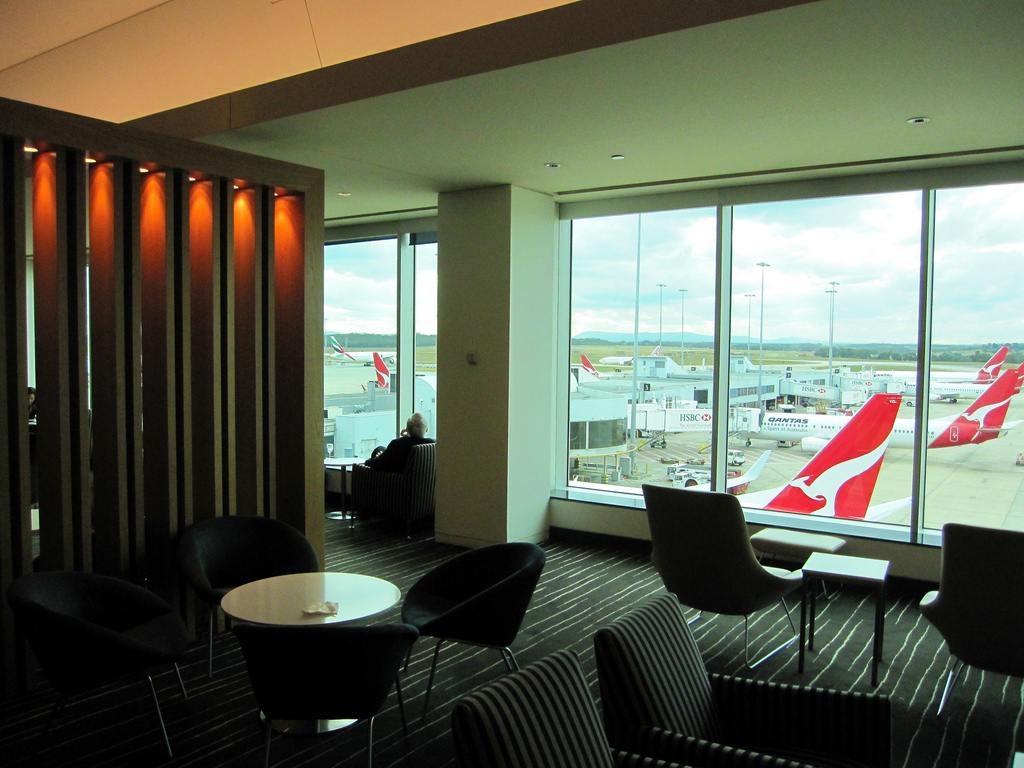 Domestic upgrades will also get you access into domestic Business Class lounges which are a small cut above the Qantas Club
That is, if there are Business Class seats available to be booked on your flight through Classic Flight Rewards, you will be able to grab these same seats using Classic Upgrade Rewards.
So if you want to find out whether or not you will be able to secure an upgrade before you purchase your flight, you can search for Classic Flight Rewards on that flight. If they are available, your upgrade request will be approved as soon as you put it in.
This means that when it comes to domestic flights, booking early and being first is key to getting an upgrade.
Once the seats that have been allocated for Classic Flights Rewards are gone, all other requests won't be able to be approved immediately and will have to go to the Wait List.
Having said that, although timing is key in domestic flights, status still has its part to play. That is because the availability of Classic Flight Rewards seats will depend on your status, with more seats being set aside for higher tier members.
But if Classic Flight Rewards are not available in your tier at the time that you put in your request, you might still have the opportunity to be upgraded through the Wait List.
Wait List rules
For all international flights and for domestic requests that could not be approved immediately, the following priority rules will be applied when distributing upgrades.
1. Status
Status is the most important factor. Regardless of when a Platinum members put their requests in, all Platinum requests will always be approved ahead of all Gold members. Similarly, all Gold members will be approved ahead of Silver members, and so on.
So, Platinum One > Platinum > Gold > Silver > Bronze.
2. Qantas Club Membership
If you are a Qantas Club member, you will be given priority over non-Qantas Club members in your class. So a Silver member will lose to another Silver member who is a Qantas Club member.
But Qantas Club membership won't let you trump someone in a higher class. So Bronze Qantas Club members won't be given priority over ordinary non-Club Silver members.
Note that this factor won't be relevant in Gold, Platinum and Platinum One since those classes automatically come with Qantas Club membership.
So, Platinum One > Platinum > Gold > Silver + Qantas Club > Silver > Bronze + Qantas Club > Bronze.
3. Timing
Finally, after status and Club membership have been taken into account, timing will determine who gets their upgrade request approved.
Wait List Availability
If you are in the lower end of the hierarchy, you might think that these rules will mean that you never get an upgrade.
However, it seems that that is not the case. Remember that Qantas has a number of upgrade programs including On-Departure Upgrades and Bid Now Upgrades. All of these only get considered after *all& Classic Upgrade Rewards requests have been approved.
The very existence of these programs indicates that it is not uncommon for all Classic Upgrade requests to be approved and for there still to be leftover upgradeable seats.
Speaking of leftover seats, a lot of people have reported that their upgrade requests were not approved but that there were Business Class seats available when they got on the plane.
This is due to a few different reasons:
Commercial purchases: it is Qantas policy to leave some Business Class seats available for commercial purchase (we do not know how many) but the idea is that if someone wants to buy a last-minute Business Class seat, they should be able to
Last-minute changes: similarly, if you have a Business Class ticket and you want to change onto a flight at the last minute, Qantas wants to make sure that you can
Last-minute cancellations: finally, it is not uncommon for Business Class passengers to cancel their flight or switch onto another at the last minute, creating empty seats
These factors mean that it is quite common for there to be empty Business Class seats despite the fact that there were upgrade requests which were refused.
Case study
We've put together a case study to show how the priority rules would apply. Imagine four people put in an upgrade request for the same flight in this order:
Monday: Barry a Bronze member puts in the first request
Tuesday: Caleb a Bronze member with Qantas Club membership put in a request
Wednesday: Sylvia a Silver member makes her request
Thursday: Gary a Gold member makes the last request
International flight
On an international flight the upgrade priority would be:
Gary first (Gold)
Sylvia second (Silver)
Caleb (Bronze + Qantas Club) next, despite booking after Barry
Barry (Bronze) will be last on the list
Timing doesn't play a part at all in this scenario because it is an international flight that follows the Wait List rules, where status trumps timing.
Domestic Flight
Conversely, if this were a domestic flight, timing would be key and each request would be assessed in the order in which it was received.
But who gets a seat would depend largely on the availability of Classic Flight Rewards. Let's say there were three Classic Flight seats available, but two of those were reserved for Gold and Platinum members only.
The upgrades would go like this:
Barry (Bronze) would get his upgrade immediately since he was first!
Caleb (Bronze + Qantas Club) would get assessed next, but he will be put on the Wait List since there are no more 'available' seats for his tier,
Sylvia (Silver) would also be put on the Wait List for the same reason
Gary (Gold) would be upgraded immediately since there are Classic Flight Rewards seats available in his tier.
But there would still be one empty seat left, which was initially reserved for Gold and Platinum members to book only. As the flight time approaches, this seat could be awarded to someone on the Wait List, according to the Wait List rules.
This would mean it gets awarded to Sylvia (Silver) because, although she was after Caleb (Bronze + Qantas Club), the Wait List rules put status above timing.
Upgrading flights that were bought with points vs cash
In November 2016, Qantas introduced a new policy allowing you to request a Classic Upgrade Reward even when you are travelling on a Classic Flight Reward fare that you purchased with points.
There are reports that a ticket purchased with cash would have priority for an upgrade over one redeemed with points, but we don't have official word on that.
Also note that the number of points needed to request a Classic Upgrade Reward will differ and flights which are booked with cash will cost less to upgrade than those booked with points. You can find out exactly how much more by using the upgrade calculator.
Summing up: clear as mud?!
You can find the full terms and conditions for Classic Upgrade Rewards here. 16.2 and 16.3 are particularly relevant to priority, however, despite their length, you'll be surprised to find that the terms are actually not comprehensive enough!
As such, most of the specifics in this article came from research and discussions with Qantas Reservations.
If you have had any experiences that do or don't fit with this analysis, let us know in the comments.