"One of the very nicest things about life is the way we must regularly stop whatever it is we are doing and devote our attention to eating." –Luciano Pavarotti
Filipino food, albeit not as popular and world-renowned as its Thai and Vietnamese counterparts, is still a worthy cuisine everyone should try at least once in their lives. Food enthusiasts and epicurean adventurers would indeed find it to be an experience. Known to be an archipelago consisting of at least seven thousand islands, it is no surprise for the country to be teeming with seafood, rife with tropical fruits and various meat fares that it would almost be impossible not to find a particular Dish that would not sit well with anyone's discriminating palate. Each region and each of the provinces have its own signature and beloved dish which would be that particular province's pride. To experience Filipino cookery at its finest, here are some of the must-try foods you should taste whenever you are visiting the country.
1.) Adobo
Adobo is an incredibly popular Filipino dish that it seems that even foreigners are aware of this Filipino staple. This ubiquitous dish is present in almost every Filipino household, and though it is Mexican in origin, Filipinos have taken their own spin in preparing the fare. The meat (usually pork or chicken) is sautéed in salt, soy sauce, garlic and many other spices. It can be preserved for days even without refrigeration.
2.) Chicken Inasal
Known as the Pride of Bacolod, chicken inasal is not just your ordinary grilled chicken. They take it a step further by marinating the chicken in pepper, garlic, calamansi and salt and after which, it is brushed with achuete oil (annatto seeds). To complete the experience, it is best to eat your chicken inasal with a substantial serving of garlic rice peppered with chicken oil and a bit of rock salt.
3.) Lechon
Lechon is the Philippine's most famous food and is the main star of any Filipino occasion (birthdays, weddings, fiestas, christenings, etc.). In fact, it is never considered a party without the presence of this pork dish. This succulent dish is best served hot with the skin—the most coveted part of the pig, still piping hot and crunchy.
4.) Arroz Caldo
Best served on a cold rainy day; Arroz Caldo is the Filipino counterpart to risotto or rice porridge in western countries. Prepared with bits of chicken, boiled egg and in some cases, a sprinkle of toasted garlic , this dish is already a meal by itself. For best results, sprinkle a bit of rufina (fish sauce) onto your arroz caldo.
5.) Sisig
In a country where chicken heads, feet, and even intestines are barbecued and eaten, Filipinos are well-known for letting nothing go to waste. Similarly, the same is done with the pork with the Kapampangan dish called Sisig. Sisig is prepared by chopping the pork cheeks, head, and liver into minuscule pieces and sautéing with garlic and onions along with some seasoning. This Pampanga staple has been an excellent beer match during drinking sessions with friends.
6.) Sinigang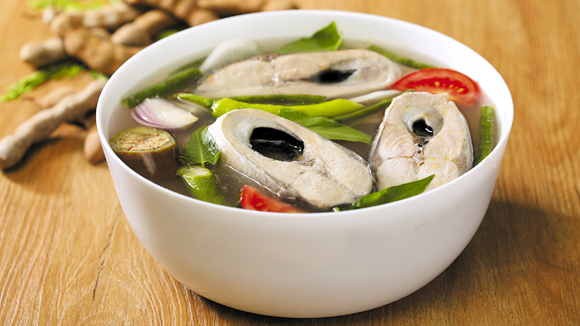 Sinigang is the Filipino counterpart to Thailand's Tom Yum soup. It is a stew of fish, prawns, beef or pork which is then soured by fruits such kamias, tamarind or tomatoes. Vegetables are then thrown into the mix to complete the stew. This dish is best paired with rice.
7.) Tapa
Tapa with egg or locally known as "Tapsilog" (Tapa and eggs) is an excellent example of a typical Filipino breakfast. Made of thinly sliced dried marinated beef, Tapa is best served with a side of eggs and a generous heap of garlic rice in the mornings. In fact, Filipinos love their Tapsilog so much that you can find a stall that would serve you this dish 24/7 almost anywhere.
8.) Dinuguan at Puto
Dinuguan is a Filipino dish that is definitely not for the faint of heart but is certainly for those who are gastronomically curious. This Filipino fare is literally blood stew where pig blood and a mixture of pig innards is seasoned with onion and oregano. It is usually eaten with Filipino rice cake (puto) or white rice. If you are brave enough to take on the challenge, you will find that dinuguan is a very savory stew after you get over your initial shock at its ingredients.
Image Source, Image Source, Image Source, Image Source, Image Source, Image Source, Image Source, Image Source, Image Source
The post Eight Filipino Dishes You Should Try appeared first on The Budget Traveler.