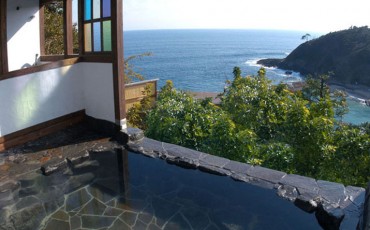 Shimoda is one of the best places to be if you want a weekend away from the busy city life of Tokyo. It is a perfect destination to visit over the weekend. Enjoy the fresh air around the beach, eat authentic Japanese food, visit Shimoda's main city area and get the perfect break from the humdrum monotonous schedule of work life. When it comes to choosing a hotel to spend the perfect weekend with your beloved or family, you might experience a mental dilemma trying to figure out the best choice. That's what I was going through when I was struggling to make a hotel reservation in Shimoda. It was then that I stumbled upon this beautiful hotel over looking the sea. This place gave me the most out of any hotel, without burning a hole in my pocket. [caption id="attachment_10905" align="aligncenter" width="500"]
Access Map[/caption] This hotel is located on a cliff, overlooking the sea. So, you can already imagine how beautiful the view can become. It has a large outdoor area facing the sea, a place for barbecues, two natural hot springs and Japanese style beds. More information about booking reservations and hotel reviews in English can be found here. [caption id="attachment_10898" align="aligncenter" width="451"]
The hotels outdoor area used for barbecue (source: gardenvilla)[/caption] [caption id="attachment_10899" align="aligncenter" width="459"]
This was my room with folding beds and Japanese style tables (source: gardenvilla)[/caption] The accommodation - the hospitality of the staff and the arrangements at the hotel - were completely overwhelming. My favorite was the natural hot spring bath I took outside in freezing cold temperatures. The hotel has two natural hot springs and the views from both are amazing. They face the sea, allowing you to enjoy a bath at the emerged in the beauty of nature. It provided perhaps the most romantic experience I have had in Japan. So undoubtedly, it can be a perfect holiday destination with your beloved.
Natural hot springs:
At the reception, you can make your booking for the natural hot spring. You can choose from either the bigger hot spring or the smaller one. You will be given a 30-40 minute time slot to use either hot spring. The hot springs are away from the main hotel area and extremely private. [caption id="attachment_10902" align="aligncenter" width="500"]
Natural hot spring (source: gardenvilla)[/caption]
Indoor Games at the hotel:
There are many indoor games available inside the hotel that you can enjoy. There is a small billiard table, a chess game, and scrabble along with many others. There are also many magazines and books available for guests. For piano lovers, there is a piano you can use it for as long as you want. What I liked the most was there were many English books as well - if you are not a fan of Japanese books you can pick any English novel of your choice. From the Harry Potter series to Dan Brown, the hotel had it all. [caption id="attachment_10903" align="aligncenter" width="500"]
Indoor games in the hotel[/caption] [caption id="attachment_10900" align="aligncenter" width="375"]
That's me ready to eat delicious breakfast![/caption] [caption id="attachment_10901" align="aligncenter" width="449"]
Burning turban shell for dinner![/caption] Breakfast is included in the hotel fares. They serve a grand breakfast, and everything I ate there was very delicious. To name a few, they served pancakes, salad, egg, bread with butter/honey, bacon, juice to name a few - and with deserts. I was very hungry by nighttime, and I requested for a cup noodle at the reception. They gave me the best variety of cup noodle I ever had in Japan, free of cost.
Hotel Gardenvilla Shimahara Access:
Take the JR limited express "Odoriko" line from Tokyo to Shimoda, which takes 2 hours and 4o minutes. If you take the JR Kodama Shinkansen to Atami, transfer to the limited express Odoriko to Shimoda; alternatively, take the JR Ito line to Ito followed by the Izukyu line to Shimoda. The first costs 6000 Yen and takes two hours, while the second costs 7000 Yen and takes 2.5 hours. The Izukyu line provides 1000 Yen tickets to foreign tourists if you present your passport. From the Izukyu Shimoda station, take bus at number 9 bus stop at Shimoda to Itami Bus Stop, which costs 300 yen and takes about 10-15miles. After disembarking, walk one minute to Gardenvilla Shimoda. [cft format=0]
The post Hotel Gardenvilla: why don't you go to Shimoda? appeared first on VOYAPON.