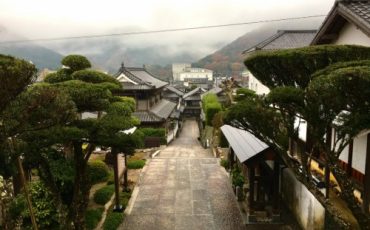 Sponsored by Seiyo City
In Ehime Prefecture on Shikoku Island, there are many historical sites that have been preserved and restored, like in Uchiko and Ozu. There is also an old town in Seiyo, close to Uchiko. This small, historic district of Unomachi has an extremely rich heritage but is seemingly unknown among tourists. We are here to show you what you can discover in this little town!
The historical quartier of Unomachi in Seiyo[/caption]
Unomachi, Immersed in History
During the
Edo Period
(1603-1868),
Uwa
was a prosperous city that developed under the Uwa Jima clan. In the historic district of
Unomachi
, Nakanocho Street seems to preserve the time of the past. There are
traditional merchant houses (machiya)
with their immaculate white walls and wooden
koushi screens
in front of the windows. For more authenticity, you can also
rent a kimono
for memorable photo shoots! But unfortunately for us, our visit was cut short by the rain ... [caption id="attachment_33379" align="aligncenter" width="500"]
Nakanocho.[/caption]
[caption id="attachment_33381" align="aligncenter" width="500"]
A koushi in front of the windows of an old house.[/caption] There
was a heavy storm during our visit in Seiyo, but we were able to take refuge in Uwa Museum of Folk Tools, which brings together a rich collection of objects and furniture of the time. The museum is open from Tuesday to Sunday from 9:00 to 17:00 (entrance fee 500 yen).
Kaimei School in the beginnings of Meiji
Notable historical buildings include the
Kaimei School
, built in 1882 in the Giyo style, which was originally inspired by Western styles. One of the classrooms has even kept its original furniture. Sit at one of the desks and have a class (in Japanese) and experience the life of a Japanese student during the
Meiji Period
. On the program are mathematics, geography and history, learning Japanese characters (kanji and hiragana) and finally, singing! One day a year, the school reopens to teach the students of today the lessons learned in the Meiji Period. [caption id="attachment_33384" align="aligncenter" width="500"]
Kaimei school constructed in 1882.[/caption] [caption id="attachment_33386" align="aligncenter" width="500"]
The class gives a Meiji atmosphere.[/caption]
Information :
Open from Tuesday to Sunday: 9:00 - 17:00
Price : 500 yen.
For classroom entertainment, check out Uwa Museum of Folk Tools reception desk (across from Kaimei School).
Meiseki Temple : 43rd Temple of Shikoku Ohenro (88 Temples of the Shikoku Pilgrimage Road)
Located on a hill on the edge of Seiyo City, the Meiseki Buddhist Temple is the 43rd stop on the famous pilgrimage of the 88 temples of Shikoku, founded 1,200 years ago by the monk Kobo Daishi. You are sure to meet the pilgrims, ohenrosan, dressed in white and wearing a conical hat. To make the entire pilgrimage on foot, it takes 2 months, but today many pilgrims prefer the comfort of the bus or the car! The pilgrimage is divided into 4 parts:
Temple No. 1 to 23 in Tokushima Prefecture: Path of Awakening
Temple No. 24 to 39 in Kochi Prefecture: Path of Asceticism
Temple No. 40 to 65 in Ehime Prefecture: Path to Enlightenment
Temple 66 to 88 in Kagawa Prefecture: Nirvana Road
Each temple of pilgrimage houses a pavilion called Daishi-do, where the monk founder Kodo Daishi can be prayed to. To the left of the temple, you can take a small path of the pilgrimage through the forest to reach the historic Unomachi district. [caption id="attachment_33388" align="aligncenter" width="500"]
Meiseki Temple: 43rd stop of the Shikoku Henro Trails[/caption]
[caption id="attachment_33390" align="aligncenter" width="500"]
ohenrosan at Meiseki Temple.[/caption]
Access: Unomachi District
Located just 80 kilometers southwest of
Matsuyama
, Unomachi is easily accessible by train via the
JR Yosan Line
which also serves the cities of
Uchiko
and
Ozu
. From Matsuyama, you can choose between the express train, for a one-hour ride, or the local train, with a journey time of 2.5 hours. The historic district and Kaimei School are a 5-minute walk from the train station. It takes 30 minutes to walk to Meiseki Temple. By car, allow about 70 minutes from Matsuyama.
The post Visit the Historical Quarter of Unomachi in Seiyo, Shikoku appeared first on VOYAPON.