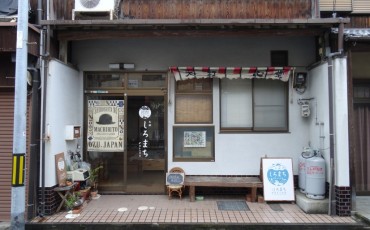 Sponsored by Ozu City
Ozu City
in
Ehime Prefecture
, a much less crowded place on
Shikoku Island
, is known for
its castle
as well as its ancient
cormorant fishing tradition
. One must also admire
the beautiful historic district
and the great
Japanese architectural work
in the
villa Garyu Sanso
. To make the most of your time among such magnificent heritage,
staying in Ozu itself is a good option
, and in our case, we stayed in the famed
Guesthouse Shiromachi
, ideally located in the historic quartier. [caption id="attachment_33273" align="aligncenter" width="500"]
The entrance of Guesthouse Shiromachi in Ozu.[/caption]
Shiromachi Guesthouse
The
Shiromachi guesthouse
is ideally
located in the historic quartier in Ozu
, making it easier to explore the city! Upon entry, do not forget to take off your shoes and change into some slippers, as is very often the case with traditional interiors in Japan. We were warmly welcomed by our host Nori, the owner of the place who also lives here. On the ground floor, a lounge and a small kitchen are available to guests. [caption id="attachment_33274" align="aligncenter" width="500"]
An entrance full of Japanese history.[/caption] In the living room, we were able to try
kotatsu
(a low Japanese table, covered with a heavy blanket) for the first time. It is a classic tea table concealing a heater underneath that is greatly appreciated in the winter. At the time,
kotatsu
was often the only heating system in Japanese homes. As it was cold and raining during our visit, there was nothing like trying it while enjoying the tea with
mikan
(Japanese mandarins) that were kindly offered by our host. Displayed on the walls of the entrance and hallway, these old photos tell the story of Ozu's evolution. [caption id="attachment_33275" align="aligncenter" width="500"]
Learn Ozu's history on the walls of Guesthouse Shiromachi.[/caption]
A Traditional Room with Tatami Mats and Futons
The rooms are upstairs. The decor of our room was typically Japanese with a tatami floor,
tokonoma
(decorative alcove) and the painted
fusuma
(sliding doors which redefine space within a room). When we arrived, the
futons
were already installed in front of a heater. In front of the window,
shoji
(the sliding doors consisting of washi paper over a frame of wood) protected us like a curtain. Generally there are no shutters in Japanese houses, so the first light of the day often wakes you up. The shared bathroom and toilet are located on the ground floor. [caption id="attachment_33276" align="aligncenter" width="500"]
Room ready for our arrival, with tatami mats a
nd fut
ons.[/caption] [caption id="attachment_33277" align="aligncenter" width="500"]
Fusuma sliding doors and tokonoma decorative alcove, in the shade to the right.[/caption] [caption id="attachment_33278" align="aligncenter" width="500"]
kawaii detail I found![/caption]
Dinner at the Robatayaki Restaurant
We had dinner at an excellent restaurant in
Aburaya
, located only a few minutes walk from
Guesthouse Shiromachi
. In an old
Edo-era ryokan
, the Aburaya restaurant serves typical Japanese cuisine: the
robatayaki
(slow-grilled over hot charcoal.) At the center of the restaurant, Chef Asao Naganuma grills various dishes on the fire place, directly in front of the guests. Obviously we settled down at the counter in front of the chef! [caption id="attachment_33279" align="aligncenter" width="500"]
Counter at the robatayaki grill.[/caption]
We were lucky to have been given an English menu which displayed a wide variety of dishes. For starters, we savored some perfectly seasoned sashimi (raw fish). Then we selected an assortment of chicken and octopus skewers that were cooked in front of our very eyes and served directly by the chef using a 'shamoji', wooden spatula! You can eat it all with some Japanese rice.
The chef is serving us the meals with a big shamoji ![/caption] [caption id="attachment_33281" align="aligncenter" width="500"]
Sashimi[/caption]
General Information
Lunch: 11:30 - 14:30 / Dinner: 17:00 - 23:00
Closed on Monday
Budget: 3,000 - 4,000 yen per person
Address :

42 Ozu,

Ozu-shi,

Ehime

795-0012

.
Access to Guesthouse Shiromachi
Shiromachi Guesthouse
is conveniently located in the heart of Ozu's old town, a 20-minute walk from Iyo-Ozu Station. It is only 50 kilometers southwest of
Matsuyama
. Ozu is easily accessible by train from the
JR Yosan Line
, which also stops by Uchiko Town. From Matsuyama, you can choose between a 37-minute express train or a 70-minute local train. All of Ozu's attractions are within walking distance of the guesthouse. By car, it takes about 55 minutes from Matsuyama.
Booking
You can book a room at Guesthouse Shiromachi on Booking.com or on Airbnb. [cft format=0] Original article: fabienne
The post Staying in the Old Town, Ozu at Guesthouse Shiromachi appeared first on VOYAPON.