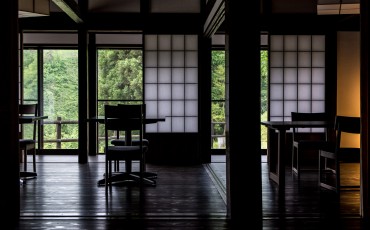 Sleeping in the countryside, surrounded by wild nature is possible! The village of Tanekura is a small rustic hamlet perched in the Japanese Alps. This small town located in the prefecture of Gifu could be your dream destination: The Tanekura Inn. Tanekura, like other villages in this region, has remained authentic and retains the lush greenery of its mountains and terraced rice fields, and it's only 40 minutes from Takayama.
How to Get to the Village?
From Tokyo, take the Tokaido Shinkansen to Nagoya for 1.5 hours.
Wide View Hida
Then take JR Limited Express Wide View Hida. A train which connects Nagoya with Hida Furukawa for 2 hours and 30 minutes. The train is spacious and has wide windows for observing the scenery. During this journey, a voice announces important things to see, like castles, beautiful rivers, and more, which is quite uncommon.
Train to Sakakami
To Hida Furakawa, I took another train to the nearest station of Tanekura Inn, Sakakami Station. During the twenty minute train ride, I had the chance to see beautiful valleys, so keep your eyes open. To get to the hotel, the staff can pick you up depending on your train schedule. Alternatively, take a taxi from Hida Furukawa station (about ¥7000 one way).
Tanekura Village, in the Heart of the Japanese Alps
Once having left my belongings in my room, I took a walk to discover the village composed of barely 20 inhabitants and to enjoy the sunset. The village was beautiful because it was surrounded by rice fields, mountains and had a panoramic view over the nearby valleys. The houses in Tanekura Village are traditional, mainly wooden. The inhabitants mainly work in the fields or in the forest surrounding the village. Take a walk in this village to listen to and see the nature. Admiring the landscape is an incredibly relaxing way to spend your afternoon!
[caption id="attachment_28054" align="aligncenter" width="500"]
Can you see Tanekura Inn?[/caption]
Tanekura Inn, An Old Japanese House Over a Hundred Years Old
Originally, the building was a family house over a hundred years ago where a family lived in the Negasore region. Then, the building was relocated and renovated in Tanakura only a few kilometers from its original location to make a hotel. The house is beautiful and has views from all sides of the surrounding hills and forests! You can't imagine it until you stay at Tanekura Inn. Staying here will give you a glimpse into Japan's ancient and pristine countryside, a glimpse into Japan's soul if you will. Take your time, relax, and soak in the peaceful atmosphere. You will leave feeling refreshed and awakened.
Sleep at Tanekura Inn, A Gorgeous Experience In Nature
There are no grocery stores or konbinis nearby. Sleeping here is really about getting closer to nature and enjoying a quiet stay.
The Main House
The house was built using the traditional construction methods of this region. Tanekura Inn has been renovated so the house is suitable for accommodation. Nevertheless, it felt homey because they managed to keep the spirit and the atmosphere of the house intact, even after renovation and relocation. The spaces on the ground floor are common spaces. There is a dining space where guests can have dinner and breakfast... There is even an irori, a traditional Japanese sunken hearth used for cooking. Every room has large windows which overlook the countryside and the mountains. Upstairs, there are 4 bedrooms, some of which have tatami mats and others with beds.
Annexes
Tanekura Inn has three annexes, two of which are private accommodations for 4-5 persons. The third house is used for a soba making workshop, which you can join by registering in advance.
My Room
My room was
beautiful and simple
. The decorations were delicate. Beautiful, fresh tatami covered the ground, and I had an exceptional view of the valley.
[caption id="attachment_28041" align="aligncenter" width="500"]
The view from my room ![/caption]
Common Areas
All common areas are on the ground floor. There is even a spacious room with a incredibly high ceiling. All the materials used in decoration are chic and elegant. I really liked the dark wood used throughout the house.
Bathroom
The relaxation and bathroom areas are located on the right side of the building. The bathroom is just beautiful. The cypress wood bathtub was elegant and natural. All these spaces are shared but not mixed by gender. Like traditional Japanese baths, first wash, rub, then rinse by sitting on a small wooden chair in front of the shower. Once rinsed,
you can soak in bathtub, facing the natural landscape.
Dinner
All of the meals were well prepared with local and seasonal products. The chef took special care to avoid using animal proteins and sugar. Everything is based on products like rice, millet, tofu, wild vegetables (sansai), buckwheat, and soya. Absolutely fabulous. The staff explained all the vegetables and dishes to help me understand Japanese food and local gastronomy. I discovered new, unexpected flavors during my meal, for example, different kinds of tofu, mountain vegetables such as kogomi, warabi. I even had the chance to taste a river fish (iwana), which had been grilled on the fire, in the irori: too good!
[caption id="attachment_28056" align="aligncenter" width="500"]
The chef who grills my river fish[/caption] [caption id="attachment_28058" align="aligncenter" width="500"]
Appetizer was composed by two rice balls with red ginger on top and local vegetables with tofu (shiraae) ![/caption] [caption id="attachment_28059" align="aligncenter" width="500"]
A dish made up of all kinds if wild vegetables such as kogomi and udo... also several kinds of tofu[/caption] [caption id="attachment_28060" align="aligncenter" width="500"]
Vegetable tempuras ( little bamboos, sansai, shiitake...)[/caption] [caption id="attachment_28061" align="aligncenter" width="500"]
Soba[/caption] [caption id="attachment_28062" align="aligncenter" width="333"]
The river fish with white rice[/caption] [caption id="attachment_28063" align="aligncenter" width="500"]
The dessert made by tofu with panacotta souse, apple jams and coconuts...[/caption]
Breakfast
In the same manner as dinner, breakfast follows the same line. A pure delight! It filled me with energy to begin my day. After eating I went back to Hida Furukuwa for a tour of the city.
Tanekura Inn: Information
Please check out this website for more information and to make reservations. The nearest station: Sakakami Station
40 minutes from Takayama
[cft format=0] Original article by : Estelle Translated by: Aika Ikeda
The post Stay in Tanekura Inn, in the heart of the Japanese Alps appeared first on VOYAPON.