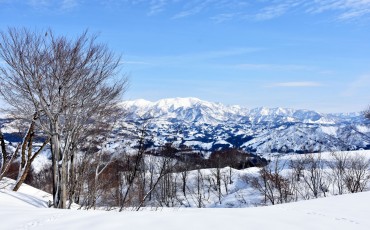 Sponsored by UONUMA City Tourist Association
Uonuma is a small town located in Niigata-prefecture, approximately 2 hours by train from Niigata city. The city is surrounded by beautiful nature and there is a fantastic view of the Echigo Sanzan mountains. Uonuma is famous among the Japanese people for its high-quality rice, Koshihikari. [caption id="attachment_25301" align="aligncenter" width="500"]
View over Uonuma and the mountains[/caption] At first glance, it may seem like a small town such as Uonuma does not have much to offer a tourist, but that is simply untrue! I will go into detail about my wonderful experiences in Uonuma, but this video really highlights the beauty and culture of this special town.
:
Uonuma is famous for Eirin temple and Saifukuji temple. These two temples have many colourful sculptures made by Uncho Ishikawa, who was active during the Edo-period in Japan and is known today as the Japanese Michelangelo. These two temples have become Cultural assets in Niigata prefecture.
[caption id="attachment_25309" align="aligncenter" width="500"]
Suhara ski-resort[/caption] [caption id="attachment_25308" align="aligncenter" width="500"]
Some teenagers are taking the lift up to the top[/caption]
Suhara Ski resort is located in Uonuma, and it is a great location for skiing and snowboarding. The mountainous area and the amount of snow makes Suhara ski resort a fantastic choice for a winter vacation.
Uonuma is also an amazing location for snowshoe-trekking. You can take the ski-lift to the top of the mountain and start your trek from there. The view over the mountains is breathtaking. Prices for both skiing and snowshoe-trekking are very affordable and it is therefore a great choice even for people with a low budget.
Prices for skiing:
1-Day ticket: 3,600 yen
1-Day ticket on weekdays: 2,100 yen
Half-Day ticket: 2,600 yen
2-Day ticket: 6,200 yen
Prices snowshoe-trekking:
40-minute trial with guide: 2,000 yen
1-Day with guide: 6,000 yen
How to get there:
From Tokyo Station take the Joetsu shinkansen to Urasa station. From there take the JR-line to Koide station. From Koide station, you can take the Tadami line to Echigo-Suhara station.
The Suhara ski-resort and Urashin minshuku are just 5-minute walk from Echigo-Suhara station.
Information on how to book a guided trek:
The Minshuku Urashin in Uonuma has guided snowshoe-treks available. The guide speaks both Japanese and English and can give you a proper explanation of the mountains and animal prints you will find in the snow. You can contact them for more information about booking a guided snowshoe-trek.
[caption id="attachment_25305" align="aligncenter" width="500"]
My guide packing down our equipment after our snowshoe-trek[/caption]
My first time snowshoe-trekking!
I have always preferred summer activities, partly because of the warmth, but also because I have never been very good at skiing or snowboarding. This winter I went to Uonuma to try snowshoe-trekking for the first time, and I was expecting it to be difficult, and I expected that I would be falling down a lot. Instead, much to my surprise, it was the most enjoyable winter experience I have ever had!
[caption id="attachment_25304" align="aligncenter" width="500"]
My first time snowshoe-trekking[/caption] [caption id="attachment_25306" align="aligncenter" width="500"]
Modern snowshoes[/caption]
I met my guide at 09:30 in the lobby of the Minshuku Urashin after having had breakfast.
My guide had prepared the snowshoes for me in advance, and then we took off and walked to Suhara ski resort. The ski resort is only a few minutes by foot from Urashin, and the weather was clear and sunny. We stopped to put on our boots before getting on the ski-lift, and as we were making our way up the mountain in the lift, I saw children and adults of all ages swish down the slopes on skis or snowboards.
As we got up to the top of the mountain, we walked a short way and suddenly all the happy skiers and snowboarders were out of sight. It was just me and my guide on top of the mountain. The snow stretched untouched in front of us, the sun reflecting off the surface. It looked like a wild winter wonderland, and it was absolutely beautiful.
[caption id="attachment_25300" align="aligncenter" width="500"]
From a well-walked path to a complete wilderness[/caption] [caption id="attachment_25303" align="aligncenter" width="500"]
Untouched winter landscape without any people around[/caption]
Once my snowshoes were on, it did not take very long to get the hang of how to walk. In just a few minutes I had stopped using the trekking-poles for support was able to walk freely. It was such an amazing feeling to trudge through the deep snow with little effort and just enjoy the silence and the landscape.
[caption id="attachment_25302" align="aligncenter" width="500"]
Rabbit tracks were the only signs of life as we were trekking[/caption]
My guide pointed out the mountains and told me the names of each one. He also pointed to what direction Tokyo and my home, Fujinomiya, were located. We spotted some tracks left behind by rabbits, but other than that we could only see our own footsteps. To me, the feeling of being along in the wilderness and sharing this private moment in nature was the best part of the experience.
The actual snowshoe-trekking only lasted for about 40 minutes and we covered a distance of 1 km. But it was long enough to make me want to go for a longer trek next winter. I never thought I would be thinking about a longer winter vacation surrounded by snow and cold, but I am hoping to go back to Uonuma next year for a full day of snowshoe-trekking.
[caption id="attachment_25307" align="aligncenter" width="500"]
Uonuma and the mountains stretching out under the ski-lift[/caption]
The perfect end to the snowshoe-trek was the ride down in the ski-lift. I could see the small city of Uonuma stretching out in front of us, and the small houses with snowy rooftops looked like a postcard with the mountains continuing all the way to the horizon.
Uonuma City Tourism Association
Would you like to discover Uonuma more? Click here for more information
Need help? For accommodations or sightseeing inquiries, please contact us any time (English available)
:
The post Uonuma, Niigata – Snowshoe-Trekking in a Winter Wonderland appeared first on VOYAPON.