Some of the most Romantic places in the world are right here in our beautiful home of the United States of America. From the sweet southern town of Savannah to the islands of Hawaii, there are so many romantic places to choose from. Read on to find out the 18 best places to travel to in the USA in 2018.
Best Places to Travel:
Savannah, Georgia – Collette & Scott, Roamaroo
Savannah, Georgia is a whimsical city that seems to transport you back to the times of fairytales. Nicknamed "Slo-Vannah" for its leisurely pace on life, this sweet Southern city is a place to appreciate the little things in life. With its antebellum architecture, stunning Spanish moss trees, and a gourmet restaurant scene, its no wonder Savannah Georgia is known as one of the most romantic places in the world and by far one of the best places to travel to in 2018.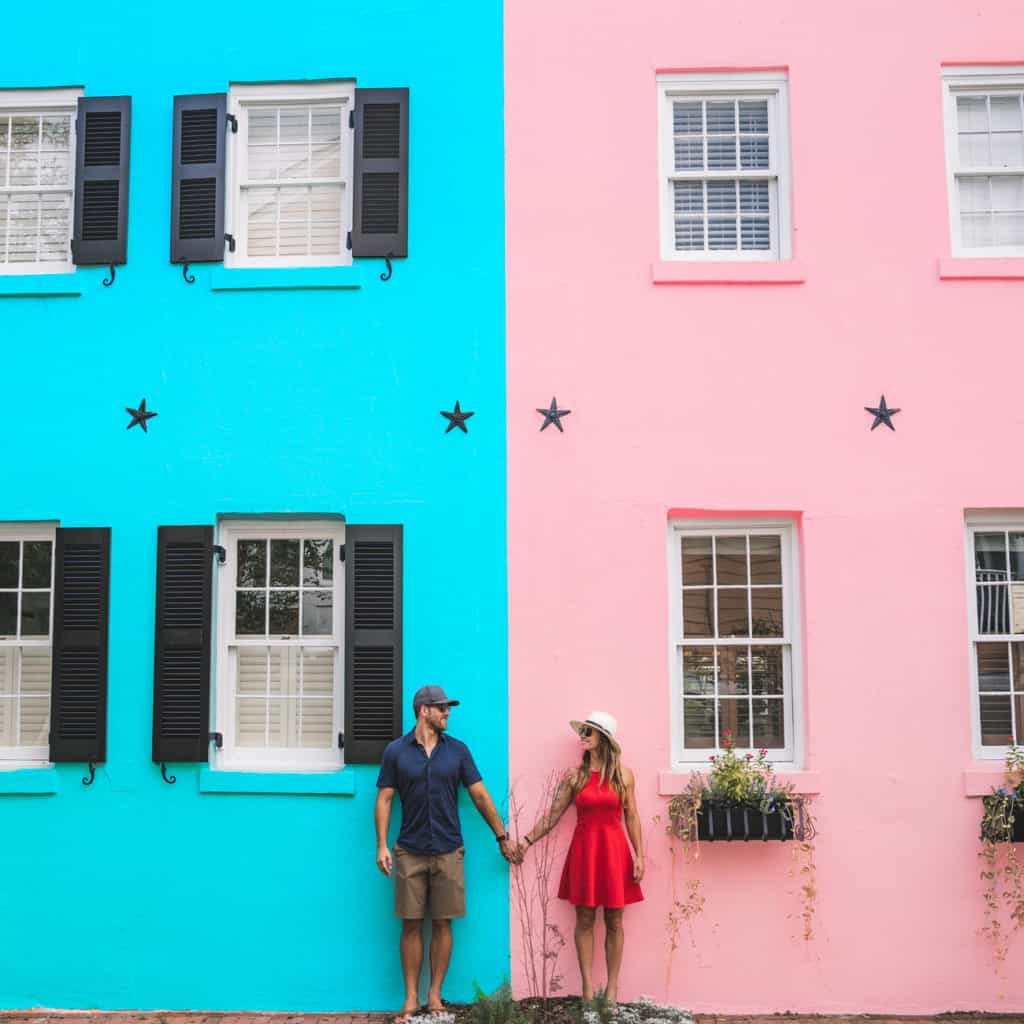 San Francisco, California – Paroma, Year of the Monkey
San Francisco, California is my adopted home and possibly the prettiest city in USA where laid back Californian vibe meets classic European charm via Victorian houses, rolling streets and cable cars. Although only 49 square miles, the hilly topology and the unique weather pattern make it a city distinctly different from others and can stir romance in even the most cynical of hearts.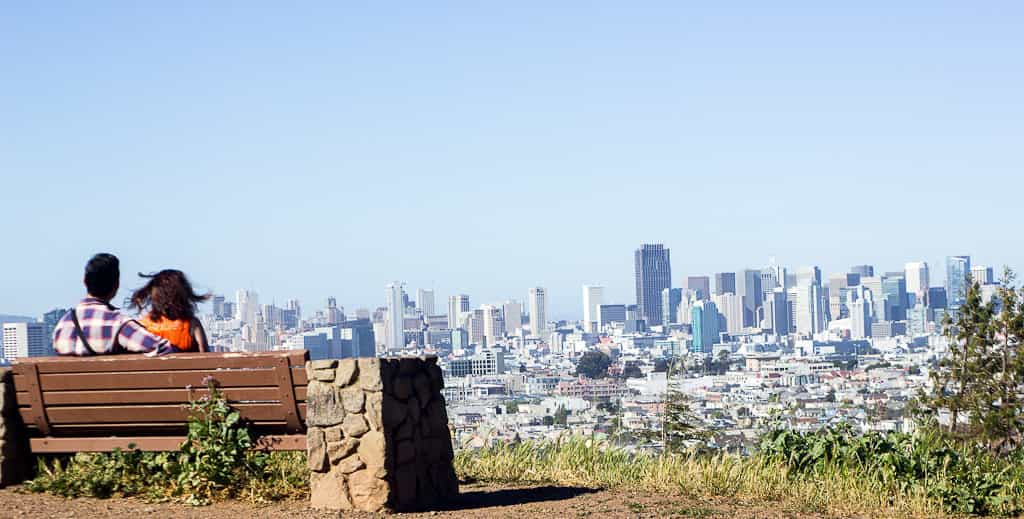 Breathtaking panoramas from our several lookout points, a romantic dinner with a view to die for, such as the Cliff House at Land's End or a a quiet evening watching the fog roll over the majestic red of the Golden Gate bridge will definitely help hearts go aflutter. For outdoorsy couples, there are several urban hikes all over the city and day trips to Napa and Sonoma are great for wine loving couples. Finally, the bustling restaurant scene or one of the many food tours in the city is perfect for foodie romantics while the abundant art and cultural events (SF Jazz center, museums, murals and theatre) are just the right romantic escapades for art lovers of all tastes. This city is extremely walkable as well and can be discovered walking hand and hand to kindle some much needed romance or one can simply catch a cable car ride to discover our historic neighborhoods such as China town and Nob Hill. Finally, the hidden lanes of Russian hill are great for quiet romantic explorations and spending an evening at one of our beaches (Ocean beach/Baker beach/Marshalls beach or the super secluded Mile Rock Beach) is the perfect way to end the day in the glow of a romantic sunset over the Pacific Ocean.
Oregon – Victoria, Follow Me Away
What is more romantic than natural hot springs hidden in the woods, craft beer, waterfalls, walking along a windswept beach, and wineries? We will wait!! Oregon is a totally underrated romantic destination you need to visit in 2018! It is actually quite affordable to get to and you can easily fly into Portland or Eugene.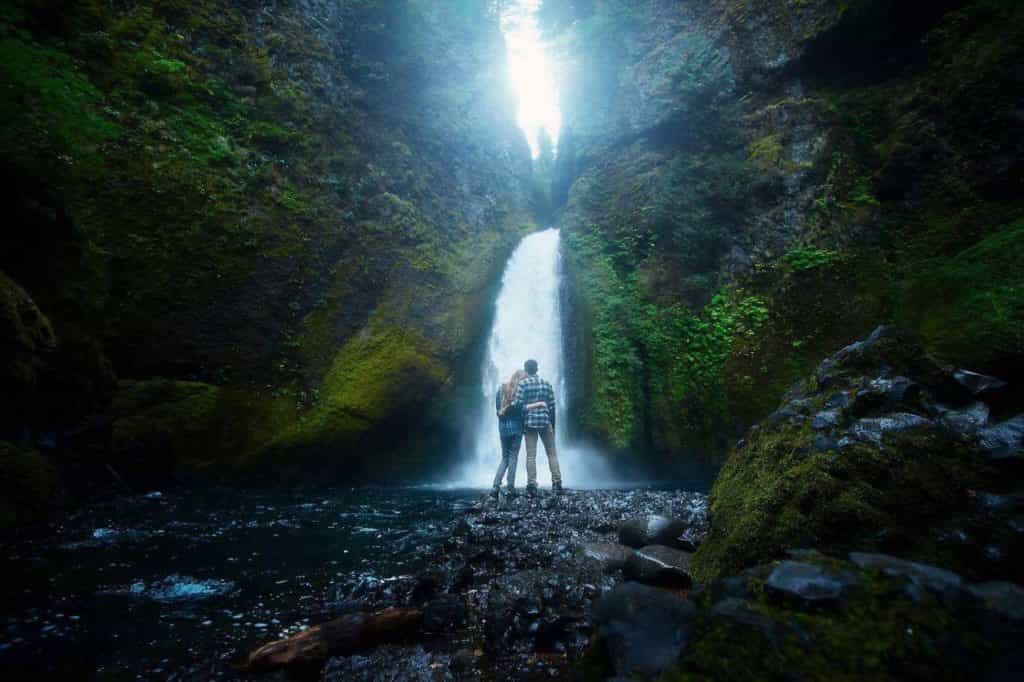 If you are looking visit wine country that isn't overrun with tourists, head to Eugene, Oregon. Eugene is located on the Willamette Valley, which is home to many wineries which produce nationally known wines. It is also home to delicious food and more craft breweries than you can count! When you aren't stuffing your face or sipping wine with your sweetie, head one hour west to the Oregon Coast or one hour east to the McKenzie River which is home to hot springs, fantastic waterfalls, and volcanic rock. There is nothing more romantic than going for a Swim in a hidden hot spring in the woods and then going for a romantic dinner at a local winery!
For places to stay, check out the Inn At The 5th. It is a French style hotel that is right next to the 5th Street Public Market which is an adorable part of Eugene filled with eclectic shops and delicious restaurants. It is nearby the main roads so you are never far away from a waterfall or a winery!
If you are looking Visit wine country that isn't overrun with tourists, head to Eugene, Oregon. Eugene is located on the Willamette Valley, which is home to many wineries which produce nationally known wines. It is also home to delicious food and more craft breweries than you can count! When you aren't stuffing your face or sipping wine with your sweetie, head one hour west to the Oregon Coast or one hour east to the McKenzie River which is home to hot springs, fantastic waterfalls, and volcanic rock. There is nothing more romantic than going for a Swim in a hidden hot spring in the woods and then going for a romantic dinner at a local winery!
For places to stay, check out the Inn At The 5th. It is a French style hotel that is right next to the 5th Street Public Market which is an adorable part of Eugene filled with eclectic shops and delicious restaurants. It is nearby the main roads so you are never far away from a waterfall or a winery!
Charleston, South Carolina – Elizabeth, Compass & Fork
Horse drawn carriage rides and a visit to the plantation where Gone with the Wind was filmed make Charleston, South Carolina the perfect place for a romantic getaway.
Learn all about Charleston on a walking tour of the historic district. As one of the few places to not enforce prohibition, you can enjoy a pre-dinner drink in one of the many historic bars serving drinks without interruption for hundreds of years.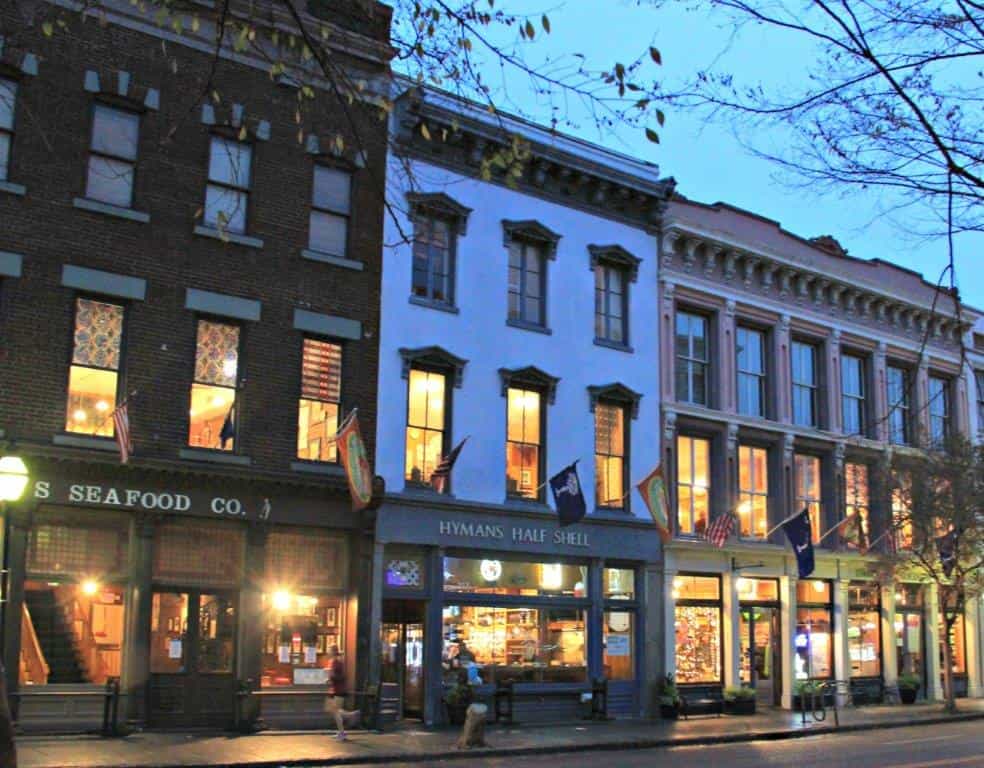 And dinner is a short stroll away with plenty of opportunities to try "Low Country Cuisine" in one of Charleston's many award-winning restaurants. In fact, Charleston has a reputation as one of the USA's finest cities for food with three James Beard award winning restaurants.
After dinner, as you make your way back to your hotel, the historic gas street lights burn creating a soft, romantic glow. As to where to stay, try the relatively new art-deco boutique hotel, The Spectator or the historic charm of The Planter's Inn. Either is perfect for a romantic getaway and a short walk to all of historic Charleston.
Walla Walla, Washington – Sarah & Nathan, Discover the Pacific Northwest
The quaint town of Walla Walla in Eastern Washington State has everything needed for a romantic getaway. Set in the Walla Walla Wine Valley, in view of the rolling Palouse Hills and Blue Mountains and surrounded by fields of crops and vineyards, it is a scenic feast as you drive into town. The town itself exudes charm, starting with main street and branching out into the surrounding tree-lined avenues.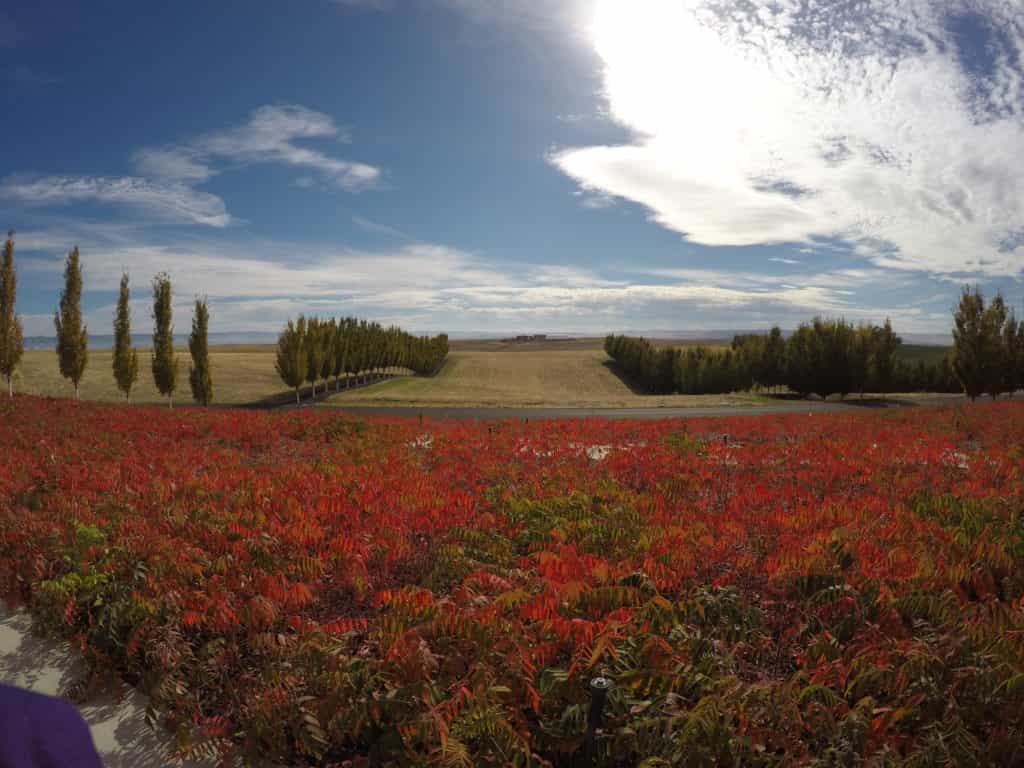 You will find boutiques, vintage shops, restaurants and tasting rooms offering enticing goodies and full of friendly faces. There is also no shortage of romantic accommodations including two of our favorites, the Marcus Whitman Hotel and the Green Gables Inn. Our suggestion for a romantic weekend is to spend your time touring the lovely Walla Walla wineries, strolling down charming main street, enjoying a delicious meal at one of the many fantastic restaurants and ending the evening with some live music at one of the funky bars before retiring to your cozy love nest.
Colorado – Nathan, TravelLemming
Picture walking down secluded golden Aspen forest trails with your partner while sun-kissed leaves wisp down from above, relaxing in a natural hot spring next to a babbling brook, or cozying up next to a fireplace after a day of skiing the state's famous powder. That's just a small taste of the many romantic experiences that await in Colorado's vast mountain frontier.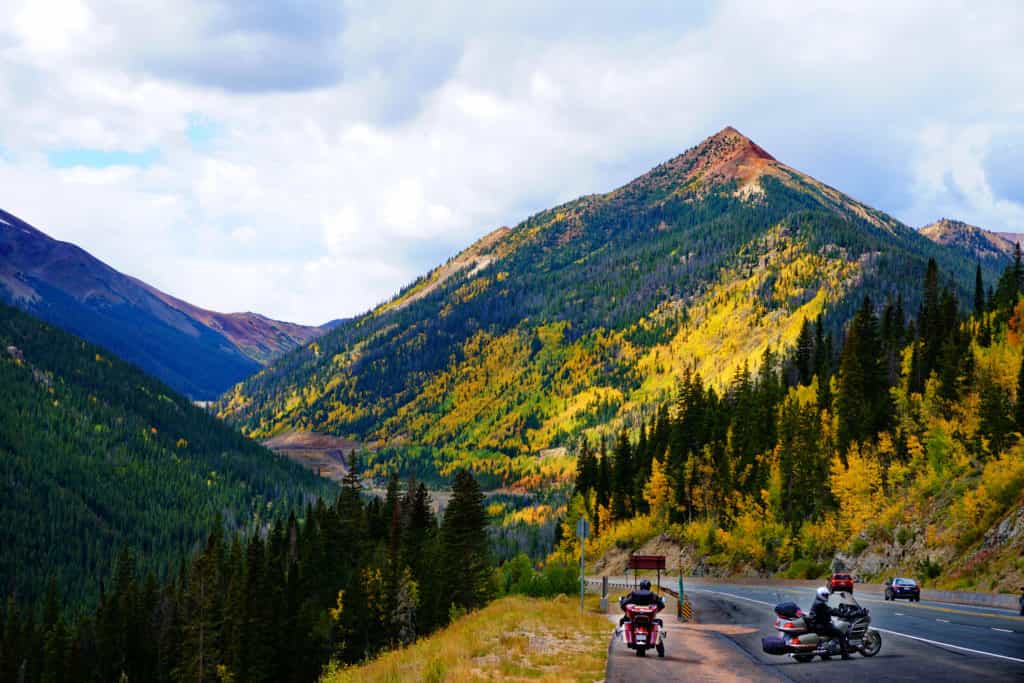 For a unique romantic getaway, consider splashing out on a weekend at the Home Ranch north of Steamboat Springs, an all-inclusive upmarket lodge in a fairytale setting. Or, if you fancy relaxing in some hot springs with your partner while gazing at mountain vistas, check out the Mount Princeton Hot Springs resort.
But Colorado's romantic appeal isn't just for couples: singles will find it easy to pair off the state's booming capital, Denver, which each month welcomes hoards of new young residents fleeing the country's coasts in search of a more relaxed lifestyle, easy access to the mountains, and — just maybe — that special someone. Be sure to take in a sunset or sunrise over the stunning Red Rocks Park, and for a unique stay check out Patterson Inn, a French-style chateau in historic Capitol Hill.
Naples, Florida – Lori, TravlinMad.com
Naples, Florida is a great place for couples and one of the most romantic spots in all of Florida. Located in the southwest corner of the Sunshine State near the Everglades, Naples offers couples a quieter option than its livelier east coast neighbor Miami, with all the amenities and luxury one could want.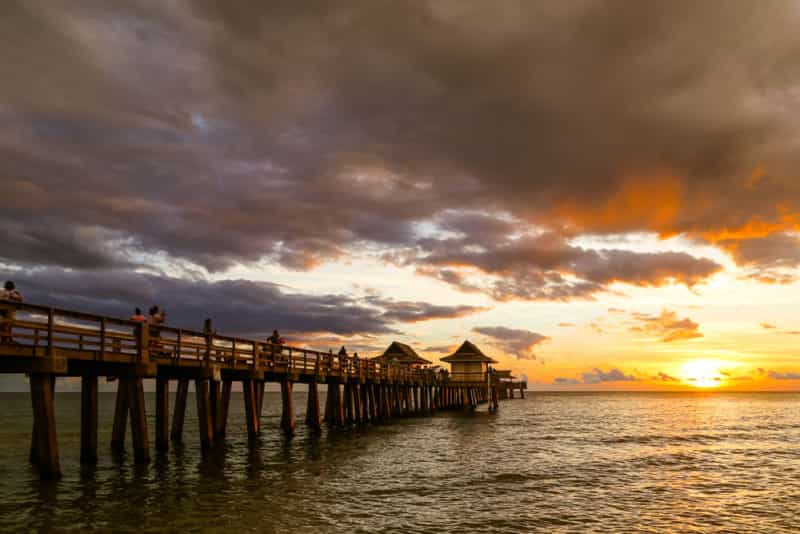 Florida's west coast is widely known for their calm azure waters and gorgeous white sand beaches, and Naples has enough for every taste, from family beaches to deserted stretches of beach with unique seashells washing ashore everywhere — the perfect souvenirs. 360 days of sunshine in Naples make for ideal kayaking, paddleboarding, boating, snorkeling, hiking, and wildlife adventures, where you'll see turtles, alligators, and manatees in their natural habitat. Downtown Naples is the place to be for premier shopping, quaint farmers markets, and fantastic dining…and there are enough great restaurants to keep you busy for months. And at the end of each day, join locals on the beach at the Naples Pier where everyone celebrates the most amazing fiery sunsets, the best way to bid farewell to a perfect romantic getaway.
Florida Keys – Megan Starr
I think one of the most romantic places in the United States is the Florida Keys. I have been to the Keys numerous times throughout the years and it gets better and better each time I take a road trip through them. Key West, the renowned city at the end of the Lower Keys is teeming with romantic spots, delicious restaurants with local fare, and places to have fun with your partner regardless of what your relationship is classified as.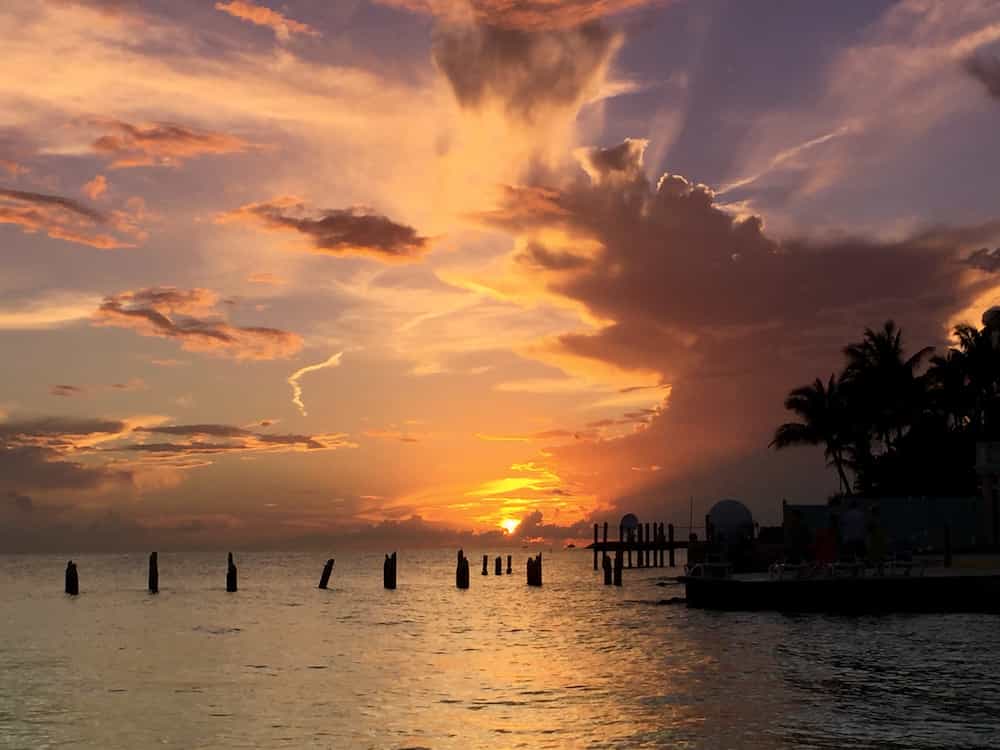 While Key West has it all, my favorite place in the Keys is Bahia Honda State Park, a wildlife and nature sanctuary in the Middle Keys where you can enjoy the warm and clear waters or simply watch the colors of the sky change as weather moves over the small island. I can't wait to go back to the Florida Keys and enjoy another romantic sunset with my partner when I am back in the States!
What would be more romantic than watching the sunset or sunrise with your partner at a gorgeous beach in Hawaii? Right, nothing beats this. The Hawaiian islands, and especially Maui, are well-known for romantic getaways, but Kauai is my favourite romantic place.
I believe that doing activities together makes a perfect vacation and Kauai has dozens of outdoor options for couples: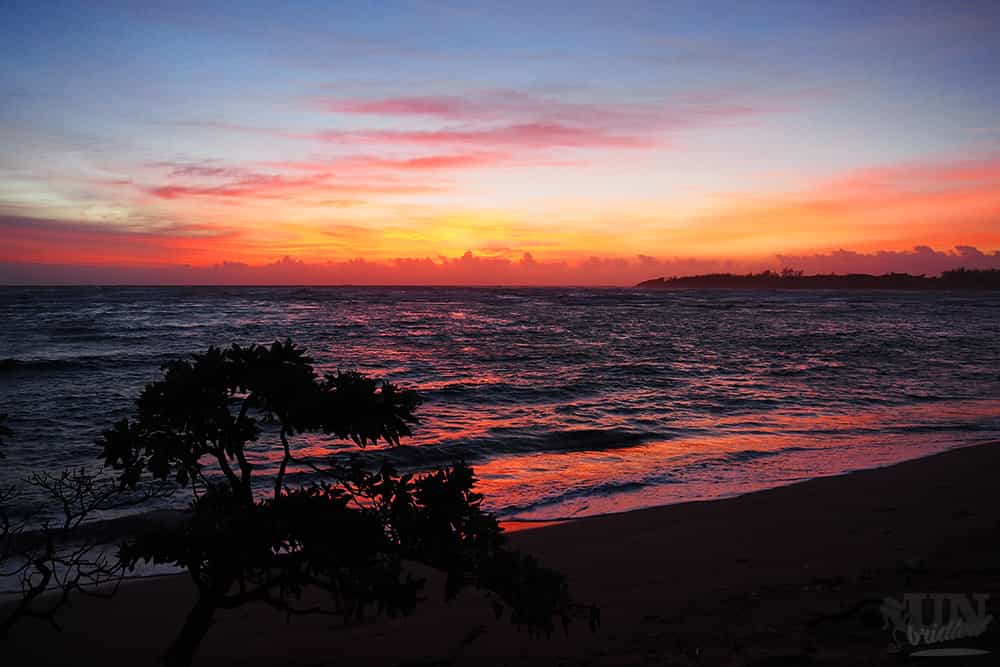 Hiking the Kalalau trail and enjoy an empty beach for some peaceful time together; snorkelling with sea turtles for picture-perfect photo memories; exploring the Waimea Canyon which is the Grand Canyon's little sis; cliff jumping for the adrenaline kick; or taking a dip in a tide pool at sunset. You can also have a sunset dinner on a boat while cruising along the breathtaking Na Pali Coast or book a helicopter ride that shows you the whole island from above. Then finish your day by cuddling up under the Milky Way at Polihale Beach in the West of the island. When you see a shooting star, you will wish that this romantic trip never ends.
Juneau, Alaska – Lina & David, Divergent Travelers
For the adventure seeking couples, Juneau, Alaska knows no limits to adrenaline romance. Being the capital of Alaska you have access to modern amenities but due to it's location and no access to outside roads, it has all the perks of being in the backcountry. With only a 42 mile dead end stretch of road you have access to over 250 miles of hiking trails that lead you up, through and around the mountains and wild nature that surround Juneau.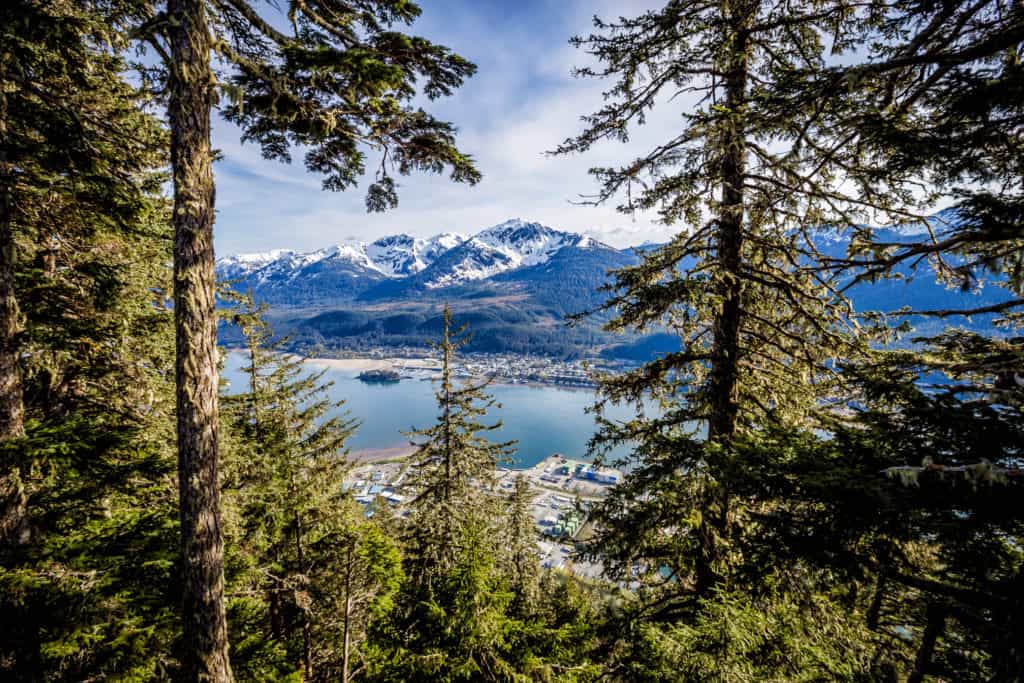 When you've had your fill of walking, take to the skies for a flight over the Juneau Ice field and enjoy an authentic Salmon bake at the Taku Glacier Lodge. If you fancy something more hard core, helicopter onto a glacier and try your hand at dog sledding. Juneau also showcases some beautiful ice caves that are accessible by paddling across the Mendenhall Lake right up to the face of the accessible Mendenhall Glacier. A visit allows you to hike through the caves and then up onto the glacier. If you want access to amazing food, nightlife and a city vibe try staying in one of the locally owned downtown hotels that boast fireplaces and hot chocolate. If you crave something more remote for some alone time with your sweetie, book a cabin in the woods. When it comes to romantic opportunities, Juneau is endless.
Maui – Sheralyn, Paradise Found in Maui
Maui offers endless opportunities for romance with an endless supply of pristine beaches, untouched jungle to explore, romantic restaurants, and luxurious resorts.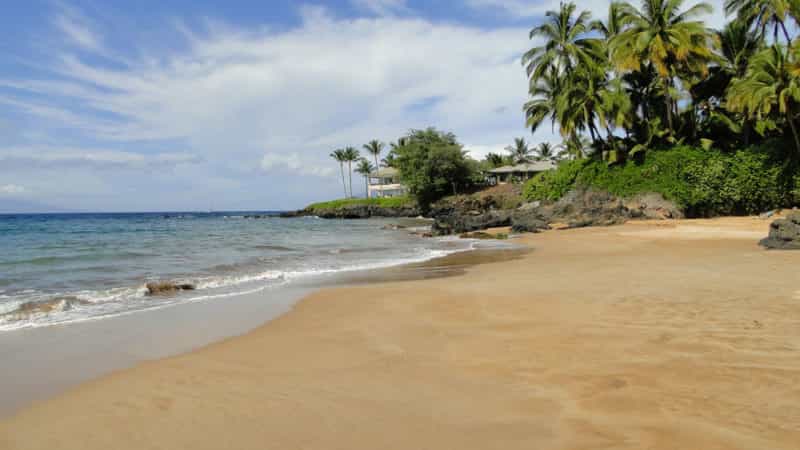 Take in the absolutely stunning sunset at one of south Maui's most popular beaches for weddings: Poolenalena. It's often almost empty by the time the sun goes down, leaving you and your love to enjoy it with more privacy. If you're looking for a nearby place to stay, the elegant Fairmont Kea Lani is absolutely amazing.
A splurge on the most romantic luau on the entire island – the Feast at Lele – is another must-do. You'll be treated to a Hawaiian multi-course feast fit for royalty, a private table for two, and fantastic entertainment that you'll never forget. If luaus aren't your thing, but you want to experience some of the best dining on Maui, check out the Lahaina Grill or Mama's Fish House.
You should also book a few nights in heavenly Hana, on the island's more secluded east side. You'll have easy access to some of the best hiking and most unique beaches. The Travassa Hana is the most upscale hotel on that side of the island, making it the perfect choice if you want to treat yourselves to an extra-special experience during your visit.
Boston, Massachusetts – Amy & Nathan, Two Drifters
While Boston might not be the first place one thinks of when speaking of romantic destinations, it is, in fact, abloom with romance.
Boston
boasts hundreds of intimate, top quality restaurants; perfect for sharing a sumptuous meal with the one you love. Boston is an extremely walkable city and with its parks, the Boston Common, and the historic trail, it is ideal for walking arm in arm and exploring a very fascinating city.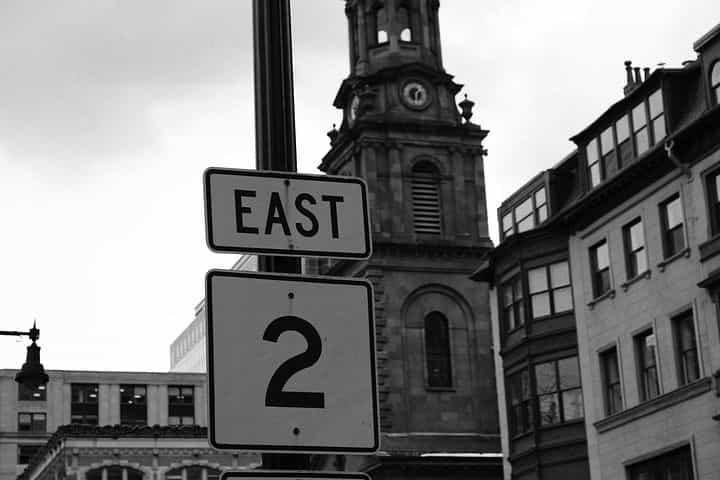 There are also several activities that speak to traditional romance. Why not climb aboard one of the swan boats? Or go ice-skating together in the winter time? In the sun begins to set over Boston, head to the Skywalk Observatory with its spectacular views from above.
Yosemite National Park, California – Soraya, Hello Raya
I don't know about you, but I find being surrounded by lush nature and a beautiful mountainous landscape pretty romantic. There is just something so romantic about escaping into the nature where air is fresh, and the only sound is the noise of nature.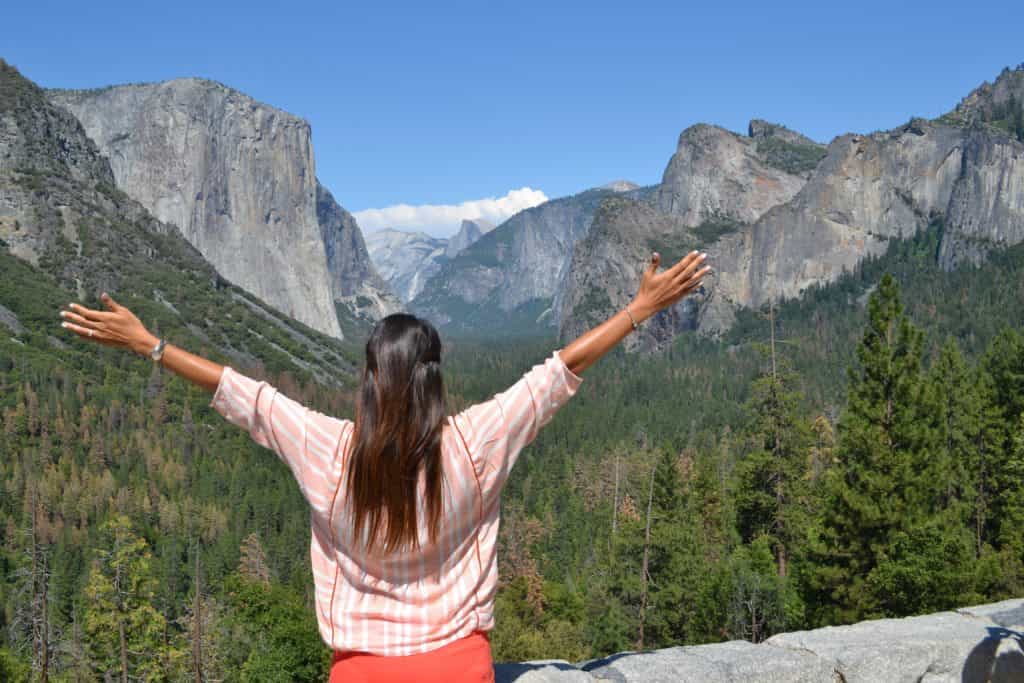 With so much to explore at the Yosemite National Park, it's a great destination for a romantic weekend away while explore California. With plenty of hiking spots, rock climbing, waterfalls to visit, a number of cosy hotels, and great viewpoints, Yosemite is a beautiful place to visit with your loved one. And if staying in a hotel doesn't tickle your fancy, maybe try staying in a cabin or try camping – the stars at night in Yosemite comes to life, which is oh so beautiful.
And if you're thinking of proposing to that someone special, what better place to do it than at Yosemite. There are some fantastic viewpoints, which will make for a romantic proposal and great photos. Yosemite is definitely one of the best places to travel to in 2018.
Mackinac Islands, Michigan – Addie, Addie Abroad
Michigan might not be the first place you think of when brainstorming romantic destinations, but Mackinac Island is without a doubt one of the most romantic places I have ever been. Reachable only by ferry, this small island just off the shore of Mackinaw City has exactly zero cars on it. Instead, residents and tourists get around by bike and horse-drawn carriage.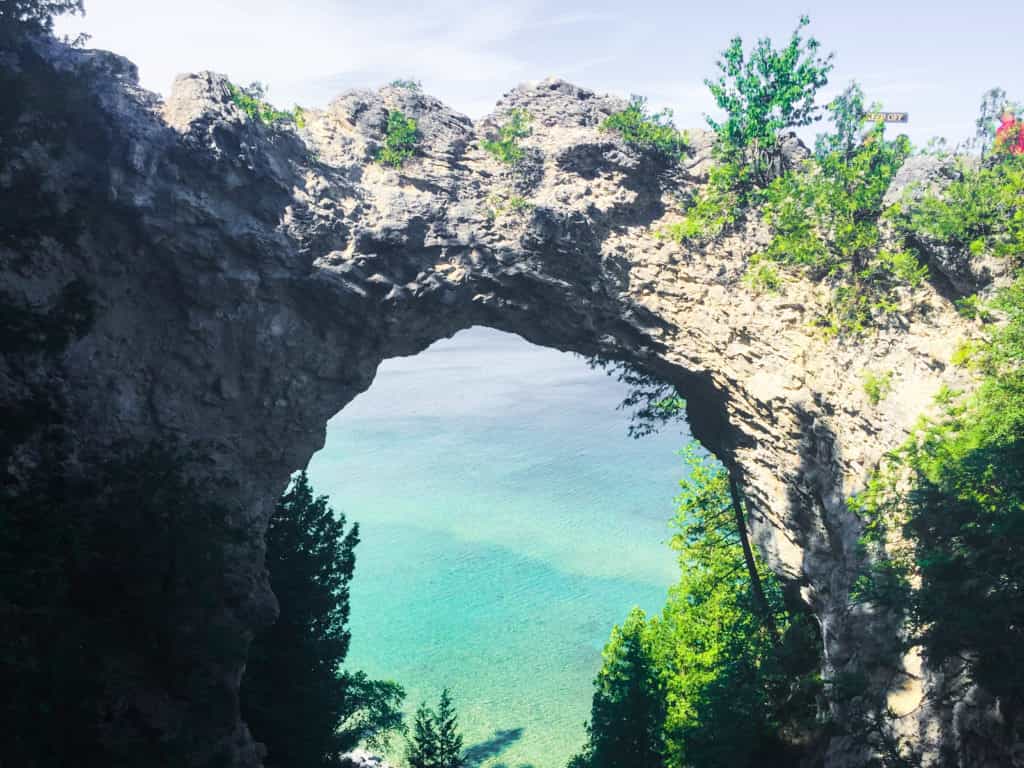 While there aren't a million museums or adventure activities to do on Mackinac Island, I promise you won't be bored. Sample some of the islands famous fudge and ride a bike around the whole island on the eight-mile "Ring Road" to work it off. Take a horse-drawn carriage tour or hike along one of the trails in Mackinac Island State Park. Eat a romantic dinner overlooking the harbor.
If you're looking to go all out on your romantic vacation, book a stay at the world-famous Grand Hotel, which has the longest porch in the world. Otherwise, there are plenty of romantic B&Bs in the main town. If you're looking to travel Mackinac Island on a budget, then I suggest camping on the mainland at Castle Rock Campground. There is nothing more romantic than waking up on the beach!
Superstition Wilderness, Arizona – Mary, The Lifelong Adventure
Approximately an hour drive east of Phoenix, Arizona, the vast Superstition Wilderness offers a unique alternative to the standard romantic getaway. Grab a tent, sleeping bags, and cooking equipment and head out into the 160,000 acres of untouched wilderness. Within minutes of setting off the sights and sounds of modern life are replaced with rocky outcroppings, saguaro cacti, and desert scrubland.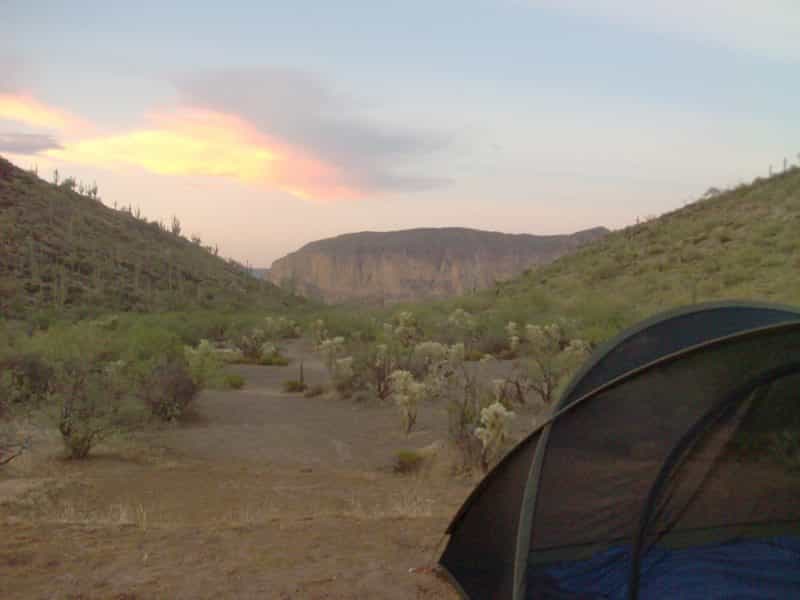 Find a spot overlooking a dry riverbed and enjoy the unspoiled views while cooking dinner over an open fire. Watch the sky turn lavender as the sun disappears over the horizon. As darkness settles in, there is nothing more romantic than snuggling up against your loved one and watching the Milky Way play across the sky.
The Superstition Wilderness is remote and it is possible to spend days wandering its various trails without ever seeing another soul. During the winter snow dusts the highest peaks and during the spring orange and purple desert flowers cover the hills. Perfect for any nature loving couple seeking time alone, the Superstition Wilderness is a truly romantic destination.
Vieques Island, Puerto Rico – Kelsey, KelseySocial
What's more romantic than deserted beaches with white sand and clear blue water? Vieques Island is located off the coast of mainland Puerto Rico and offers some of the Caribbean's most beautiful and unpopulated beaches. Travel to the island by a small propeller plane or take the ferry. Once there, pick up your previously booked rental jeep so you and your partner can explore all the beaches on the 21-mile stretch of island. Many have beautiful coves with good snorkeling; most never see more than a handful of visitors at one time. One evening, take a kayak tour of the brightest bioluminescent bay in the world. Watch the water light up as you touch it while kayaking under the stars. For a romantic getaway in Vieques, you won't need a large budget. All you need is sunscreen, a jeep and a love of adventure.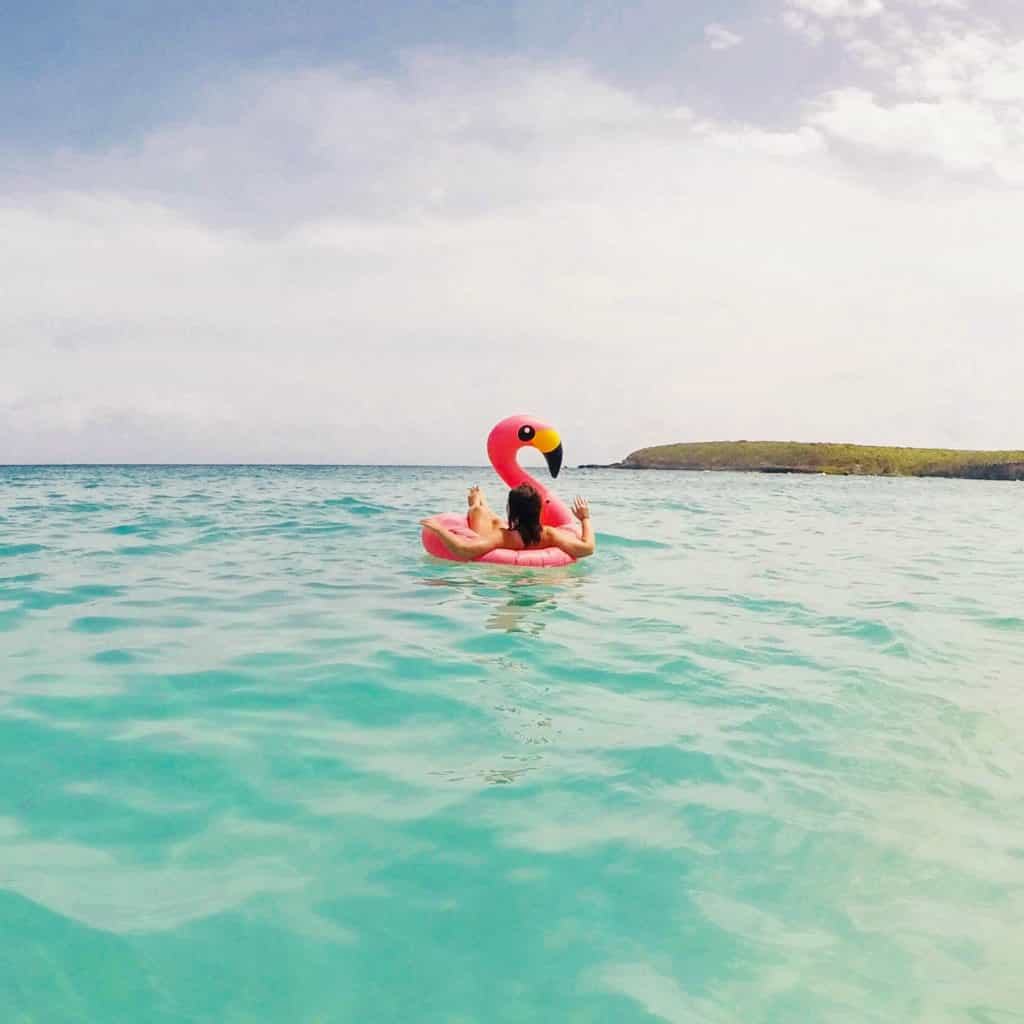 Walnut Beach, Connecticut – Danielle, CT-Thought Card
Walnut Beach is a romantic destination in Milford, Connecticut, perfect for long walks with your loved one. Its scenic boardwalk spans approximately 1.5 miles and there are plenty of benches and grills scattered throughout the rocky beach for cooking and relaxation.
Walnut Beach
is also home to a ton of events throughout the year like the Walnut Beach Arts Festival and the unforgettable free Summer Concert Series on Sundays at the pavilion. Lastly, during sunset, walk onto the pier and watch in awe as the sun melts into the colorful sky.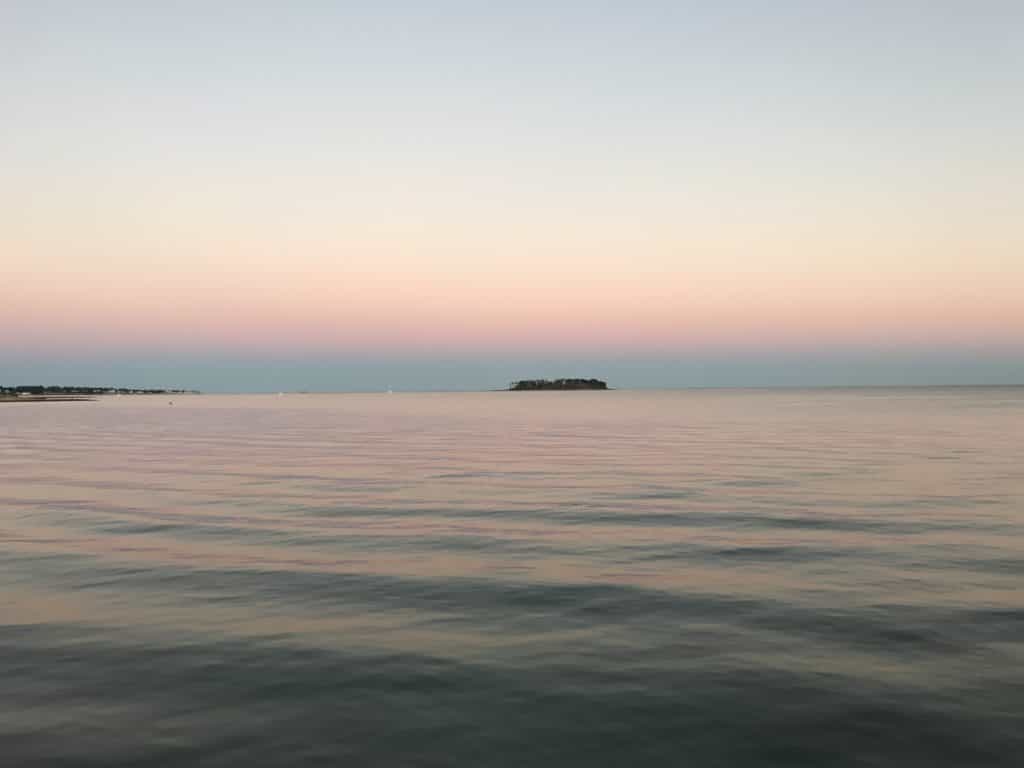 The post Best Places to Travel To in The USA in 2018 appeared first on Roamaroo.