40 Things You Should Know Before Traveling to Guatemala originally appeared on Green Global Travel.
More than any other place I've been, traveling to Guatemala seems to have a profound impact on those who brave its borders.
Despite being flagged as a risky location by various embassies around the world, the country welcomes more than 1.3 million international visitors per year. Amazingly, many of these visitors wind up deciding to stay.
Some simply loiter, taking advantage of Guatemala's cheap housing, low cost of living, and bargain Spanish classes. Some pick up work-trade agreements at hostels in paradisiacal locations, unwilling to leave when there is such an easy way to stay. There's also a bevy of volunteering opportunities and philanthropic causes to which visitors devote themselves.
I've had four long-term stints in Guatemala now. My wife Emma and I have accepted the place as a home base, including spending some serious time with an eye on buying property.
The truth can't be denied: Traveling to Guatemala is totally addictive. Spend a little time there and you'll find that friendships come easily. It doesn't take long to make connections, be engulfed into a sociable fold, and find yourself "hooked up" in all corners of the country.
From there, you begin to truly discover the wealth of rewarding places, activities, and culture Guatemala has to offer. It's something that transcends any run-of-the-mill tourism experience. Guatemala stays with you and calls you back, over and over again. Here are 40 things every traveler should know before they visit…
READ MORE: Top 5 Guatemala Ecotourism Attractions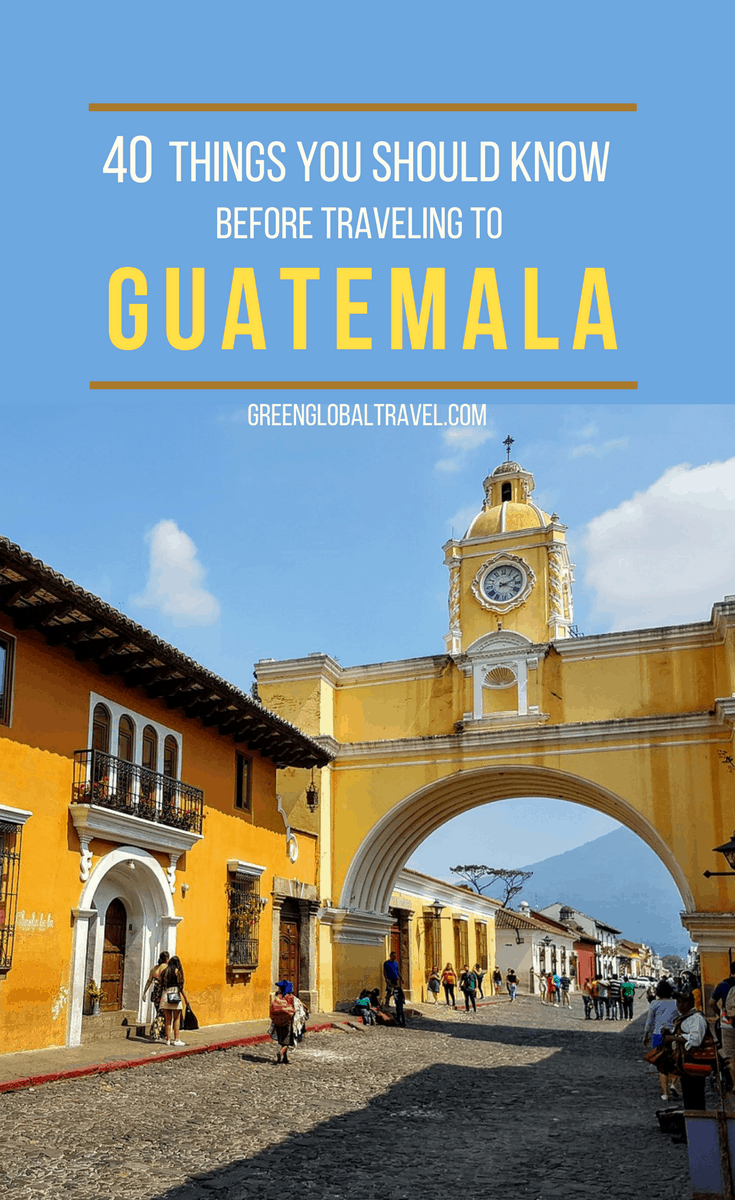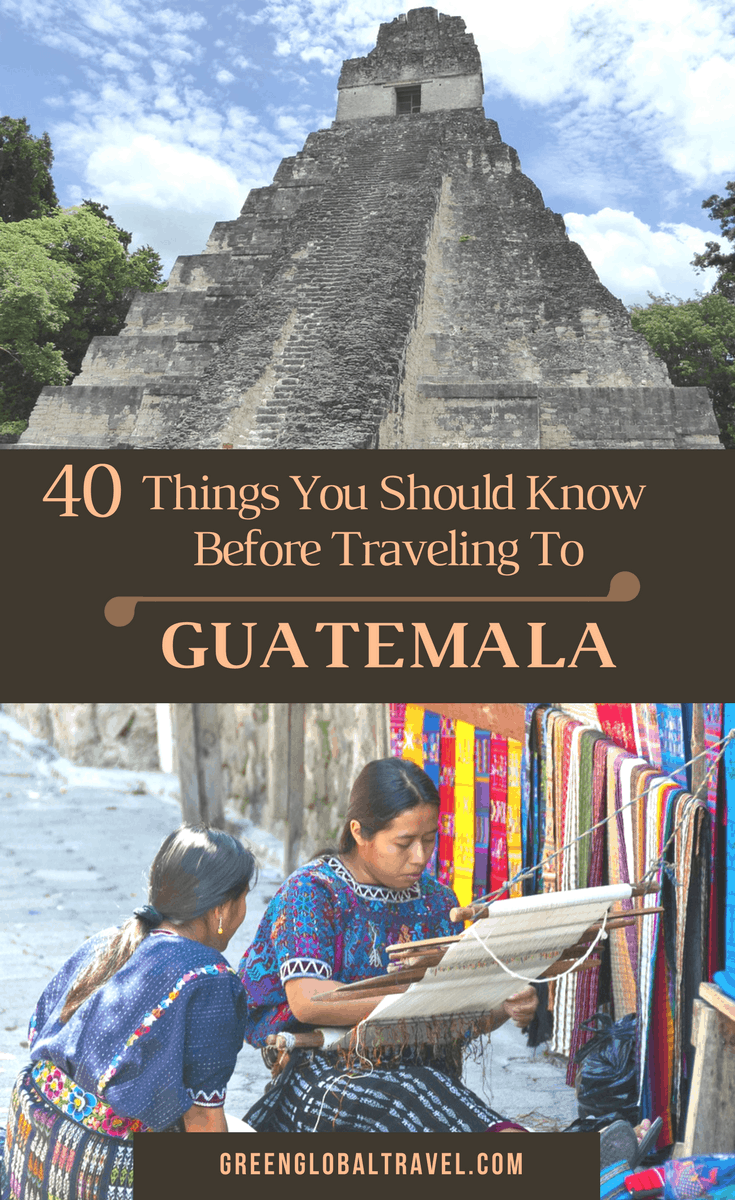 Places to See in Guatemala
Things to Do in Guatemala
Safety and Transport in Guatemala
Things to Eat (and Drink) in Guatemala
Culture and History in Guatemala
More Info on Guatemala
PLACES TO SEE IN GUATEMALA
Guatemala is a stunning highlight of the Central and South American backpacker trail. It's a place worthy of religious pilgrimages, and a multi-faceted destination for the entire family. Whether you're thrilled by natural splendor, cultural heritage, or historical sites, there's always something miraculous to discover nearby.
Volcanoes
There are around thirty volcanoes in Guatemala, a few of which actively belch smoke and bubble lava on a daily basis.
Some people simply gawk at them while lazing about in hammocks. Others throw caution to the wind and climb them.
The most common tour is to Volcan Pacaya, but the overnight trek up Acatenango may steal the award for most mind-blowing.
Mayan Ruins
The most famous ruins in Guatemala are those of Tikal, which was once a center of the southern Maya population and is now a jungle-swathed series of sky-scraping pyramids.
Tikal is a protected UNESCO World Heritage Site, as are the ruins of Quirigua (which are famous for their enormous stelae).
However, there are many other Mayan sites to visit in the country, including the epic 5-day trek to El Mirador.
Antigua
Formerly the official capital of Guatemala, Antigua (the other UNESCO World Heritage Site in Guatemala) has now taken on the role as the country's tourism hub.
It's a colorful colonial collection of cobblestone streets, crumbling ruins, and cool hangouts.
Many people come to Antigua for a week and wind up staying for years. It's got a great market, picturesque parque central, and countless other corners of interest.
Lake Atitlan
Typically, Lake Atitlan is referred to as "The Lake," as its volcano-laden shores and distinctive villages make it the most popular amongst tourists.
It's a wonderful spot for yoga (San Marcos), nightlife (Panajachel), and outdoor adventures (Volcan San Pedro).
There is also a lot of culture to be found in Santiago. Grade-A relaxing can be done in hammocks strung up at just about any hotel or hostel.
Rio Dulce
Between Lake Izabal and the Caribbean Sea is Rio Dulce, or "Sweet River," which is a tropically hot place of extreme biodiversity.
It's a great place for spotting wildlife. In the trees you'll find monkeys and exotic birds, and there are manatees in the waters below.
This area has a completely different vibe from the rest of Guatemala. It feels more Caribbean than Mayan. Livingston, which is located at the mouth of the river, is only accessible by boat and is home to a population of Garifuna people.
Semuc Champey
Despite (or perhaps because of) the journey required to reach it, remote Semuc Champey often ranks as travelers' favorite place to visit in Guatemala.
It's a mystical place, with a name that translates to "Sacred Water." It's aptly named, with a series of descending, impossibly blue pools in an amazing limestone formation created by the Rio Cahabón.
Visitors are invited to swim, and the park around it has some nice hiking trails as well.
The Pacific Coast
There are several villages along the Pacific coast of Guatemala that specifically cater to tourists.
Montericco is one of the oldest. Though it has some dangerous waves, it's located near some amazing mangroves and sea turtle hatcheries. Further north, El Paredon is quickly becoming popular and is a favorite amongst surfers.
For those who have never seen black sand beaches, the Pacific coast of Guatemala is a good place to check them out.
READ MORE: The Best Coffee in the World

THINGS TO DO IN GUATEMALA
With so many great places to see in this country, there are even more fun things to do. Whether it's educational, adventurous, or spiritual activities you seek, Guatemala has something to fulfill your soul. Nature abounds, as do culture, history, and hammocks.
Adventure Sports
Mountain biking and hiking are popular activities throughout the highlands, especially around Antigua, Lake Atitlan, and Xela.
On the east coast, kayaking along the Rio Dulce is a favorite pastime. On the west coast, surfing the raging rip tides of El Paredon is hot.
Zipline adventures have also cropped up all over the country in recent years. In other words, strap yourself in!
Yoga
If adrenaline-fueled action isn't your thing, there are some places in Guatemala that are known for being much more spiritual and mellow.
San Marcos la Laguna is a renowned spot amongst yogis. There are tons of classes, courses, and retreats available there, and the village is a respected and sacred site for the Maya.
The area is full of shamans and wrought with superfoods. There are many yoga classes available around Antigua as well.
Spanish Classes
Guatemala is a well-regarded location for learning Spanish, both because lessons are inexpensive and because the Guatemalan accent is relatively neutral (for the Americas).
Xela and Antigua are probably the top two spots for language schools, with Xela being the cheaper but less luxurious of the two.
It's easy to arrange package deals with homestays and a couple weeks of classes.
Volunteer
In terms of volunteering, Guatemala has an insanely diverse array of opportunities.
A broad variety of NGOs work with local children, farmers, seamstresses, nature/wildlife conservation, and much more. Many of these readily accept short-term volunteers.
Additionally, lots of the hostels in Guatemala do work-trades with travelers who want to hang around for a while and help out with reception, cooking, and building.
READ MORE: A New Wave of Construction in Guatemala

Shop
The markets in Guatemala, in a word, are sick. They're sprawling, dazzling with color, and packed with deals. A trip to the market here can easily occupy an entire day (and fill a suitcase, for that matter).
The most renowned market is the one in Chichicastenango, which takes over the entire town. The ones in Panajachel, Antigua, and Guatemala City are all impressive as well.
Bartering skills are a must, and haggling is thoroughly expected.
Tours
Beyond the typical excursions to explore archeological ruins and colonial cities, Guatemala has a myriad array of tours on offer.
People visit coffee fincas, chocolate museums, and charity projects. Tourists climb volcanoes, swim through caves, and explore traditional Mayan villages.
In most of the country's major hot spots, it's possible to fill every day of the week with a thematically different tour.
Workshops
Besides Spanish classes, many other types of educational and interactive workshops are available.
Cooking and textile workshops are popular visitor favorites. Permaculture gardening courses are popular around Lake Atitlan. Salsa dancing lessons help folks feel the Latin American rhythms. Chocolate-making workshops provide a lot of fun and treats.
Antigua is a great place for starting to pick up new talents.
Turtles
The southwestern Pacific coast of Guatemala is a prime nesting site for Olive Ridley and leatherback sea turtles.
The peak nesting season lasts throughout the latter half of the year. During this time it's possible to tour hatcheries that are helping to repopulate the oceans through Sea Turtle conservation initiatives.
Some visitors— like me— are lucky enough to help release baby sea turtles into the wild. There are also volunteer programs that allow guests to help protect the turtles.
Birdwatching
Like many other Central American countries, Guatemala is home to and attracts some spectacular birds.
Due to its ecological diversity— with landscapes including highlands, rainforests, cloud forest, drylands, and coastlines—the birds are remarkably diverse.
In fact, there are some 766 different bird species that have been recorded in Guatemala. The country's colorful national bird– the Quetzal– is the holy grail for birders.
READ MORE: The History of Chocolate (How Chocolate is Made)
SAFETY AND TRANSPORT IN GUATEMALA
Generally speaking, Guatemala is an easy country to get around, with busses and shuttles zipping to every far-flung spot on the map. That being said, travel is sometimes unpredictable and can occasionally be dangerous. It helps to have a little insight as to what's normal.
Chicken Busses
Though somewhat ubiquitous around Central America, the "chicken busses" of Guatemala are perhaps the most splendidly decorated and appreciated.
These are former US school buses that have been repurposed as public transport and turned into automotive fashion statements.
Though they can be fun to take, just make sure you aren't on a notoriously dangerous route. Along some roads, stick-ups are fairly routine.
Taxis/Tuk-tuks
For the most part, taxis and tuk-tuks in Guatemala are safe to use.
As a rule, always negotiate the price of the ride before departing, since meters aren't really a thing. And be sure to keep any valuable belongings on your person when exiting the vehicle.
Every so often, an unsavory driver will forego payment in exchange for luggage and a laptop. There's no need to be mistrusting, but definitely do be aware.
Shuttles
Most long-distance trips in Guatemala are done by shuttle, which are slightly more expensive than busses, a tad more cramped, and notably faster.
Shuttles tend to be the safest form of transport. But they also have the tendency of not working quite as schedules proclaim and cramming in as many people as possible.
However, if the trip is only two or three hours, take the shuttle option. It's worth it!
Water
It probably goes without saying to be careful about drinking water in Guatemala.
Guatemala has an amazing product, ecofiltro, that cleans the water found in most hostels and guesthouses around the country. Water from these filters is safe and usually free.
Take advantage of this and fill up a reusable bottle whenever possible, so as not to buy a bunch of plastic.
READ MORE: The Chicken Bus: Guatemala's Unusual Mode of Transport
Food
While it's fun to sample stuff, it's also important to be mindful of what and where you eat.
Uncooked items washed in tap water (most places use filtered or treated water) might carry pathogens.
Otherwise, it's probably wise to be choosy when sampling market food stalls. Look for busy spots with high food turnover.
Weather
Natural phenomenon are relatively commonplace in Guatemala.
Volcanoes erupt daily, earthquakes happen regularly. Hurricanes hit the east coast. El Niño visits the west. Rainy season (May through October) occupies half the year, with the early part causing some questionable runoff.
It's unlikely a major disaster will befall you. But the weather forecast is not a horrible thing to stay caught up on, just in case.
Hiking
Because Guatemala is breathtakingly beautiful, the desire to get out and hike is strong, and there are ample opportunities to do so.
Banditos are known to linger around certain trails, so it's best to either avoid them or leave your valuables in your room.
Check with your hotel or hostel before wandering off on a trek in the wild. Staff are typically very upfront and protective of their guests.
Nature/Wildlife
Scorpions are relatively common in Guatemala, but not deadly. As a precaution, always shake out your clothing, towels, and shoes before using them.
Chichicaste is a poisonous plant that makes a huge impression on those unfortunate enough to touch it. It's really present around Antigua.
In the hotter areas, especially in the east, there are a few venomous snakes. The Fer-de-lance or Barba Amarilla (yellow beard) is highly venomous. Mosquito-borne illnesses are present around Rio Dulce. These sound more intimidating than the reality.
THINGS TO EAT (AND DRINK) IN GUATEMALA
Guatemala has such fertile land and such an agreeable climate, it's no wonder that the food and drink is primo there. When you visit, these are a few of the things you just have to taste:
Pepian
Considered the country's traditional dish, pepian is a stew that involves chunky root vegetables and a broth made from a huge list of dried peppers and pumpkin seeds. It's really rich, usually has chicken (veggie options are sometimes available), and is served with a side of rice.
Licuados
Otherwise known as smoothies, licuados are featured on just about every menu in the country. Because there are so many wonderful tropical fruits grown in Guatemala, these are a revelation. Licuados are the equivalent to sweet tea in the American South: Ordering one with lunch just seems right.
Coffee
The highlands of Guatemala famously produce some of the best coffee in the world. Consequently, the café culture is thriving, especially around the Antigua area (where much of the country's coffee is grown). Tasting tours at some of the fancier fincas are also available.
Ron Zacapa
Speaking of good libations… Guatemala just so happens to be the home of the bona fide best rum in the world, the founding member of the Rum Hall of Fame– Ron Zacapa. Smooth and rich like a fine brandy, this one is perfect for sipping, with little more than an ice cube needed to make it great.
READ MORE: La Roya: Central America's Coffee Emergency
Chocolate
The Mayans are the original chocolatiers of the planet, and Guatemala and southern Mexico are where the magic began. Chocolate comes in an amazing variety here, from religious ceremonies to organic bars to DIY chocolate-making classes.
Produce
There is an unbelievable choice of local fruits and vegetables in Guatemala, many of which are very difficult to find elsewhere. Something new is always in season here, and there are also the ever-present tropical fruits, squashes/pumpkins and legumes. Hit the markets and sample them all!
Avocadoes
People from Antigua, which is famous for its avocadoes, were once referred to as panza verde (which translates to "green belly"). Though the Hass, a Californian strain, now dominates the scene, Guatemalan avocadoes are still a must-try. Earth Lodge, where I've spent quite a lot of time, is a famous spot for fresh guacamole.
Tortillas
Simple and to the point, corn tortillas are a part of every Guatemalan meal, be it fried chicken or chicken soup. Tortillerias– typically with a little old lady snapping masa from hand to hand– are all over the place. They come hot and fresh, three or four for a quetzal (around 14¢).
CULTURE AND HISTORY IN GUATEMALA
Culture and history in Guatemala stretch back long before colonialism or even the time of Christ. Indigenous people are still present throughout the countryside and cities. Though their history can sometimes be alarmingly sad, it's a good thing to know before visiting.
Maya
While Mayan people are usually summed up under one umbrella, in reality there are many different Mayan tribes. Each has its own traditional clothing. There are over 20 different languages in Guatemala alone. With every region, there comes a new culture to explore.
Moximon
Moximon is a new version of a Mayan god– an indigenous take on Saint Peter. Most importantly, he's a lover of booze, cigars, and vacation mischief. His temples can be visited at Santiago in Atitlan, but he accepts contributions at just about any hip bar in the country.
Garifuna
Located at the mouth of the Rio Dulce, Livingston is home to a group of people called Garifunas. These Afro-Caribbeans have their own language, religion, and political beliefs. They are famous for their music, which is percussion-based. Often confused with Rastafarians, the Garifuna live in some 40 villages along the Central American coast, from Nicaragua to Belize.
Textile
Guatemala is renowned for its vibrant textiles, with each indigenous group having their own spin on design, color and material. It's nearly impossible not to become enamored with the traditional skirts, comfy pants, table runners, rugs, wraps, and eclectic mixture of bags. Workshops are available, and artisans are often found at work in the local markets.
Civil War
Guatemala's civil war lasted 36 years, from 1960 to 1996, when peace accords were finally signed. It shaped much of what the country is today. The human rights violations committed during it (which left over 200,000 citizens dead) have left the population scarred. It's important to be aware of this struggle and recognize it in the state of things now.
Rigaberta Menchú
A winner of the 1992 Nobel Peace Prize, Rigaberta Menchú is a Mayan peasant who became an outspoken activist against the Guatemalan regime in the late 70s and 80s. An autobiographical account of her life, I, Rigaberta Menchú, became internationally acclaimed. She also participated in a heartbreaking documentary, When the Mountains Tremble.
The C.I.A.
The C.I.A. was infamously involved in Guatemala just before its civil war broke out. In 1954, the C.I.A. helped to overthrow the government and installed Col. Carlos Castillo Armas as president.
There is little debate that this effort to ensure the country was pro-American is what led to the nation's internal war. Bitter Fruit: The Story of the American Coup in Guatemala gives a more detailed account of this history.
Symbols
Guatemala has several famous symbols that are seen regularly.
The national bird, the Quetzal, is beloved and the namesake of the local money. The marimba is a traditional instrument resembling a xylophone and features prominently in the country's indigenous music.
The monja blanca (a.k.a. the White Nun Orchid) is the national flower and stands for beauty and peace. The ceiba, Guatemala's national tree, can be over 240 feet tall, and Mayan artifacts are sometimes fashioned from its wood and thorns.
MORE INFO ON GUATEMALA
Getting to know a place before visiting it always enhances the experience. Guatemala, with its extensive natural beauty and varied history, only speaks to that. Being a little more familiar with the country will undoubtedly make your travels in Guatemala all the better.
Another thing to put on the to-do list is to support local eco-projects, NGOs, and community outreach efforts. There are many eye-opening tours of NGO projects, such as Camino Seguro and Niños de Guatemala.
Many businesses (Caoba and De La Gente around Antigua, IMAP and Atitlan Organics around the lake, and Hotel Backpackers in Rio Dulce, to name but a few) are involved with good things to promote local empowerment and conservation of the environment.
Lastly, it's important to remember not to rush through this country, with only sightseeing on the agenda. Much of Guatemala's mojo resides in hours wiled away at rooftop cafés with a coffee and a book, or watching kids play around a fountain.
Guatemala, marked as it may be, is a striking juxtaposition of modernity and antiquity. Its blend of multiculturalism and social struggle, of tourism and authenticity, makes it feel intoxicatingly real. -Jonathon Engels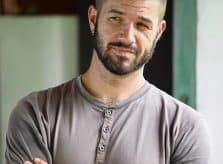 Jonathon Engels is a traveler, writer & teacher who's been living abroad as an expat since 2005. He's worked in nearly a dozen countries, and visited many others in between. He's currently on a slow travel trip from Central America to Patagonia, volunteering his way throughout the journey. He's a regular contributor to One Green Planet as well as Permaculture News, which focus on helping to keep the world green and clean. He's also the founder of The NGO List, a compilation of grassroots NGOs seeking international volunteers. His work can be found at Jonathon Engels: A Life Abroad, and his current whereabouts and goings-on are available on his personal blog.
40 Things You Should Know Before Traveling to Guatemala originally appeared on Green Global Travel.