World's 25 Largest Deserts (For Your World Travel Bucket List) originally appeared on Green Global Travel.
Deserts– barren areas that receive little rain and offer harsh living conditions– are not the first landscapes that spring to mind for most people considering where to go on vacation.
But there are different types of deserts, from subtropical and cool coastal to cold winter deserts, and most are sparsely populated.
So, for those hoping to "get away from it all," here's a look at 25 of the world's largest deserts, with compelling reasons why you should add some to your bucket list: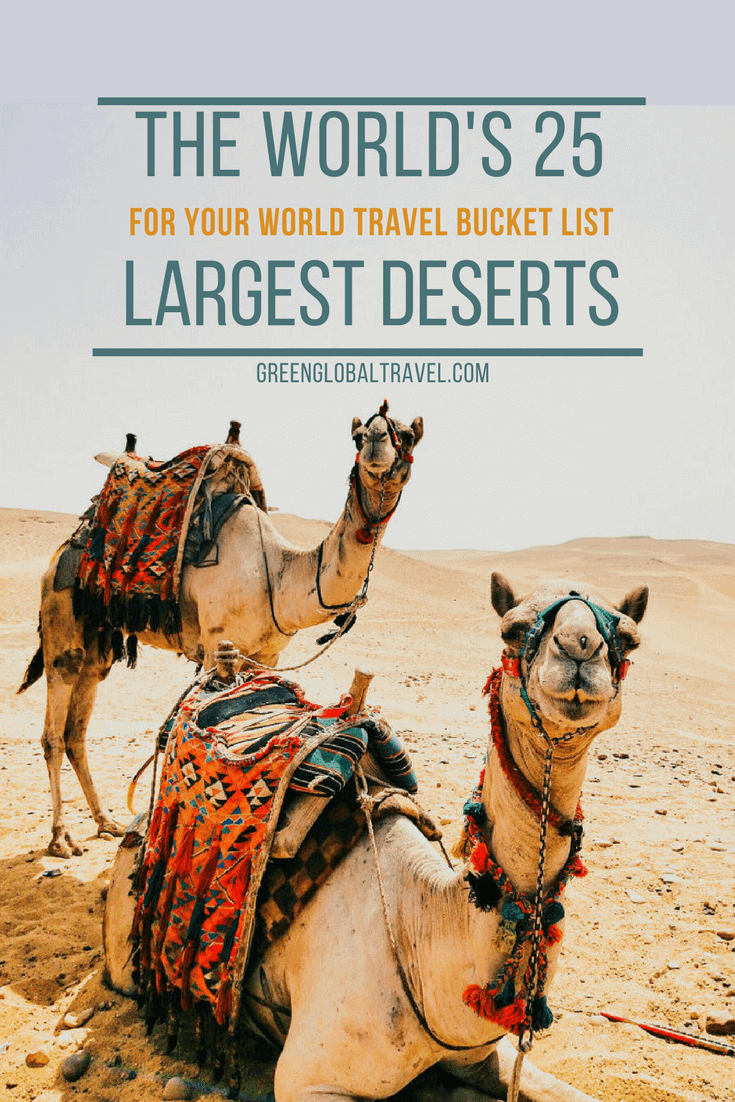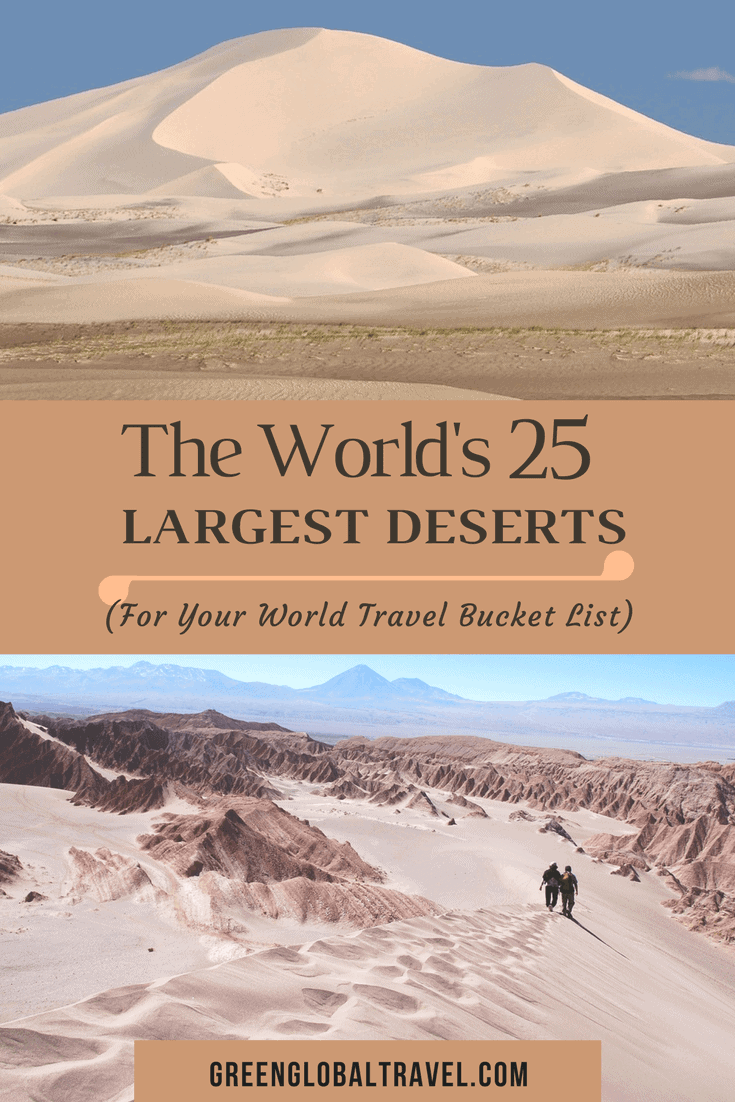 Deserts in Africa
Deserts in Antarctica
Deserts in Asia
Deserts in Australia
Deserts in Europe
Deserts in North America
Deserts in South America
Deserts You Shouldn't Visit (Yet)
DESERTS IN AFRICA
SAHARA DESERT (#3- North Africa)
With a total area of over 3.5 million Square Miles, the world's third biggest desert covers approximately 31% of the African continent. It spans 12 different North African countries, from Mauritania and Morocco in the west over to Egypt and Sudan in the east.
The Sahara is the largest hot desert in the world: Only the Arctic and Antarctica are bigger. Its low latitude location makes it extremely hot and dry, with virtually no rainfall whatsoever.
Yet still it boasts a surprisingly diverse array of flora and fauna, including around 2800 species of plants. Humans have lived here for at least 10,000 years, with some 30,000 petroglyphs remaining as evidence.
In terms of wildlife, the region is home to three species of Fox, numerous Gazelles and Antelopes, two endangered subspecies of Cheetah, African Wild Dogs, Monitor Lizards, Hyrax, North African Ostrich, Desert Crocodiles, and numerous other animals. In terms of domesticated species, Camels and Goats are by far the most common.
READ MORE: Top 5 Ecotourism Attractions in Egypt
KALAHARI DESERT (#6- Southern Africa)
Covering approximately 360,000 square miles, the world's sixth biggest desert is in central Southern Africa. It ranges from Angola down through Botswana and Namibia to South Africa. The hunter-gatherer San people have inhabited this area for over 20,000 years.
The Kalahari is what's known as a semi-desert, receiving around 5 to 10 inches of rain each year on average. It has vast expanses of arid land, including salt pans such as Namibi's Etosha Pan and Botswana's Makgadikgadi Pan (one of the largest in the world).
But it's also home to Okavango River, which flows into the world-renowned delta of the same name. So, depending on where you go, you may see wildlife such as African Wild Dogs, Cheetahs, Giraffes, Leopards, Lions, Spotted Hyenas, and countless other species.
If you're interested in taking a wildlife safari, the Kalahari has several amazing destinations that have yet to see the overcrowding that comes with mass tourism. The most noteworthy are Kgalagadi Transfrontier Park, Central Kalahari Game Reserve (the world's second largest wildlife park), and Tswalu Kalahari (Southern Africa's largest private game reserve).
READ MORE: My Life Changing Experience in South Africa
NAMIB DESERT (#25- Angola/Namibia)
Encompassing 31,000 square miles, the Namib Desert is by far the smallest on this list. But if you talk to anyone who's traveled there, they'll probably tell you it's the desert most worth visiting, containing some of Namibia's most incredible ecotourism attractions.
Though sparsely populated, there are rich indigenous cultures there, such as the Himba and Herero people. There's the Skeleton Coast, which is littered with more than 1,000 shipwrecks due to the dense fog there. There are massive Fur Seal colonies, not to mention the Lions that often prey on them.
In terms of other wildlife, the region is home to numerous weird animals that have adapted to the arid climate. These include Desert Elephants and a Darkling Beetle that can catch and drink moisture from fog using bumps and troughs on its back.
But the region's #1 attraction is Namib-Naukluft National Park, one of the largest in the world. The park is home to iconic sites such as the striking red dunes of Sossusvlei, the skeleton trees of Deadvlei, and Sesriem Canyon (a 98-foot deep canyon that's often overlooked by tourists).
READ MORE: 60 Weird Animals Around the World
DESERTS IN ANTARCTICA (#1)
OK, so technically "deserts in Antarctica" is a misnomer. Antarctica encompasses more than 5.5 million square miles, and every single inch of it is technically a frozen desert. In fact, it is the coldest, windiest, and driest of all the continents on the planet.
It certainly doesn't look like a desert. The entire continent is covered in a thick layer of ice for the majority of the year. It's surrounded by water and massive icebergs the size of small skyscrapers.
But the definition of a desert is "a barren area of landscape where little precipitation occurs and consequently living conditions are hostile for plant and animal life." And in that sense, Antarctica fits the bill perfectly.
The South Pole averages less than 4 inches of rain each year, and the interior (which can reach -112º to -128ºF during winter) is as inhospitable as you can imagine.
Which makes it all the more remarkable to see how much life. There are 8 different species of Penguins in Antarctica, and dozens of species of shorebirds in summer. There are also 6 species of Seals, and 15 species of Whales in the frigid waters.
READ MORE: The Haunting Beauty of Icebergs in Antarctica
DESERTS IN ASIA
ARABIAN DESERT (#4- Western Asia)
Spanning some 900,000 square miles, the world's fourth largest desert spans the majority of the Arabian Peninsula. The desert covers virtually all of Saudi Arabia as well as parts of Iraq, Jordan, Kuwait, Oman, Qatar, the UAE, and Yemen.
The Arabian Desert is actually an extension of the Sahara, with a similar subtropical climate. In other words it's extremely hot (over 104º F in summer, and up to 115º along the Persian Gulf) and dry, with some areas averaging less than 2 inches of rain per year. But parts of the desert occasionally do freeze at night in higher elevations.
Although there are a few endemic plants, this is one of the least biodiverse deserts on this list. But there are a few wildlife species that have found a way to survive here, including the Arabian Oryx, Fennec Fox, Sand Cat, Sand Gazelle, and Spiny-tailed Lizard.
But still, make no mistake about it, the Arabian Desert offers one of the most extreme and inhospitable landscapes on the planet.
From the vast Rub' al Khali section ("the Empty Quarter") to the treacherous quicksand of Umm al Samim (known locally as the "Mother of Posions" or "Mother of Worries"), this is not the type of place you want to get lost in.
READ MORE: Ecotourism in Jordan: The Ultimate Travel Guide
GOBI DESERT (#5- China & Mongolia)
Of all the deserts on this list, the Gobi Desert is one we're especially eager to visit. The fifth largest desert in the world, it spans some 500,000 square miles in northern China and southern Mongolia. The Gobi is a rain shadow desert: The Tibetan Plateau blocks precipitation coming in from the Indian Ocean.
The Gobi is probably best known as the birthplace of Genghis Khan and his Mongol Empire, which grew to dominate much of Asia and Europe in the 13th and 14th centuries.
It's also home to several important cities along the historic Silk Road trade route, which was vital to global expansion and cultural exchange for over a thousands years BCE (before the Christian era).
Descendants of the nomadic Mongols remain the dominant indigenous inhabitants of the Gobi steppes today. Many still live in traditional gers (similar to yurts), riding horses and herding cattle as they have for centuries. After being repressed for 70+ years, ancient practices such as using Golden Eagles to hunt are making a comeback.
Relatively warm in summer, but often very cold in winter, the Gobi is also home to a diverse array of animal life. These include Bactrian Camels, Black-tailed Gazelles, wild Przewalski's Horses, and the occasional Brown Bear, Snow Leopard, or Wolf.
READ MORE: Experiencing Traditional Mongolian Culture
KARAKUM DESERT (#13- Turkmenistan)
Not to be confused with Kazakhstan's much smaller Aral Karakum Desert, this 135,000-square mile desert in Central Asia covers around 70% of Turkmenistan. Its name means "Black Sand," a reference to the dark soil that lies just beneath the sandy surface.
The desert has several noteworthy features. The desert is crossed by the world's second largest irrigation canal, the 854-mile Karakum Canal, which transports water from the Amu Darya river in the north to cities in the south, such as Mary and Tejen. As a result, those areas are oases, known for growing cotton and melons.
But the region's primary tourist attraction is the Darvaza gas crater, more commonly known as the "Door To Hell" or "Gates of Hell." The fiery inferno started in 1971, when Turkmenistan was still part of the Soviet Union. Geologists were in the Karakum searching for oil fields, and set up their equipment to begin drilling.
Unfortunately they were on top of a pocket of natural gas, which collapsed and created several open craters. The largest of these measured 230 feet across and 65 feet deep.
The methane leaking from this pit of despair started killing animals in the area, so the scientists lit it on fire. This middle-of-the-desert bonfire has been aflame ever since!
KYZYLKUM DESERT (#16- Central Asia)
The world's 16th largest desert encompasses approximately 115,000 square miles in Kazakhstan, Uzbekistan, and Turkmenistan. Its name translates to "Red Sand."
The Kyzylkum Desert is most famous in the paleontology arena, as there have been numerous important fossils discovered in its exposed rock formations.
The Bissekty Formation of Uzbekistan, which dates back to the Late Cretaceous epoch, is probably the most famous. It produced fossils from numerous early bird species as well as various armored, duck-billed, and horned dinosaurs.
In terms of tourist attractions, the desert is home to several nature reserves in Turkmenistan's Bukhara Region.
The largest, Kyzylkum Nature Reserve (39,000 square miles), is home to animals such as the Bukhara Deer, Desert Monitor lizard, Golden Eagle, and Saiga Antelope. The 19,860-square-mile Djeyran Nature Reserve breeds rare animals such as the Houbara Bustard, Persian Gazelle, and the endangered Przewalksi's Horse.
READ MORE: Przewalski's Horses (Endangered Species Spotlight)
TAKLAMAKAN DESERT (#17- China)
Located in northwestern China, the 17th biggest desert in the world lies west of the Gobi Desert. Spanning 130,000 square miles, it's surrounded on the other three sides by the Kunlun, Pamir, and Tian Shan Mountains.
The name Taklamakan is widely interpreted to come from the Persian words for "place of no return," while others suggest it means "place of ruins."
Both would be accurate: The heart of the desert sees very little rainfall, making it hazardous to cross. And archaeologists have unearthed treasures there, including 4,000-year-old mummies, buried in ruins beneath the sand.
Interestingly, the relics reflect Indo-European, Mediterranean, and Indian influences. Which makes sense because the ancient Silk Road passed through the northern and southern sections of the desert. Today, there are two cross-desert highways constructed b y the People's Republic of China.
READ MORE: Top 7 Things to Do in China for Nature Lovers
THAR DESERT (#18- India & Pakistan)
Measuring 77,000 square miles, the Thar Desert (a.k.a. Great Indian Desert) forms a natural boundary line dividing two countries that were formerly one. About 85% of it lies in northwest India, with the other 15% in Pakistan. With an average of 83 people per square mile, it's the most heavily populated desert in the world.
With around 40% of Rajasthan's total population living in this subtropical desert, agriculture is both a challenge and a priority. The focus is on kharif (or monsoon) crops– including beans, corn, pearl millet, and wheat– which are seeded in early summer and harvested in September and October.
The desert is home numerous protected areas, including India's Desert National Park and Sundha Mata Conservation Reserve and Pakistan's Nara Desert Wildlife Sanctuary. There's a surprising array of wildlife to be found there, including the Bengal Fox, Blackbuck, Caracal, Indian Gazelle, Wolves, and 141 different bird species.
The region's ecotourism industry is growing as result of this biodiversity, with desert Camel safaris becoming increasingly popular. Another major attraction is the annual Pushkar Camel Fair, which is widely considered among the world's best festivals.
READ MORE: The 20 Best Festivals in the World (For Your Bucket List)
DESERTS IN AUSTRALIA
GREAT VICTORIA DESERT (#7)
Named after the British monarch, Great Victoria is the largest desert in Australia, spanning some 220,000 square miles in the southwestern section of the continent. Unlike some of the deserts on this list, it gets 15 to 20 thunderstorms each year, providing around 8 to 10 inches of rain annually.
The entire Great Victoria Desert has been delineated as a World Wildlife Fund ecoregion. As a result, several parts are protected, including the Mamungari Conservation Park (one of Australia's 14 World Biosphere Reserves), the Great Victoria Nature Reserve, and portions of the Anangu Pitjantjatjara Yankunytjatjara Aboriginal area.
Due to the harsh climate, there's not a ton of wildlife. There are a few vulnerable/endangered species, such as the Great Desert Skink and the Sandhill Dunnart (a marsupial mouse).
You may also see predators such as Dingo and two species of Monitor Lizards. But most animals, including the Southern Marsupial Mole and Water-holding Frog– bury themselves in the sand to stay cool.
The most interesting part of the Great Victoria for visitors is the many indigenous Australians who call the area home. These include the Kogara, Mirning, and Pitjantjatjara (who call themselves Anangu) peoples.
Some of these people have been to key to the battle over indigenous land rights in Australia, including those surround Uluru (Ayers Rock) and Kata Tjuta (the Olgas).
READ MORE: Top 5 Australia Ecotourism Attractions
GREAT SANDY DESERT (#12)
The 12th largest desert in the world, the Great Sandy Desert encompasses 110,000 square miles in northwestern Australia, straddling the Kimberley and Pilbara regions.
The desert gets more rain than those in other parts of the world, averaging around 14 inches each year. But its coastal and far northern regions tend to have serious water issues caused by drought, which often ends in monsoon clouds or tropical cyclones.
As a result, the Great Sandy Desert is sparsely populated, and several people have died after their vehicles broke down in remote areas. There are two aboriginal communities, with the Martu inhabiting the west and the Pintupi in the east. Their indigenous artwork is a huge industry, and one of the main reasons people visit the region.
Most of the area's ecotourism industry is concentrated in the Kimberley region to the north. But the desert does serve as home to wildlife such as Bearded Dragons, feral Camels, Dingos, Goannas, Red Kangaroos, and the Rufous Hare-Wallaby.
READ MORE: Top 10 Australian National Parks
TANAMI DESERT (#19)
The continent's third biggest desert at 71,236 square miles, the Tanami spans from the Northern Territory into Western Australia. It's widely considered northern Australia's last truly wild frontier because it wasn't explored by European until the mid 20th century.
The desert's name comes from the aboriginal Walpiri name for the region, Chanamee. This roughly translates to "never die," a reference to holes in the desert that never ran out of water.
The Tanami receives considerably more rainfall than other deserts, with an average of nearly 16 inches. During the wet season, the Tanami Track often becomes impassable due flooding.
As a result, the Tanami Desert actually includes a few wetland areas, including Lake Surprise (Northern Territory) and Lake Gregory (Western Australia), the latter of which retains permanent surface water rather than turning into salt flats during the dry season.
The Tanami is considered among Australia's most important areas for conservation, as it provides refuge for numerous rare and endangered species. Wildlife you can find there include the Bilby, Mulgara (similar to Tasmanian Devil), Rufous Hare-Wallaby, and Grey Falcon.
Many species are increasingly threatened by feral invaders, overgrazing, and habitat degradation of the Outback.
READ MORE: Tasmanian Devil Conservation
SIMPSON DESERT (#20)
At 68,147 square miles, this is the fourth biggest desert in Australia. But it ranks as the largest sand dune desert in the world, with one dune (known as Nappanerica) that towers at over 130 feet in height.
Stretching from the Northern Territory into Queensland, the Simpson was first seen by European eyes (those of British explorer Charles Sturt) in 1844. There are no maintained roads across the desert, but it has historically attracted hardy adventurers (including explorer Sebastian Copeland, who hiked it in 2016).
It's also increasingly popular among tourists, who are drawn by attractions such as Approdinna Attora Knoll and the ruins at Dalhousie Springs. The World Wildlife Fund ecoregion also boasts seasonal wetlands that are home to an array of wildlife, especially birds.
All of which are fine to visit in the winter months (June to September), when the desert's brutal temperatures cool down a bit.
But during the southern hemisphere's summer (December to February), temps can rise over 120º F, with intense sandstorms. So Australia's Department of Environment & Natural resources actually closes the desert then for safety reasons.
READ MORE: Interview with Sebastian Copeland
DESERTS IN EUROPE
THE ARCTIC (#2- Europe & North America)
Second only to Antarctica in terms of size, the Arctic spans 5.4 million square miles that encompasses parts of Russia and Scandinavia, most of Greenland, and northern Alaska and Canada. The region is rugged, remote, frigid, and goes from mostly dark all day in winter to mostly light all day in summer.
The Arctic Circle is one of the planet's last truly wild places, home to more than 500,000 indigenous peoples (whose ancestors settled there tens of thousands of years ago) and an impressive array of wildlife. Unfortunately, the effects of climate change, including shrinking sea ice and rapidly warming oceans, are dramatically impacting their ability to survive.
For travelers, the Arctic offers plenty of opportunities for adventure activities, including kayaking, ATV excursions, cross-country skiing, hiking, catch and release fishing, and more. But wildlife is where the region really excels, with Arctic animals such as Polar Bears, Moose, Caribou, and more.
As many as 2,000 Beluga Whales come to Canada's Cunningham Inlet each year to nurse their young in the river's relatively warm waters. Kayaking provides opportunities for close-up encounters with these beautiful creatures as well as Whales and Narwhals. The region's hiking trails may lead to sightings of Muskox, Arctic Foxes, Arctic Hares, Snowy Owls, and Ptarmigan.
READ MORE: Polar Bear Fight (with Video)
DESERTS IN NORTH AMERICA
CHIHUAHUAN DESERT (#11- Mexico & United States)
The eleventh largest desert in the world, the 175,000-square mile Chihuahuan Desert straddles a huge swath of the US-Mexico border. Its range covers much of West Texas, southern New Mexico, the southeast corner of Arizona, and a good chunk of the Mexican Plateau.
The second largest desert in North America, the Chihuahuan is also one of the world's most densely populated. The desert includes sizable cities such as Chihuahua, Ciudad Juárez, and Saltillo on the Mexican, and Albuquerque, El Paso, and Roswell on the US side.
It's considered a rain shadow desert because the Sierra Madre Occidental range blocks precipitation from the Pacific, while the Sierra Madre Oriental range blocks it from the Gulf of Mexico.
As a result, the region averages just nine inches of rain each year, mostly in the summer months. But because its elevations range from around 2,000 to 5,500 feet, it remains mild in summer and cold in winter.
According to WWF, the Chihuahuan Desert ranks among the world's most biologically diverse. Though many of the endemic species are threatened by overgrazing, the region is home to Prairie Dog, Kit Fox, Mule Deer, Pronghorn, Blacktailed Jackrabbits, and the endangered Mexican Wolf.
COLORADO PLATEAU (#14- United States)
Centered in the Four Corners region of the Southwestern United States, the Colorado Plateau covers around 130,000 square miles. Made up of high desert with scattered forests, it covers northern Arizona, western Colorado, northwestern New Mexico, and southern and eastern Utah.
Outside of Washington, DC, this region boasts more National Park Service units than any other part of the US. These include nine national parks: Grand Canyon, Zion, Bryce Canyon, Capitol Reef, Canyonlands, Arches, Mesa Verde, and Petrified Forest.
It also includes 18 National Monuments, such as Bears Ears, Natural Bridges, and Chaco Culture National Historical Park.
Most of the Plateau's landscape will b familiar to anyone who's ever visited (or seen pictures of) the Grand Canyon. Widely known as "Red Rock Country," the region's brightly colorful geology has been sculpted by dryness and erosion into a dazzling array of domes, reefs, natural bridges, and slot canyons.
Needless to say, there's plenty of things for visitors to do. Popular activities range from hiking and camping in the various parks and rafting the Colorado River to exploring the incredible pueblos of the ancient Anasazi culture.
READ MORE: Ancient Archaeological Sites (For Your Bucket List)
GREAT BASIN DESERT (#10- United States)
The largest desert in the United States at around 190,000 square miles, the Great Basin Desert is located between the Sierra Nevada and Wasatch mountain ranges. It covers much of Nevada, but also stretches into southern Idaho and Oregon, a good portion of western Utah, and eastern California.
Part of the Great Basin, the cold winter desert's topography and ecology is fascinating. There are more than 30 peaks with summits of over 9,800 feet; wide high-elevation valleys; salty dry lakes (Lahontan and Bonneville); and forests filled with Pine and Juniper.
As a result of these diverse ecosystems, much of the region is protected land. Its primary attractions include Great Basin National Park, the Humboldt-Toiyabe National Forest, seven wilderness areas (overseen by the Bureau of Land Management), and four National Wildlife Refuges.
These parks and refuges help to protect a wide array of vital wildlife habitats, many of which are small and isolated. There are an estimated 600 species living in the area, around 63 of which are considered important conservation priorities. These include the Greater Sage-Grouse, Kit Fox, Ord's Kangaroo Rat, and the Desert Horned Lizard.
READ MORE: Complete List of US National Parks by State
MOJAVE DESERT (#24- United States)
Squeaking into our list of the world's largest deserts at #24, the Mojave's fame belies its relatively small size (approximately 48,000 square miles). That's because, while the interior is sparsely populated, the perimeter touches major cities such as Las Vegas, Nevada and San Bernadino, California.
Bordered by the Great Basin Desert to the north and the Sonoran Desert to the south and east, the Mojave is often referred to as the "high desert." It does have elevations of over 2,000 feet, but it is also home to Death Valley, which has the lowest elevation in North America (280 feet below sea level).
Even if you discount the visitors drawn to Las Vegas, the Mojave still ranks among the most popular tourism hotspots in the US.
The desert is home to Death Valley National Park, Joshua Tree National Park, Lake Mead National Recreation Area, Mojave National Preserve, Red Rock Canyon National Conservation Area, and numerous other parks and reserves.
It's also home to some incredible wildlife, including Bobcats, Cougars, Desert Bighorn Sheep, Desert Tortoises, Gila Monsters, Jackrabbits, Mule Deer, Pronghorn and dozens of other species.
It's also home to venomous snakes such as the Mojave Green Rattlesnake, Sidewinder Rattler, and Western diamondback rattlesnake. So if you go hiking, make sure to watch your step!
READ MORE: 10 Best US National Parks (For Your Bucket List)
SONORAN DESERT (#15- Mexico & United States)
Located west of the Chihuahuan Desert, the world's 15th largest desert similarly straddles the US-Mexico border. It covers some 120,000 square miles, from Southern California and Arizona south to the Mexican stats of Baja California and Sonora.
The area has been divided up into seven different sub-regions. These include the Colorado Desert, Gran Desert de Altar, Lechuguilla Desert, Yuma Desert, and several other small deserts. It also features the Colorado River Delta, an ecological hotspot where the river feeds into the Gulf of California (a.k.a. Sea of Cortez).
Despite the harsh climate, the desert is home to a remarkable diversity of both flora and fauna. Thanks to two seasons of rainfall, there are some 2,000 different plant species– more than any other desert in the world.
These include the famous Saguaro Cactus, other cacti with colorful names (Beavertail, Hedgehog, Organ Pipe), and gorgeous Sonoran wildflowers after the rains.
In terms of wildlife, the desert is home to over 350 bird species, 100 reptile species, 60 mammal species, 20 amphibian species, and over 1000 native species of bees. But its most famous animal resident is arguably the Jaguar: The desert southeast of Tucson is the only place they're found within the United States.
READ MORE: 5 Great Places to Go in Mexico
DESERTS IN SOUTH AMERICA