Top 20 Atlanta Christmas Events 2017: A Guide to Our Top 20 Annual Favorites originally appeared on Green Global Travel.
Everyone knows that we're passionate about ecotourism and nature conservation.
But unless you're a long-time reader, you might not know that our family is equally mad about Christmas. From mid-November right up through Christmas Eve, we make a point of attending as many Atlanta Christmas events as we possibly can.
We won't even travel in the weeks before the holidays, to make sure we have ample quality time to celebrate the season!
What follows is a list of our Top 20 annual Atlanta Christmas events, from concerts and theatrical performances to fundraising parties and parades:
ATLANTA BALLET'S NUTCRACKER (Fox Theatre, Dec 8-28)
The Atlanta Ballet's annual production of Tchaikovsky's masterpiece played by a live orchestra has been an integral part of the city's holiday season for over 40+ years now. The show tells the timeless tale of young Clara Stahlbaum, who awakes at midnight on Christmas Eve to find her prized Nutcracker toy has come to life to do battle with the Mouse King's army.
From dancing snowflakes to lively Russian nesting dolls, the extravagant production is sure to prove a hit with youthful spirits ages 8 to 80. . It is your last year to experience this version of The Nutcracker before Atlanta Ballet unveils a brand new production in 2018, so get your tickets early!
CHILDREN'S CHRISTMAS PARADE (Parade Start: Peachtree Street at 16th Street, Dec 2)
If you can't make it to the Big Apple for NYC's legendary Macy's Thanksgiving Day Parade, this annual event benefiting Children's Healthcare of Atlanta is a scaled-down, free alternative. Peachtree St is magically transformed into "Santa Claus Lane," with dozens of floats, giant balloon characters, and marching bands, making this the largest Christmas parade in the Southeast. But of course the main attraction is the arrival of Jolly Ol' St Nick himself, ringing in the heart of Atlanta's holiday season.
CHRISTMAS AT CALLANWOLDE (Callanwolde Fine Arts Center, Nov 24-Dec 12)
We're huge supporters of the Atlanta cultural community, and Callanwolde is one of the city's most storied arts organizations. Their annual fundraiser finds the 27,000-sq ft Late Gothic Revival mansion– which has been listed on the National Register of Historic Places since 1973– decked out in fancy boughs of holly and fa la la by top interior and floral designers. With tours of the mansion, live performances, shopping and seasonal workshops, it's a swanky way to welcome in the holiday season.
A CHRISTMAS CAROL (Alliance Theatre, Dec 8-Dec 24)
Now in its 27th year, the Alliance's production of Dickens' timeless classic features Broadway-style stage design, beloved Christmas carols, and some of Atlanta's finest thespians. We still miss Atlanta theatre icon Chris Kayser in his longtime role playing Ebenezer Scrooge, the tight-fisted, cold-hearted miser who is haunted by three ghosts on Christmas Eve. But with an all-Atlanta cast and beautiful live music, this Broadway-scale production remains an impressive rendering of this perennial holiday favorite.
CHRISTMAS WITH THE ASO (Symphony Hall, Dec 9 & Dec 10)
Robert Shaw was a titan in the classical world, winning 14 Grammys, 1991 Kennedy Center Honors, and the first Guggenheim Fellowship ever awarded to a conductor. "Christmas With The ASO" was the holiday-loving legend's gift to Atlanta, and this year marks the show's 48th anniversary. Conductor Norman Mackenzie will lead the ASO Chorus, Morehouse College Glee Club, and Gwinnett Young Singers through Shaw's 4-part musical take on the story of Christmas. If the sound of 400+ singers and musicians working in tandem doesn't invigorate your holiday spirit, you may want to check your pulse.
FANTASY IN LIGHTS (Callaway Gardens, Nov 17-Jan 6)
Rated by National Geographic as one of the Top 10 Christmas Light Displays in the World, Callaway Gardens' Fantasy In Lights is truly a wondrous sight to behold. The centerpiece is a 5-mile drive lined with 8 million lights, divided thematically into 14 sections that include "Snowflake Valley" and "Magical Christmas Garden," with festive Christmas music playing throughout.
There are also narrated scenes of 'Twas the Night Before Christmas and The Nativity; a Christmas Village offering holiday gifts and collectibles, food and photo ops with Santa and Rudolph; and a "Jolly Trolley" tour for those who'd prefer not to drive their own cars.
WAKE UP SANTA (Georgia Aquarium, Nov 18)
Join Georgia Aquarium to Wake Up Santa to start the holiday season. Includes interactive event and activities, hot chocolate bar and cookies with Santa, and a souvenir mug! Bring your camera so you can take a photo with Santa!
GARDEN NIGHTS, HOLIDAY LIGHTS (Atlanta Botanical Garden, Nov 7-Jan 7)
This annual celebration of the season brightens the Atlanta Botanical Garden's 30 acres with 1 million colorful LED lights. All of the garden's pathways will be lit up, with stars shining down from the canopies of hardwood trees, teal and blue lights illuminating a stretch of crepe myrtles, and a 27-foot-tall tree next to a fountain that reflects the twinkling lights in enchanting patterns. There's a strong nature theme throughout, as guests walk past giant snowflakes, bumblebees, and a huge "praying Santa mantis" while listening to strolling carolers and sipping hot cocoa or tea.
LIGHTING OF MACY'S GREAT TREE (Macy's Lenox Square, Thanksgiving Day)
Though the name and location of the store have changed over the years, this annual celebration of the beginning of the Christmas season has otherwise been the same for 65 years now. It all began in 1948, when Rich's department store put a large pine tree atop its flagship downtown Atlanta location, lighting it on Thanksgiving night. The famous Pink Pig monorail ride was added in 1953, and returned as a more conventional train ride in 2004. Though Rich's and Macy's merged in 2006, the annual lighting of the Great Tree remains one of Atlanta's most beloved and historic holiday traditions.
MACY'S PINK PIG (Macy's Lenox Square Oct 28-Dec 31)
One of Atlanta's most treasured and unique holiday tradition is here! Macy's Pink Pig, Priscilla, will carry children of all ages through a life-sized storybook filled with friends and fun beneath the signature 170-foot, 1950's themed Pink Pig tent.
MAGICAL NIGHTS OF LIGHTS (Lake Lanier Islands, Nov 17-Jan 3)
This winter wonderland offers enough more than enough holiday joy to get Scrooge and the Grinch into the Christmas spirit. Billed as the world's largest light extravaganza, Magical Nights of Lights features a 7-mile drive filled with colorful themed displays such as "The 12 Days of Christmas." At the end you'll find an impressive array of carnival rides and games, blazing bonfires for roasting marshmallows, and Santa's Workshop, where you can meet jolly ol' St Nick himself!
RUDOLPH THE RED-NOSED REINDEER (Center for Puppetry Arts, Nov 7-Dec 31)
If you grew up loving the Rankin/Bass Christmas special, you'd be forgiven for being skeptical about this stage adaptation of the claymation classic. But director Jon Ludwig and his talented team of puppeteers nail it every year, remaining faithful to the source material while adding some unique production twists that really bring the show to life.
From the opening strains of "We Are Santa's Elves" to the return of the Abominable Snow Monster, this is as "holly jolly" as a Christmas show can get. Families attending Rudolph the Red-Nosed Reindeer on Saturday, November 25 can enjoy a very special, free holiday photo opportunity with one of the puppets from the show!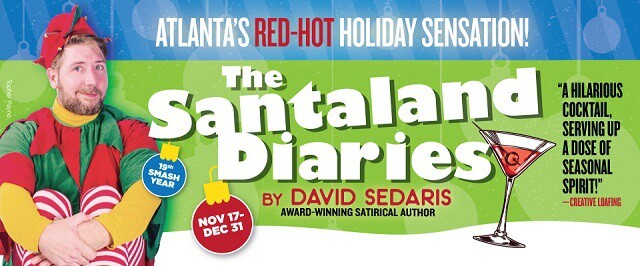 THE SANTALAND DIARIES (Horizon Theatre, Nov 17-Dec 31)
Written by the ever-sardonic David Sedaris, this sarcastic satire tells the true-life tale of the author's lean-times stint as a Macy's Department Store elf. Originally airing on NPR, this modern holiday classic is filled with bratty kids, overzealous parents, and humiliating costumes. The chaos that ensues provokes the cynical Sedaris' alter-ego, Crumpet, to deliver a hilarious behind-the-scenes tell-all that reveals what happens when St. Nick and his helpers stop being polite and start being real. In short, leave the kids at home.
STONE MOUNTAIN CHRISTMAS (Stone Mountain Park, Nov 11-Jan 3)
This annual celebration at Stone Mountain Park is one of our family's favorite holiday traditions. For 6 weeks the Crossroads village is lit up by 2 million lights, and the mountain's famous carving is illuminated by a Christmas-themed laser show (hot chocolate and roasted marshmallows optional). There are also nightly Christmas parades featuring Santa and Mrs. Claus, sing-along train rides, photo ops with a beautiful Snow Angel and, new this year, Rudolph and Abominable Snow Monster costumed characters.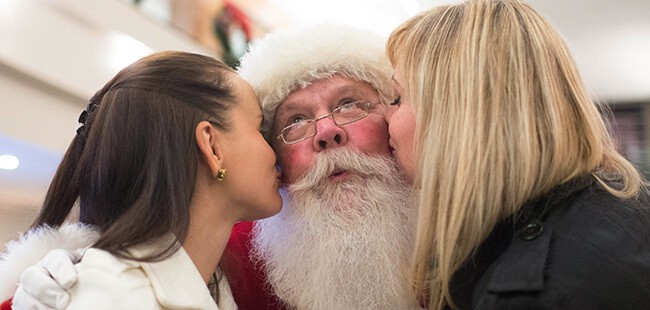 A VERY MERRY HOLIDAY POPS (Symphony Hall, Dec 15 & 16)
Principal Pops conductor Michael Krajewski is understandably excited about this year's Holiday Pops concert, which will feature the Atlanta Symphony Orchestra, Artist-in-Residence bass Morris Robinson and the All City High-School Chorus along with special guest Capathia Jenkins. The Brooklyn-bred Jenkins has made her mark on Broadway (Newsies, The Civil War) and film (Chicago, Top Five). Still, she may have a hard time stealing the spotlight from the ASO's popular jitterbugging Santa.
WINTER WONDERLAND (Fernbank Museum of Natural History, Nov 17-Jan 7)
Now in its sixth year, Fernbank's Winter Wonderland is one of the best Atlanta Christmas events for families. The exhibition features more than 30 festive trees decorated by a diverse array of cultural partners to reflect holiday traditions from Africa, the Caribbean, Europe, the Mediterranean, the Middle East, North America and South America. Check the website for special holiday-themed activities such as performances. Admission to Winter Wonderland is included with Museum admission.
WINTER WONDERLAND ON THE MARIETTA SQUARE (Nov 17-Jan 3)
This new event puts a hip, modern suburban twist on traditional small-town holiday celebrations. The Marietta Square is the center of the action, with an open-air ice skating rink, festive holiday music, thousands of twinkling lights, and visits with Santa at his workshop.
But it's easy to make a day of it, stopping in shops such as Dakota Boutique and Marina Marina Antiques, getting sweet treats from Ye Olde Christmas & Candy Shoppe or Sarah Jean's Ice Cream, and winding down with a delicious Italian dinner from Piastra Restaurant (try the Gamberi Picatini and Lasagna Quatro Formaggi). We enjoyed our first visit so much, we're going back to celebrate New Year's Eve! –Bret Love
If you enjoyed reading our Top 20 Atlanta Christmas Events, then you may also like:
5 Best Christmas Light Displays In Georgia
Christmas Traditions Around the World
Best Gifts for Travelers: Christmas 2016
Best Gifts for Travelers 2015
Santa Around The World
Real Xmas Trees Vs. Artificial: Which Is More Eco-Friendly?
Top 5 Tips For A Green Christmas
Top 20 Atlanta Christmas Events 2017: A Guide to Our Top 20 Annual Favorites originally appeared on Green Global Travel.