Did you know that the name of Furano city was derived from the word "Fura-nui", which means stinky flame or foul-smelling place? It was so called by the indigenous people of Hokkaido due to its location – at the nearby Tokachi Peak are sulfuric fumaroles which lets off a heavy sulfur smell. The name is ironic, considering the abundance of floral beauty that Furano is most famous for, especially Lavender.
Spring and Summer are the best periods for visitors to experience the colorful floral splendor of Furana, Hokkaido. Here are 5 must-visit Flower farms in Furano.
Farm Tomita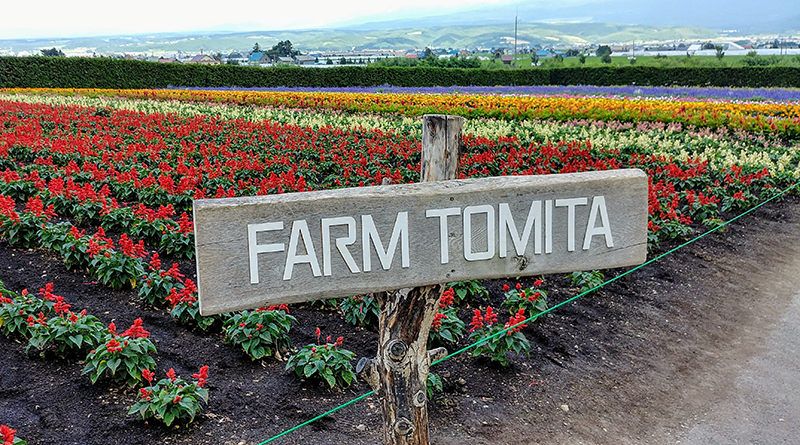 You can't leave Furano without visiting Farm Tomita, the iconic flower farm known for its scenic beauty. It was in 1958 that the lavender cultivation began in the rolling fields of Farm Tomita. Since then, it has evolved into a flourishing flower garden and regarded as a national treasure of Furano.
Spanning 20 hectares with 12 flower gardens, the farm is a kaleidoscope of colors and a visual feast for the eyes. There is a Lavender Forest field here that stretches far and wide, completely covered in the soothing color of Lavander. Beyond just admiring the flowers, there are also Lavender goods like soap, essential oils and even Lavender ice cream and coffee!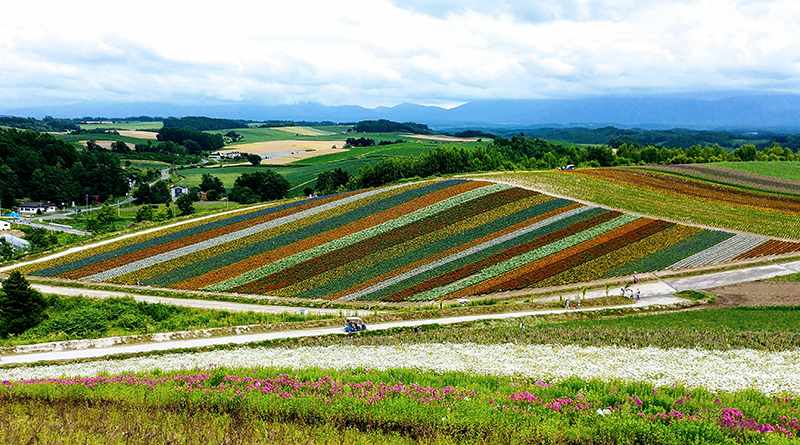 One other highlight here is the colorful Irodori field, made for stunning social media shots. There are seven colors of flowers here, creating a delightful rainbow effect on a gentle rolling hill that will stand out in any photo opp. The best spot to take a photo? Right at the bottom lower corner of the field.
The best period to visit is from June to early August. If you come in late August, the lavender would have been harvested. If you wish to take photos in wild abandon, visit in the morning where the crowd has not descended upon the garden fields yet. Pick up a map when you arrived, so you can zero in on the flower fields of you fancy.
Accessibility: 7 minutes on foot from Lavender Batake Station
Address: 15 Kisenkita, Sorachi-gun, Nakafurano-cho 071-0704, Hokkaido
Operating Hours: 8:30am – 6:00pm in summer
Saika No Sato (Saika Farm)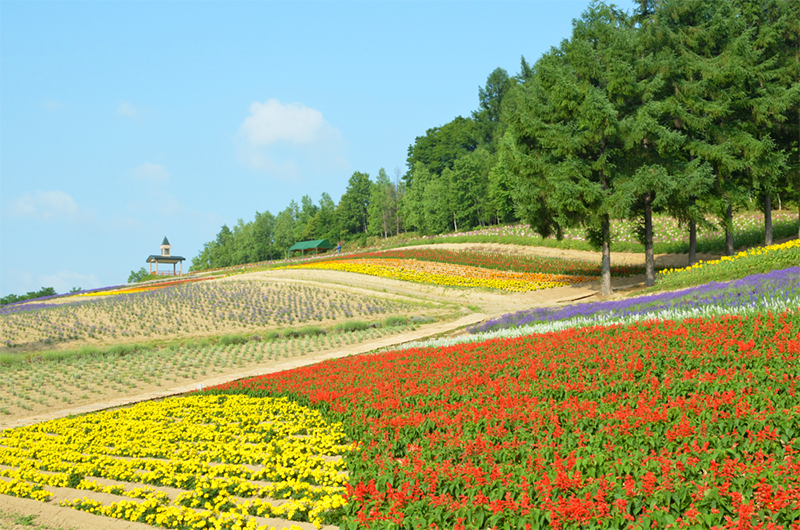 If sunflowers bring you to a happy place, then Saika No Sato, or Saila Farm, is the place for you. There are three main flowers spread across six hectares of floral splendor. Lavender, sunflowers and lupines roam the grounds of the flower farm.
Apart from the spectacular flower fields, you can also get a good glimpse of the majestic Mount Tokachidake and Mount Ashibetsudake here. The ideal visiting period is between June and October, and if you are obsessed with Sunflowers, they shine their brightest in September.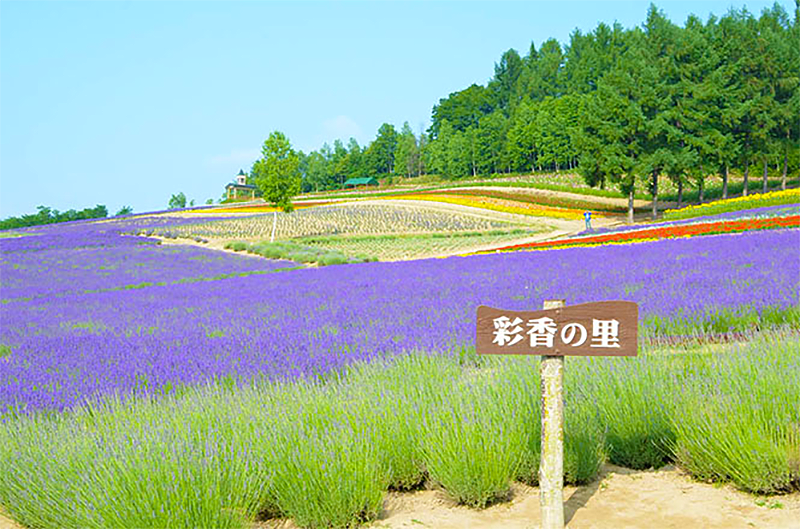 Don't leave the farm without making a trip to the souvenir shops, with an extensive variety of lavender items on sale. Oh, and you can actually pick lavender here if you wish to.
Accessibility: A 15-20 minute walk and a-5 minute ride by car from JR Nakafurano Station
Address: 6-1 Okamachi, Sorachi-gun, Nakafurano-cho 071-0762, Hokkaido
Operating Hours: 8:00 pm to 5:00 pm
Flower Land Kamifurano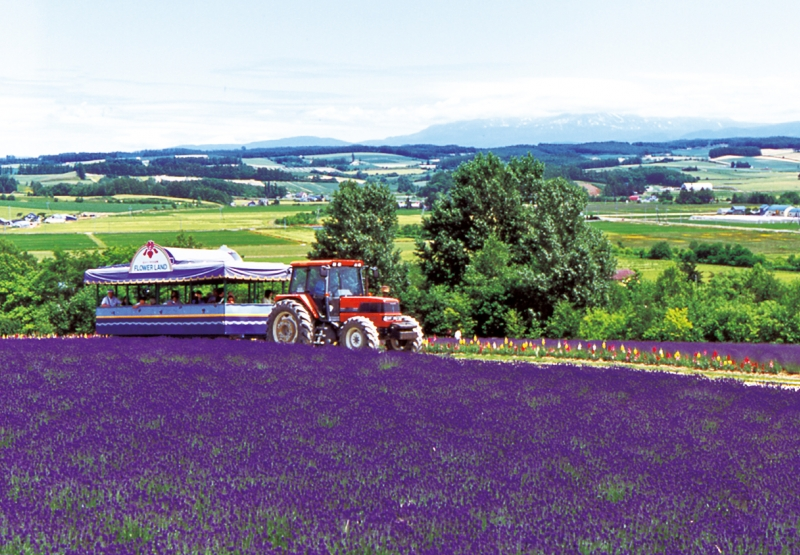 This flower wonderland houses 15 hectares worth of flowers, located on a hillside, which from a distance, makes a visual wonder. When summer comes along, this hillside comes alive with vibrant blooms of varied hues.
The expansive flowerland even offers tractor bus rides around the key flower fields for those who are tired of walking through the fields. Most of the flowers are in season from May to September, but peaks between June and July for blooms like German Iris, Lupine and Lavender. Mid-July is the best period for lavender, which blooms at its most glorious.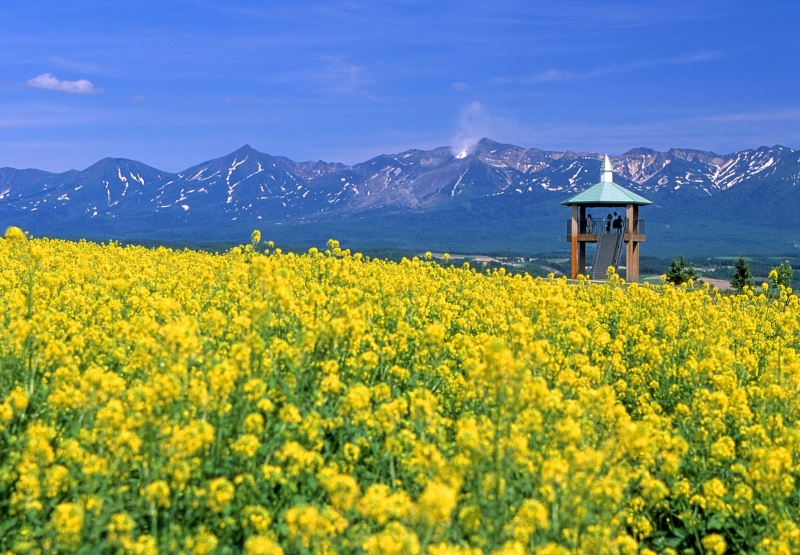 The Kamifurano Flower Land even has craft-making and pillow-making sessions, should visitors wish to take a rest from the endless floral sights.
Accessibility: A-10 minute distance by car from JR Kamifurano Station
Address: Kita 27 Nishi 5, Sorachi-gun, Kamifurano-cho 071-0505, Hokkaido
Operating Hours: 9:00 am to 6:00 pm
Choei Lavender Farm Nakafurano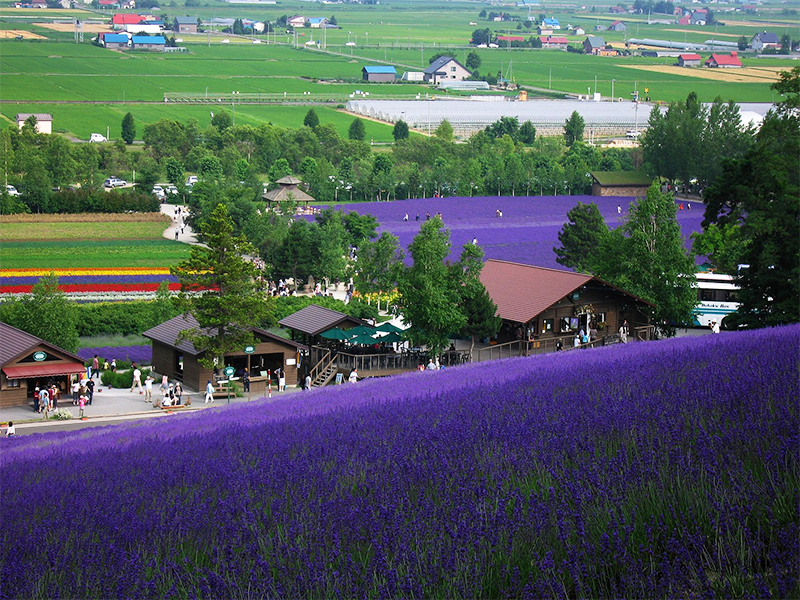 Lavender fans, this one's for you. Also known as the Nakafurano Flower Park, the fun part about this flower farm is the chair lift that you can ride up and down the hill, not only over the lavender fields but also other rainbow-colored flower fields. Unlike the other farms, for once, you can soak in the picturesque sights without having to walk over stretches of flowers on end. It's like flying over a large patchwork of floral carpet.
Accessibility: A-15 minute walk from JR Nakafurano Station
Address: 1-41 Miyamachi, Sorachi-gun, Nakafurano-cho 071-0714, Hokkaido
Operating Hours: 8:00am to 5:00pm from June to Mid August
Shikisai no Oka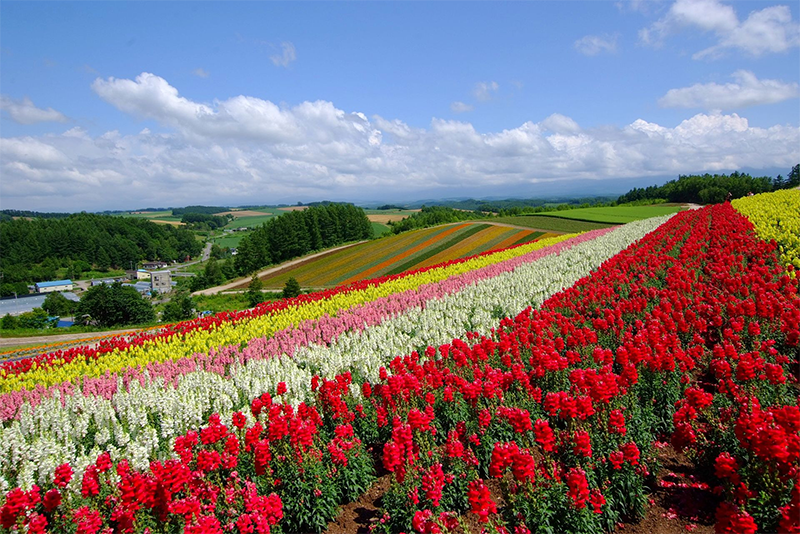 If you are in the Biei area, this is the must-visit flower farm. Shikisai no Oka blossoms during its flowering season, which starts from April and ends in mid-October. The burst of colors during the summer season offers a magnificent panoramic view of the flower fields across the 7-hectare flower farm. Bicycles and buggies are for rent to wander around the gardens that stretch for rows and rows until the trees in the far beyond at a leisurely pace.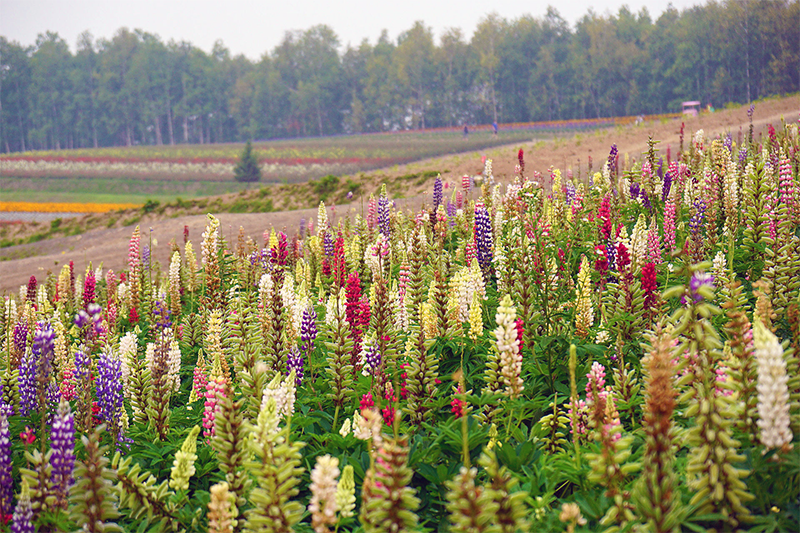 If you don't feel like doing the "hard work", hop on a tractor tour bus that gives you a good overview of the various flower fields showered with seasonal flowers such as lavender, dahlia, sunflower, salvia, Peony, Iceland Poppy, Campanula, Gayfeather and more.
Accessibility: 12 minutes car ride from JR Biei Station
Address: 3 Shinsei, Kamikawa-gun, Biei-cho 071-0473, Hokkaido
Operating Hours: 8:30am to 6:00pm
Additional images from: Wikipedia Commons, Furano Tourism and Good! Hokkaido
Tags: flower farms, Furano, Lavender fields
| | | | | |
| --- | --- | --- | --- | --- |
| Del.icio.us | Facebook | TweetThis | Digg | StumbleUpon |
Comments: 0 (Zero), Be the first to leave a reply!
You might be interested in this:
Snapshot: The Paradise that is Baatara Gorge waterfall
Snapshot: the colorful Caño Cristales
Take a cruise down the River Seine in Paris
Making the Star Wars Pilgrimage to Matmata
Snapshot: Dining Under the Sea
---
Copyright © The Gallivant Post [Top 5 Flower Farms to Visit in Furano, Hokkaido in Summer], All Right Reserved. 2019.