They look like wizards' pointed hats from far, jagged cone-shaped mounts blanketed with greenery, soaring as high as over 60 meters. These are the Duncansby Stacks of the most north-easterly part of the Scottish mainland.
You can admire these Stacks from the adjacent Duncansby Head, where there's a Highland Walk that you can take to soak in the picturesque seaside view. The cliffs around the area are a result of eroded red sandstone from the harsh environmental conditions, and its closeness to the sea. The Duncansby Stacks were once part of these cliffs, but the erosion shattered these sandstones and washed away parts of it, with the remaining stubborn structures now protruding from the sea as the Duncansby Stacks, looking as though they have risen from the sea.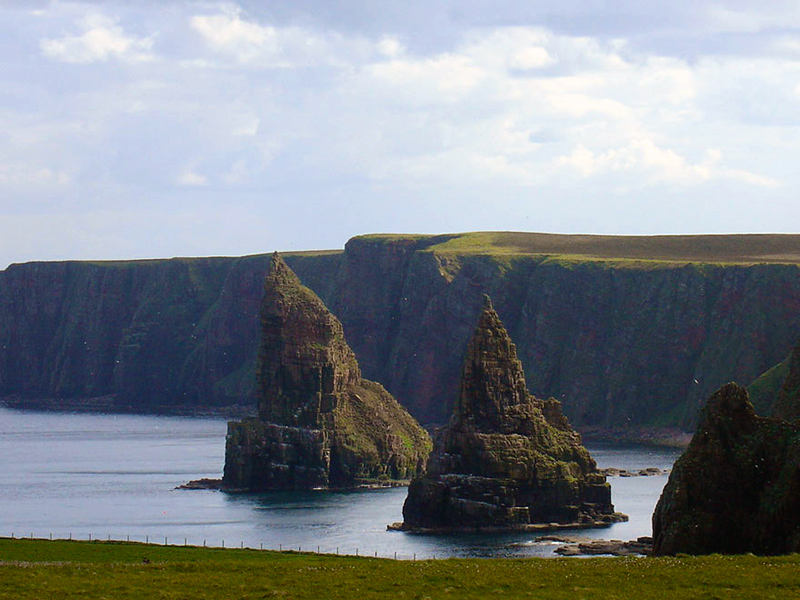 Apart from the Great Duncansby Stacks, you'll be able to come across (depending on what season), a wide range of sea birds like the Puffins, Guillemots, Kittiwakes, Great Skuas, Fulmars and more at the Duncansby Head, which is near John o' Groats, a popular village, because it's at one end of the longest distance between two inhabited British points on the mainland, with Land's End in Cornwall lying 876 miles (1,410 km) to the southwest. However, John o' Groats isn't exactly the northerly point on the island of Britain, nearby Dunnet Head, where Duncansby Head is, is further north. But few will make the visit to the extreme end, which is a mere few miles east from the village.
From John o' Groats, you can easily drive to Duncansby Head (if you choose to walk, its three km per way), where the Dunnet Head lighthouse, built in 18231, is indicative of the start of the Highland Walk. There's a map you can grab to indicate the different features you'll encounter during you walk. The sea view is to your left, and you don't have to walk for long before you encounter the Duncansby Stacks. People typically turn back here, but you can actually venture further, where you might meet more creatures, and definitely more sea.
Tip: wear durable shoes and prepare for funky weather with raincoats. Being so close to the sea means the weather can change almost instantly.
Tags: Duncansby Stacks, Scotland
| | | | | |
| --- | --- | --- | --- | --- |
| Del.icio.us | Facebook | TweetThis | Digg | StumbleUpon |
Comments: 0 (Zero), Be the first to leave a reply!
You might be interested in this:
Exploring Marie Antoinette's Hamlet
Snapshot: Escape to the Tianmen Mountain
One good reason to visit Belcastel- the Château de Belcastel
Serendipity3, I'm finally here!
Take a cruise down the River Seine in Paris
---
Copyright © The Gallivant Post [Snapshots: Taking a Peek at the Duncansby Stacks], All Right Reserved. 2017.