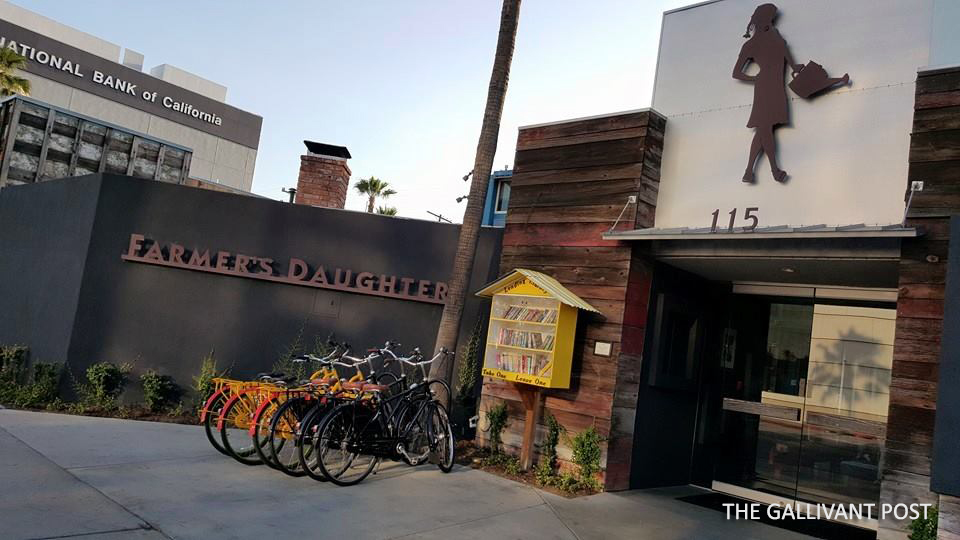 You feel like you've entered a cosy restaurant with an inviting reception and a casual outdoor seating area. There's even a mini retail area selling a curious mix of apparel, accessories and Farmer's Daughter branded Knick Knacks.
This boutique Hotel with a traditional-sounding name and contemporary look sits along Fairfax Avenue, just opposite The Grove and LA's historic Farmer's Market, near to the trendy Melrose stretch, and next to a welcoming Trader Joe's (a supermarket with organic products).
I was planning a trip to Los Angeles and was looking for a kid-friendly place to stay. It was a daunting task. There were many kid-friendly hotels in LA, but I was picky. They were either too expensive or too far from where I planned to go. I was becoming desperate and was about to settle on a rather pricey hotel when I surfed onto the Farmer's Daughter website. I booked it in the next 10 minutes.
It wasn't immediately obvious that it was a hotel, we almost missed the turn into the lobby. I had thought it was a restaurant. The whole place has what I would call a "contemporary country" look. The staff were very friendly, the place was spotlessly clean and the room was spacious and homely looking. They have only three levels, and on the second level, there was an outdoor lounge area with deck chairs, for travellers to mingle and share their adventures after a day out, or in my case, to serve as a playground for a two year old. The courtyard of the hotel is joined with its neighbour, the Tart Restaurant. You can hang out at the welcoming seats strewn all over the courtyard, which doubles up as the alfresco dining area for Tart.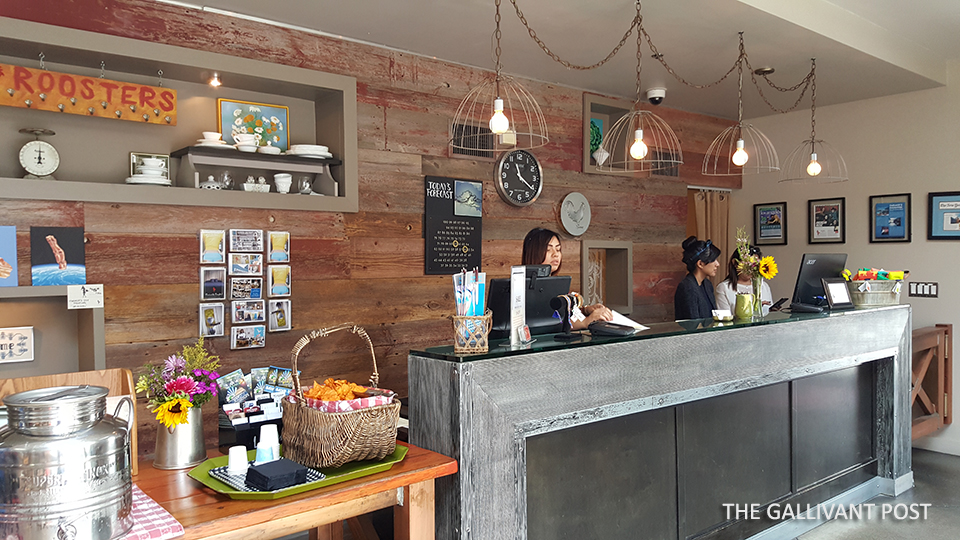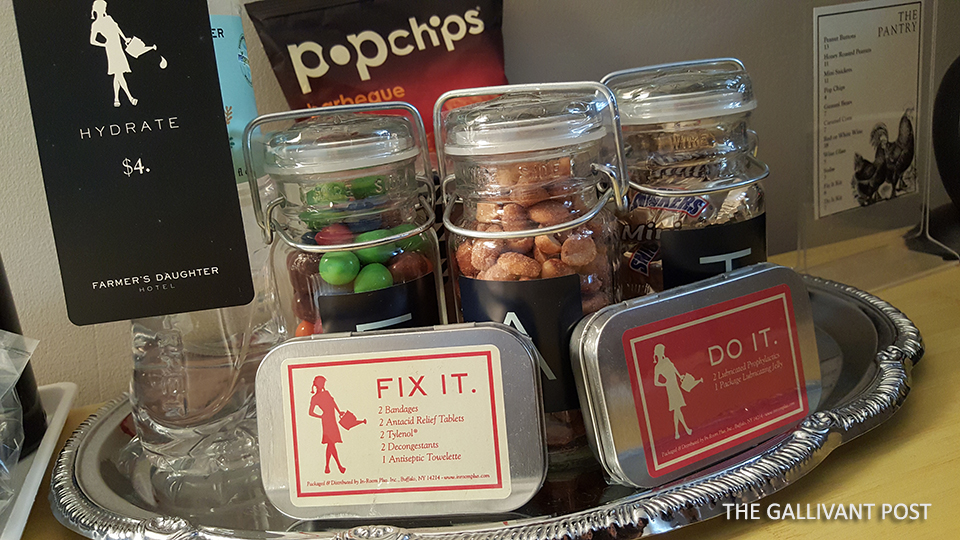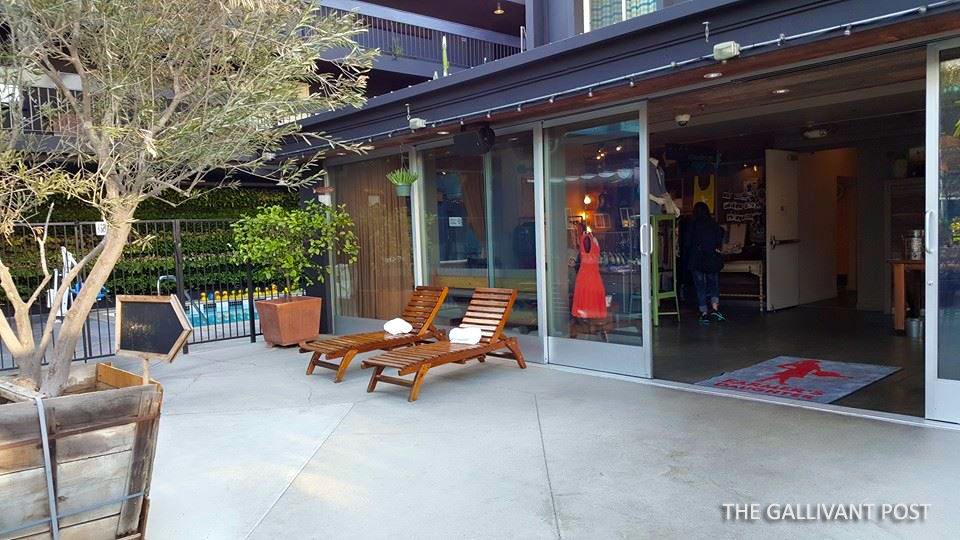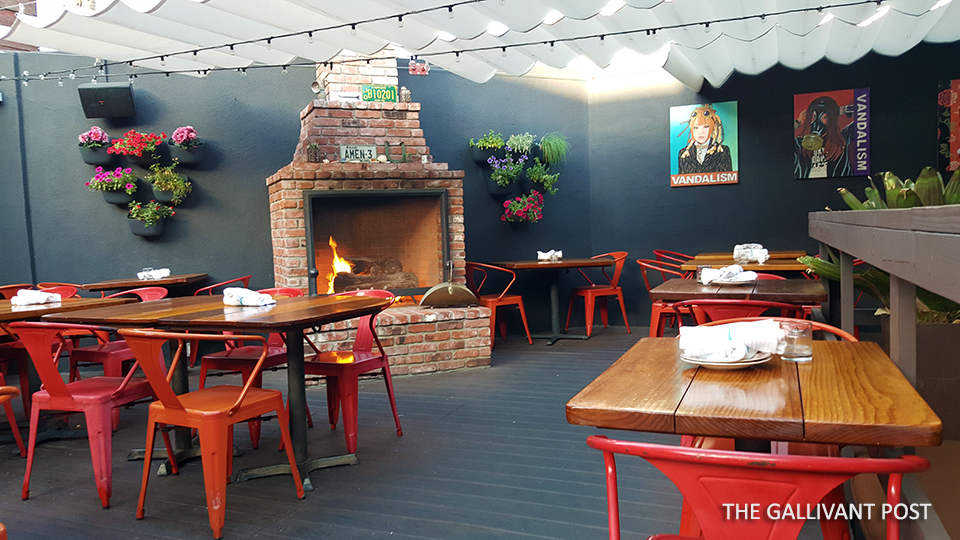 The original hotel opened its doors in the 1960s, and its strategic location made it a popular place for both travellers and locals to stay. It lost its sparkle after the 1970s and became a hotspot for people to make out, until being given a facelift after it was bought over in 1997. The new owners wanted to keep its original vintage look update it with a modern feel. The result is a delightful balance of traditional meets contemporary, with a touch of whimsical.
There are little surprise finds at the Farmer's Daughter hotel. Outside the hotel there's a row of bicycles, which you can borrow. There's a shelf filled with books, for guests to read if they wish for some quiet time. Next to the reception, there's always a pitcher filled with water, for tired guests to gulp down after a long day out. There are shelves along the corridors, filled with items like watering cans, knitting baskets and more to remind you of its country roots. Inside the room, we found a tiny watering tin with a stalk of (real) flower in it to welcome us. It's really in these little details that show the folks at Farmer's Daughter takes care of their guests.
What I really love about Farmer's Daughter though, is its location. We're one crossing away from The Gove and its neighbor, LA's historic Farmer's Market. The Grove is a retail and entertainment area that has quite enough to keep us occupied. There's Nordstrom, Barnes & Noble, a sizeable Apple store and my absolute favorite, The Cheesecake Factory. It also has a movie theatre, for some night-time entertainment if you're up for it. A trolley is available at the start of the Farmer's Market, to take you all the way down the Main Street of The Grove.
If that's not enough shopping for you, then grab a map, turn around the corner and walk down Melrose Avenue, in comfortable shoes. Here is a long, winding stretch of quirky shops and international brands to keep you busy. If you follow the road down for about 45 minutes to an hour, you'll hit the Beverly Center, a multi-level shopping mall frequently featured in movies. In case you're a fan, there is a Hard Rock Café at its ground level.
At the Farmer's Daughter, you can also book sight-seeing tours. We didn't drive this trip, and wanted to visit Santa Monica. A cab ride will set you back at least USD100 per way (the trip can take up to one hour, depending on traffic). We decided to go for a 3-day pass with City-Sightseeing Tours, which includes Santa Monica in its routes. It set us back USD75 per person, but brings us to places like the Hollywood Walk of Fame, Rodeo Drive, Sunset Strip, Paramount Studios, the Walt Disney Concert Hall, the Hollywood Bowl Amphitheatre and more. This saves us quite a bit on transportation, although we have to stand in line and wait for the bus. One convenience is that one of the stops for the City-Sightseeing is directly opposite the hotel.
Tip: The buses sometimes can be unpredictable in their timing, but if you have mobile data, you can download an app to track the location of your bus, eliminating any anxiety that you may have missed the bus; it could just be stuck in traffic.
Back to Farmer's Daughter. It was a really great stay for the family, my only gripe would be that there's no in-room electronic kettle. With a toddler in tow, I needed a daily supply of hot water for making milk, and my only option was the Nespresso machine in the room. The upside is, the moment we voiced this hot-water situation with the reception, they pointed us to the folks at Tart, who welcomed us every morning and gave us a fresh supply of hot water. Again, their service to guests is marvellous.
Its central location, quirky rooms, friendly staff and that affordable price makes the Farmer's Daughter an ideal place to stay if you're travelling to Los Angeles. It created a "home away from home" feel for me, which was exactly what the owners set out to achieve when they took over the hotel.
Tags: Hotel Review, Los Angeles
| | | | | |
| --- | --- | --- | --- | --- |
| Del.icio.us | Facebook | TweetThis | Digg | StumbleUpon |
Comments: 0 (Zero), Be the first to leave a reply!
You might be interested in this:
My Top Ten Flea Markets
Enter the magical realm of Efteling
Central Perk from Friends descends upon Singapore
Should you visit the Harry Potter Studio Tour?
Snapshot: Drinking in the beauty of the Svartifoss Falls
---
Copyright © The Gallivant Post [Farmer's Daughter in Los Angeles], All Right Reserved. 2017.