Streams of wispy lavender swaying gently greet you, creating a vision of purple rain. And if you venture further, you'll be treated to a burst of colors that instantly raise your spirits. The Ashikaga Flower Park in Ashikaga City, Tochigi Prefecture in Japan is a flower paradise that looks like it's been lifted from a surrealistic painting.
The Flower Park is home to over 350 wisteria trees, one of the highlights here are the wisteria tunnels stretching up to almost 90 yards (80 meters), with its soft wisteria flowers flowing down and moving gently in the wind, creating a magical sight. There are wisteria of all colors on display here, pink, blue, white, yellow and the most abundant of them all- purple.
The center of attention in this 9-hectare (23 acres) is the "Great Micracle Wisteria), an over 140-year old Wisteria tree right in the heart of the park. Its blooms fan out and hang down to create a giant umbrella-like shape.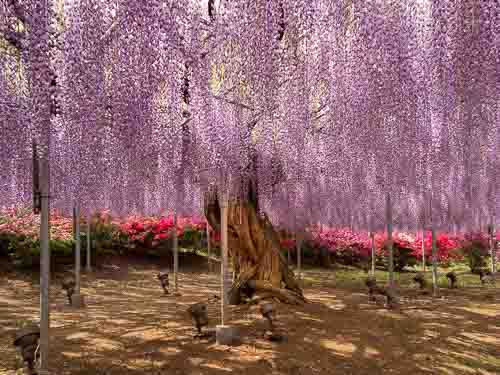 Image Source: Japan Visitor
The Ashikaga Flower Park is full of wonderment. You can find a pyramid of colourful flowers arranged on steps that narrow to a peak at the top, in the center of a pond.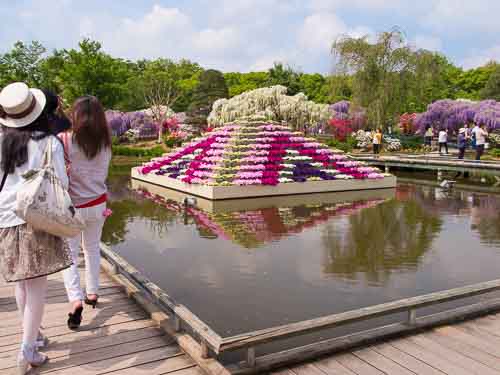 Image Source: Japan Visitor
There's more. There are also wisteria displays on arches, domes and even a waterfall.
Tip: Late Spring is a good time to visit. The Wisteria blooms typically in the beginning of May. However, this season is also the most expensive to visit. The fees fluctuates significantly, between 300 to 1700 yen.
Apart from Wisteria, which the Japanese call Fuji, there are also plenty of flowers exhibited here. The Rainbow garden is a floral vision of a variety of flowers. The Blue and White Garden offers a calming sight of hydrangea, iris and late flowering clematis. Adding to these are water lilies, peonies, lantana, crape myrtle, rhododendrons and more. The flowers on show here depends on the season.
If you're visiting in the end October period, you'll be treated to the "Flower Fantasy", a giant winter illumination display that runs until February. The flowers come to life past twilight with a little assistance from LED lights, looking as though you've entered some sort of fairy land. The display runs till 9pm on weekdays and half an hour later on weekends and public holidays.
Image Source: Japan Guide
There're food options available within the park, for those who are so mesmerized by the breath-taking floral imagery that they stay for the entire day.
It's pretty easy to get here from Tokyo. Just hop onto the JR Utsunomiya Line, JR Shonan-Shinjuku Line or JR Tohoku Shinkansen to Oyama and make a switch to the JR Ryomo Line. Get off at the Tomita Station (NOT the Ashikaga Station), and take a 15-minute walk to the park. It takes slightly over an hour to get there by bullet train (Shinkansen), which sets you back by 4000 yen (around USD35). If you find it a tad pricey and can afford the time, opt for regular trains, which takes around two hours and cost 2000 yen (USD17).
Opening Hours:
9am to 6pm (March to end November)
10am to 5pm (End November to February)
The Winter Illumination display starts from 3:30pm to 9pm (Early December to early February)
Do note that the Ashikaga Flower Park is closed on three days:
First Wednesday and Thursday of February, and December 31
Tags: Ashikaga Flower Park, flower park, Wisteria tunnels
| | | | | |
| --- | --- | --- | --- | --- |
| Del.icio.us | Facebook | TweetThis | Digg | StumbleUpon |
Comments: 0 (Zero), Be the first to leave a reply!
You might be interested in this:
Milan: A blend of fashion, culture and history
Snapshot: Explore the Moaning Cavern
Serendipity3, I'm finally here!
Snapshot: A Heavenly Lake
Top Beach destinations around the World
---
Copyright © The Gallivant Post [Snapshot: Enter the floral paradise of Ashikaga Flower Park], All Right Reserved. 2017.