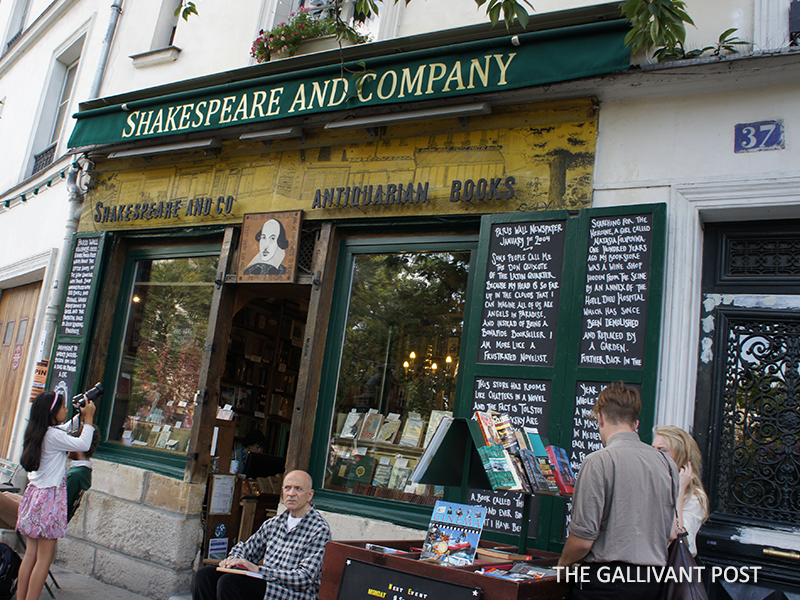 "A socialist utopia masquerading as a bookstore"- that was how George Whitman described his rugged Bookstore by the left bank of the River Seine in Paris- the famed Shakespeare and Company. You might remember it from the movie Before Sunset, the sequel to Before Sunrise, where the film opened with Ethan Hawke's character doing a book reading from his latest novel. Overflowing with books of all genres, this quaint little bookstore is a giant pop-culture symbol in the city of a thousand lights.
Word has it that the bookstore had hosted an estimate of over 30,000 travelling writers since it opened in 1951. The "tumbleweeds", as these travelling writers were called, slept in beds tucked between bookshelves and in exchange, they help out around the store and write a one-page autobiography for the shop's archives. Whitman's vision for his store was to give back to people. During the Great Depression, Whitman was a young man on the road, and received kindness from strangers all over. This inspired his philosophy of "Give what you can; take what you need" for the store.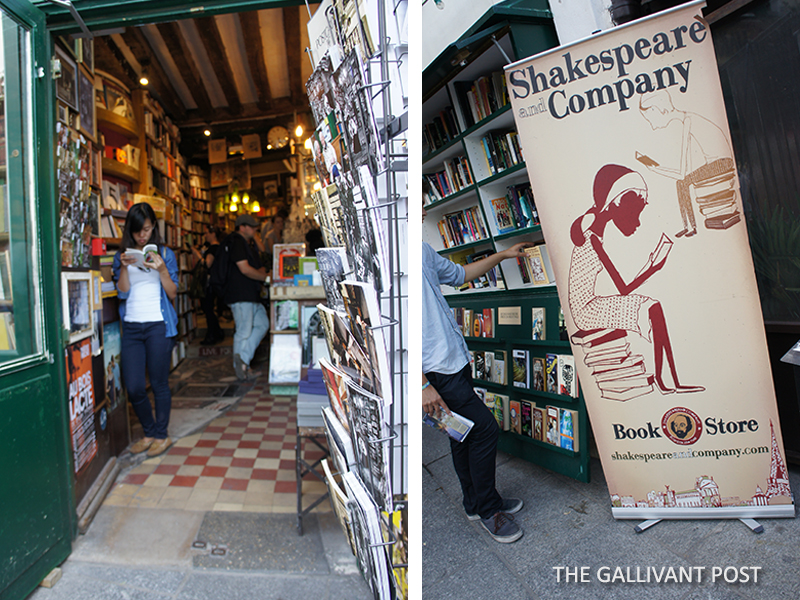 The current Shakespeare and Company is actually the second bookstore bearing the name- the first was opened by American Sylvia Beach, a bookseller and publisher, in 1912. It started off humbly, as a bookstore and library that eventually played an integral role amongst the Anglo-American literary in the French speaking city. Writers like Ernest Hemingway and F. Scott Fitzgerald spent a great amount of time there. James Joyce actually used the bookstore as his office once. In fact, the bookstore and its frequent guests are mentioned in Hemingway's famous work- A Moveable Feast.
One of the main draws of the bookstore it its boldness. Books that were banned in Britain and United States, like the controversial Lady Chatterley's Lover by D.H. Lawrence, can be bought or borrowed at Shakespeare and Company. Sadly, the store closed during the German occupation of France in December 1941, and never re-opened.
Whitman had originally opened his bookstore, modelled after Beach's, in 1951 and named it Le Mistral. And like the original Shakespeare and Company, it rapidly became the heart of English literary culture in then Bohemian Paris. Beat writers like William S. Burroughs and Allen Ginsberg hang out here, and Burroughs was said to have pored over store's the medical section to do research for his work- Naked Lunch.
A lunch with Beach in 1958 resulted in Beach offering her shop name to Whitman. In 1964, after Beach passed away and on the 400th anniversary of William Shakespeare's birthday, Whitman officially renamed his store to Shakespeare and Company.
Did You Know: In 2006, for his contribution to the literary community in Paris, Whitman was honoured with the the Officier de l'Ordre des Arts et des Lettres, one of France's highest cultural honor.
Whitman passed away in 2011 in his apartment above the bookstore, at age 98. The bookstore is now managed by his daughter, Sylvia Whitman (named after Sylvia Beach), who is running it exactly like how her father used to. Entering the bookstore, you have this feeling that you've transported to decades past. The bookshop has a weathered feel to it, filled with old wooden shelves overflowing with books. The low battered beams and tiny walkways are worn but sturdy, and walls are filled with writings and drawings of literary figures. Eclectic objects are dotted all over the store, bohemian lamps, old cinema seats, cushioned arm chairs, odd little side tables, it's almost as though you're visiting someone's house, just packed with an insane amount of books.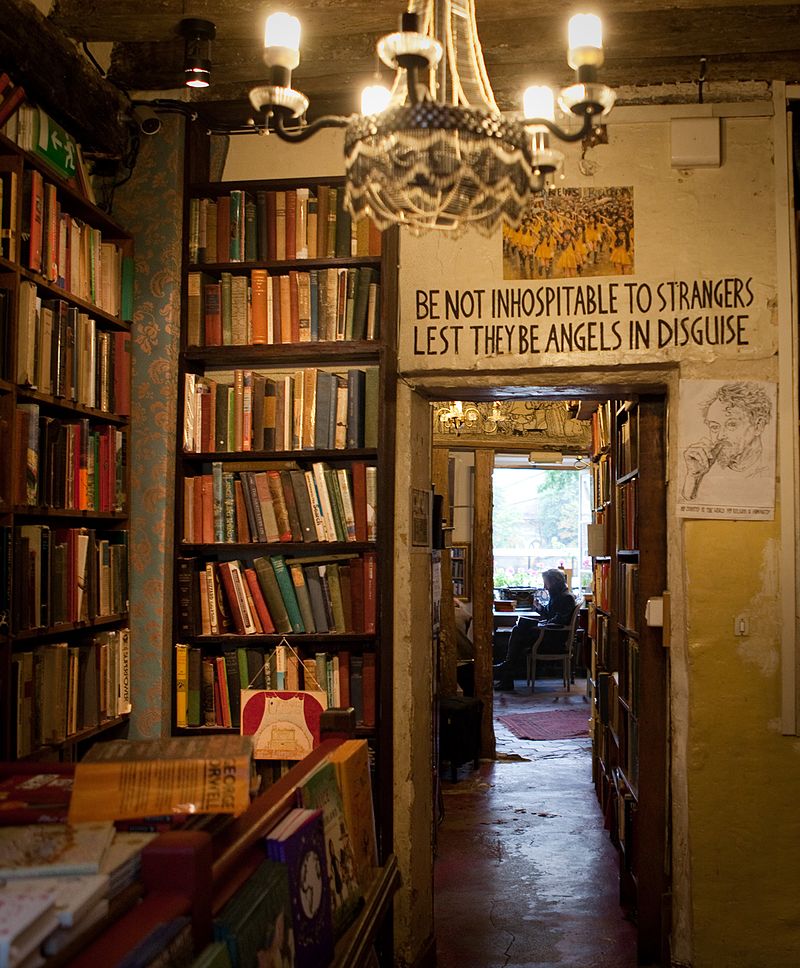 In 2015, in collaboration with Bob's Bake Shop, Shakespeare and Company opened a café next to the book store that serves mostly vegetarian food, fulfilling a desire that her father George had always wanted to do, back in the 1960s. From the café window, you get a generous view of the Notre Dame Cathedral across the street.
Trivia: Apart from Before Sunset, Shakespeare and Company was also featured in Woody Allen's Midnight in Paris.
If you're ever in Paris, make time to visit this gem of a bookstore, even if you don't have any intention to purchase a book. Browse through the books, go through the different rooms, and just think about how some of our literary greats once hang out here and call it home. Drink it all in. You may just find yourself lost in this "Wonderland of Books", as described by Henry Miller.
Oh and by the way, you can still be a Tumbleweed. To find out how to become one, just email [email protected] with "Tumbleweed" in the subject line.
Additional picture from Wikipedia.
Tags: Paris, Shakespeare and Company
| | | | | |
| --- | --- | --- | --- | --- |
| Del.icio.us | Facebook | TweetThis | Digg | StumbleUpon |
Comments: 0 (Zero), Be the first to leave a reply!
You might be interested in this:
5 things about visiting the Eiffel Tower
Star Wars has landed in Singapore Changi Airport
Auschwitz Concentration Camp: An aching memory lane
Snapshot: A Heavenly Lake
My Top Ten Flea Markets
---
Copyright © The Gallivant Post [Getting to know Shakespeare and Company in Paris], All Right Reserved. 2017.