It has the charm of a medieval town but is also home to avant-garde buildings. Crowds swarm in during summer for all things Bavarian with a touch of contemporary, beer lovers descend here in October for an authentic traditional Oktoberfest experience, and flock in during December for its festive Christmas Market. Munich, Germany's third largest city, is known for its stunning architecture, rich culture and most of all, its epic Oktoberfest celebrations.
Devastation from World War II bombings did much damage to the city, but had little effect on the spirit of Munich. They picked up the pieces and rebuilt whatever that was lost, set on preserving their historic buildings back to their former glory. Its largest church, the Frauenkirche was restored to its original state, and makes an imposing sight. Beneath this renewed façade is a subtle reminder to all about its history, and acts as a symbol of hope and resolution. Visiting Munich is like walking into a physical history lesson, taking an architecture class or going on an art tour, and more.
Before you begin
There is always something happening in Munich. Thanks to its deep, rich, culture, there are plenty of festivals, concerts and activities in this vibrant city, so do some research on that to see which event you'd want to go and plan your trip around it. The biggest no-brainer if you're in for a major party is Oktoberfest. Nowhere does this German originated tradition better than Munich. There are also plenty of art exhibitions, concerts, and music and town festivals happening throughout the year. You can get a pretty good overview of year-long events from the official site of Munich. This should give you a good start on planning your visit.
Historic City Center
When you visit a city deeply-rooted in history, it's almost mandatory that you begin your tour at where it all begin- its historic city center. Known as the heart of Munich, it's navigation-friendly, with lots of sightseeing landmarks for you to soak in the city's renowned architecture. You can start off at the Odeonsplatz, a square that marks the beginning of the northern end of the city center.
There's the Theatinerkirche, an Italian high-Baroque style Theatine Church inspired by the Sant'Andrea della Valle in Rome, and features a rich stucco interior decoration. From here, you can also spot three of the historic city gates (Karlstor, Isartor and Sendlinger), all located near the U-Bahn or S-Bahn (train) stations.
At the square's southern end, visit the Marshal's Hall (Feldherrnhalle), a monumental loggia built in the early 1840s. It's a symbol to honor the Bavarian Army, and contains the statues of Bavarian military leaders Johann Tilly and Karl Philipp von Wrede. On the east end, the Munich Residence is a sprawling city palace- the largest in Germany- which you can visit to admire its architecture, interior decoration as well as displays from the former royal collections.
The city center is also a shopping hub with departmental stores and international fashion chains found at the Maximilianstrasse Theatinerstrasse, Residenzstrasse and Brienner Strasse and Viktualienmarkt areas. Along the Maximilianstrasse stretch is where you can take a walk to soak in the architecture, with the avenue lined with neo-Gothic buildings with English influence. Then, over at Schrannenhalle, a former grain exchange, you can find fresh and specialty products, boutique deli food in small booths and more.
Palaces and Castles
To continue with your cultural education of Munich, the next stop is to its castles and palaces, which the city isn't short on. There are four main ones you should visit, one of which is the Munich Residence mentioned above. After that, make a stop at the Schloss Nymphenburg (The Nymphenburg Palace), designed in Baroque style and once was the main summer residence of the Bavarian Kings from the past. The palace was gradually expanded over the years since it was built in 1675. Some of the original baroque facades gave way to a mix the appearance of rococo and neoclassical styles. The palace also features a sprawling park (200 hectares), with a grand parterre (a formal garden), fountains, lakes and pavilions dotted around lush greenery and colorful blooms. The palace is now a museum as well, featuring opulent objects and items from the glory days of the royals' past.
The Schloss Dachau (Dachau Palace) resides in Dachau, an outskirt of Munich, and was a former residence of Bavarian rulers. Constructed around 1100, it was a branch of House of Wittelsbach. The original castle was demolished between 1398 and 1403, but was later kept by the Duke of Bavaria in 1467. Today, the palace is open for public viewing and can be booked as an event venue for special events like classical concerts. It's unlike the typical opulent palace like the Munich Residences, but is more of a charming residence, and the highlight here is at its banqueting hall with its coffered Renaissance ceiling, with ornate designs crafted in 1564, and took two years. Do take a walk in the vast garden grounds, sprinkled with flowers all over, casting a sweet scent in the air.
Tip: You can climb to the top of the palace overlooks Munich city and all the way to the Bavarian Alps.
If you have enough time, pop by the Schloss Schleißheim (Schleissheim Palace) a collection of three palaces in a majestic baroque-styled park just outside of Munich, in the village of Oberschleißheim. The palace started off humbly, as a renaissance country house in 1598, now known as the Old Schleissheim Palace, and eventually combined with the Lustheim Palace and New Schleissheim Palace. The highlight of this palace really lies in its garden, one of the rare conserved baroque gardens in Germany. It has canals and a French formal garden arranged by Enrico Zuccalli, a Swiss architect engaged to design the expansive grounds.
Did you know: The Schloss Schleißheim is a popular film location, movies like Paths of Glory by Stanley Kubrick and more recently, the 2011 The Three Musketeers were filmed here.
Churches
Munich is religious, with churches dotted all around the city. The most famous of them all is the Frauenkirche (Church of our Lady), with soaring twin towers that dominate the Munich skyline at just under 100 meters. Built in six years from 1468, it now serves as the cathedral of the Archdiocese of Munich and Freising and seat of its Archbishop. Catholic mass is held here regularly, and the church can pack quite a crowd, around 20,000 people.
Don't expect ornate Gothic designs on its façade though. Unlike most grand cathedrals, the Frauenkirche's design is quite plain, built simply with red bricks, giving it an almost contemporary feel. Ranked among one of the largest hall churches in southern Germany, you don't feel overwhelmed when you enter. The hall is parted into three sections, with the nave and two side aisles. Much of the interior was destroyed in World War II, leaving only the Devi's Footstep- a black mark that looks like a footprint, unharmed. Legend has it that that is the very spot the devil stood when he looked at the church interior and frowned at its design that had no windows. The Frauenkirche has since been restored and if you have 3 Euros to spare, you can take the stairs up 9 storeys and enjoy a panoramic view of Munich from one of the towers.
Another church you might consider visiting is the Michaeliskirche (St Michael), a Jesuit church and the largest Renaissance church north of the Alps. It sports an early Baroque influence in architectural style and features standing bronze statues of Duke Wilhelm and earlier rulers of the Bavarian Wittelsbach dynasty, resembling a family tree.
Its interior is as grand as its façade, the chancel arch and side chapels are designed as a triumphal arch, and the nave's stucco decoration is designed to represent the life of Christ. The crypt here houses many members of the Wittelsbach dynasty, including the king of fairy tales, King Ludwig II, who created the Neuschwanstein Castle.
The Peterskirche, or the Church of St Peter, is the oldest parish church in Munich and one of the city's landmarks. In a historic town filled with low-rise buildings, the church stands out on the Petersbergl hill. A modest parish, it was erected back in the 1150s Romanesque period. One major reason to visit here is its views. From its tower, known as "Alter Peter", you can a sweeping view of Munich.
Tip: Be prepared to walk a lot if you intend to visit here. You need to do an uphill climb of around 230 steps from the ground level to get to the top of the observation deck.
The last place of worship I'd recommend to visit is the New Jewish Center. It has none of the ornate designs of the traditional churches and is pretty new- it opened in 2006- but it is worth a visit, just for its architecture. Designed by architects Rena Wandel- Hoefer and Wolfgang Lorch, it has a cubic design and has an industrial feel to it, made of travertine stone and topped off by a glass cube. Located in the city center, it stands out from the aged structures surrounding it, and makes for a stark reminder of Germany's dark past.
Museums and Galleries
There are too many cultural places to visit in Munich, and the Bavarian National Museum is a good place to start. One of Europe's most treasured museums of decorative arts, it has an extensive art historical and folklore collection. If beautifully crafted medieval sculptures, detailed Renaissance portraits and ornately decorated drawing rooms send you into heart palpitations, prepare to spend half a day or more here.
To know more about Munich, the City Museum of Munich gives an insight into its diverse history with anything from honest displays of its war torn days, to its extensive collection of musical instruments and the more unusual exhibition of puppets- detailing the city's puppetry history.
Switch gears from Munich's cultural history to its arts. The Pinakotheken is actually three art museums housed in a modern building (which took a decade to construct!) and is one of the world's largest museums for modern and contemporary art. Apart from that, it also houses art collection featuring anything from modernism, impressionism, surrealism and more. Famous names like Pablo Picasso, Andy Warhol, Salvador Dali, you name it, they're all represented here. It's an art enthusiast's paradise.
Munich is home to a few interesting modern structures that are eye-catching, and one of them is the BMW museum. Even if you're not a fan of the brand, it's worth a look. The building itself is a conversational starter; known as a salad bowl, its futuristic in design is by Viennese professor Karl Schwanzer. The structure base spans 20 meters wide, holding up its roof measuring 40 meters in width. Visitors enter on ground level and ascends on a spiral up to the building for its exhibits, which includes engines, aircraft, and motorcycles of actual models and prototypes of concept vehicles from the last two decades.
If you're into engineering and technology, head to the Deutsches Museum; it's the world's largest museum for Science and Technology, featuring around 28,000 objects from about 50 fields of science and technology. There's an expansive collection of full-scale aerospace vehicles and cars, and a hands-on section for natural sciences, construction and engineering, among others. Those who want to totally geek out may find themselves spending an entire day here.
Festivals and Special Events
Oktoberfest
Munich is pretty much synonymous with Oktoberfest. An annual event, crowds from all over the world descend upon the city to experience this much-celebrated beer fest.
The very first Oktoberfest goes way back to 12 October 1810, as a celebration of the union of Prince Ludwig of Bavaria and his wife- the princess Therese of Sachsen-Hildburghausen, and Munich citizens were all invited to the affair. Every year, the fair grew in size and celebration. In 1896, some enterprising businessmen in the brewery industry build giant beer tents at Oktoberfest, and that stuck. Since then, the focus of Oktoberfest became all about beer-drinking. In 2011, it was recorded that the city's Oktoberfest hosted around 6.9 million visitors who consumed 7.5 million liters of beer, almost 120 oxen and 0ver 520, 000 roasted chicken. This took place in 14 large beer tents that can accommodate around 8,500 each. For those who are toying with the idea of visiting Munich to get a taste of Oktoberfest, it's best to digest these facts before you arrive and be overwhelmed by the sheer size of it. If you still do intend to visit, book your accommodations early. With such a huge crowd, rooms are snapped up early and those still available closer to the dates easily double in prices.
Tip: Those travelling with kids can still experience this Bavarian tradition if you're in town during the festival. You just need to avoid weekends. Tuesdays between noon and 6pm are actually family days. You can enjoy discounts off rides at the fair.
Theater and Musical Performances
Munich houses numerous theaters and concert halls that showcases plays and performances throughout the year. Modern and classical plays take place regularly at the Residenztheater, which is also the Bavarian State Theater. Over at the Nationaltheater, ballet and opera performances are on stage on a nightly basis, featuring the Bavarian National Opera Company, one of the best in the world. If you're in for some controversial entertainment, look out for what's playing at the Kammerspiele, which is known to have very radical interpretations of famous plays. Before you arrive in the city, do check out what's available during the period of your visit, so you can slot in a performance or two.
Munich Christmas Market
Apart from its famed Oktoberfest, Munich also offers a rather decent Christmas Market. Every year, exactly a month before Christmas, different pockets of Munich's city center are transformed into a wonderland of romance, nostalgic and festivities at. Trees illuminate with a thousand lights, turning into a magical glittering forest. Stalls selling traditional German handicrafts, Bavarian delicacies and homemade specialty food like Bratwurst filled the markets.
Children can listen to fairy-tale stories being told, there are medieval costumes for you to purchase and wear, and shops selling Christmas gifts. It's like being transported into another world. The larger Christmas markets are at the Marienplatz, Residenz and Wittelsbacherplatz areas. The origins of this traditional Christmas market goes back to the 14th century and slowly evolved into what it is today- one of the biggest Christmas markets in Germany.
Food in Munich
Bavarian cuisine takes centerstage in the city. Munich is known for its Münchner Weisswurst, which is a veal-based breakfast sausage, usually eaten with a Brezn (prezel), sweet mustard and a Weissbier ('white beer').
The dish is traditionally available in restaurants only until noon although some places serve it throughout the day. A typical Bavarian meal consists of a soup, usually served with a round dumpling, and the main dishes are meat-based. Some popular main dishes are the Schweinsbraten (roasted pork), Schweinshaxe (roasted pork knuckle), Spanferkel (roasted suckling pig), Brathendl or simply Hendl (roasted chicken) or Bauernente (roasted duck). If you're a meat lover, you have no problems enjoying the food in Munich. The Wiener Schnitzel is also a popular food item here, despite its Austrian origin. Bavarian desserts include the Bayrische Creme (a pastry cream served with fruit or jam) and Dampfnudeln, which is made from yeasty dough and served with vanilla custard).
If you feel Bavarian food is too heavy, there are other options. Munich has international cuisines to offer, such as the more popular French, Italian and Japanese restaurants. There are even the more exotic Turkish, Greek and Lebanese food choices here. Italian restaurants can be found all over the city, as are the typical American fast food joints.
You've not been to Munich if you have not tasted its beers. There are beer halls and beer gardens all over the city, it's ridiculous if you didn't at least try one mug. There are six major breweries here- Hacker-Pschorr, Hofbräu, Löwenbräu, Paulaner, Spaten-Franziskane and the Airbräu (located near the airport). You can find all varieties of beer here, from malty dark types to a light wheat type. Take your pick.
Getting Around Munich
Munich is an easy city to navigate around, and the best way is to use its extensive public transportation network that consists of the above-ground trains known as S-Bahn, the underground trains known as U-Bahn, streetcars or trams and buses. All these are available easily and use a common ticketing system- much like Berlin.
Tip: If you're in town for a week, grab the weekly tickets and save some money. The tickets come in individual, group, daily, weekly and monthly tickets.
If you feel restricted, then rent a bike and explore the city at your own time and pace. Bike rental shops are dotted throughout the city.
After going through all the things to do, places to see and festivals to attend in Munich, it certainly doesn't feel like a city that you can cover in just a few days, which I had originally thought. Munich has this ability to make you feel you're visiting three or more places at once.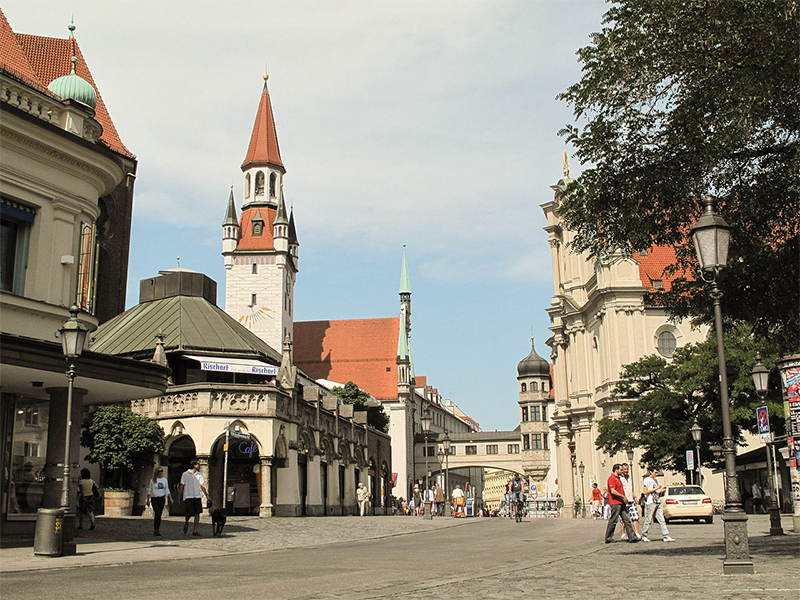 Tags: Holiday in Germany, Munich Holiday
| | | | | |
| --- | --- | --- | --- | --- |
| Del.icio.us | Facebook | TweetThis | Digg | StumbleUpon |
Comments: 0 (Zero), Be the first to leave a reply!
You might be interested in this:
Venice: The dreamy old-world City
Snapshot: admire the magnificent Sutherland Falls
Bogota: a vibrant city of contradictions
What to expect at the Star Wars Exhibit in Legoland Malaysia
Snapshot: Along the Great Ocean Road
---
Copyright © The Gallivant Post [Munich: A Bavarian Wonderland and more], All Right Reserved. 2016.