Luxury Hotel Christmas packages are getting booked early this year and with good reason. With the coronavirus pandemic far from over, it is uncertain what kind of restrictions there will be come Christmas Day but now more than ever, people want something to look forward to.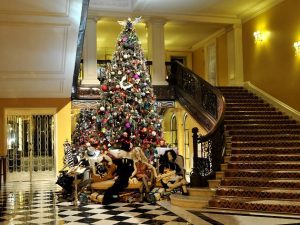 After such a year, a stay at a luxury hotel for Christmas could be just the thing to cheer us all up. If you think of the best luxury country house hotels for Christmas you can instantly picture the festive scene: comfy sofas, roaring fires, beautiful decorations and acres of grounds for the Boxing Day walk.
While many hotels and restaurants offer pre-Christmas breaks and festive dinners, many luxury hotels, especially the best British country house hotels, offer two- or three-night festive breaks which wrap up the whole of the Christmas experience in a Christmassy package. The Christmas break often starts on Christmas Eve with welcome drinks on arrival, a festive afternoon tea, carol-singing and Christmas Eve dinner followed by Christmas morning cocktails and Christmas Day breakfast, the all-important Christmas Day lunch with all the trimmings, and then, if you're lucky, a Boxing Day Ball.
Sprinkled among all this festivity will be Christmas presents, a Christmas film, a jigsaw or two and of course, the Queen's Speech (Christmas at a luxury hotel is nothing if not traditional).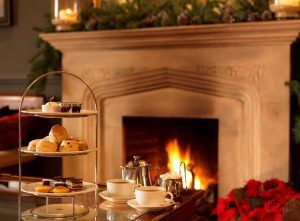 Added to this might be a luxury hotel spa, activities such as falconry, wine-tasting, treasure hunts, black tie dances, cocktail classes, Christmas games and quizzes (Father Christmas could even make an appearance) and probably the best thing of all: absolutely no washing up. You will be looked after, pampered, indulged and thoroughly cosseted and while all this comes at a price, well, it's only once a year after all. (Here's my day-by-day account of my Christmas spent last year at Ockenden Manor in West Sussex to give you an idea what to expect.) However each hotel chooses to celebrate Christmas, you can be sure of three things: it will be memorable, it won't be cheap, and there'll be a massive Christmas tree. Feeling festive yet?
Read on for my epic round-up of the best luxury hotel Christmas packages
Below is a round-up of the best luxury hotels for Christmas 2020 in the UK. The price of Christmas breaks is usually based on the cheapest room and so might be more expensive depending on what rooms the hotels have left.
All hotels should have a clear policy regarding cancellations due to Covid on their websites but if not, or for added reassurance, call them directly to find out where you stand if you are unable to make it due to Covid, or if the hotel itself has to cancel or is in a lockdown zone. Tell them that ALadyofLeisure.com said to ask!
Where I haven't been able to find a price for Christmas 2020 I've kept the price from last Christmas but will add a note to that effect. If any of these Christmas hotels take your fancy then be quick as many of these will sell out – and fast. I've included links so you can jump to the different regions or just scroll through the whole list for Christmas inspiration. Good tidings to all!
Best hotels for Christmas in the Cotswolds
Best hotels for Christmas in South East England
Best hotels for Christmas in the New Forest
Best hotels for Christmas in South West England
Best hotels for Christmas in the Midlands
Best hotels for Christmas in the North of England
Best hotels for Christmas in Scotland
Best hotels for Christmas in Wales
Best hotels for a Christmas spa break
Back to top
Best hotels for Christmas in the Cotswolds
Whatley Manor, Wiltshire
The hotel: Quintessential country house hotel with Michelin-starred restaurant, top spa and beautiful ornate gardens.
The Christmas package: Four days of indulgence and celebration await guests at Whatley Manor starting with a bottle of chilled sparkling wine from the acclaimed Gusbourne estate in your room, afternoon tea with musical entertainment and then the Chef's Menu dining experience from two-Michelin-starred chef Niall Keating on 23rd December. On Christmas Eve enjoy a film in Whatley Manor's own cinema followed by a candlelit dinner on Christmas Eve, plus optional transport to Midnight Mass at nearby Malmesbury Abbey and festive drinks on return. Christmas Day at this luxury hotel starts with a Champagne breakfast followed by a five-course lunch on Christmas Day plus board games and evening buffet. Boxing Day at Whatley Manor includes a trip to nearby Westonbirt Arboretum, a festive wine-tasting and canape reception with live jazz and a four-course black tie Gala dinner followed by dancing.
Cost of Christmas 2020 at Whatley Manor: From £3,899 per room including full use of spa based on two sharing. Dogs also welcome and will enjoy doggy treats during their stay.
Read what it's like to stay at Whatley Manor here in my exclusive review
Compare prices and read more reviews of Whatley Manor on Tripadvisor here
Dormy House, Cotswolds, Worcestershire
The hotel: Dormy House, nestled in the hills above the Cotswolds village of Broadway, is the perfect boutique hotel, with an ultra-modern spa, cosy bedrooms, two restaurants and a great eye for what makes a lovely break.
The Christmas package: Snuggle up by the fire this Christmas for three nights of festivity at this award-winning boutique hotel. On Christmas Eve, enjoy afternoon tea and mulled wine on arrival, curl up by the roaring fire with a warming mug of hot chocolate and then feast on a three-course dinner at The Potting Shed or the Garden Room restaurants before the arrival of…guess who? On Christmas Day, enjoy a hearty Cotswolds breakfast with Bucks Fizz and Bloody Marys, followed by a Christmas Day lunch, and then for those who have room, a Christmas Day evening buffet. On Boxing Day, there is a host of Christmas activities to enjoy from cooking demonstrations to wine pairing, or walk off the Christmas treats in the Cotswold countryside. In the evening, tuck into a five-course farewell feast with live music (fingers crossed).
Cost of Dormy House hotel's Christmas package 2020: From £2,500 based on two people sharing.
Read what it's like to stay at Dormy House by clicking here to read my exclusive review
Check the latest prices and read more reviews of Dormy House on Tripadvisor by clicking here

The Painswick, Gloucestershire
The hotel: Cosy and charming award-winning boutique hotel in Cotswolds stone.
The Christmas package: Head to the Cotswolds and join this chic hotel for a three night Christmas break. Start off with cake, tea and Champagne on Christmas Eve before a three-course dinner in the hotel restaurant and a stroll if you fancy it to Midnight Mass at St Mary's church – Covid-permitting – which is handily next door. Breakfast on Christmas Day morning starts with Bucks Fizz, followed by a five-course Christmas Lunch and a glass of Champagne, the Queen's Speech and a selection of board games to while away the afternoon before Christmas Day evening buffet. The hotel has loads of maps for Boxing Day walks – it's right on the Cotswolds way – and then a Boxing Day dinner to reward hikers.
Cost of staying at the Painswick for Christmas 2020: From £1,522 per room for three nights based on two people sharing, suites are from £2,212.
Read what it's like to stay at The Painswick here in my exclusive review
Check the latest prices and read more reviews of The Painswick on Tripadvisor here
Manor House, Castle Combe, Wiltshire
The hotel: Splendid historic manor house with beautiful grounds in the heart of picture-perfect Cotswolds village Castle Combe.
The Christmas package: Start with a festive cream tea and Champagne and canape reception before a four-dinner Christmas Eve dinner at Manor House's Michelin-starred Bybrook restaurant. For those who wish to stroll to the local church for Midnight Mass it is just a few minute's walk away. Between 12-3pm traditional Christmas Dinner will be served in the Bybrook restaurant while guests will be given a hamper for Christmas Day evening dinner. On Boxing Day after breakfast in your room, try your hand at laser clay-pigeon shooting, golf or festive games before gin cocktails and a four-course gourmet dinner.
Cost of Christmas package 2020 at Manor House: Three night stay from £1,500 per person based on two sharing. A four-night Christmas package is available for £1,290 per person based on two sharing.
Read what it's like to stay at Manor House here in my exclusive review
Check the latest prices and read more reviews of Manor House on Tripadvisor here
Barnsley House, Gloucestershire
The hotel: Gorgeously cosy and charming boutique hotel in a beautiful little Cotswolds village, with Rosemary Verey gardens, spa and private cinema.
The Christmas package: The three-day festive Christmas break includes a festive afternoon tea with a glass of fizz or mulled cider and three-course dinner on Christmas Eve showcasing Barnsley House's 'garden to plate' cuisine. The spa will be open throughout your stay so you can book a Christmas Day dip in the hydrotherapy pool before a Champagne reception with canapes and indulgent three-course Christmas Day lunch, buffet dinner Christmas Day evening and a Boxing Day pie and quiz night or stroll to The Village Pub for Pie Night just yards away.
Cost of the Christmas package at Barnsley House 2020: From £2,326 for an elegant room based on two people sharing.
Read what it's like to stay at Barnsley House here in my exclusive review
Check the latest prices and read more reviews of Barnsley House on Tripadvisor here
Calcot Manor, Gloucestershire
The hotel: Family-friendly Cotswolds luxury hotel (owned by the group behind Barnsley House, The Painswick and Lord Crewe Arms) set in 220 acres of Cotswolds countryside. Smart rooms, large spa and its very own pub make this a self-contained Cotswolds retreat.
The Christmas package: Guests are welcomed on 24th December with Christmas cake and mince pies in front of roaring log fires. That evening there's a dinner glass of fizz followed by dinner in The Conservatory. Christmas begins with a Champagne breakfast – the spa is also open in the morning for some festive relaxing – then a traditional Christmas Lunch. Boxing Day take a stroll round Calcot Manor's 220 acres or explore the nearby Westonbirt Arboretum and the Christmas break is finished off with a Champagne reception and dinner.
Price of Christmas 2020 at Calcot Manor: Rooms start at £2,390 per room based on two sharing.
Read what it's like to stay at Calcot Manor in my exclusive review here
Check availability and read more reviews of Calcot Manor on Tripadvisor here
The Lygon Arms, Worcestershire
The hotel: A four-star luxury coaching inn in Broadway, the heart of the Cotswolds. Sister hotel to Cliveden and Chewton Glen and owned by the Iconic Luxury Hotels group.
The Christmas package: Unlike other hotels, Lygon Arms has gone for a 'make your own Christmas package' option which might be perfect if you would like more flexibility in your Christmas break. Guests can arrive on Christmas Eve, Boxing Day or even Christmas Day itself for a minimum two-night stay on a B&B basis and then you add the extras as you wish. So for example the rooms cost £345 per night, including breakfast, Christmas Eve entertainment in the form of carol singers, welcome gift and Christmas hamper. However you then add your own extras, such as Champagne afternoon tea (£40), three-course Christmas Eve dinner (£75 a head), Christmas Day lunch (£140 per person) and evening meal (£35). A Christmas tree in your room costs £125 (suites only). On Boxing Day wave-off the North Cotswold Hunt from the front door of the Lygon Arms and look forward to a three-course gala dinner with wine (£75 per person).
Cost of Christmas 2020 at The Lygon Arms: See above.
Read what it's like to stay at The Lygon Arms in my exclusive review here
Check the latest prices and read more reviews of The Lygon Arms on Tripadvisor here
Bowood hotel, Wiltshire
The hotel: A smart golf and spa hotel on the beautiful Bowood Estate next to Bowood House stately home.
The Christmas package: A two-night break promising a 'magical Christmas' including Christmas Eve Champagne afternoon tea and 3-course festive dinner, Christmas Day stockings, full Wiltshire breakfast and traditional Christmas lunch followed by a visit from Father Christmas and dinner in the evening with entertainment. Access to spa facilities and the golf course available at extra cost.
Cost of Christmas break at Bowood hotel and spa 2020: From £440 per person for a two-night break – a third night is also available.
Read what it's like to stay at Bowood hotel here in my exclusive review
Check the latest prices and read more reviews of Bowood House on Tripadvisor here
The Fish hotel, the Cotswolds
The hotel: The Fish bills itself as a 'back-to-nature bolthole' with a little touch of luxury and is owned by the group behind the excellent Dormy House (see review at the top of this article).
The Christmas package: Afternoon tea with a glass of mulled wine on arrival on Christmas Eve followed by a winter BBQ. Christmas Day begins with a hearty Cotswolds breakfast with Bucks Fizz followed by Christmas Day dinner with all the trimmings and for those who still have room, graze on the Chef's supper in the evening. On Boxing day explore the 400 acres estate on mini-quad bikes or burn of the calories with laser clay shooting.
Cost for Christmas 2020 at The Fish hotel: Prices from £1,250 based on two people sharing a medium room.
Check the latest prices and read more reviews of the Fish Hotel on Tripadvisor here

Back to top
Best hotels for Christmas in South East
Best hotels for Christmas in Bedfordshire
Luton Hoo, Bedfordshire
The hotel: A luxurious grade 1 listed, five star luxury hotel on the Bedfordshire border which has starred in several films including Four Weddings and a Funeral and Eyes Wide Shut. The vast 1,065 acre estate is perfect for a Christmas ramble and the hotel has its own championship golf course and fleet of London taxis to ferry guests around.
The Christmas package at Luton Hoo: The hotel is currently updating its Christmas plans but is likely to be on the same lines as last year. On Christmas Eve guests get a tour of the historic mansion, can take part in gin-tasting or have a swim in the spa, followed by dinner in the opulent Wernher restaurant with its glittering chandeliers. Christmas Day starts with gifts from Father Christmas, traditional Christmas lunch, tea and Christmas cake followed by dinner in the lounge. On Boxing Day try clay pigeon shooting, crossbow and archery on the lawn, and a Champagne dinner in the evening.
Cost of Luton Hoo's Christmas package 2020: Likely to be from £915 per person for three nights based on two sharing.
Read what it's like to stay at Luton Hoo here in my exclusive review
Check the latest prices and read more reviews of Luton Hoo on Tripadvisor here

Best hotels for Christmas in Berkshire
Cliveden House, Berkshire
The hotel: A 350-year old country house set in 376 acres of magnificent formal gardens and woodland, Cliveden is one of Britain's grandest country houses and fittingly promises an 'iconic' Christmas house party. The hotel where Meghan Markle spent the night before marrying Prince Harry is a Grade 1-listed stately home complete with antique furniture and a thoroughly modern spa and guests can expect a Christmas celebration worthy of Downton Abbey.
The Christmas package: Christmas Eve starts with mulled wine and mince pies and a champagne and canape reception with carol singers followed by a three-course gourmet black tie dinner with wines, while there's a three-course Christmas lunch with wines on the big day itself. On Boxing Day there's a brunch buffet followed by a 'butler's tour' of the stunning building followed by Christmas cake, then dinner with wines and dancing.
Cost of Cliveden House hotel's Christmas House Party 2020: Prices start from £3,900 based on two sharing.
Read what it's like to stay at Cliveden here in my exclusive review
Compare prices and read more reviews of Cliveden on Tripadvisor here
Coworth Park, Berkshire
The hotel: Five-star Michelin-restaurant hotel near Ascot, set in 240 acres of Berkshire parkland. Coworth Park is the only hotel in the UK with its own polo fields and also has an award-winning spa.
The Christmas package: Festive Champagne afternoon tea on arrival with festive singing followed by Christmas card-making, family board games and story-time in the Oak Room followed by a three-course dinner at Restaurant Coworth Park or The Barn and optional transfers to Holy Trinity Sunningdale for the midnight service. Father Christmas will be in the lobby on Christmas morning followed by champagne, canapes and entertainment in the Drawing Room and a four-course Christmas lunch at The Barn or five-course lunch at Restaurant Coworth Park and live entertainment in the evening. Boxing day there's a chocolate masterclass, children's party, afternoon tea with harpist and wine-tasting followed by a three dinner and entertainment.
The cost of the Christmas package at Coworth Park 2020: Rooms from £1,470 per room, per night based on double occupancy, suites from from £1,640 per room per night.
Compare prices and read more reviews of Coworth Park on Tripadvisor here
Best hotels for Christmas in Buckinghamshire
Hartwell House, Buckinghamshire
The hotel: Luxury country house hotel and spa with 90 acres of land and impeccable customer service.
The Christmas package: A three-night break at Hartwell promises to be a luxurious and traditional affair, with cream tea, Champagne reception and three-course dinner with wine pairings on Christmas Eve, Bucks Fizz reception followed by four-course Christmas lunch with wine, the Queen's Speech in the lounge with tea and Christmas cake, and a Boxing Day farewell black tie casino evening with Prosecco reception, three-course dinner and wine pairings.
Cost of staying at Hartwell House for Christmas 2020: From £1,165 based on two sharing
Read what it's like to stay at Hartwell House here in my exclusive review
Check prices and read more reviews of Hartwell House on Tripadvisor here
Best hotels for Christmas in East Sussex
Ashdown Park, East Sussex
The hotel: The view from the hotel's terrace will take your breath away – rolling lawns surrounded by Ashdown Forest (which inspired Winnie-the-Pooh creator AA Milne). The 106-bedroom hotel in 186 acre-estate is full of beautiful historic rooms and even boasts its own spa and chapel.
The Christmas package: Ashdown Park is yet to finalise its Christmas offering but it's likely to be along similar lines as last year's which was: starting with a Christmas Eve champagne and canape reception with carols, a candlelit dinner in its Anderida restaurant, hot toddies and mince pies to welcome people returning from Midnight Mass. Christmas Day begins with breakfast, mince pies and mulled wine – and a visit from Father Christmas – and continues with a buffet lunch, afternoon champagne quiz and then a five-course traditional Christmas Dinner in the evening. Boxing Day treats includes clay pigeon shooting, archery and a falconry display, a quiz and a treasure hunt and after a Black Tie gala dinner, a casino evening with roulette and live music. Spa access included throughout the stay
Cost of Christmas 2019 at Ashdown Park hotel: From £999 per person for three nights, £1,134 for the four-night package based on two people sharing.
Read what it's like to stay at Ashdown Park hotel in my exclusive review here
Check availability and read more reviews of Ashdown Park hotel on Tripadvisor here
Best hotels for Christmas in Hampshire
Lainston House, Winchester
The hotel: This 17th century five-star luxury hotel, situated just outside Winchester has luxurious suites, award-winning dining, stunning views across Hampshire and is home to Season, the Exclusive Hotels Cookery School where you can learn from award-winning chefs.
The Christmas package: Choose between a three-night or four-night stay, starting with a two-hour Christmas baking experience in the cookery school, followed by a four-course dinner with wines to match. On Christmas Day there's Champagne and canapés before a five-course Christmas Lunch served with wine pairing to match and evening buffet. Boxing Day choose between archery or clay pigeon shooting have another chance to visit the cookery school and then a Boxing Day evening Champagne and five-course dinner with wine pairings. Four-night night guests can enjoy a private tour and tasting at Black Chalk Valley before a final farewell dinner.
Cost of Christmas at Lainston House: Three-night stay from £2,240 and four-nights from £2,650, prices per room based on two sharing.
My exclusive review of Lainston House is coming soon!
Check prices and read more reviews of Lainston House on Tripadvisor here
Best hotels for Christmas in Surrey
Pennyhill Park, Surrey
The hotel: 120-bedroom luxury hotel with one of the finest hotel spas in the country, covering 45,000 sq ft and with eight indoor and outdoor pools (one with underwater music), saunas, steam rooms, bubbling hot tubs, ice-cold plunge pools and a salt scrub ice cave. There's also a gym, nine-hole golf course, tennis courts and 120 acres of parkland with paths and cycling trails and several restaurants and bars.
The Christmas package: Start the celebrations off with a welcome High Tea and a glass of fizz, or relax in the vast spa before Christmas Eve dinner in the Brasserie or Latymer restaurants. Christmas starts with – possibly – a surprise from Santa, followed by more pampering in the spa, a 'gastronomic delight' Christmas lunch, then relaxing before a grazing dinner and delivery of a cheese hamper at 10pm.
Cost of Christmas 2020 at Pennyhill Park: From £2,030 for the three night package based on two people sharing. There is an extra cost if dining in the Latymer restaurant.
Read my exclusive review of Pennyhill Park here
Check prices and read more reviews of Pennyhill Park on Tripadvisor here
Best hotels for Christmas in West Sussex
Bailiffscourt, West Sussex
The hotel: Just yards from Climping Beach, Bailiffscourt feels far older than its 90 years, with four-poster beds and its own 13th-century chapel in its 30 acres – but its large spa is bang up to date.
The Christmas package: Arrive on Christmas Eve for a Sussex Sparkling afternoon tea, a mulled wine drinks reception accompanied by carol singers, buffet dinner and Midnight Mass followed by mulled wine and home-made mince pies. Christmas Day starts with a full English breakfast with Bucks Fizz, a sparkling wine reception with canapés followed by a traditional Christmas lunch, tea and Christmas cake and a light buffet supper. For Boxing Day there is mulled wine with marshmallows by the open fires, tea and home-made cake followed by a gala dinner. Full use of the spa and swimming pools included.
Cost of spending Christmas 2020 at Bailiffscourt: From £1,105 per person based on two people sharing
What is it like to stay at Bailiffscourt? Click here to find out
Check prices and read more reviews of Bailiffscourt on Tripadvisor here
Ockenden Manor, West Sussex
The hotel: In the pretty village of Cuckfield, 28-room Ockenden Manor combines the history of an Elizabethan manor house with a first-class modern spa.
The Christmas package: Start off with an indulgent afternoon tea, a Sussex sparkling wine reception with carols from the local church choir then dinner in the elegant restaurant. There's the option of Midnight mass followed by mulled wine and home-made mince pies. For Christmas Day there's a continental breakfast, sparkling wine reception with canapés followed by a six course lunch, tea and Christmas cake, light buffet supper with harpist accompaniment in the evening. On Boxing Day enjoy a full English breakfast with Sussex sparkling wine, full afternoon tea with Christmas Cake and cocktails before a gourmet dinner – plus full use of its award-winning spa and swimming pools.
Cost for Ockenden Manor's Christmas package 2020: From £1,065 per person based on two sharing.
I spent last Christmas at Ockenden Manor – read all about my fabulously festive Christmas break here
South Lodge, near Horsham, West Sussex
The hotel: Part of Exclusive Hotels group (which also includes Pennyhill Park and Manor House), South Lodge is a luxury hotel in West Sussex overlooking the South Downs, with a brand new spa and individually-designed bedrooms.
The two-day Christmas package: Arrive from midday to mulled wine and mince pies before finding your very own Christmas tree in your room (surprise gifts will appear in your personal hidey-hole in the Grand Hall throughout the break). There's a sparkling drinks reception with a choir in the evening, followed by a three-course welcome dinner in The Camellia or Botanica restaurants. The spa will be open throughout the festivities. After Christmas breakfast, enjoy traditional Christmas lunch in the South Downs Suite on Christmas Day and then enjoy a luxury hamper in your room over a classic Christmas film in the evening. If you can't bear to leave on Boxing Day then you can stay an extra night on a B&B basis.
The cost of the 2020 Christmas package at South Lodge: Two-night stay from £1,690 based on two sharing.
Read what it's like to stay at South Lodge in my exclusive review here
Check prices and read more reviews of South Lodge on Tripadvisor here
The Spread Eagle, Midhurst, West Sussex
The hotel: Part of Historic Sussex Hotels, The Spread Eagle has been a fixture in the pretty town of Midhurst for almost 600 years, with notable guests including Queen Elizabeth I (the room she stayed in has a four-poster bed and a wig closet).
The Christmas package: Enjoy afternoon tea and a sparkling wine reception with carols and canapes before a Christmas Eve dinner and optional trip to Midnight Mass with mulled wine and mince pies after. Start Christmas Day with a full English breakfast and sparkling wine before a traditional Christmas lunch with a pianist, then festive supper with harp accompaniment. Boxing Day ends with a dinner in its stunning Jacobean hall. Full use of its award-winning spa and swimming pools throughout the stay.
The cost of Christmas 2020 at The Spread Eagle: Three-night stay for two people from £930.
Read what it's like to stay at The Spread Eagle in my exclusive review here
Check prices and read more reviews of The Spread Eagle on Tripadvisor here

Back to top
Best hotels for Christmas in the South West
Best hotels for Christmas in Cornwall
Headland Hotel, Newquay, Cornwall
The hotel: Five-star luxury hotel in Newquay with private self-catering cottages set on an exclusive clifftop overlooking Fistral beach. The hotel says it's a mix of 'discreet English ambiance and decadent hospitality' and offers ocean views, a top spa and fine -dining.
The Christmas package: The Headland is yet to reveal its Christmas break details but promises a 'wonderful festive break'. Last year there was festive tea and cake followed by carols from the Newquay Town Band on Christmas Eve, before a Champagne reception and jazz-accompanied candlelit dinner. Christmas Day started with a Buck's Fizz breakfast and an appearance by Mrs Claus, then a five-course festive lunch and carols around the piano. The Cornish coastline is a great place for a Boxing Day stroll and in the evening after dinner there was a 'Casino Royale' themed black tie event.
The cost of Christmas 2020 at The Headland hotel: Three-night minimum stay is £260 per room per night based on two people sharing including breakfast and dinner each day.
Read my exclusive review on what it's like to stay at The Headland hotel here
Check availability and read more reviews of The Headland hotel on Tripadvisor here
Watergate Bay hotel, near Newquay, Cornwall
The hotel: Taking over a whole bay, Watergate Bay is a sprawling but smart boutique hotel which embraces the elements from surfing to swimming while providing luxury with its own pool, hot tubs, bars, restaurants and epic views.
The Christmas package: Watergate Bay is offering an epic four-night Christmas back this year which promises to be a memorable one. Start your break on the 23rd December with a stroll along the beach, a dip in the pool or just get stuck into the mulled wine. There's crafts, reindeer making, games, carol singing and cake followed by dinner. On Christmas Eve there's the chance to surf or body board, or try wreath-making, then bubbly, early evening carols and canapés around the tree before dinner and laid-back entertainment. Christmas Day there's a Champagne breakfast and festive lunch while on Boxing Day gather for Watergate Bay's 'legendary family challenge.'
The cost of Christmas 2020 at Watergate Bay: From £960 per person based on two sharing, and from £1,688 for full sea views
My review of Watergate Bay is coming soon!
Check availability and read more reviews of Watergate Bay on Tripadvisor here
Back to top
Best hotels for Christmas in Devon
Bovey Castle, Dartmoor National Park
The hotel: A stunning but welcoming grand historic hotel in the heart of Dartmoor.
The Christmas package: Bovey Castle transforms into a 'Winter Wonderland' every year and the setting couldn't be grander. Arrive on Christmas Eve for lunch and a host of festive activities including cider and sloe gin making, plus afternoon tea and a storyteller for all the family. The evening includes welcome drinks, and a five-course candlelit dinner. On Christmas Day Father Christmas will be handing out presents to younger guests before a brass rubbing trail and a fabulous Christmas Day lunch in the Great Western Restaurant. After brunch on Boxing Day, sign up for the golf tournament or a guided walk, take part in a treasure hunt in the castle grounds while the afternoon enjoy ferret racing or nearest the pin golf competition, with hot chocolate and mulled wine. The day finishes with a five-course black tie dinner and entertainment in the Great Western Restaurant.
Cost of Bovey Castle's Christmas package 2020: From £1,350 per person for a three-night stay based on two sharing.
Read what it's like to stay at Bovey Castle here
Check prices and read more reviews of Bovey Castle on Tripadvisor here
Cary Arms and Spa, south Devon
The hotel: A charming boutique hotel right on the coast at Babbacombe Bay and just a few miles from Torquay. From the welcome glass of sloe gin to the excellent locally-sourced food, cosy spa and luxury beach suites, Cary Arms is a memorable place to stay.
The Christmas package: Cary Arms is throwing a Christmas 'house party' for its guests – a three-night stay including cocktail parties, dinners and entertainment. Arrive on Christmas Eve and settle into your room with its wild and wintery sea views with a glass of mulled wine before a Christmas Eve cocktail party. Christmas Day arrives with a Champagne breakfast, then a five-course lunch and an afternoon relaxing over billiards before a 'crazy' Christmas quiz. Boxing Day can be spent in its spa or enjoying a blustery walk along the bay and enjoying Cary Arms spectacular location.
Cost of Cary Arm's Christmas package 2020: Starting from £1,790 for a double room based on two sharing.
Read what it's like to stay at Cary Arms and spa in my exclusive review here
Check prices and read more reviews of Cary Arms and spa on Tripadvisor here
Lympstone Manor, Devon
The hotel: A Grade 2-listed 21-bedroom Georgian manor house with 28 acres and Michelin-starred chef Michael Caines.
The Christmas package: Arrive on Christmas Eve to mince pies and mulled wine before joining other guests for wine-tasting. In the evening enjoy aperitifs and canapés followed by Michael's eight-course tasting menu in the Georgian fine dining rooms. Afterwards there's the option to have a chauffeured service to Midnight Mass at Exeter Cathedral. There's a champagne breakfast on Christmas Day, followed by a five course Christmas lunch menu – plus chef Michael Caine's mum's famous Christmas pudding, then on Boxing Day take a stroll around the grounds of Lympstone Manor or join a guided walk for an excursion along the coastline and River Exe with a local guide.
Cost of Christmas 2020 at Lympstone Manor: Three nights from £869 per night based on two people sharing.
Check prices and read more reviews of Lympstone Manor on Tripadvisor here
Boringdon Hall hotel, Devon
The hotel: Five-star 16th century country manor house near Plymouth with an award-winning Gaia Spa with indoor swimming pool, hydrotherapy pool, Finnish sauna, crystal salt steam room and alfresco hot tubs.
The Christmas package: Arrive to a warm welcome and a glass of mulled wine before a history tour of this Elizabethan house. Christmas Eve dinner is in the 3 Rosette restaurant with wine-pairings. Christmas Day starts with a Devonshire breakfast and an optional Christmas Day walk on Dartmoor (the spa will also be open) followed by four-course Christmas lunch. Later there's Christmas cake and guests are encouraged to participate in Boringdon Hall's Christmas Day tradition, the 'Call my Bluff' wine game. In the evening, a Christmas buffet dinner will be served, and The Swing Kings will perform live music in the Great Hall while Boxing Day activities include a falconry presentation and four-course black-tie dinner with live entertainment.
The cost of spending Christmas 2020 at Boringdon Hall: Three night Christmas break from £2,100 per couple, four-nights from £2,400 per couple including dining, all drinks and 'frivolities'.
Check prices and read more review of Boringdon Hall on Tripadvisor by clicking here
Best hotels for Christmas in Dorset
Alexandra Hotel, Lyme Regis
The hotel: Charming traditional hotel with stunning garden views overlooking Lyme Regis and the Jurassic Coast.
The Christmas package: The Alexandra is not offering a Christmas package this year thanks to Covid but it still offering guests the chance to stay at this unique hotel for a minimum of three nights over the Christmas period. Rooms and self-catering apartments are available and meals including a seven-course Christmas Day lunch tasting menu, afternoon teas and Christmas Eve and Boxing Day menus are available for extra cost.
Cost of the Christmas at The Alexandra 2020: From £216 per room per night without sea view, £303 with sea view, self-catering from £384. Christmas Day lunch £150 and afternoon tea £30 per person.
Read what it's like to stay at The Alexandra in my exclusive review