What is it like to stay at New Hall hotel and spa?
There are probably many historic hotels in Birmingham with a spa and swimming pool but I can't imagine that many of them come with a moat. In fact, I was trying to think of any hotels with a moat which I've reviewed for ALadyofLeisure.com and I'm not sure there are any others. Which means that New Hall Hotel and spa in Sutton Coldfield, just a few miles from the centre of Birmingham, is a rare hotel indeed.
It's not just any old moated hotel though – New Hall is actually reputed to be the oldest listed inhabited moat house in England. Dating from the 13th century, the manor house has over the centuries been a school, a hunting lodge, a private house and is now a luxury hotel owned by Hand Picked Hotels group – whose Brands Hatch hotel I reviewed last year.
The reason for my visit was to take part in New Hall's Peaky Blinders murder mystery dinner – how appropriate, to have a Peaky Blinders-themed dinner in Birmingham, home of the Shelby family! – but sadly that was cancelled at the last minute. However while this was disappointing, it did mean we had more time in the spa so, every cloud…
Set in 60 acres and with 60 bedrooms, New Hall is an impressive sight and I was so enchanted with the moat – yes, it's a real moat, surrounding the hotel – that I walked straight across the bridge and into what turned out to be the side entrance of the hotel (they are planning to improve signage as I'm not the first person to do that). However once I finally found my way to reception I was greeted with a warm welcome, rapid check-in and shown to my bedroom on the first floor.
The bedrooms at New Hall hotel
Named Sacheverell, the room was unexpectedly vast. Immediately inside the door was a lobby containing fitted wardrobes, a fridge stocked with water and fresh milk, a kettle, a coffee machine and all sorts of teabags and coffee pods.
To book directly with the hotel, go to: New Hall hotel, Sutton Coldfield
To compare the latest prices for New Hall hotel click on: Booking.com – HotelsCombined – Expedia
To read more reviews and for the latest prices click here to go to New Hall hotel and spa on TripAdvisor
The bathroom was extremely modern, with twin sinks, a bath and separate shower all done up in smart black marble, and lots of toiletries and towels. The bedroom itself was an impressive size, with twin beds as requested, a desk, sofa, chairs and Smart TV. Watching over the room was Warwick, the hotel's teddy bear, who could be placed outside as a 'do not disturb' sign. There was an abundance of plug points (if none by the main mirror which is often the case) and views of the all-important moat through mullioned windows.
The spa at New Hall
We headed straight for the spa which is in the gardens just behind the hotel (you can pad across in your fluffy robes) and went straight in for head and shoulder massages; 25 mins of sheer pampering. There is a well-equipped gym at the spa but in our blissed-out state we headed straight for the poolside loungers and remained there for the afternoon, moving only to try out the jacuzzi, steam room and sauna.
Staff were friendly and attentive – even topping up a manicure for free – and we spent so long in the spa that we had to move our dinner back an hour and forgo cocktails in the bar beforehand. Walking through the bar on the way to the dining room however, it didn't seem like a loss – the bar area and neighbouring lounge was really rather soulless for such a historic hotel filled with atmosphere and not a place you'd want to linger. However in the summer things would be much improved as the bar opens out onto a large patio garden so you could have your cocktails in the sunshine.
Dining at New Hall
The dining room itself was cloaked in oak panelling and was certainly a unique room (with some rather odd paintings – the guy overlooking our table was positively green) and more could have been made to make it more inviting: better lighting perhaps, lighter carpet and curtains, but it was impressive and the food and service were both good. We started with Brixham market mackerel and seared South Coast scallops, before moving on to the pie of the day (lamb). The pies were huge, hearty and nuclear-hot and came with gravy and mash, and it was only by sheer will-power that we able to fit in a slice of treacle tart afterwards.
It was probably the sheer quantity of food that persuaded me to hit the gym first thing the next day. I had the place to myself which is always a treat and pounded away on the treadmill until I was joined by a ten-strong crowd of people warming up. It turned out this was a regular fitness session and I was kindly asked if I'd like to join them, which was a pleasant hotel first. However I wanted to fit in a swim before breakfast (I also had the pool to myself which was bliss) so declined and headed off to do a few laps while they started doing an impressive number of crunches.
After my fitness blitz I felt able to tuck into breakfast and loaded up on fresh fruit and yoghurt before smoked salmon and scrambled eggs – and lots of excellent hot coffee served by yet more cheerful staff. However the highlight of our stay was an excellent tour of the older parts of the building (I highly recommend you ask a member of staff if you can do a tour during your stay – it would have been awful to have missed out).
We not only saw some lovely bedrooms including the gorgeously cosy Sirius in the very eaves of the hotel and admired the ornate staircase carvings (right) but loved the 500-year old Great Chamber, an impressive room with original oak panelling, its colourful Elizabethan ceiling and even some diamond-scratchings on the leaded windows, thought to be carved by the love-crossed George Sacheverell: cheerful thoughts such as 'In death I shall find the peace that life will deny me.'
We finished our stay with a walk around the gardens and discovered not only a tennis court and conference pavilion but more great views of the hotel's moat (cue a million more photos).
Reception will happily give you a handy print-out of the walking routes around the hotel grounds and local area, and in case you need even more reading matter, a detailed history of the hotel and even a list of the New Hall ghosts (there are several). In fact, the helpful attitude of all members of staff was the icing on the cake for this memorable stay: you might come for the moat (or the Peaky Blinders) but it's the little touches you'll remember. Just don't forget to ask for a tour, else you will really miss out.
New Hall hotel and spa, Sutton Coldfield, Birmingham
Rooms from £106 per night for a midweek Classic Double, going up to £165 for a Junior Suite at the weekend
To book directly with the hotel, go to: New Hall hotel, Sutton Coldfield
To compare the latest prices for New Hall hotel click on: Booking.com – HotelsCombined – Expedia
To read more reviews and for the latest prices click here to go to New Hall hotel and spa on TripAdvisor
If you are interested in more hotels in the Hand Picked Hotels collection then you'll love these luxury hotel reviews…
Luxury after lockdown: staying at Fawsley Hall hotel in Northamptonshire
After months of lockdown my first hotel was, reassuringly, at Hand Picked Hotel's flagship hotel Fawsley Hall hotel and spa in Northamptonshire near Daventry. This grand country house hotel and spa – we're talking at least 600 years old here – has withstood all manner of wars, plagues and famines and turned out to be perfectly capable of dealing with coronavirus as well.
Read my full review of Fawsley Hall hotel here
Relaxing in the slow land at Brandshatch Place hotel and spa
It shares its name with a famous motor racing circuit but guests at the Brandshatch Place hotel and spa will enjoy a relaxing stay away from the fast lane. Read my full review of Hand Picked Hotel's Brandshatch Place hotel and spa here
If you liked my review of New Hall hotel near Birmingham then why not Pin It?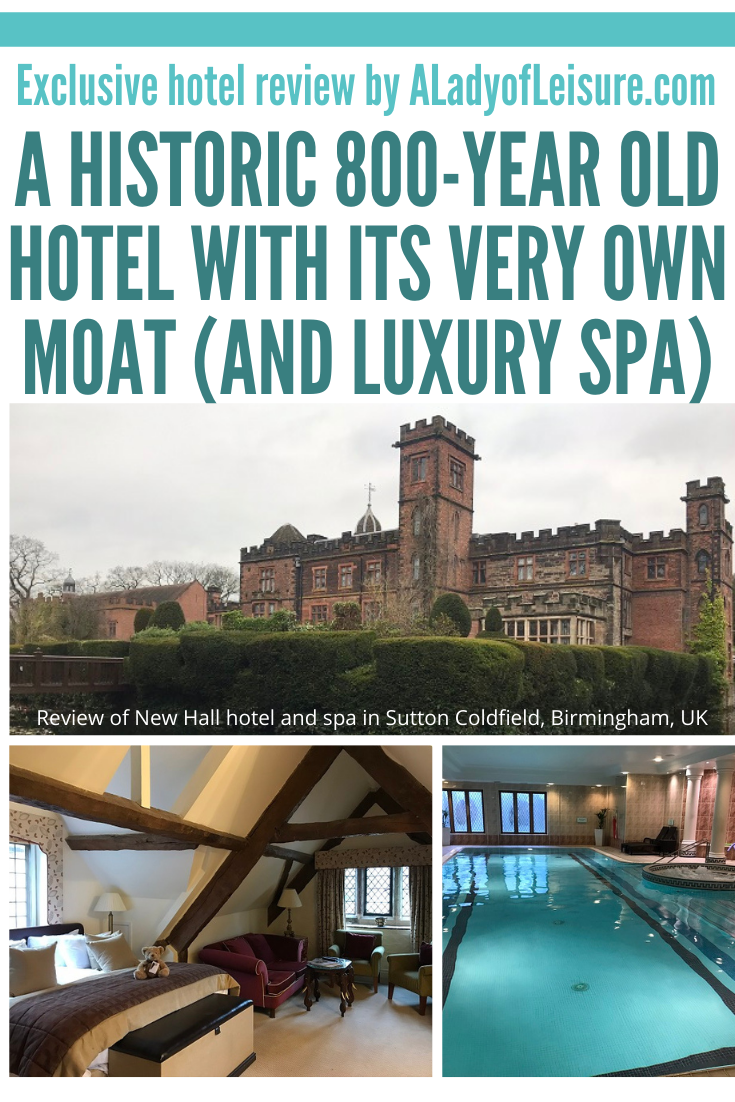 The post New Hall hotel and spa in Birmingham – it has its very own moat! appeared first on ALadyofLeisure.