[Editors' note – this review was first published in 2014 and some information might need updating]
It's just as well that an overnight stay at St Martin's Lane central London Hotel comes with complimentary membership of the gym next door. By the time I finally checked out after what seemed like 24 hours of continuous eating, I would not have been at all surprised to find that I had doubled in size.
Dinner the night before had involved a pretty huge amount of food on its own, but added to a hefty breakfast and a frankly massive amount of food which I dutifully sampled as part of its signature 'Cafecito' Afternoon Tea and I felt as I rolled down St Martin's Lane towards Trafalgar Square that I wouldn't need to eat again for at least a week or two.
I hadn't been to the St Martin's Hotel for about ten years – the Philippe Starck-designed interior caused quite a stir when it opened in 1999 and touches such as the flat-screen video displays in the lifts and the gold teeth stools in the lobby still remain.
It's not the most beautiful of hotels from the outside by any stretch – it used to be a 1960s office block and looks like something from the opening credits to The Office – and is far too cool to have its name on the front. However it is one of the most central hotels in London being a hotel close to Trafalgar Square (historically London's geographical centre).
Deliberately eschewing classic hotel styles such as luxury business-style, or the cosy country house feel, the hotel is still very keen on its minimalist, urban-edgy style which presumably appeals to its regular guest list of wealthy shoppers and celebrities.
Passing through the vast, empty lobby with its gold teeth, and progressing up a few floors via the video-screen life, the corridors to my bedroom were rather dark, rather spooky and rather green, so it was like being in a marine version of the Shining motel.
My room has been recently refurbished as part of its multi-million pound makeover with designer Tim Andreas and the lighting – which has a variety of settings, apparently – was set to 'hospital chic' or something very much like it.
The clinical effect was augmented by the white bed linen, white walls completely unadorned except for one solitary flowerpot, a white desk and not much else. It was cool rather than cosy: however other settings (see the purple pic below) offer a slightly more romantic vibe.
While it was smart and immaculate it wasn't exactly the kind of room to linger in, and when I realised that a bottle of Coke from the minibar (which also stocked chocolates, crisps and a 'couples vibrating ring' in case there was nothing on the telly that night) was going to cost £4, that was my cue to rush out to the Co-op on the Strand two minutes away and buy a can of Diet Coke for 70p.
But it was then that the hotel really came into its own. The location is just superb. It is a literal stone's throw from Trafalgar Square (although you might brain a tourist if you tried it).
Walking out of the hotel and realising you are right in the heart of the West End, a hop skip and jump from Covent Garden, Westminster, the Thames, the Strand… the location really made this hotel for me, and with all of London to choose from, you are unlikely to be spending much time your futuristic bedroom anyway.
If you did fancy spending time actually in the hotel then there was a lot of eating to be done. Judging by the large amount of empty tables at dinner, breakfast and then afternoon tea then most of its guests chose to eat out, which means they are missing out on some nice food but to be honest, not a great deal of atmosphere.
Sunday evening might not be peak tourist time anyway but there weren't that many other occupied tables in the dining room, which is a slightly odd split-level affair just off the main lobby and which has various pillars decorated with books and those ever-present flowerpots everywhere.
The restaurant at St Martin's Lane is called Asia de Cuba and claims to 'combine elements of Asian and Cuban cuisine served sharing-style in a high energy London restaurant.'
Now it certainly wasn't high energy by any stretch (but that could be just because it was Sunday night) and as I was on my own the sharing element went out of the window, but that was fine with me. The menu looked really good and I spent a lengthy amount of time dithering over it (always a positive sign in my view) before ordering so much that the waiter started to look rather worried.
Rather than choose one ceviche I went for a tasting -menu of all four and happily sniffed and slurped my way through a whole load of citrus and chili-infused fish dishes.
There was grouper, seville orange and aji amarillo, with horseradish, Thai basil and toasted sesame, and prawn, snapper and confit watermelon with Vietnamese red chili, garlic, jalapeno and coconut.
Next to those were Scottish salmon and salted avocado helado with spicy coconut milk and bird's eye pepper, then finally curry kingfish and passion fruit with toasted coriander seeds and fried capers. They tasted fresh, healthy and a lot of thought and preparation had gone into each.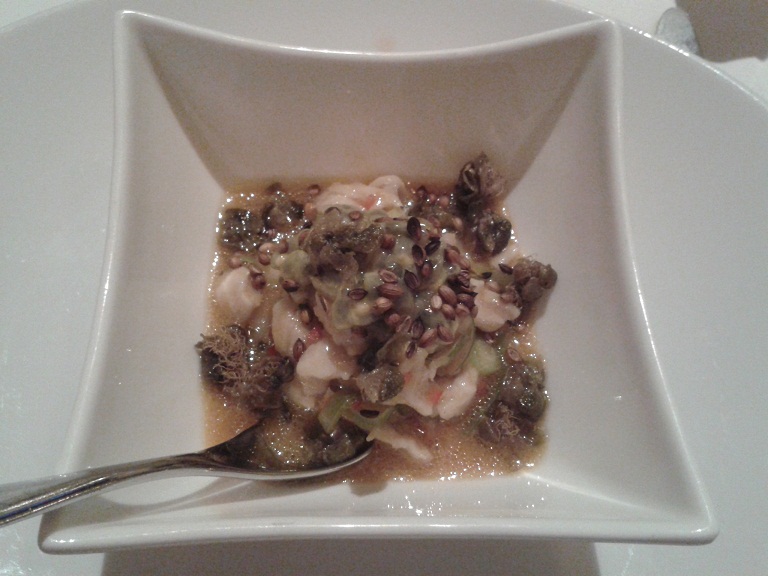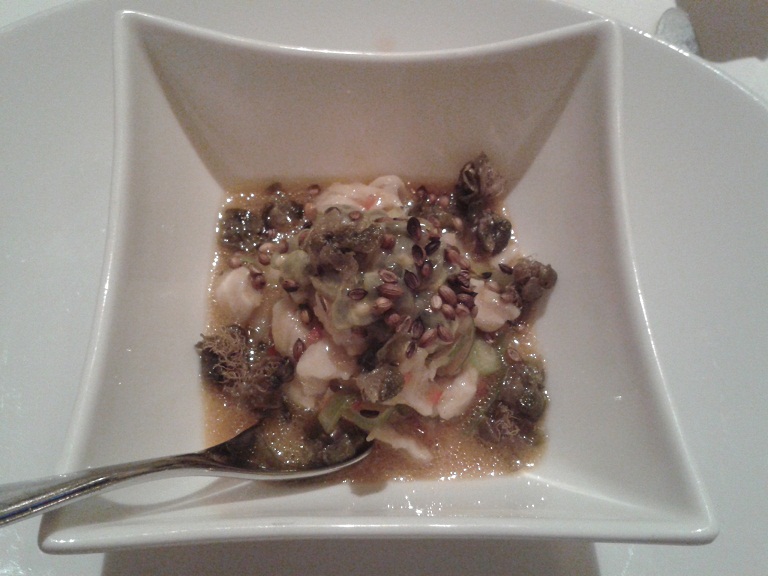 Curry kingfish and passion fruit
After thoroughly enjoying my starters, I charged on into the actual starter – pan seared jumbo seared scallops with sweet-sour plantains – which was delicious, and then, just as my stomach was beginning to hurt, finished with the miso cured black cod with edamame and grilled shishito peppers. This was the best dish of the night, really tasty and sweet without being cloying.
After working my way through that, there was nothing left for me to do except stagger through the gold teeth'd lobby up to bed where in spite of my comment about the stark bedroom I had a wonderful night's sleep on the extremely comfortable and vast bed.
Breakfast was not especially memorable – a perfectly fine selection of breads, cereals, yoghurts and so on, and some very doughy muffins under the eggs Florentine.
In an attempt to work off some of the effects of the previous night's blow-out I'd gone to supertrendy urban corrugated metal-and-exposed pipes fitness club GymBox next door which is free to hotel guests, a nice touch.
One of the main reasons for my stay, alongside the newly refurbishment rooms, was to experience the Asia de Cuba afternoon tea, called Cafecito and which promises to 'take guests on a journey into the mystique of a Cuban teahouse through a fusion of both Asian and Cuban inspired treats, offering guests an alternative to the traditional serve.'
By three in the afternoon I still wasn't hungry – after dinner and breakfast I felt as if I would never be hungry again – but I felt as if there was some room to try the Cafecito.
Back in the restaurant which had become my home for the rest of my life, it seemed, I was served – deep breath now –
– a selection of six different teas with names such as Traditional Iron Buddha, Wuyi Oolong and Lychee Red,
– mango, kiwi and strawberry smoothies in little bottles (these was utterly delicious)
– an Old Cuban martini cocktail with champagne, Havana rum and black grapes,
– a whole loads of savoury delights: hot smoked salmon tart with quails eggs and chipotle hollandaise, cubano pressed sandwiches with pulled pork, cheese and ham, beef and vegetable empanadas with Caribbean hot sauce, mango and cucumber summer roll and hot and sour chicken and avocado spring roll
– followed by: chocolate chili cream with pistachio crumble; banana spring rolls filled with white chocolate and coconut ganache; mini Mexican doughnuts filled with butterscotch sauce; and key lime pie topped with meringue.
– and an eponymous cafecito to round the whole thing off – this turned out to be an espresso shot with a lot of sugar.
Just typing that made me feel incredibly full again. It was a full half hour after I'd finished before I could actually leave, vowing not to eat for another month or two. For £25 (£35 with the cocktail) it seemed good value for a special treat, particularly if you are a big fan of tea.
However as with dinner, while the food could not be faulted, the problem was with the atmosphere. There is hardly any natural light, as the curtains are permanently closed (presumbly the windows look out onto a wall or an alleyway) so you feel cut off from the real world.
The design of the restaurant, which its odd pillars, strange mix of flowerpots and photographs for decoration and the split level meaning you are often overlooking a whole load of empty tables, just doesn't lend itself to a nice, cosy, relaxing afternoon. The bar is the same – a dark little corridor off the lobby which feels more like a railway carriage than a place to while away the hours.
But then the St Martin's Hotel has been going for nearly 16 years now in the highly competitive market of London's West End, so they must be doing something right.
Rooms at St Martin's Lane are from £495 for a standard room including breakfast and go up to £2,200 a night for the penthouse. Cafecito afternoon tea cost £25 or £35 including a cocktail
The post St Martin's Lane hotel: top location and afternoon tea with a difference appeared first on ALadyofLeisure.