There is always a worry when it comes to revisiting a hotel which you totally adored on the first visit – what if it's not going to be as good as you remembered it? I know people who won't go to the same place twice for that very reason, and others who, having found the perfect place, refuse to go anywhere else.
Thankfully Cotwolds luxury hotel Whatley Manor was every bit as good as I remembered it to be from my first visit. Whatley Manor is certainly not a budget option, but there are few hotels who can offer a luxury spa, private cinema, Michelin-starred restaurant and acres of beautiful gardens, which means a stay here is more than worth it.
The drive into the courtyard at Whatley Manor sets the scene for a memorable stay; the large wooden gates sweep open for you as you approach, as if welcoming you in to a secret world. This time I even looked the part, as Vauxhall had kindly lent me a brand new Astra for my jaunt (more details below) which looked much smarter than my bright yellow Fiat.
Staff miraculously appeared out of nowhere to welcome us, take our bags and valet-park our car, and a very indulgent stay had begun. General manager Sue Williams has now been at Whatley Manor for just over a year, having previously run the equally grand Cliveden House hotel, and has thankfully resisted any drastic obvious changes (although much work has been going on behind the scenes).
There is still a lovely country house feel to the hotel, with its stone floors, mullioned windows, sprawling grounds and little touches here and there, from chess boards set up ready to play, wellies to borrow and cosy sofas dotted all around.
Built in the 19th century, Whatley Manor became a hotel in 1987 and is now owned by hotelier and keen equestrian Christian Landolt, but still has the feeling of a grand home – although the private cinema and a high-end spa make it a cut above your usual manor house.
Whatley Manor's Aquarius spa can be reached from the hotel or across the ivy-clad courtyard and is the kind of spa you want to devote some serious time to.
There's a central, vast indoor/outdoor hydrotherapy pool where jets spring into life at set intervals, there's a range of sauna and steam rooms which you can work your way through, increasing in temperature each time, there are salt scrub showers where you fill a wooden bowl with sea salt and get scrubbing, and then there's Whatley Manor's latest addition, a 'Natura Bisse Treatment Bubble' which boasts has 99.995 per cent pure air which is supposed to rejuvenate and purify.
---
To book directly with the hotel, go to: Whatley Manor hotel
To compare prices for Whatley Manor click on: Trivago – Expedia – Hotels.com
To read more reviews click here to go to Whatley Manor on TripAdvisor
---
I can't vouch for the scientific effects but it was certainly different and very pleasant having a spa treatment in a big white inflatable bubble (I had the excellent D-Stress (60min/£90) facial and massage) and afterwards there were heated stone loungers in the tepidarium to snooze on.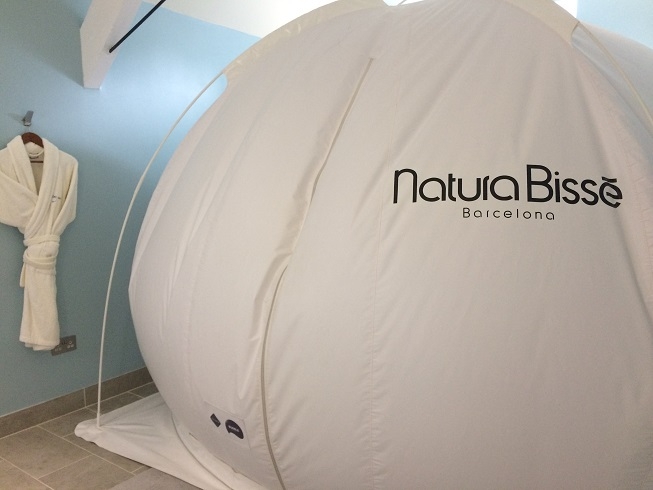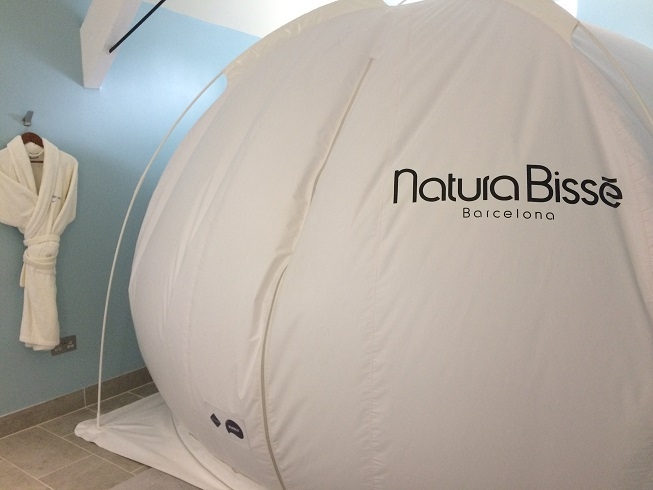 I floated back to our room which was up a tapestried staircase. It had a separate lounge, views over the terrace and gardens at the back of the hotel and a rather impressive sunken bathroom, reached via a secret door behind a sliding bookcase in the bedroom.
Pre-dinner cocktails at Whatley Manor are always a treat and this stay was no exception, with the stand-out being the Millionaire (Mount Gay Black Barrel Rum, apricot liqueur, sloe gin and lemon juice).
While relishing our drinks we were presented with the menus for the night's main event: the epic 12-course tasting menu from new chef Niall Keating (£99 or £177 with matching wine). The previous chef Martin Burge (who is now at Farncombe Estate which includes Dormy House) was awarded two Michelin stars while at Whatley Manor so the pressure is on.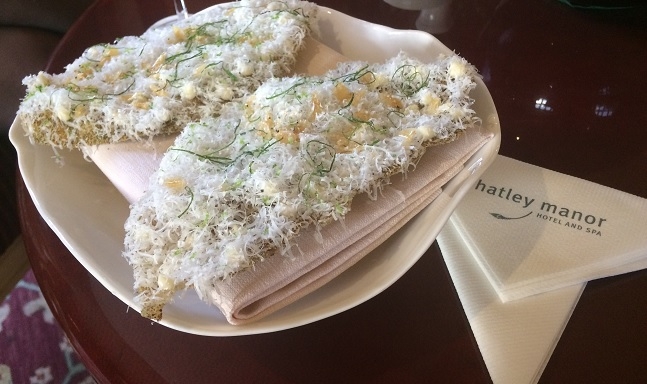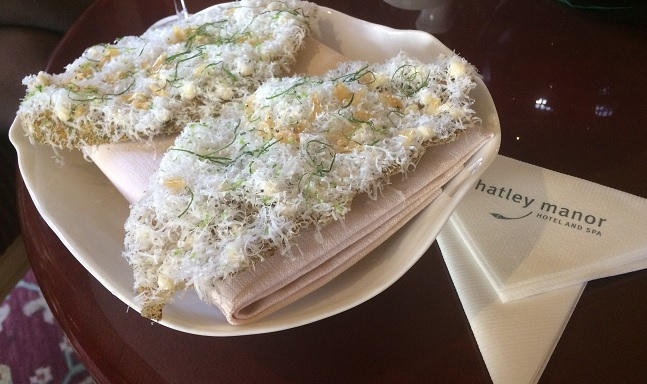 The menu was in the sparsely-written style loved by other Michelin establishments such as Welsh restaurant with rooms Ynyshir, so the menu (which I've written in full at the end) just contains hints such as 'Tortellini – black' or 'Brown butter, buttermilk'. The quality of the food couldn't be doubted and particularly memorable was the very first course, served in the lounge with our cocktails; it was a fantastically fluffy concoction of spiced cracker and crispy shrimp which exploded all over the table (and me).
It was followed – once we were seated in Whatley Manor's Dining Room restaurant – by oysters with seafood mignonette, which were in turn followed by more (possibly too many) seafood dishes such as marinated salmon roe with egg white custard, mackerel with preserved raspberry and salted cucumber, and scallops risotto with chorizo.
The oysters and second salmon dish (above) were both excellent, but I thought some menu choices were a little odd: the chorizo overpowered the scallops for example, and one course halfway through was simply a plain bread roll with brown butter, which goes into the 'are they mad or am I?' category.
Overall it was undoubtedly technically impressive, if maybe a little lacking in excitement – food at this level should make you go 'wow!' with every dish – but the service and wine suggestions which ranged from Slovenian Pinot Bianco to Italian Lagrein and a 2010 Sauternes were top notch throughout.
After a dreamless sleep – the bed was extremely comfortable – and an excellent breakfast there was just time for a stroll around Whatley Manor's gardens, which range from the cultivated kitchen garden to more sprawling wildflower beds, with unexpected walkways and beautiful water features hidden at every turn.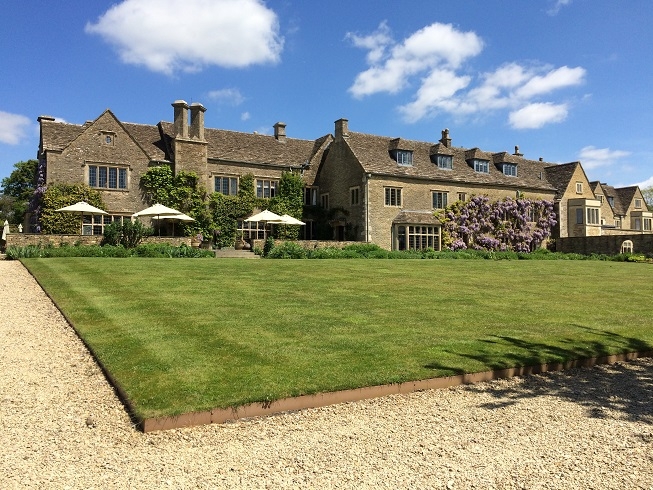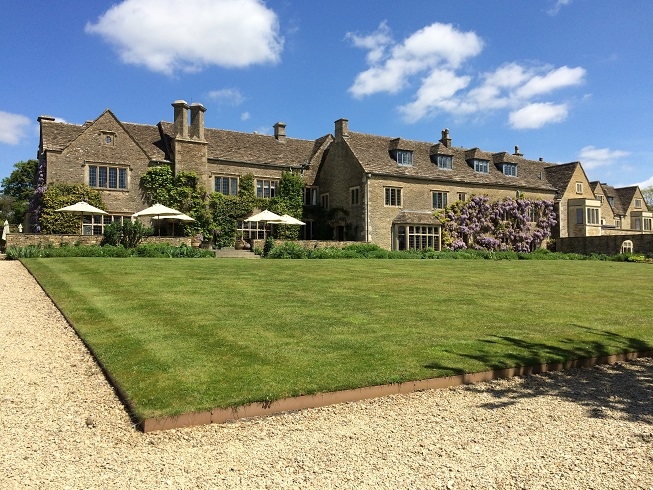 It was a delight to return to Whatley Manor and a wrench to leave – it remains one of my favourite Cotwolds hotels.
Whatley Manor Hotel & Spa,
Easton Grey, Malmesbury
Wiltshire SN16 0RB
01666 822 888
[email protected]
Whatley Manor is a member of Relais & Chateaux and Pride of Britain Hotels
To book directly with the hotel, go to: Whatley Manor hotel
To compare prices for Whatley Manor hotel click on: Trivago – Expedia – Hotels.com
To read more reviews click here to go to Whatley Manor on TripAdvisor
Full 12-course tasting menu
spiced cracker, sesame, crispy shrimp
oyster, seawood migonette
tempura, citrus algre-doux
egg white custard, tamari, salmon roe
brown butter, buttermilk
mackerel, preserved raspberry, greens
tortellini – black
risotto, chorizo, scallop
salmon, exmoor caviar, beurre blanc
wagyu short rib, dill pickle, horseradish
optional cheese (£12.95)
aloe vera, grape, olive oil
cherry, marzipan, pistachio
matcha choux bun
treats
---
Thanks to Vauxhall for providing its new Astra for my jaunt to Whatley Manor. It was certainly a step up from my usual mode of transport and as well as being an incredibly smooth drive with super-speedy acceleration, came with a million different wizardy things such as in-car wi-fi, a push-button handbrake, a 7-inch touchscreen which linked up to my iPhone to play music, make calls, read messages, sat-nav and it even had heated seats. To find out more click here
---
The post Whatley Manor review: a Cotswolds gem revisited (with added oxygen) appeared first on ALadyofLeisure.